When it comes to camping, you probably think you have everything you need. After all, getting out into nature and spending time with your family and friends is priceless. However, there are plenty of camper van accessories that you may be overlooking that could make your next trip even more fun and comfortable than the last one. So how do you know which of these accessories to invest in? Here are 10 camper van accessories you didn't know you needed!
You've got your camper van and you're ready to hit the open road. But before you do, make sure you're prepared with the best camping accessories money can buy. VannCamp has everything you need to make your camping trip comfortable, safe, and fun.
1. Heated Floor Liners
If you're planning on spending any time camping in cold weather, then you need to invest in some heated floor liners. They are easy to install and will make a world of difference when it comes to keeping your feet warm. Trust us, you don't want to be dealing with cold toes while you're trying to enjoy the great outdoors!
2. Outdoor Speakers
There's nothing like kicking back and listening to your favorite tunes while you're surrounded by nature. But if you don't have the right outdoor speakers, you're not going to enjoy the experience. Look for a pair that's weatherproof and can connect wirelessly to your phone or another music source. And make sure they're durable enough to withstand being jostled around in your camper van.
3. Power Inverter
A power inverter is a great camping accessory if you plan on using any electronics while you're away from home. It converts the DC power in your car's battery to AC power, which can then be used to charge phones, laptops, and other devices. A power inverter is a must-have if you want to stay connected while you're camping.
4. LED Headlamp Flashlight
This is absolutely essential for any camping trip. It's great for setting up camp in the dark, going on late-night hikes, or reading a book in your tent. LED headlamps are much brighter and more energy-efficient than traditional flashlights, so you'll never be left in the dark.
5. Electrical Sockets On The Ceiling
A great way to save space in your camper van is to install electrical sockets on the ceiling. This way, you can have lights and other electronics without taking up valuable floor space. Plus, it'll give your van a cool, futuristic look!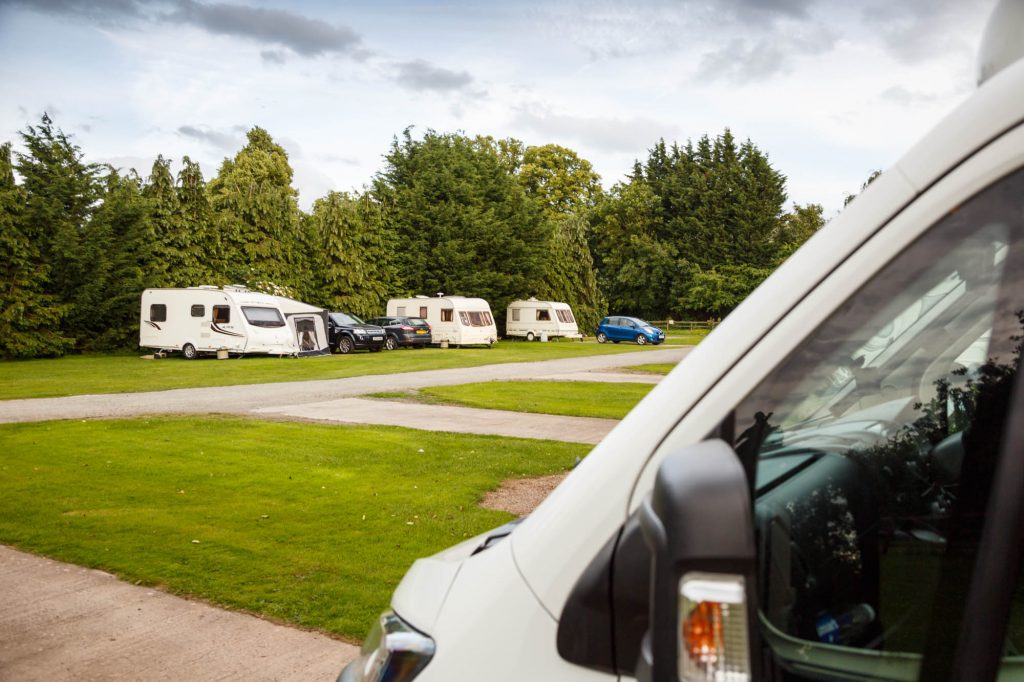 6. Solar Charger For Smartphones
A solar charger is a great way to keep your devices charged while you're camping. They're lightweight, easy to use, and can be a lifesaver if you're in an area with limited or no access to power. Plus, they're eco-friendly!
7. Double-Lined Padded Seat Covers
If you're planning on spending any amount of time in your camper van, you're going to want to make sure you're comfortable. These double-lined padded seat covers will help make any seat in your van more comfortable, whether you're driving or just hanging out.
8. Ventless Windows In The Roof
Most people know to get windows on the sides of their van but often forget about the roof. Ventless windows are a great way to let in light and the fresh air without having to worry about rain or snow coming in. They're also great for stargazing!
9. Pop Up Toilet Or Shower Tent
Whether you're planning on spending a lot of time in your van or just want to be prepared for any situation, a pop-up toilet or shower tent is a must-have accessory. Not only will it give you privacy, but it will also keep you clean and comfortable while you're on the road.
10. Collapsible Solar Lantern
Whether you're camping in the woods or tailgating at a concert, a collapsible solar lantern is a must-have. This nifty little device charges during the day and provides LED light at night. It's also super lightweight and easy to transport, making it the perfect camping accessory.
AI Car Expert Thinking 

.

.

.