Think rugged and durable, think Jeep. I think that's what they (Jeep, the company) want most of us to think when hopping into its off-roaders. And indeed, they really are very dependable vehicles that you can trust while you're out trekking over boulders and mountains. But alas, not all of its staple 4x4s are entirely trustworthy. More than a few of them have succumbed to the sea of unreliability over the years. Here, we'll look a bit deeper into the 2003 Jeep Liberty problems.
The Liberty lived on for a decade within the Jeep family, being sold from 2002 on to the 2012 model year. Between two generations (and the facelifts that ensued), plus a lot of changes in and around it throughout these years, is the Liberty a reliable Jeep?
Well, as we'll get into the teething 2003 Jeep Liberty problems soon, we'll try to answer this with greater detail. TL;DR, it's not the most bulletproof Jeep you can own, but it's at least not too terrible of a nightmare to live with.
Jeep Liberty
The Jeep Liberty was quite a change for the brand. First teased in 2001, its design was inspired by the Dakar and Jeepster concept cars from 1998. It was made for the US market, although it was also sold as the 'Jeep Cherokee' in other regions such as Egypt and Venezuela.
The Liberty was classed as a compact SUV and engineered to replace the old XJ Cherokee. As a result, the new Liberty became the smallest vehicle within Jeep's line-up until the Jeep Patriot and Jeep Compass came along later.
When it was brand new, the early Liberty was priced between the cheaper but off-road-focused Wrangler, and the more luxurious and larger Grand Cherokee. As with the XJ Cherokee before it, the Liberty had a unibody construction underneath.
It also became the first Jeep to use rack-and-pinion steering and featured independent front suspensions. A lot of changes came along as the Liberty progressed through two whole generations.
First-Generation Jeep Liberty (KJ) – 2002 To 2007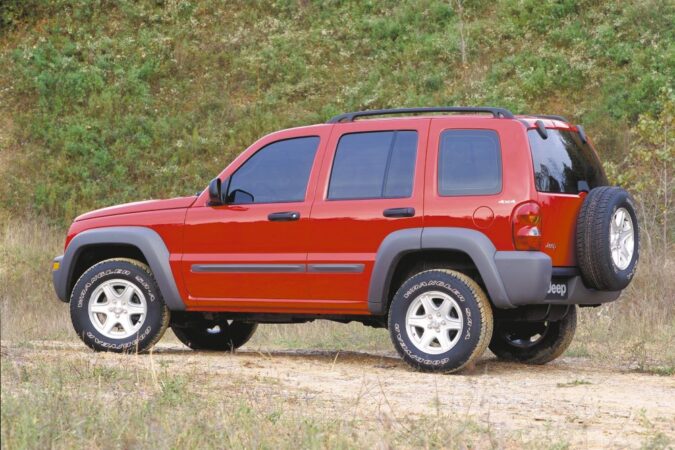 In its first generation, the Liberty can be had in various trim options and with brand-new engines. The highlight of which is its 'PowerTech' motors – a 150hp 2.4-liter straight-four, and a 210hp 3.7-liter V6.
Both of these 'PowerTech' engines are gasoline-powered, while Jeep relies on two more engines from Italy-based VM Motori that are turbo diesel in design. The latter comes in a 2.5-liter and a larger 2.8-liter, both inline-4s. The early 2.4L PowerTech was discontinued in 2006.
Mated to them are a huge variety of different transmissions. These include two Chrysler-made 4-speed automatics (the 42RLE and 45RFE), another Chrysler 5-speed auto (545RFE), two 5-speed manuals from New Venture Gear (the NV1500 and NV3550), and a Chrysler 6-speed manual (the NSG370). Initially, Jeep wanted to sell the CRD (common tail turbodiesel) engines to gauge the US market's interest in diesel, with the aforementioned VM Motori engines.
It was a hit, as the 2.8-liter variant sold more than 10,000 units in its first calendar year. It added an extra 60 lb-ft of torque and lower fuel consumption compared to a V6. As for drivetrains, the Liberty can be kitted with either a part-time Command-Trac or a full-time Selec-Trac four-wheel-drive system. Certain government fleet Liberty cars had the later and upgraded Selec-Trac II system, while some were entirely two-wheel-drive.
Second-Generation Jeep Liberty (KK) – 2007 To 2012
Proving its status as the entry-level model, Jeep estimated that 70% of Liberty buyers were new to the brand. It had a more utilitarian and boxy design, akin to the Dodge Nitro, to which the second-generation Liberty is related.
At this point, the smaller Patriot and Compass have come into the Jeep family, now becoming the brand's smallest SUVs, and are targeted to cost and fuel-economy-conscious buyers. The Liberty then went upscale, turning into a higher-performance model.
It only had two engine options – a 2.8-liter VM Motori RA428 inline-4 turbodiesel, and a 3.7-liter PowerTech gasoline V6. Both are carryovers from the previous Liberty, now slightly returned.
The gearboxes were brought forward to the new Liberty as well, with a 4-speed Ultradrive (Chrysler-designed) 42RLE automatic, and a 6-speed Chrysler NSG370 manual. A third option was made available in the form of a Mercedes-Benz 5-speed W5A580 auto.
Plenty more upgrades came along the way, such as the huge under-the-hood changes in the 2009 model year. The improvements included stiffer rear-axle shafts and retuned springs, shocks, anti-roll bars, steering gear valves, low rollback brake calipers, and a revised brake pedal ratio. The Liberty was officially discontinued for the 2012 model year before its place in the Jeep family was taken up by the next-generation Cherokee (KL).
Jeep Liberty Reliability
Before we get into discussing with greater detail all the little (and not so little) 2003 Jeep Liberty problems, we should ask a very simple question. Is the Jeep Liberty, as a whole, truly a reliable SUV?
Perhaps you saw one for sale at a good price, and are thinking of getting one as a family hauler. Well not too long ago, we took a deep dive into some of the more common issues with the Liberty's sibling, the Jeep Patriot. We concluded that the Patriot wasn't all too bad.
While it certainly had its issues and is not immune to significant headaches, it was plagued with woes that weren't terribly serious. Plus, its issues can be solved without too much expense, energy, time, or work.
However, the Liberty – which was also made in more or less the same era – is far worse. Just to compare, we're referencing data from CarComplaints.com, taking reports from its users and the NHTSA. The Patriot had around 805 complaints overall, while the Liberty had 2,210.
We took a glance at CarComplaints.com's PainRank scoring system. This analyses factors such as the scope of the problem, the frequency it occurs, how easy it is to fix, and how much it's going to cost as a weighted average.
While the Patriot ranks third overall (out of nine) among Jeeps, the Liberty sits in fifth. And then, PainRank breaks it down into each model generation. The Liberty's 1st- and 2nd-generation cars ranked 14th and 15th respectively, out of 18 places.
Problems With 2003 Jeep Liberty
Remember, the 2003 Jeep Liberty is among the earlier batch of cars within the Liberty family. So, it's not surprising to see that the first-gen Liberties were less reliable than the second-gen examples.
This is evident as there are over around 4.5x more reports – based on data compiled by CarComplaints.com – across the first-gen cars compared to the second-gen. This is despite there being a recall for later second-generation Liberties that affected 347,000 units in total caused by rusty rear control arms.
That said, the 2006 model year seemed to have carried most of the total complaints. As we look at the 2003 Jeep Liberty problems, this model year had around 162 complaints. Or, more than 1,000 if taken into account individual reports filed with the NTHSA.
If we need to round up the list of issues that occurred in the 2003MY, the lion's share of complaints were regarding faulty power window switches and regulators. They seem to have a habit of failing prematurely.
While they're not expensive or complex fixes (relatively speaking), their common occurrence is enough to be an annoyance. Aside from the electric windows, though, there are numerous other faults with the engine and elsewhere. Without further ado, let's look more closely at analyzing all the various 2003 Jeep Liberty problems…
2003 Jeep Liberty Problems #1: Defective Power Window Regulator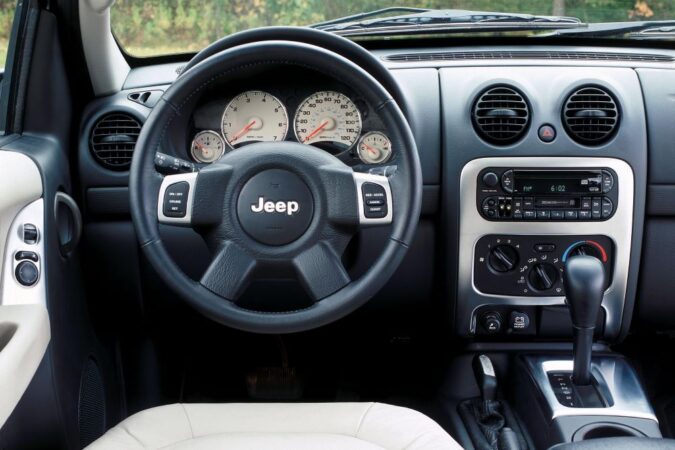 The first, and by far the most common of the 2003 Jeep Liberty problems is its faulty power window regulator. In electric power windows, the 'regulator' is what feeds the mechanism of the glass slabs to move up and down as needed.
With the Jeep Liberty, this otherwise important part is made from flimsy plastic, which can break fairly easily. Looking at CarComplaints.com, many owners have had to replace the power window regulator more than once.
Sometimes upwards of five or more times! This can affect all four windows front and rear, on the driver and passenger side, even if you don't use them all too often. According to some reports, you can hear odd grinding or crunching sounds as the power windows are being wound up or down.
This is then followed by a loud 'snap', as the window falls suddenly into the door frame. As it falls down, it may also affect the door's locking mechanism, locking or unlocking the door on impact.
Although this was recalled in later model years of the Liberty, the 2003MY wasn't included. Owners will then have to repair it out of pocket. On average, the cost of replacing the power window regulator is at least $300 for a single window.
Now, multiply that by five or six times. However, a few owners have had more serious defects. They were asked to replace the power window motors and the entire assembly. The repair bills for this would be around $600 or more.
2003 Jeep Liberty Problems #2: Faulty Power Window Regulator Clips
This is an extension of the previous point, but it once again highlights just how prevalent power windows are when jotting down all the 2003 Jeep Liberty problems. While the power window regulators have critical design flaws, the clips too are just as poorly made.
These are what hold the windows in place, and in the Jeep Liberty, they too are made from cheap and flimsy plastic. It could snap quite easily, causing the glass windows to fall back into the door frame.
Just like the regulators, damaged clips are a common issue with the 2003 Liberty, even when the windows themselves haven't been used often. It can break just as frequently as the regulators did, resulting in owners having to replace them at least three times on average.
Several owners have resorted to using tape and glue to keep the windows in place. Once again not covered under a recall, resulting in owners having to shell out over $300 for each window.
2003 Jeep Liberty Problems #3: Blown Head Gasket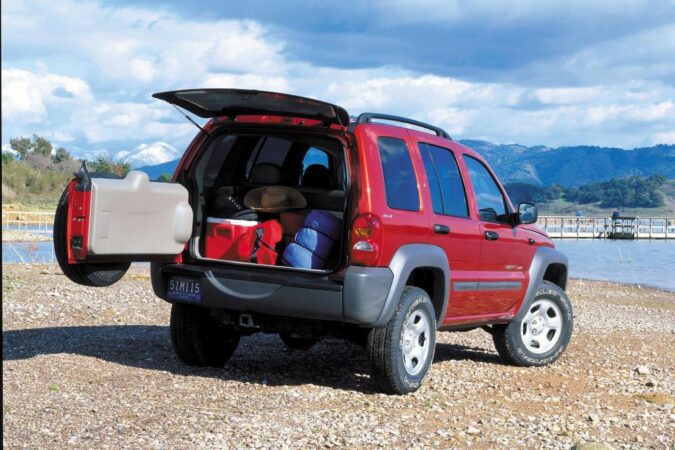 Now, we can get into the more costly side of the 2003 Jeep Liberty problems. It seems to suffer from numerous engine-related troubles, the more common one revolving around the head gasket.
Even with a relatively moderate mileage of around 90,000 miles, several owners have reported that their Liberty's head gaskets blew. The result is the car idling and driving very roughly. There are various other symptoms to spot this, such as hearing odd ticking noises or misfires.
Or, it might be diagnosed as the coolant has leaked into the oil through a cracked head gasket. Several other components might be affected by this aside from the head gasket.
Examples include the valvetrain (one owner noted their valve sets dropping into a cylinder), camshaft and crankshaft sensors, timing cover, rocker arms, and more. Apparently, there is an engineering flaw within the Jeep Liberty where motor oil rapidly turns into a thick and clogged-up sludge.
All the while, not a single warning light blinked. Unfortunately, the problem would've begun to happen long before many owners could realize it. At this point, there ought to be a catastrophic amount of damage done to the engine.
Most owners who've suffered this problem had to cough up between $2,500 to $7,000 for a brand new engine. You can learn more in our guide on the Hyundai Sonata engine replacement cost. The large variance in price is due to some owners being somewhat lucky to find refurbished engines. Still, it's a very costly problem.
2003 Jeep Liberty Problems #4: Susceptible To Gas Tank Leaks
This next set in the collection of 2003 Jeep Liberty problems is thankfully covered under a recall that affected more than 1.5 million vehicles. Nonetheless, some owners were not made aware, thus posing an issue.
Similar to what happened with the old Ford Pinto, the Jeep Liberty (as well as several other similar SUVs) had its fuel tank placed in a way that made it susceptible to being punctured in the event of a rear-end impact. It's made worse by some of the tanks leaking.
The fuel tanks were tucked between the rear axle and bumper. Moreover, the higher-up stance of SUVs like the Liberty meant that the fuel tank was left dangling exposed far lower than in most cars.
To make things worse, some of these fuel tanks were made from plastic. Altogether, rear-end collisions have resulted in numerous deaths, as even low-speed impacts could cause the tanks to combust. Chrysler (Jeep's parent company) tried to solve this by installing a tow hitch.
It should, according to their statements, provide some protection for the exposed fuel tanks. But they later admitted that high-speed collisions can very easily break through the tow hitch.
With low-speed impacts, the addition of a trailer hitch made little difference, as well. The issue of cars being engulfed in flames mostly affected Jeep-designed vehicles like the old Grand Cherokee and the first-generation Liberty.
2003 Jeep Liberty Problems #5: TIPM Module And Airbag Faults
The TIPM, or 'totally integrated power module' is the central electronic brain of your car, mainly made for Fiat-Chrysler vehicles. Most functions require going through the TIPM, such as running the fuel pump, working the power windows, door locks, horn, ignition, as well as the engine.
On the subject of the 2003 Jeep Liberty problems, one particularly nasty issue caused by defective TIPMs involves the airbags. To be more specific, they can deploy on random occasions.
Alternatively, a broken TIPM might not be able to signal the airbags to deploy at all in the event of an accident. Either way, it can result in serious injuries. Many Fiat-Chrysler cars of this era had faulty TIPMs, and the Jeep Liberty (both 1st- and 2nd-generation) is no different.
Several recalls were made affecting millions of vehicles, not to mention the offer of an extended warranty. Still, some owners were stuck with broken TIPMs, necessitating a $1,200 or more replacement.
2003 Jeep Liberty Problems #6: Corroded Ball Joints
Another issue that's covered under recall, but could still occur after the fact is rusty ball joints. These were among the first to be recalled. Sometimes, the lower control arm ball joints can experience a loss of lubrication, leading to accelerated corrosion and wear.
It may even separate from the steering knuckle entirely, which can cause the driver to lose all steering. One particular owner heard a loud grinding noise before the wheels fell completely off the control arm.
Understandably, this is incredibly hazardous, and unfortunately could be seen happening in Jeep Liberties with mileage as low as 75,000 miles. Several owners had to replace more than just one ball joint, though the ones up front seem to rust quicker than in the rear.
The cost for replacing the ball joints averages around $500 for one set. Often, the rusted ball joints would be replaced at the dealership by similarly designed ball joints, which could potentially run into the same issues.
2003 Jeep Liberty Problems #7: Transmission Issues
One of the prevalent concerns with the 2003 Jeep Liberty is transmission-related failures. Owners have reported the transmission slipping between gears, causing erratic shifts or sudden jerking. Not only is this uncomfortable, but it's also a potential safety issue when the vehicle doesn't accelerate or decelerate as expected.
Sometimes the Liberty wouldn't engage in reverse, leaving drivers stuck. Others experienced their transmission overheating, which can cause even more extensive damage if not addressed promptly. Common signs include the transmission warning light turning on or a burning smell. Transmission replacements or repairs aren't cheap, often running between $1,000 to $3,000.
2003 Jeep Liberty Problems #8: Radiator & Cooling System Problems
Cooling system problems rank among the notable issues for the 2003 Jeep Liberty. Some owners reported radiator leaks, leading to engine overheating if not spotted early. An overheated engine can cause long-term damage, making it vital to address any cooling system issues promptly.
Thermostat failures were also common, which can cause poor engine performance or overheating. Fixing these problems isn't as expensive as some other issues, but costs can range from $200 to $800, depending on the specific problem and labor charges.
2003 Jeep Liberty Problems #9: Electrical System Glitches
Apart from the power window issues, the 2003 Jeep Liberty is also known for other electrical glitches. Owners have reported problems like the vehicle stalling without warning, dashboard lights flickering, or the radio turning off unexpectedly. In some cases, this is due to a faulty ignition switch, which can lead to the vehicle turning off while in motion.
Other times, it may be due to a malfunctioning PCM (Powertrain Control Module). Addressing these electrical problems can vary in cost, typically falling between $250 and $1,000.
2003 Jeep Liberty Problems #10: Brake System Failures
Safety is paramount, and the brakes are a crucial safety component. Unfortunately, some 2003 Jeep Liberty models faced issues with their braking system. Drivers reported that the brakes would wear out prematurely, sometimes as early as 20,000 miles.
Others noted a spongy brake pedal feel or the ABS (Anti-lock Braking System) light illuminating without cause. In extreme cases, brake failure was reported. Typically, fixing these brake-related issues involves replacing the brake pads, rotors, or the entire brake system. The cost can be as low as $200 for minor repairs but can skyrocket to over $1,000 for extensive replacements.
2003 Jeep Liberty Problems #11: Faulty Oxygen Sensors
Oxygen sensors play a crucial role in ensuring optimal engine performance and efficiency. Several Liberty owners have reported their oxygen sensors failing prematurely. When these sensors fail, it can result in reduced fuel efficiency, rough idling, and even engine misfires.
A malfunctioning oxygen sensor might also cause the check engine light to illuminate. Replacing an oxygen sensor isn't overly expensive, typically ranging from $200 to $400, including labor.
2003 Jeep Liberty Problems #12: A/C and Heating System Malfunctions
Last but not least, the air conditioning and heating system in the 2003 Jeep Liberty isn't exempt from problems. Some owners reported the A/C not blowing cold air, while others mentioned the heater malfunctioning during cold weather. In some instances, the blower motor or the A/C compressor needed replacement.
These issues can be a hassle, especially in extreme weather conditions. Repair costs can vary based on the specific problem but generally fall between $300 to $800.
While the 2003 Jeep Liberty has its set of advantages, potential buyers or current owners need to be aware of these issues. Being informed can help ensure a safer driving experience and possibly save on unforeseen repair costs in the future. Remember, regular maintenance and periodic checks can go a long way in preventing some of these problems or catching them early on.
Are Jeep Libertys Good Cars
So, we've seen here that there are plentiful 2003 Jeep Liberty problems that you might face. But what if you're still planning to take up that sweet deal on a second-hand Liberty… Or, perhaps you already own one, and are lucky enough to have never suffered these problems before?
Well, there are a few ways that you can keep yourself on top of these defects before they get out of hand. Remember that some of these 2003 Jeep Liberty problems are absolutely deadly.
Having your car burst into flames from an already alarming rear-end collision may cost you your life. Or how about the fact that the airbags might not deploy when you want them to?
Therefore, you should certainly inquire with a local Jeep dealer or specialist technician to make sure that your 2003 Liberty has gone through these fixes. Make sure it's all been repaired or replaced where necessary. There were a total of 13 recalls throughout the '03 model year, as we noted some of them earlier.
Nevertheless, you may want to consider third-party solutions rather than Jeep's in-house repairs. It might be more expensive but could at least ensure that the faults remain solved.
For example, the aforementioned ball joint recall replaces them with similar units. Thus, perhaps in a few years, they could rust again, prompting another repair. The barrage of power window issues too, had the plasticky regulators and clips replaced with other plasticky parts.
2003 Jeep Liberty Problems: In Conclusion…
Rounding off our guide on 2003 Jeep Liberty problems, we can see that it's not all roses and sunshine. While it's by no means as unreliable of a lemon as the Chrysler 200 that we also looked at before, the '03 Liberty isn't as robust as some of its compatriots.
The main issue that you'll be dealing with is the power windows. As minor as it might seem, they occur quite frequently. If you're unlucky enough, it might happen five or more times, for all your windows.
A repair bill of $300 might not sound like much, by many owners have to pay at least $1,000 or higher. This is owing to just how often the power windows keep failing, as per a clear cost-cutting oversight on Jeep's part.
The engine, although not as common of a problem, can still suffer from flawed engineering. The valvetrain and head gaskets are often the first components to fail, which is then followed by complete engine failure. The only solution is a brand-new engine.
That's another $2,500++ out of pocket. This is still cheap compared to the cost of human life that's been lost to having your Liberty combust in an instant following a rear-end collision.
While that's already "solved" through several recalls, the fix that Jeep had in mind isn't even adequate. In all, the 2003 Jeep Liberty, while not a complete joke, requires a lot of due diligence to make sure you're getting a good one. If you could, perhaps look at some of the later model years, instead.
Frequently Asked Questions (FAQs)
If you're still curious to learn more about 2003 Jeep Liberty problems, our FAQs here might help…
Is Jeep A Good Car
If you're considering buying a Jeep, they're pretty great cars depending on your use-case scenario for them. Should you want a no-compromises off-roader that's durable and capable of trekking even the toughest terrain imaginable, there are few that could compete with a Jeep. Moreover, they're incredibly desirable vehicles with a strong following and hold onto their resale value pretty well. However, Jeeps do have a spotty reputation with reliability in the past few years. As tough as they can be, Jeeps have been known to exhibit various issues, namely TIPM module failures, transmission problems, and more. Some publications have even placed Jeep models like the Wrangler and Grand Cherokee very far down the reliability charts compared to rival SUVs and off-roaders.
How Long Does A Jeep Liberty Last
The Liberty was, at one point, one of Jeep's smallest and cheapest vehicles in the lineup. For an entry-level model, you might think that Jeep hasn't paid much attention to its build quality or long-term longevity. However, the Jeep Liberty is known to last for quite a long time. Specifically, many owners have easily gone past the 200,000 miles mark in their Jeep Libertys. Moreover, a few others have also broken past the 400,000 miles milestone in their Jeep Libertys, too. If you now take into account the average yearly mileage for most American motorists, a Jeep Liberty, therefore, should comfortably last beyond 15 to 20 years of ownership. Beyond that point, you'll need to consider doing a serious restoration and rebuild on your Liberty to keep it going even further.
How Much Does A Jeep Liberty Weigh
Jeep's Liberty was, during its inception and for much of its lifespan, the brand's smallest vehicle. Due to its relatively compact crossover-like design, the Liberty was also pretty lightweight, relative to other Jeeps. Depending on the specific trim level, a Jeep Liberty weighs between 3,508lbs and 4,312lbs. That roughly equates to around 1,591kg to 1,956kg, if you prefer the metric form. This is rather light when you consider that most other Jeeps weigh at least 4,000lbs in their most basic trim levels. Naturally, the more luxurious and high-end trim levels of the Liberty will weigh more than the base-level ones. This is simply due to the addition of more equipment and accessories, not to mention creature comforts like leather and other fancy gadgets that the base-tier trims didn't come with.
Why Was The Jeep Liberty Discontinued
The Jeep Liberty was unveiled as a replacement for the outgoing Cherokee… But only to be replaced by the all-new Cherokee later in the Liberty's lifecycle, as the brand's budget-oriented SUV. The Liberty was on sale for around 10 years, being unveiled in 2002 before being discontinued in 2012. It's been reported that the final Liberty rolled off the production line on August 16th, 2012. There were several reasons that prompted Jeep to discontinue the Liberty and remove it from the line-up. Mainly, sales figures for the already-aging Liberty weren't that impressive by 2012 and had continued on a steady decline in its final years. On top of that, changing emissions and safety rules meant that the now-old Liberty wasn't able to meet them, and Jeep decided that it would be best to create an all-new model, instead.
How Much Is A 2003 Jeep Liberty Worth
When it was first unveiled and throughout its production run, the Liberty was known as one of Jeep's cheaper and more entry-level models. In particular, the 2003 Liberty had an MSRP of around $18,000 for the base-level trim. For more luxurious and nice-to-haves, the mid-tier and top-end trims range from around $20,000 to $25,000 when it was new. With options, it's possible to spec a 2003 Liberty pretty close to $30,000. But, how much is a 2003 Jeep Liberty in today's market, as of 2022/2023? Well, according to KBB's appraisal valuation tools, the price of a 2003 Liberty today would average between $2,500 (for a pretty rough example) to $5,500++ (for a well-kept one). Although, there are some low-mileage and well-serviced examples of a 2003 Jeep Liberty selling for close to $13,000.