This article was recently reviewed by car expert Paul Hadley to ensure it is as accurate and helpful as possible.
Choosing the right truck for you can be difficult. The Dodge Ram 1500 is an excellent choice for families and is conveniently sized for small to medium-sized loads. However, like all vehicles, it has its share of problems. 2014 Dodge Ram 1500 problems include the transmission issue.
Several users complained that they got a bump in their transmission when they tried to go from a stop to an accelerating. They also experienced a bump when they pressed the brakes too. 
Buying a car demands that you look out for its reliability. Although the Dodge Ram is a great truck, it has a few issues. This article has all the details.
2014 Ram 1500
The 2014 Ram 1500 is a good truck with quality cabin materials that ensure a comfortable driving experience and a smooth-shifting eight-speed automatic transmission. This truck won the Best Full-Size Truck for the Money award in 2014.
The full-size truck comes standard with a V6 engine that provides 305 horsepower, an optional V8 engine that produces 395 horsepower, and another optional V6 engine that delivers 240 horsepower. The V6 engine combined well with a quick-shifting eight-speed to dispense power. The transmission for the V8 engine is not efficient, but the eight-speed is always available.
The 2014 Ram 1500 is standard with rear-wheel drive and four-wheel drive. Fuel economy for non-diesel engines ranges from a low of 13mpg in the city and 19mpg on the highway. The 2014 Ram 1500 has responsive steering and an adjustable air suspension and can tow about 10,450 pounds.
2014 Ram 1500 Problems
Several users complained about transmission issues that the service department never attended to. They had to fix the problems. The transmission causes a stall on the highway, and the truck won't be able to accelerate.
Some users complained that they had to accelerate before losing power when they wanted to go uphill; sometimes, they would have to restart the truck. Other issues include the truck shifting while driving and stopping.
The 2014 Ram 1500 also had electrical problems such as cruise control failure, the radio not functioning, malfunctioning dashboard, squeaking driver's seat, bad smell in the cab (to learn more, check out our overview on how to get weed smell out of car and how to get the weed smell out of your car), odometer failure, and faulty fuel gauge.
This truck also has engine issues that are very expensive or rare to replace or repair. Users complained about constant stalling, oil leaks, annoying engine noise, dying suddenly on the road, gas pedals hooked to the floor, and abrupt acceleration.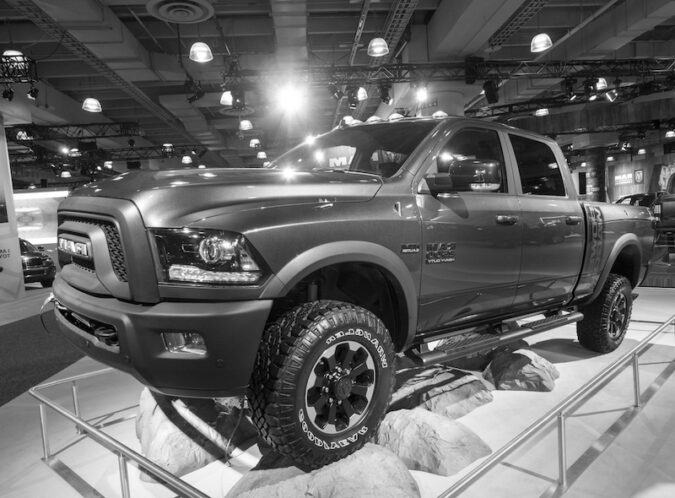 2014 Ram 1500 Transmission Problems
One thing is that no vehicle is perfect; whether it's a truck, car, or SUV, you don't have any guarantee that you will not face any problems while using them. However, some vehicles or trucks are famous for generating many issues, and the 2014 Ram 1500 is one of them. One of the most common problems with this truck is transmission failure.
Causes of these transmission issues include bad transmission sensors, loose wires or connections, gear clutch failure, bad electrical relay, and contaminated transmission fluid. The 2014 Ram 1500 had several recalls because of transmission problems; drivers complained that the engine would not shift between gears and would drop out of gears.
Transmission issues lead to the shifting, which may include low transmission fluid, lousy alternator, low battery voltage, leaking transmission cooler lines, faulty transmission relay, and so on.
2014 Dodge Ram Ignition Switch Problems
The 2014 Dodge Ram 1500 is one of the trucks people chose as their favorite simply because it's big and stylish, and you can use it for many things. The ignition switch is one of the essential parts of the 2014 Dodge Ram, It is that pot you find beside the lock cylinder, and it has three main functions;
To power the accessories such as the power windows, radio, and other infotainment in the 2014 Dodge Ram.
To switch on the ignition and fuel pump.
To start the car. 
When you are on the road or driving your Ram, your ignition is in the "rest" position. When your ignition switch is malfunctioning, it won't perform all the functions listed above, and several 2014 Dodge Ram users have complained and talked about the symptoms common with the truck's ignition switch issue, and they include;
It is stalling while driving because the ignition switch suddenly switches off the fuel pump or power to the ignition. When this happens, the engine goes off and won't start until it gets the signal back
Your truck comes ON and OFF abruptly
Power won't get to the accessories so the supplements won't function either
Excessive battery draining
Some Ram users experienced fuse blowing, total ignition failure, locked ignition cylinders, and immobilizer problems.
2014 Dodge Ram 1500 EcoDiesel Problems
Ram recalls many of their trucks because of EcoDiesel problems, which may lead to fire outbreaks. The recall was due to a potential coolant leakage that could lead to a fire breaking out from the engine. Manufacturers and some users have mentioned cracks in some trucks' exhaust gas recirculation coolers; coolant can escape through these cracks and cause fire accidents. Several users complained about;
Oil cooler failure
Leaking exhaust couplers
EGR Cooler Failure
The oil cooler's primary function is to ensure that the engine's oil is at optimal temperature. Many 2014 Dodge Ram 1500 users complained that the oil cooler would stop working and the oil would get above optimal temperature and decrease its lubricating ability. Users noticed this through engine overheating, oil or coolant leaking from the oil cooler, black smoke from the exhaust, and poor or average performance.
The 2014 Dodge Ram 1500 is also leaking exhaust couplers that causes a weird smell. Users complained that the coupler used to crack and will, in turn, cause an exhaust leak; the exhaust fume will then pass through the engine bay into the air system and begin to cause a foul smell in the cabin. Another EcoDiesel problem with Ram 1500 is the EGR cooler failure.
The EGR passes exhaust gas back into the intake system, where the gases are burned again to reduce the amount of Nitrogen Oxide that will go into the atmosphere. Most EGRs always have an EGR cooler to cool down the exhaust gas air temperature before it goes back into the intake system. Some Ram 1500 users complained that the EGR cooler always cracks, making it malfunction or not function.
2014 Dodge Ram Hemi Engine Problems
Some of the common 2014 Dodge Ram Hemi engine problems include;
Misfires
Engine tick
Multi-displacement system
Exhaust manifold bolts
Hemi engines misfire due to faulty injectors, ignition calls, and other internal issues. Hemi engine tick is mainly caused by defective filters, exhaust manifold bolt failure, and seized lifter roller. Another common problem with the 2014 Dodge Ram Hemi engine is broken exhaust manifold bolts, some users have complained about this, and in their narration, they said the rear passenger side manifold bolt gives first.
The issue is that the manifold warps towards the rear and causes several bolt failures. Some 2014 Ram users complained that their Hemi engine malfunctions occasionally, especially the MDS.
2014 Dodge Ram 1500 Air Suspension Problems
2014 Dodge Ram 1500 users have complained about several issues with their truck's air suspension. Some of the air suspension issues are;
Air leakage
Failure to self-adjust ride height
Compressor malfunction due to moisture
System malfunction in low-temperature level
Failure to self-reset after repair or replacement
Noisy air compressor 
Slow height adjustment
During cold weather, the air suspension becomes extremely sensitive to the current temperature and may start to malfunction or stop working; this may be due to a damaged air compressor, a blown fuse, or frozen valves.
A noisy air compressor is another common problem of the 2014 Dodge Ram 1500 air suspension; the compressor makes annoying noise when the system changes the truck's ride height.
Usually, it produces little silent sound as the compressor sucks in the air, but the noise becomes too found and disturbing over time. Some users complained about slow height adjustment, and this issue has to do with the air compressor. The compressor may move while you drive, resulting in slow height adjustment.
If you replace or repair your air suspension, the system may become unable to self-reset or function properly; this mostly happens because the air suspension unit can not get the signal that you have replaced or repaired some parts.
Another issue is airbag leakage; you may notice that your car suspension shows no response when you are driving on a bump. All these issues are common to 2014 Ram air suspension.
2014 Dodge Ram 1500 Heater Problems
Driving your 2014 Dodge Ram 1500 becomes uncomfortable when the heater is malfunctioning or not working, especially in cold weather. Unfortunately, Ram 1500 has heater issues, and many users have launched their complaints concerning this. Either the blower motor stops working, there are wiring issues, or the heater may begin to blow cold.
Typically, the heater functions by passing hot coolant from your car engine into a small heater core. The blower motor will then blow the old air out, and the new hot or heated air will blow to everyone in the truck. Unfortunately, many 2014 Dodge Ram 1500 users have reported an event contrary to the one explained above.
Some of the heaters have low coolant, which prevents the Ram 1500 from creating enough heat; some have bad thermostats, while some trucks have bad heater cores; the cores may become clogged, preventing the heater from passing coolant. Some drivers also complained that the two hoses attached to the heater core are not functioning well.
Typically, they should both be hot or warm; if one or both are not at the right temperature, you may have low fluid or inadequate pressure. These are the common heater problem you can face while using the 2014 Dodge Ram 1500. To find out more, check out our guide on the P0128 Dodge code.
2014 Dodge Ram 1500 Rack And Pinion Problems
The 2014 Dodge Ram 1500 also has several racks and pinion problems; users have complained about the steering swaying back and forth while driving, which makes the truck bounce out of the lane. Some had to change the rack and pinion, but the issue worsened. There were several complaints about full rack and pinion steering failure and brake line failure on some 2014 Dodge Ram 1500.
Some users had issues with their power assist rack and pinion and had to replace them because it could cause serious accidents. When your rack and pinion are faulty, you won't be able to turn at intersections, or you may have to put extreme effort while turning.
2014 Dodge Ram 1500 Fuel Gauge Problems
The 2014 Dodge Ram 1500 got many complaints about its fuel gauge system; people complained that the fuel gauge does not read accurately or just stops working. If your truck's fuel gauge is reading incorrectly, it may result from a bad fuel sending unit. The function of the fuel sending unit is to measure the amount of fuel in the tank and get the information to the fuel gauge on the dashboard.
The information that the fuel gauge provides will guide the driver to refill or not. However, the users of 2014 Ram have complained that their fuel gauge may give a signal that they need to refill; meanwhile, there is enough fuel in the tank, sometimes the gauge would not even provide any information on the dashboard, and sometimes the fuel gauge only displays full while the fuel is about to finish.
Your truck fuel gauge can also fluctuate between full and empty; these issues are common with the 2014 Dodge Ram 1500 fuel gauge system.
2014 Dodge Ram 1500 TIPM Problems
TIPM means Totally Integrated Power Module, and it's one of the issues of almost all trim levels of 2014 Ram. When the TIPM begins to malfunction,
The AC may stop working
The horn may stop working
The starter will start cranking, and the trunk won't start
Coolant fans may stop functioning
The ABS may begin to generate faults
The fuel pump may continue to work when the car has stopped working
Power windows may stop working
The radio may come On and Off abruptly
These issues make it hard to drive and use your 2014 Ram 1500.
2014 Dodge Ram 1500 Filter Failure Problems
Your truck is experiencing cam and filter failure if it suddenly stops, stalls, or becomes idle while driving. Usually, all cams will wear out, but several users have complained that the issue started sooner than later. In most cases, the Cam begins to wear out quickly, and one or more lobes get damaged. The bad news is that fixing this issue is very expensive, and spare parts are difficult to find.
2014 Dodge Ram 1500 Steering Problems
Some users of this mid-size truck have complained that the steering often hooks while trying to make a U-turn. They also had issues with the power steering; it malfunctions occasionally and later shuts down completely.
Things To Know About The 2014 Dodge Ram 1500
The 2014 Dodge Ram 1500 is a popular truck; it's people's choice. If you are thinking of shopping for this full-size truck, you need to get specific information. First, you should note that the 2014 Ram 1500 is available in 9 trim levels. You can choose the engine you want in the car, the cab size and type, and the truck bed you want.
Ram just started using the air suspension, and the primary function is to maintain the usual performance and capability of the truck. With the air suspension, you can automatically level loads and adjust clearance manually or choose from five distinct ride heights. The 2014 Dodge Ram 1500 has the best fuel economy thanks to its EcoDiesel V6 engine that can produce 28mpg and more on the highway.
The main infotainment in Ram is the Uconnect, and it's available in all trims of Ram 1500. Uconnect gives you access to excellent navigation, entertainment, and Bluetooth. Ram 1500 also has a multiview display that lets you view specific information on the dashboard or near the gauges while keeping your eyes glued on the road. The 2014 Dodge Ram 1500 can function as a work truck and a family vehicle, depending on your needs.
Facts about the 2014 Ram 1500:
The 2014 Ram 1500 is a good truck and won the best full-size truck for the money award in 2014.
The 2014 Ram 1500 has potentially expensive issues and is the worst model year in the past decade according to CarComplaints.
The most common problem with the 2014 Ram 1500 is transmission problems, including bumping and jerking, and transmission failures.
The Dodge service department failed to replicate the transmission issue for some drivers and didn't fix it.
Some drivers fixed the transmission issue by replacing the drive shaft.
Other transmission issues include the truck shifting out of drive and coming to a stop, shuddering, incorrectly downshifting, and being noisy with a cold start.
Electrical issues are also a problem with the 2014 Ram 1500, including Uconnect and GPS failures, cruise control failing, and the radio not working.
Engine problems include a broken rocker arm, a ticking sound coming from the engine, and needle bearings on the lifter prone to failure.
Some drivers had to wait two to three months to have engine issues fixed.
Other issues include cracks in the dashboard, the driver's seat squeaking, odometer failure, a faulty fuel gauge, and bad smells in the cab.
Frequently Asked Questions
Here are some popular FAQs:
Who Makes Ram Trucks
Ram Truck Division, a sector of Fiat Chrysler Automobiles (called Stellantis now), makes Ram trucks. This automobile brand came in 2010 as an off-shoot from Dodge. At first, the brand used the Dodge Ram Pickup and produced some trucks with the Dodge logo. Ram came into existence in  1980, and since then, they have made several trucks with the Ram logo. Ram came into existence after Fiat acquired Chrysler; Ram then parted from Dodge in 2009 and now operates under the leadership of FCA, a popular Italian-American company that deals in commercial mid-weight vehicle supply.
Who Owns Ram Trucks
Chrysler owns Ram trucks. They bought them in 1928. From 1981 till 2009, every Ram truck was called Dodge Ram. Later, they had to rebrand the organization, and that's why Dodge and Ram became distinct vehicle brands. Any Dodge pickup truck made before 2009 is called Dodge Ram, but if you got the truck after 2009, they are Ram trucks. You should note that they are still the same company, but Dodge cars and SUVS are under Dodge, while the trucks are called the Ram brand.
Are Ram Trucks Reliable
Ram trucks are reliable, scoring a 3.5 out of 5. They sit in the 4th position among 17 full-size trucks. The average amount you can spend on repair for your Ram truck is $670; the ownership cost is moderate. Recent Ram trucks such as the 2022 model have a reliability score of 86 out of 100, which is impressive.
Is Dodge And Ram The Same
Dodge and Ram parted ways in 2009, although they are both under the same parent company, the FCA – Fiat Chrysler Automobiles group. The two brands separated so that they could focus on their traits. The same parent company produces Dodge and Ram, but they are now different brands. Dodge makes passenger vehicles and cars that provide outstanding performance; Dodge had Charger and Challenger, and people enjoyed how they both performed. On the other hand, Ram produces vehicles and trucks based on capability and commercial use. Ram made the 2014 Dodge Ram 1500.
Where Are Dodge Trucks Made
Dodge trucks are made at the Sterling Heights Assembly Plants in Sterling Heights, Michigan. Ram invested up to 1.5 billion dollars into this plant to get tools for building the Ram 1500 pickup truck. The plant mainly focuses on the Ram 1500, but it has produced top trucks like Dodge Avenger, Chrysler LeBaron, and Dodge Daytona. Many Dodge trucks for global use are made in North America at the Saltillo Assembly plant.
Are Dodge Rams Reliable
Dodge Rams are fairly reliable, scoring 3.5 out of 5 on RepairPal, ranking 4th out of 17 trucks. Many features made Dodge Rams people's favorite; it has powerful engines, a spacious cabin, and outstanding suspension.
Are Rams Good Trucks
Rams are good and reliable trucks. They come with several engine options, and you can choose the one that suits your needs; you can choose between the V6, V8, and diesel engines, and you can select the powertrain of your choice. Rams' towing and hauling capabilities are outstanding; it has one of the best handlings and provides a comfortable driving experience like driving a car. Rams have two rows of spacious and comfortable seats in Crew Cab Models. Rams have one of the sleekest interiors.
Are Dodge Trucks Reliable
Many Dodge trucks that came into the market before 2011 did not get impressive reliability scores. However, Dodge trucks produced after 2012 came with several upgrades and improvements and thus got better reliability scores. Since 2013, no Dodge truck has less than 70 in reliability out of 100; These scores make Dodge trucks very reliable.
Are Hemi Engines Reliable
Hemi engines are reliable because of how long you enjoy using them at a high level. The brand has put the Hemi engine through reliability tests. There is the 3.7 V-6 that powers the Dodge Rams, and the 4.7 V-8 powers Jeep Grand Cherokee. You can use the Hemi engine for seven years.
How Long Do Dodge Rams Last
Dodge Rams are one of the best and most reliable pickup trucks, and they can last for about 250,000 miles/ 15 years if you use and maintain them properly. You can use Dodge Rams off-road; you can use them to carry heavy loads, tow campers, and go on long-distance trips.
What Year Ram 1500 To Avoid
The year Ram to avoid are the 2003, 2010 (the 5.7 liter V8 engine Rams), 2014, 2015, and 2016 models. The Ram 1500 is one of the best and most reliable trucks on and off-road. You can use it to carry heavy loads and travel on smooth and rough roads. Not all Ram 1500 can perform at the highest level, so you must look out for the correct information when you want to buy yours.
Conclusion
Dodge Ram is considered one of the most powerful and reliable trucks around. Unfortunately, that has changed in 2014 Dodge Ram 1500s with nearly identical reports of problems circulating the web.
2014 Dodge Ram 1500 problems include transmission issues ranging from delayed gear shifting to collisions due to faulty sensors. Remember that no truck is perfect, so you must look out for the abovementioned issues before spending your cash on this truck.