The Nissan Rogue has cemented itself as one of the best family SUVs ever since it was first released to the public for the 2008 model year. And when talking about the most important Nissan Rogue model year, 2016 deserves some special attention. Are you a lucky owner of one of these SUVs? And have you ever wondered about the 2016 Nissan Rogue oil type? If so, you have come to the right place.
Motor oil plays a critical part in the functioning of your vehicle. Oftentimes, choosing the correct type of engine oil can be the difference between facing catastrophic reliability issues or enjoying trouble-free driving for an extended period of time.
Today, we will give you all the information you need to choose the best engine oil type for your beloved Nissan Rogue. As a gearhead, it is important for you to have a clear understanding of what exactly engine oil is, and what it accomplishes inside your engine. But, are you curious to learn more about engine oil? If so, follow along!
What Is Engine Oil
Engine oil, also known as motor oil, essentially acts as the lifeblood of your vehicle. During the early days of motoring, engine oil was nothing more than a mixture of one base oil and some additives. However, modern engine oils are more advanced, and consist of elements such as,
Antioxidants
Dispersants
Detergents
Anti-wear Additives
Friction Modifiers
Anti-foam Additives
There are many advantages to using the correct engine oil for your vehicle. Here are some of the most significant ones.
Benefits of Engine Oil #1 – Improving Lubrication
The main use-case of motor oil is lubricating the internals of an engine. When an engine runs, the components inside it are exposed to high temperatures and a sign of wear and tear. Additionally, the operation of an engine creates a lot of friction as well.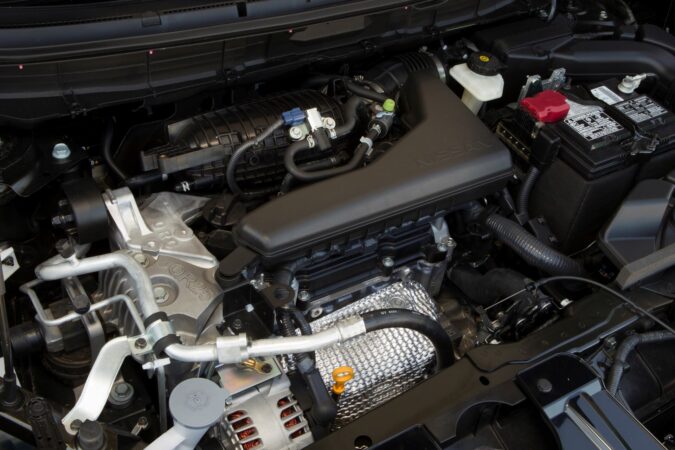 This is where engine oil comes in. It reduces friction and makes engine operations smooth, reducing the wear on the aforementioned components. By choosing the correct 2016 Nissan Rogue oil type and performing regular oil changes, you save a large sum of money that would otherwise be spent on engine overhauls.
Furthermore, engine oil allows the engine to run quieter than normal.
Benefits of Engine Oil #2 – Engine Cooling
Cooling the internals of the engine is another benefit of using the correct engine oil. As the name suggests, internal combustion engines produce power through small explosions. This process creates a massive amount of heat, which can cause harm to the engine components if they aren't dispersed properly.
Along with coolant, engine oil is responsible for collecting and transferring this heat away from the engine internals. Without the proper engine oil, your engine runs the risk of overheating. This is what causes car overheating issues.
Benefits of Engine Oil #3 – Cleaning The Engine
As an engine runs, minute debris breaks away from its internal components. Over time, these particles, dust, and combustion residue can clog up and decrease engine performance. The special additives in engine oil are responsible for cleaning the engine internals of this debris, which retains its performance.
Generally, higher-quality engine oil does a better job of keeping your engine clean than lower-quality products.
Benefits of Engine Oil #4 – Sealing The Engine
An engine has to be properly sealed in order to perform at its best. Engine oil achieves this task by forming a protective layer between the various internal components.
Benefits of Engine Oil #5 – Improving Fuel Efficiency
By allowing the engine to run smoother while simultaneously reducing friction, motor oil increases the fuel economy of your Nissan Rogue. Not only that, but it decreases the engine's harmful CO2 emissions as well. In contrast, using cheap quality motor oil will have a negative effect on your vehicle's fuel consumption.
On top of keeping the engine safe from damage, cooling it, and preventing it from clogging, engine oil also slows down corrosion too. Now, you can clearly see how using the correct engine oil can help you extend the lifespan of your engine.
Type Of Oil
When talking about the 2016 Nissan Rogue engine oil type, it is important to take a look at the different types of engine oil available on the market as well. Each of these oils has different qualities, and having a good understanding of them will definitely help you in choosing the right one for your vehicle.
Four of the most common types of engine oil you'll come across on the market are,
Conventional Motor Oil
Full-Synthetic Motor Oil
Synthetic Blend Oil
High Mileage Oil
Let us take a closer look at each of them to see what they have to offer.
Type Of Oil #1 – Conventional Motor Oil
The first type of engine oil we'll be taking a look at today is conventional motor oil. "Mineral oil" is another name used by gearheads to refer to this oil type. Crude oil is the main material used in the production of conventional motor oil.
This type of oil can be formulated in a number of quality levels and viscosity grades (check out our guide on the oil number meaning to learn more of what this means), making them suitable for a number of use cases. This is achieved by mixing the crude oil with various additives.
In terms of pricing, conventional motor oil is the cheapest type of engine oil money can buy. If you want to keep your engine functioning smoothly on a budget, this is the type of oil to get.
However, there are a few downsides to using conventional motor oil as well. You see, as these are made from mostly natural materials, the protection they offer is typically lower than other types of engine oil. Not only that, but conventional motor oil is less refined than other engine oil types as well.
We recommend using conventional motor oil if you own a vehicle with a simple engine design. Moreover, if you are a driver with a regular driving style and don't use your vehicle very often, you can save some money by filling up the engine with this type of oil.
Type Of Oil #2 – Full-Synthetic Motor Oil
As the name suggests, full-synthetic motor oil is made artificially through chemical engineering. As the manufacturer can control all aspects of the manufacturing process, these oils are more refined than the aforementioned conventional motor oil.
This is also aided by the relatively fewer number of impurities present in the synthetic molecules. Full-synthetic motor oils are formulated with higher-performing additives, giving them greater performance capabilities than mineral oil. Furthermore, they perform better in both higher and lower temperatures as well.
Another advantage of using full-synthetic motor oils is their longevity. If you go for this type of engine oil, you won't have to perform engine oil changes as frequently as conventional oils.
However, all these advantages come at a cost. This is the most expensive type of oil available on the market. The cost of a fully-synthetic oil change ranges between $20 and $40, but the exact amount can change depending on the amount of oil your vehicle takes.
Type Of Oil #3 – Synthetic Blend Oil
Synthetic blend oils are made by combining natural materials with artificially produced synthetic products. It is a hybrid oil, that offers the benefits of both synthetic and mineral engine oils in one package.
In terms of longevity, synthetic blend oil lasts longer than conventional oils. However, their lifespan is not as long as fully synthetic oils. The same is true for the levels of both protection and performance as well.
If you are on the lookout for a type of engine oil that offers more protection than conventional engine oil while not costing as much, synthetic blend oils offer the perfect middle ground. If you want to learn more, check out our comparison of synthetic blend oil vs full synthetic oil.
Type Of Oil #4 – High-Mileage Oil
When compared to the other types of motor oils we discussed so far, high mileage oil contains different and unique additives which put it in a league of its own. These additives prevent the evaporation of engine oil by protecting the engine seals.
Another benefit of high-mileage oil is preventing oil leaks. This will be especially useful if you own an older vehicle. We recommend using this type of engine oil if you plan to drive your car for over 75000 miles. And if you're getting a bottle, check out our list of the best high-mileage motor oil.
Now that you know all about the different types of engine oils out on the market, let us shift our attention toward the vehicle of our interest, the Nissan Rogue.
Nissan Rogue
During the late 2000s, crossover family SUVs were on their way to becoming the next big thing in the automotive world. Nissan saw this as an opportunity and released the Rogue to the world in 2007.
Oh, and while you're here, check out our comparisons between the Rogue and its rivaling SUVs/crossovers. So far, we've compared the Nissan Rogue vs the Ford Edge, as well as the Nissan Rogue vs the Subaru Forester.
1. First Generation
As we mentioned above, the Nissan Rogue reached the market in 2007 for the 2008 model year. Initially, there were three trim levels for buyers to choose from – S, SL, and the top-of-the-range SV. However, even the base model Rogue was packed to the brim with features.
These included all the basic creature comforts such as air conditioning, power doors, power mirrors, a decent stereo system, remote keyless entry, and even cruise control (just make sure that you also know how to use cruise control). The first-generation Nissan Rogue was one of the safest vehicles on the road as well.
The Japanese manufacturer fitted this SUV with electronic brake force distribution technology as well as traction control.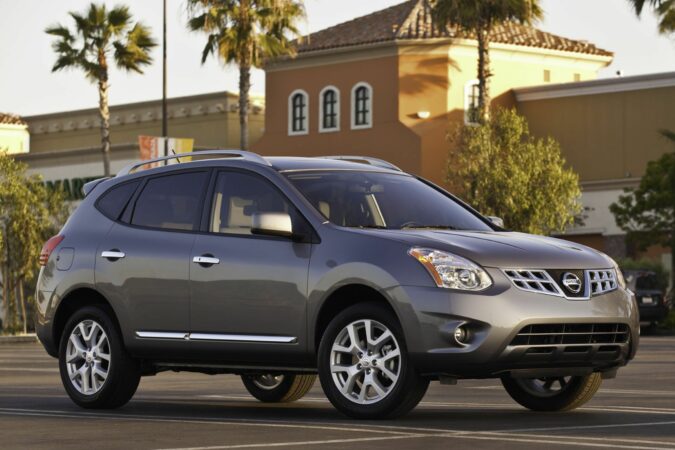 Furthermore, anti-lock brakes were added as a standard feature across the range, which was praised by owners and reviewers alike.
A few years after its introduction, the Nissan Rogue received a major update. The exterior design was updated, and a new sports exhaust system was fitted to make this SUV appealing to the younger audience. On the inside, the Rogue received a redesigned dashboard, leather seats, and satellite navigation among others.
All these modern features made the Rogue sell like hotcakes, and it even received the Consumer's Digest award for Best Buy in 2010.
2. Second Generation
Nissan replaced the ever-popular first-generation Nissan Rogue with an all-new model in 2013. One of the most significant changes that came with generation was the inclusion of a third row. This gave the Rogue the capacity to seat seven passengers comfortably.
However, this was a short-lived feature, as the third-row option was discontinued in  2018. New headlights and taillights were one of the most significant design changes that distinguished this second-generation model from what came before.
Furthermore, the SV trim level received a touchscreen infotainment system with Nissan's ProPILOT package. Under the hood of the second-generation Nissan Pilot lay a powerful 2.5-liter inline four powerplant, paired with their Xtrionic CVT automatic transmission.
The four-wheel independent suspension along with the electric power steering gave the Rogue sportier handling characteristics when compared to its predecessor. There was even a dedicated sports mode for those who demanded even more performance.
Nissan did not skimp out on safety features with this generation either. The 2018 model saw the inclusion of blind-spot monitoring as well as a rear cross-traffic alert system. Other safety technologies of note include lane departure warning, object detection, front collision warning as well as a 360-degree camera for extra visibility.
Overall, we can safely say that all of these features played a part in growing the popularity of the Nissan Rogue. It was named a "Top safety pick" by the Insurance Institute for Highway Safety (IIHS), and the 2016 model became Nissan's best-selling vehicle that year. Just make sure you're wary of the 2016 Nissan Rogue problems.
3. Third Generation
The third and most recent generation of the Nissan Rogue was unveiled to the world in 2020. It was based on an all-new platform and came with a more squared-off design compared to the previous two generations.
Powering the third-gen Rogue was a new 2.5-liter engine, once again paired to a Nissan CVT automatic transmission. Although, check to make sure that your Nissan Rogue transmission isn't part of a recall.
The interior was made more luxurious, with leather upholstery, heated rear seats, and an updated infotainment system with Apple CarPlay and Android Auto (ensure that you understand how to use Android Auto and how to turn off Apple CarPlay).
2016 Nissan Rogue Oil Type
Several factors should be taken into consideration before selecting the best 2016 Nissan Rogue oil type. Generally, it is recommended to fill up the engine of the Nissan Rogue which is SAE 0W-20 in weight and has API certification. But, what do these things actually mean?
2016 Nissan Rogue Oil Type #1 – Standards
API stands for the American Petroleum Institute, while SAE stands for the Society of American Engineers. Both these organizations are responsible for developing standards for motor oil. These standards are mainly concerned with the qualities of motor oil such as viscosity and thickness.
2016 Nissan Rogue Oil Type #2 – OW-20
Next up, let's take a look at what 0W-20 stands for. This is a measure of the thickness of your motor oil. Here, the 'W' stands for the weight of oil during winter, and the other two letters indicate the summer weight. In the case of 0W-20 oil, it provides the equivalent of a 20-weight oil during the summertime.
And in winter, it can flow like a 0-weight oil even when the temperature falls below -20° F. This makes this oil suitable to be used in the Nissan Rogue both in summer and winter alike. If you'd like to learn more about 0W-20 motor oil, do check out our guide on 0W20 vs 5W20 engine oil.
2016 Nissan Rogue Oil Type #3 – Synthetic Oil vs Regular Oil
Additionally, you have to pay attention to whether to go for synthetic or regular engine oil. We talked about each of these oils in detail early on in this article, and you can use that information when making a decision.
2016 Nissan Rogue Oil Type #4 – Oil Capacity
In 2016, the Nissan Rogue was equipped with a 2.5-liter engine with four cylinders. It was capable of producing 170 horsepower along with 175 lb-ft of torque. According to Nissan, this SUV takes 4.5 U.S. quarts of oil if you decide not to change the oil filter.
However, with an oil filter change, the inline-four engine of the Rogue takes 4.88 U.S. quarts. Ensure that you get the capacity right, as too little oil, or even overfilling the engine oil by just 1 quart can be damaging.
2016 Nissan Rogue Oil Type #5 – Frequency
The frequency on which you should change the oil (as well as understanding how to change oil in car) of a Nissan Rogue varies depending on how you use your vehicle. For example, if you use your Rogue mostly for city, heavy-duty or dusty driving, the oil should be changed every 3000 miles.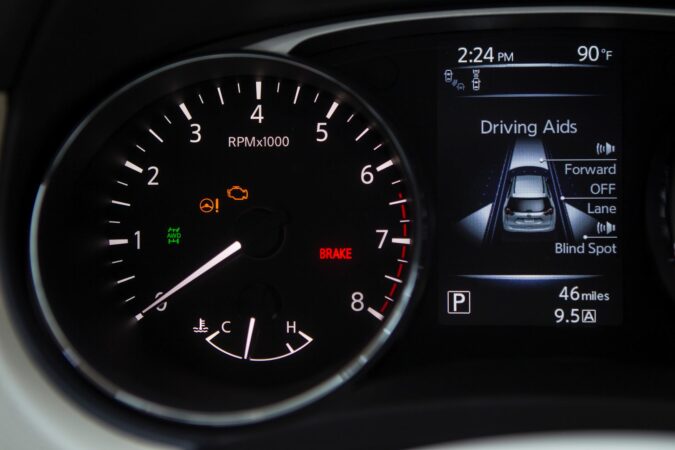 On the other hand, if you do most of your driving out on the highway, changing the oil every 5000 miles is adequate. The use of synthetic oil instead of regular mineral oil increases the service intervals further, up to 7500 and 10,000 miles respectively.
It is a good idea to change your engine oil more frequently if you always use your vehicle for heavy-duty tasks or take it off-road often. After all, it's a very bad idea to test what happens if you don't change your oil, in addition to how many miles can you go over an oil change.
Nissan Rogue Oil Change
Now that you know how to choose the best 2016 Nissan Rogue oil type, you should also know how to perform an oil change correctly. Plus, it is cheaper to change your own motor oil. If you plan to change the oil of your Nissan Rogue at home, you should have the following tools at hand.
14mm Socket
3/8-in Drive Ratchet
Wrench
Jack Stands
Floor Jack
Drain Pan
A Container and A Rag
Once you have gathered all the tools, park your vehicle on a level surface to start the oil-changing process. Start your engine, and let it run for a few minutes until it reaches the operating temperature. Then, let the vehicle cool off for about 10 minutes before commencing the oil change.
Raise the vehicle off the ground with the floor jack, and lower it onto the jack stands safely. Lifting the Rogue off the ground in this manner will make changing the oil change much easier.
After doing so, open the oil filler cap, and using the 14mm socket, remove the oil drain plug under the passenger side of your vehicle to let the old oil drain out. After all the old engine oil has been drained, clean the drain plug (also, check if you have a stripped oil drain plug) and secure it back into place.
It is a good idea to change the oil filter at this point as well. Then, fill the engine up with the recommended quantity of engine oil. Check for any leaks under the vehicle, and also take a dipstick reading to see whether the engine has received an adequate amount of oil.
Make sure you also have a reference of where should oil be on the dipstick, and whether you should check the oil when it's hot or cold. And that's it! You have successfully performed a Nissan Rogue oil change in the comfort of your home.
Verdict
The 2016 Nissan Rogue is one of the best SUVs of its time. And if you were curious about the best 2016 Nissan Rogue oil type, now you have your answer. We recommend using a 0W-20 oil with API certification, as they offer great performance in both the summer and winter.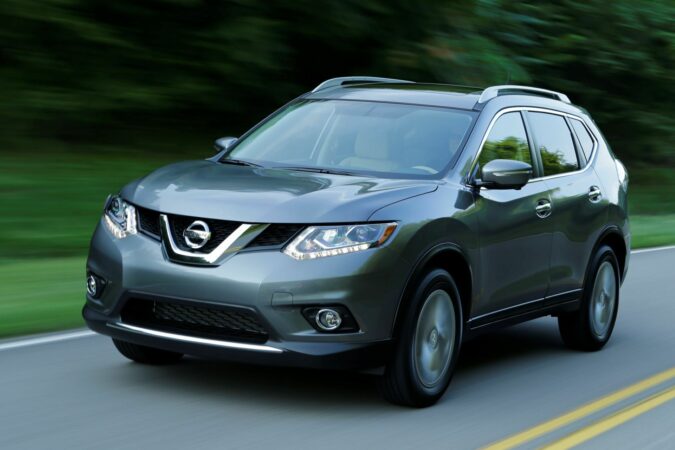 You should pay close attention when choosing between mineral oil and synthetic oils as well. Although mineral oils are cheaper to purchase, they don't offer the same level of longevity and protection as synthetic engine oils. Take this factor into consideration before making a purchase.
But, if you're buying a Rogue, we have an abundance of resources to help you make the right decision. That includes looking at some of the more common Nissan Rogue problems, such as how your Nissan Rogue won't start. We've even detailed some of the reliability issues for the Rogue by model year.
So, should you need to refer to all the 2011 Nissan Rogue problems, and the 2015 Nissan Rogue problems, as well as the 2019 Nissan Rogue problems, we've discussed those, too. On top of that, here's a list of the Nissan Rogue model years to avoid, in addition to the 2014 Nissan Rogue problems.
FAQs On 2016 Nissan Rogue Oil Type
What Kind Of Oil Does A Nissan Rogue Take
The type of engine oil a Nissan Rogue takes differs depending on the model year. For example. Nissan Rogue SUVs made in 2023 take 5W-30 engine oil. On the other hand, Rogues made in 2014, 2015, and 2016 can be filled up with either 0W-20 or 5W-30 engine oil.
How Many Miles Can A 2016 Nissan Rogue Last
With regular and timely services, a Nissan Rogue will last you reliably for around 200,000 miles. 2013, 2015, and 2017 are considered by many to be the most reliable model years of the Nissan Rogue. In contrast, in 2008 and 2010, the Rogue faced some reliability issues, and it is a good idea to keep away from these model years if you want a reliable vehicle.
How Many Quarts Of Oil Does A Nissan Rogue Take
The amount of oil a Nissan Rogue takes varies depending on the size of the engine. The smaller, 1.5-liter engine takes about 5 quarts of oil, which equates to about 4.7 liters. On the other hand, the oil capacity of the 2.5-liter inline-four engine is around 5.3 quarts.
How Much Is A Nissan Rogue
The base model 2023 Nissan Rogue S carries an MSRP of $27,360. On the other hand, the range-topping Platinum trim level will set you back $37,140. If you want to equip the Rogue with an All-wheel drive system, be prepared to spend an additional $1500.
Are Nissan Rogues Good Cars
Being a Japanese SUV, the Nissan Rogue has better reliability than most of its competitors. Additionally, it offers a comfortable ride, a feature-rich interior, and a capable all-wheel-drive system at an affordable price. In addition, the fuel-efficient 2.5-liter engine under the hood delivers 26 MPG in the city and 33 MPG on the highway, making this the perfect SUV for daily commutes.