Chevy's famed small-block V8 engines have long been the favorite of every enthusiast, whether it's a swap that they have in mind, or are keen to modify it to the max. They're incredibly powerful from the get-go, are tuneable to crank out even more grunt if needed, and are reliable enough to keep on driving for years to come. But, one doesn't come across a 283 Chevy engine all too often, so why is that?
While most gearheads are infatuated with small-block LS swaps and whatnot, the 283 Chevy engine is an oft-forgotten about motor. It didn't become a cult icon like most of its siblings in Chevrolet's meaty V8 family. And frankly, it wasn't a strong performer as the rest, relatively speaking. Yet, the 283 Chevy engine is an underrated powerplant given its durability, endless reliability, as well as ample pliability.
What's The Deal With Small-Block Engines?
Chevrolet's small-block engines have long been described as a workhorse in blue-collar America. Be it a gargantuan farm truck, urban runabout SUV, go-anywhere off-roader, or a sports car to challenge the likes of Ferrari, these enduring V8s have powered it all. The name itself, "small-block", is a simple way to discern their tinier and more compact packaging compared to the bigger "big-block" motors.
The first of Chevrolet's small-block motors (including the 283 Chevy engine) arrived all the way back in 1954. Yet here we are today, almost 70 years later, Chevy still builds and sells these small blocks as a crate engine. Proving the versatility of the lifelong small-block V8, its earlier variations were a "mere" 4.3-liter in displacement. Not long later, you can easily find up to a 6.6-liter model within the family.
Chevy isn't the only one to have adopted the small-block design, either. Most of General Motors' – who are Chevrolet's parent company – portfolio has a similar small-block V8 of their own. It included some of the most iconic yesteryear brands, such as Cadillac, Buick, Holden, Pontiac, and Oldsmobile. A few of those marques no longer exist, but you could possibly find their small blocks still running today.
This is proof of how dependable these small-block V8s, such as the 283 Chevy engine, are. Among the exclusive club of vehicles to have clocked more than a million miles on the odometer, you'll easily find a small block in there somewhere. Even during an era where downsizing for the sake of emissions took center stage, small blocks remain popular. By 2011, Chevy sold its 10-millionth small-block V8 motor.
How Did The 283 Chevy Small-Block Engine Came To Be?
To answer that, we should take a look at the 283 Chevy engine's predecessor, the 265 small-block V8. The arrival of the 265 was a momentous occasion in V8 history, as it became the first small block from Chevrolet. Therefore, we can trace the lineage of all Chevy small-block V8 motors, including the oh-so-popular LS of today, back to the 265 and 283. They're both a part of the 3.876-inch bore family.
Nonetheless, while the 265 laid the foundations to Chevy's small blocks, its immediate successor, the 283, is where it began to take shape. The 283 Chevy engine was among the first motors to be capable of outputting 1 horsepower per cubic inch. And for those unaware, 283 is a measurement of the cubic-inch capacity of an engine. It's the old imperial equivalent to the liter-based displacement of today.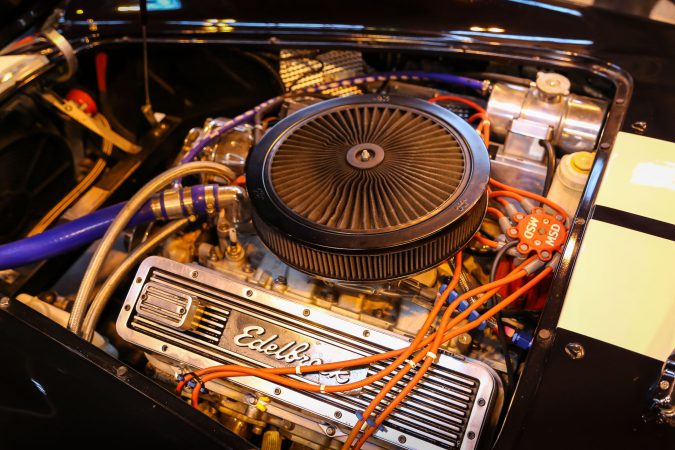 From the basis of the 283 Chevy engine, future small- and big-block V8 motors would evolve. The 265 cubic-inch motor, in more recognizable metric terms, is measured at 4.3-liters. Meanwhile, the 283 is a meatier 4.6-liters. The third and last of the 3.876-inch bore family of first-generation small-blocks was the 307. With its 5.0-liter displacement, the 3.876-inch engines soldiered on in production until 1973.
Most notably, it was the 265 (and later 283) that made it into the early Corvettes, replacing the rather lethargic inline-6s that came before it. This helped to catapult Chevrolet up ahead of the competition in the muscle car wars of the era. In the Corvette, the top-of-the-line 283 motors could hit 60mph in just 5.7 seconds. Impressively still, the 283-fitted Corvette can top out at then-whopping 140mph.
Why Does The 283 Chevy Engine Matter?
But anyway, back to the 283 Chevy engine, shall we? 1957 was the first time the world saw the 283 Chevy engine come into production, for 1958 model year vehicles. The 283's core was milled out of the 265 but was bored to 3.876-inches, or 98.45mm. Initially, Chevy's engineers thought to simply re-use the 265's block. However, they soon found that the cylinder walls were too thin to support the 283.
Significant revisions were later made to accept the 3.876-inch bore natively. You're able to option the 283 Chevy engine in one of six variations. Its base tune could manage 185hp, which was respectable enough back then. Or, you could specify a single four-barrel carburetor to up that to 220hp. Adding a set of double four-barrel carburetors could increase that figure still, to either 245hp or 270hp.
Limelight for the 283 finally came in 1957, when Chevy fitted a GM-built Rochester Ramjet mechanical fuel injection. By eschewing the old-school carburetor set-up, the Ramjet kit boosted power to either 250hp or 283hp. The latter of the specifications was a big deal, as the thought of a 1hp-per-cubic-inch engine was unheard of back then. At least, not in a bone-stock, from-the-factory tuned powerplant.
Alas, it was beaten to the punch (just barely) by Chrysler's 300B. From 1957 onwards, the success of its 283 Chevy engines gave General Motors the confidence to fine-tune and market these motors as high-performance engines. That said, the iconic Checker Taxis had 283s fitted to them in 1965. Moreover, Studebaker's Canadian division had a similar version of the 283 Chevy small-block engine, as well.
What Is This Rochester Ramjet Fuel Injection?
Rochester is General Motor's in-house unit for manufacturing carburetors, emissions systems, cruise control, and as of the introduction of Ramjet, fuel injection. With that being said, Rochester was at the time the builder and producer of Ramjet mechanical fuel injection. Its designers were in fact based in Chevrolet's engineering and research team. In particular, by Harry Barr and Zora Arkus-Duntov.
The latter of the two gentlemen is most popularly recognized as the creator and father of the Corvette. Ramjet was split into three core components – the fuel meter, air meter, and manifold assembly. Once fresh atmosphere rushes into the engine, fuel is injected directly into each intake port. It's then mixed with a precise amount of fuel, all for the benefit of better performance, as well as reasonable mileage.
 

View this post on Instagram

 
With the inclusion of Ramjet mechanical fuel injection, it could add another 5bhp by its lonesome over a similar 4-barrel carburetor. Furthermore, it improved start-up and warm-up in colder climates. They also claimed that using fuel-injected designs helped to avoid the engine's habit of stalling under hard driving or cornering. It was by far one of the most advanced fuel injection configurations in the world.
Astoundingly, they were able to overcome to challenges of working with mechanical fuel injection, as it can prove unreliable or inconsistent. So much so, those mechanics at the time recommended owners that they should swap them out for carbs. Nonetheless, the 283 "fuelie" could achieve a frugal 20mpg. As incredible as that might seem for a V8, it could idle smoothly at 900RPM, or rev it up to 7,000RPM.
What Were The Changes Made From The 265?
There were bountiful tweaks made during the upsizing from the 265 to the 283 that we've yet to make mentions of. During its development, many of the 265's components were swapped for the 283. Some noteworthy changes made include:
Hydraulic valve lifters were replaced with mechanical ones to best accommodate the new Ramjet fuel injection system.
Spark plug reach was made longer and had metal deflection shields. The latter was utilized to protect the spark plug wiring and plug caps from the heat in the manifolds.
The upper half of the engine block sported a thicker metal casing. This ensured minimal cylinder wall distortion through the engine's over-tight, hold-down bolts.
Fuel lines had a tapered design, including an increase in cross-section surface area near the inlet ports and exhaust manifolds. Combined, they aid in increasing the volumetric flow of fuel into the engine.
Its distributors were uprated, with breaker points placed directly above the shaft bearings. Ultimately, it helped to reduce fluctuations in the gap settings.
Front and intermediate shaft bearings are both 0.063-inches thicker than in the 265. This allowed it to better cope with the engine's increased power output.
Manifold casting was of two-piece construction, made out of aluminum. However, this is found only on the fuel-injected variants. Its upper casting is where you'll spot the air intake passages, as well as the air-to-fuel metering. Meanwhile, the lower casting contained its ram tubes.
Fuel nozzles had been extended to more readily mix in with air surging into the engine. This is to avoid them absorbing excessive amounts of heat, and maintain a more consistent performance.
The increased flow of oil to the crankshaft and pistons, resulting in enhanced cooling and lubrication.
A close positioning of the camshaft and crankshaft necessitated shorter timing chains, leading towards improved durability.
Key Specifications Of The 283 Chevy Small-Block V8 Engine
As mentioned earlier, the 283 Chevy engine was produced across a wide range of power bands, from a low-stress V8 to be used in taxis, to excitable motors bolted into the Corvette. They typically featured single overhead camshafts (SOHC) and were fitted into practically every Chevrolet vehicle at the time. This included the Bel Air, Impala, Malibu, and Chevelle. Oh, and don't forget those Checker taxi cabs.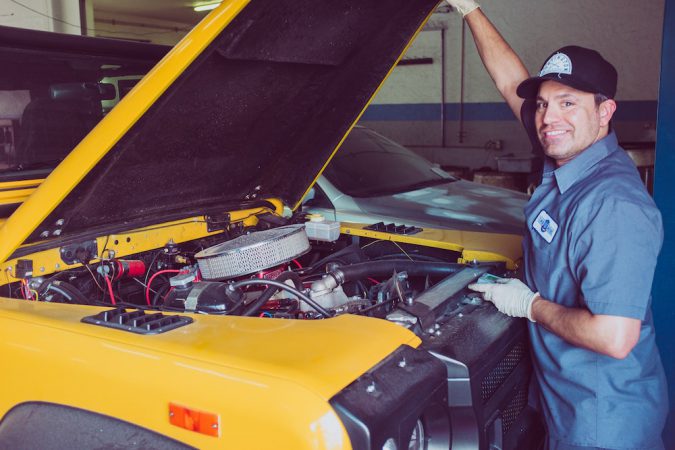 Here are a few popular variations of the 283 that was built back in the day:
Single 2-Barrel Carburettor
Horsepower: 170bhp, peak at 4,200RPM
Torque: 275lb-ft, peak at 2,200RPM
Stroke: 3.00-inch
Bore: 3.876-inch
Compression: 8.5
Model Years: 1960 to 1962
Single 2-Barrel Carburettor
Horsepower: 195bhp, peak at 4,800RPM
Torque: 285lb-ft, peak at 2,400RPM
Stroke: 3.00-inch
Bore: 3.876-inch
Compression: 9.25
Model Years: 1963 to 1967
Single 4-Barrel Carburettor
Horsepower: 220bhp, peak at 4,800RPM
Torque: 295lb-ft, peak at 3,200RPM
Stroke: 3.00-inch
Bore: 3.876 inch
Compression: 9.25
Model Years: 1964 to 1966
Single 4-Barrel Carburettor
Horsepower: 230bhp, peak at 4,800RPM
Torque: 300lb-ft, peak at 3,000RPM
Stroke: 3.00-inch
Bore: 3.876 inch
Compression: 9.5
Model Years: 1960 to 1961
Single 4-Barrel Carburettor
Horsepower: 250bhp, peak at 4,400RPM
Torque: 350lb-ft, peak at 2,800RPM
Stroke: 3.00-inch
Bore: 3.876 inch
Compression: 10.5
Model Years: 1964
Double 4-Barrel Carburettors
Horsepower: 245bhp, peak at 5,000RPM
Torque: 300lb-ft, peak at 3,800RPM
Stroke: 3.00-inch
Bore: 3.876-inch
Compression: 9.5
Model Years: 1960 to 1961
Double 4-Barrel Carburettors
Horsepower: 270bhp, peak at 6,000RPM
Torque: 285lb-ft, peak at 4,200RPM
Stroke: 3.00-inch
Bore: 3.876-inch
Compression: 9.5
Model Years: 1960 to 1961
Fuel Injection
Horsepower: 275bhp, peak at 5,200RPM
Torque: 285lb-ft, peak at 4,200RPM
Stroke: 3.00-inch
Bore: 3.876-inch
Compression: 11.0
Model Years: 1960
Fuel Injection
Horsepower: 315bhp, peak at 6,200RPM
Torque: 285lb-ft, peak at 4,200RPM
Stroke: 3.00-inch
Bore: 3.876-inch
Compression: 11.0
Model Years: 1960
What Are The Best Modifications For The 283 Chevy Engine?
Pundits have long praised the 283, owing to how well it can endure years, or sometimes decades of use. Nevertheless, reliability isn't its only mainstay, as it can perform decently well, too. Its short 3.00-inch stroke, for example, meant that it's a rev-happy engine that's just as comfortable at higher RPMs. You could still bore it out even more, close to around 300 cubic inches if you really want to stretch it out.
At this point, you can add larger valves to extract more horsepower out of the same 283 Chevy engine block. Moreover, this is helped by the fact that Chevrolet unveiled an abundance of both aftermarket and factory tuning parts. It made it easier, more convenient, and far cheaper for enthusiasts to crank up the output. Plus, its pliability ensured that you can fine-tune its configuration any way you want.
Some of the most popular modifications suggested to a 283 Chevy engine that we can find included swapping in:
Rochester Quadrajet carburetors, ideally with a 400 to 500 cfm rating (cubic feet per minute)
Or, anything with a 4-barrel carburetor set-up (with upwards of 600 cfm if possible)
305 Vortec heads (or simpler 305 HO heads) with an increased compression ratio
Period 283-based Corvette "ram horn" exhaust manifolds
Edelbrock Torker-style intake manifolds
Bore it out to 301 cubic inches (or 292 as a simpler route)
Duntov high-performance small-block camshafts (better still, take one from a 327)
327 forged steel crankshaft (ideally with 307 pistons)
Performant free-blowing dual exhausts
Small-body HEI distributor and ignition layout
What Are The Common Problems With Chevy's 283 Small-Block V8?
While the 283 Chevy engine was built with longevity and reliability in mind, it wasn't completely free of problems. The most commonly reported issue was with its rocker arm studs, which have a tendency to slip out of the cylinder heads. Consequently, this would lead to an immediate loss of power to that cylinder, or any cylinders closest to the affected rocker arm studs.
The best solution would be to re-seat the rocker arm studs. Then, secure a rolling pin through a drill hole from the side of the cylinder head and into the rocker arm studs. Another related issue concerns the rocker arm balls. If you don't change motor oil at the suggested intervals, the pushrods can clog up. It thus leads to the rocker arm ball not getting its fair share of oil, and wearing out prematurely.
 

View this post on Instagram

 
Should this happen, it can reverberate into issues with the camshaft, lifters, pushrods, and rocker arm. All of which, would need a rebuild or replacement down the line. On top of that, we also found owners who reported several other issues with a 283 Chevy engine:
Is Getting A 283 Chevy Engine Worth It?
Thus far, we've learned that Chevy's small-block 283 V8 was ground-breaking back in its heyday. Every LS enthusiast out there should give praise to the 283, as a key turning point for all small-block engines to this day. However, is it worth getting one for yourself, say for an engine swap or a restoration job on your old racer? Despite our positive view of the 283, it might be the best choice for your buck.
The 283, although revolutionary by 1950s and 1960s standards, are quite old-fashioned today. It's bad enough that most of its credentials in regards to performance and reliability are easily outclassed by a later small-block variant. The 4.000-inch bore family, for example, has plenty of great options that can suit your needs if raw power is concerned. Although, some might argue that they're not as reliable.
If you're keen on getting the most horsepower for your money, a 283 isn't the best pick of the bunch. Although, it would be a good option if you're interested in a period-correct restoration, or perhaps a spot of classic racing. Acceleration and top speed will be shy of newer small blocks, but you'll have an edge when it comes to durability. It's the perfect motor then, for something like endurance racing.
As for cost, you might be able to find a well-used 283 Chevy engine for around $1,000. The carburetor ones usually command a premium. If you look hard enough, you might find a scrapped example for as little as a few hundred bucks. Should quality concern you, know that there are many engine builders who are happy to supply you with a brand new 283 crate motor. Price-wise, a few grand is expected.
Can You Still Buy Brand New Chevy Small-Blocks?
You might've been rather puzzled as to how is it that you can go out and buy a brand new 60+ year old engine. The economics of crate engines is enticing enough that many companies, even the automakers themselves, offer them to pretty much anyone. Unfortunately, 283 crate engines are a product made by aftermarket tuning companies or engine builders. Otherwise, Chevrolet is happy to serve you.
If you're not yearning for a 283, Chevy offers a wide variety of first-party small-block V8s. Not content with that, they're also keen to sell you big-block motors. In addition, their catalog consists of more modern E-ROD crate engines, that feature sophisticated componentry distinct from its older siblings. Or, perhaps a Circle Track crate engine instead, tuned primarily to suit racing or performance junkies.
But back to small-block V8s for a moment, the highlight of their crate engine line-up is either a 350 or a 383. The latter can be optioned in varying configurations, anywhere from 323hp, or up to 450hp. It's primarily built for heavy-duty vehicles, such as trucks or SUVs, that require high torque. On the other hand, the 350 is what piques my interest, as a racier and sportier motor that can crank up to 420hp.
You could pick and choose between many flavors of 350 to your choosing. Some of them are turn-key builds, thus including a full powertrain with a suitable transmission. These would be the best for an all-in-one engine swap if you're not bothered with fitting an aftermarket transmission. If you're a fan of the old-school, Chevy even sells a 350 fitted with a classic Rochester Ramjet mechanical fuel injection.
Chevy 283-cid V-8 Engine Overview Facts:
In 1957, Chevy introduced the 283-cid V-8 engine which replaced the 265-cid as the new engine option.
The 283-cid V-8 engine could produce 185 bhp at 4600 rpm in its mildest tune, and with a four-barrel card, the output could be boosted up to 220 bhp.
A "Ramjet" fuel injection system was introduced, which could produce up to 283 bhp, the ultimate goal of one horsepower per cubic inch.
The "fuelie" was designed for reliability, using mechanical valve lifters and longer-reach spark plugs with metal deflection shields.
The top block was a thicker casting to prevent cylinder wall distortion, and the fuel passages were tapered, providing better scavenging and increased volumetric efficiency.
The Ramjet fuel injection system was almost entirely designed by the engineering staff and replaced the intake manifold carburetor with three main components.
The Chevy claimed that the Ramjet fuel injection system eliminated manifold icing and reduced the tendency to stall when cornering hard.
The fuel nozzles were extended further into the air stream to prevent them from absorbing too much heat and causing rough idling.
In Corvettes, the 0-60 mph acceleration times of the most potent versions consistently averaged just over 6 seconds, and top speeds were in the region of 140 mph.
A two-door sedan weighing 400 pounds more than the 'Vette might have done 0-60 in about 8 seconds and hit a top of 120 mph with the right gearing.
Final Thoughts
In all, that just about neatly rounds up our look at the 283 Chevy engine and the awe-inspiring nature of its small-block V8s as a whole. For the 283, in particular, it led to the continued evolution and rapid growth of small-block motors across all of Chevrolet, and its GM stablemates. As an engine, the 283 is okay-enough fast, with performance that blew most other cars out of the water back in the day.
But in the following years, it became apparent that larger 300++ cubic-inch motors upped horsepower by a significant degree. Will all that's said and done, some might argue that the 283 Chevy engine leapfrogs the rest when it comes to reliability. It's an engine that could effortlessly crack hundreds of thousands (or even a million) miles without breaking a sweat. What a magnificent legacy it's left behind…