This article was recently reviewed by car expert Paul Hadley to ensure it is as accurate and helpful as possible.
Are you planning on building a drag strip torque monster? If that is the case, then the 400 small block might be the engine that you are looking for. And we are going to help you out with your search by giving you the right data on this engine and learning its strong points as well as the weak points.
Doing the proper research before you go out there and purchase an engine is always a good idea. Before you make a purchase you need to get yourself properly informed on the topic and learn more about this engine.
As we know, each engine has some positives and negatives. Some engines produce a ton of horsepower, while their torque numbers are average. That's why if you are building a dragster for yourself, then going for the torque is key.
Why would anyone need a ton of horsepower when this horsepower is limited by the torque output that this engine makes? In an ideal situation, the torque and horsepower numbers should be pretty much the same and this is the point where the 400 small block shines. But more on that in the article.
First, we are going to learn what is the 400 small block and compare it with a big block. Then we will learn its advantages and disadvantages. Later we will cover the applications in which this engine was included and where you can harvest one. Lastly, we will discuss alternatives that are out there when it comes to an engine of similar size and power figures. So, follow along.
What Is A Small Block V8 Engine?
A small block is a V8 engine block. As you know the block is the core of the engine and all the magic happens inside of the block. Inside of the block the pistons are working and producing all that power.
The small-block concept was introduced by the Chevrolet division of GM in 1954 and was produced right until 2003 when it was replaced by the LS family of engines.
The first-ever small-block was the Chevrolet 265cu V8 that debuted in 1955 with the Corvette. And over time these engines have evolved immensely and were offered in a variety of different applications. Starting from cars to trucks, they powered everything out there.
And they were also very reliable in comparison to other engines. That's how they got their name in the car world as one of the best series of engines ever produced.
The displacement of these engines started at 262cu or 4.3L and up to the 400 small block that had 400cu and 6.6L of displacement.
The cylinder bore varied from 3.5 inches up to 4.125 inches and the piston stroke was from 3 inches up to 3.75 inches on the 400 small block.
The blocks were manufactured out of cast iron mostly. But some performance applications were aluminum made. Similarly, with the heads, high-performance heads are made from aluminum.
All these engines are chain-driven and have a compression ratio of 8.2:1 and up to 11.0:1 and this tells you a lot about the durability of the small block engines.
The engine redline was about 6,500RPM, which is shared between all the V8 pushrod engines. The power output varied from 110 and up to 475hp, while the torque was rated between 215 and 400lb-ft for the 400 small block.
Small Block VS Big Block Differences
When it comes to comparing these two engines, to be honest, there is no comparison. The big block is a clear winner if you are asking me. It has a much longer stroke than the small engine as well as a bigger bore and this is a clear winner.
These engines are much bigger and can withstand a bigger load. Making them perfect to use as truck engines or SUV engines. The big-block family was introduced in 1955 and is still in production until this day. Mainly as crate engines, because they as well were axed by Chevy in favor of the more modern LS engines.
The pinnacle of the big block Chevy in terms of performance were the 396 as well as the 427. The latter one was somewhat comparable with the 426 HEMI that was introduced by Chrysler in the late '60s. But as the regulations hit, the big-block engines were turned mainly into workhorses.
Some of the smaller displacement big blocks are somewhat comparable when it comes to the 400 small block. Like the 348, 396, and the 402 big blocks which is the most likely competitor to the 400 small block.
Even though they had basically the same engine displacement, the 402 was not a truck engine like the 400 small block. But an engine intended for creating big power, 330hp to be more exact.
But what are the main characteristics of the 400 small block and its specs? Well, that's what we are going to cover in the following chapters where we will elaborate the 400 small block in detail and learn more about this engine and its performance.
What Is The 400 Small Block?
When we discuss Chevy, the first thing that comes to your mind would probably be the LS family of engines or the mighty 454. But let me tell you that there are also a ton of other cool engines produced by Chevy. Namely the 400 small block.
The 400 is based on the small block design and is easily the biggest engine in its family of small block engines. It is right on the limit, if it would have a couple of cubic inches more, it would have been a big block.
As you can tell, the 400 number is for the 400 cubic inches of displacement. There is no replacement for displacement. That's why this engine pretty much outperforms all of the engines in the Chevy small-block family.
This engine was produced from 1970 to 1980 when it was discontinued. But this discontinuation didn't mean that this engine would be forgotten. But quite the opposite. This engine has proven itself quite a bit on the drag strip during these long years and you can easily find a new crate engine based on this design.
You don't need to make junkyard digging to find one of these engines. But to be honest, it will cost you a good penny. About $6,000 to be more exact. Unlike the junkyard engines that can be yours for about $500. But with these engines, you never know what you will find and the work they will require to be brought to race spec.
So, getting a crate engine if you are doing some drag races might be your best bet. But what about the 400 small block specs? More on that in the following chapter.
400 Small Block Specs
As we mentioned the 400 small block has 400 cubic inches of displacement or 6.6L. The 400 block is made out of cast iron which makes it extremely durable and able to handle a lot of torque. The cylinder heads are also made out of cast iron. But in modern race applications, these are often known to be manufactured out of lightweight aluminum, improving the performance of the engine.
The 400 small block kept the dimensions of the other small blocks in the family. Namely the 350 and 383. But this engine had an increased bore up to 4.125 inches and a longer crankshaft stroke up to 3.75 inches. To put things into perspective. The Chevy 350 has a bore of 4.00 inches and 3.48 inches stroke.
So, for GM to cram that extra 1/8 inch bore diameter, they had to cast the block pretty differently in comparison to other engines like the 350.
The 400 small block had the water jackets between the adjacent cylinders removed. In addition to this, the 400 small block crankshaft was redesigned and had bigger main journals.
The rods on the 400 small block were also quite smaller than the regular Chevy small block like the 350. On the 400 small block the rods were 5.565, while on the 350 are 5.7 inches. So, the 400 had a longer stroke of about ¼ inch.
This created loss of balance and something has to be changed. So, balancing on the flexplate as well as harmonic balancer had to be introduced on this engine. This is something characteristic of the big blocks. But what is the power output of the 400 small block? Well, that's what we are going to cover in the following chapter.
Power Output Of The 400 Small Block
Before we cover the big block, let's discuss the power ratings of the 400 small block. As you know the 400 small block was designed to have big torque delivery at low RPM. Making it an excellent application for trucks and SUVs.
The low-end torque was attributed to the long stroke that this engine had. In addition, this engine came with a 2 barrel and a 4 barrel carburetor. So, if you opt for more performance, you would highly likely go for the 4 barrel carb.
The power numbers of the 400 small block are about 265 horsepower. But this is the gross horsepower. At the wheels, this engine produced about 150 horsepower. And considering for the applications this engine was intended, 150 hp are some healthy numbers. When you haul or tow, the most important thing is the torque and the 400 small block had a lot to offer in this aspect.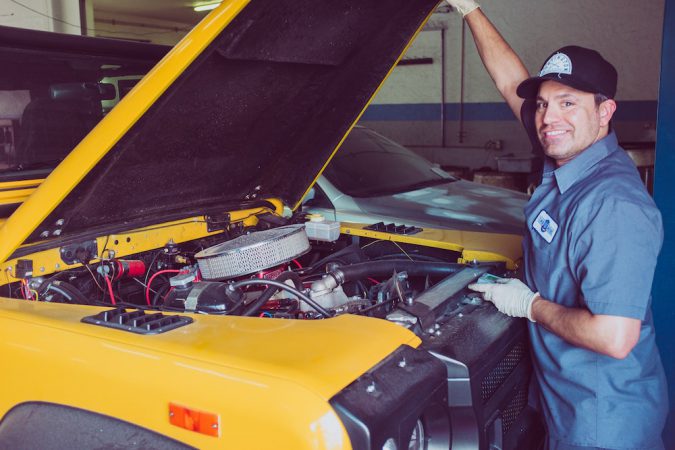 Like people who are into Chevy engines, we can say that these engines were factory de-tuned to improve the engine's overall lifespan as well as for the 400 small block not to serve as an engine for harvesting. GM probably didn't want someone to buy their trucks for the high horsepower ratings but rather for the towing capability.
To put things into perspective, a 454 big block was producing about 500hp with small tweaks. If this was done as well as to the 400 small block, this engine would also easily make about 400 hp. Some of these engines with aftermarket cams and aluminum heads are pushing even 500 hp.
De-Tuned For Security Reasons
So, you need to bear in mind that for security reasons the factory numbers of the 400 small block were reduced by a big margin. Chevy didn't want to take any chances with warranties and also they didn't want to make a competition for their other big-block engines like the 402.
So, they had to de-tune the 400 a little bit to meet these conditions. But what is good when it comes to this engine? What are the advantages as well as disadvantages of the 400 small block? Well, that's what we are going to cover in the following chapters.
Advantages & Disadvantages Of The 400 V8
Now let's discuss the advantages and disadvantages of the 400 small block Chevy. Knowing the advantages and disadvantages will make your life easier and you will be able to tell if this engine is right for you or not. And trust me, the advantages are much greater than the drawbacks that this engine has. But more in detail, we will see in the following chapters which are these advantages precisely. So, if you want to learn more, follow along.
Advantages Of The 400 Small Block
When it comes to the advantages of the 400 small block, it is worth it that there are plenty of them. The first advantage would probably be the lightweight nature of this engine block.
The small block as we noted is quite smaller and lighter than a big block. Even though this engine is 400cu, it still keeps the small block and compact size. Making it really good for race applications. If you want to build a dragster for yourself, you need a light car after all. And the 400 small block delivers in this aspect.
The second benefit of running this engine is its long stroke. The stroke that this engine has is much longer than your average Chevy 350 small block engine. The bigger the stroke, the bigger the power it creates. The low-end torque is incredible with this engine. And frankly, if you want to race an engine, you need low-end torque. Why would you need a 1000 hp if you need a ton of time to get there?
Overall, with improved pistons, aftermarket camshaft, and high-performance cylinder heads, you are probably going to make a lot of power with this engine. But not everything is sunshine and roses, the 400 also has some disadvantages and we are going to cover them in the next chapter.
Disadvantages Of The 400 Small Block
As we mentioned, this engine also has some disadvantages that these engines have. The biggest disadvantage is that they are hot items. Meaning that people want them and want them bad. They know the ability of this engine to make unreal power with some modifications and people are harvesting them from junkyards like crazy.
The chance to find one in a junkyard is really low. When buying one you will probably get it from a reseller that scavenged it from some truck in the junkyard and now wants to make some money out of it. And yes, these engines are expensive to purchase, people want the ability of these engines to produce power and they know that they can earn more money out of these engines.
In addition to this is it worth that these engines in a stock configuration are pretty bad when it comes to performance. Their heads are the limitation for unlocking the power that you want.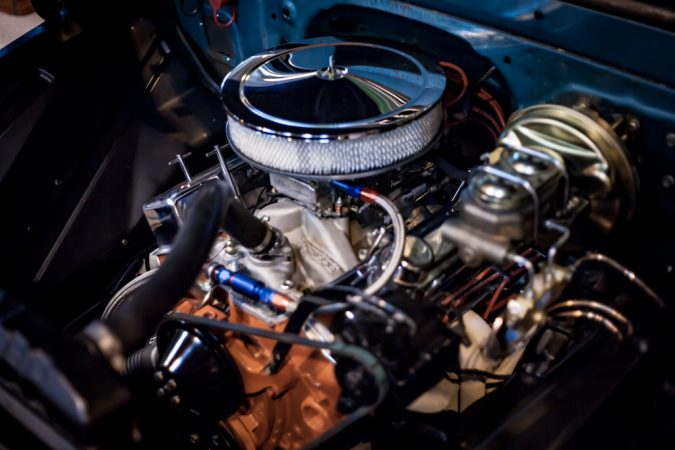 The engine heads these trucks are running are designed for that low-end torque and pulling power. Meaning that they do not make a ton of horsepower. So, if you want to unlock that power from these engines, you will highly likely have to install some aftermarket heads to make the engine perform well.
And the last downside is that this engine has a long stroke and has to be externally balanced. Requires a harmonic balancer at the front and a balancer on the flex plate. And this can annoy some of the Chevy 350 guys who hate using balancers.
Overall, these are the main downsides of this engine. When it comes to the block itself, it is pretty much a bulletproof engine. But in what applications can this engine be found?
400 Small Block Applications
The Chevy 400 small block was included in many GM products, precisely Chevrolet cars, and trucks.
The 400 was included in the 72 to 75 Chevy Impala, 71 to 75 Chevrolet Chevelle, 77 to 80 Camaro, as well as the Chevy K5 Blazer and the Jimny. Overall, the 400 was included on all A-body midsize offerings by Chevy as well as the B-body full-size cars also made by Chevy.
What is bad though is that these cars are mostly either crushed or to be crushed. There are not a lot of clean examples with a 400 engine in them. Even if some cars had this engine it was probably been ripped off to be sold for a good price. So, finding one in a junkyard could be a challenge.
Where Can I Harvest One And On What To Pay Attention?
Harvesting one from a car could be a challenge since most of the engines have already been harvested. And finding one in a car that is ready to be removed can be a challenge.
What can you do is go to your local junkyards and ask the owners if they have one in their stash of engines. If someone has it, he will highly likely sell it to you if you offer a good price for it.
Sometimes maybe you will have to visit even a few junkyards before you find a really good example of a 400 small block that is worth your attention.
When you try to harvest one, you need to make sure that this engine is good first. Since it is an old engine, it is highly unlikely that you will get a good compression reading on it. The engine would need a rebuild.
But what you can do, is to make sure that the engine turns over well. In addition to this removing the cylinder heads and inspecting the cylinder walls is also a good idea. This is your must-do task when getting one. And not to forget to inspect the block for cracks or previous repairs.
400 Small Block Performance Upgrades
So what are the most logical upgrades that you can do to your 400 small block after purchase? In this chapter, we are going to cover precisely that and learn what are the best upgrades.
The first upgrade would probably be the rod bolts. The factory ones are not killing it if you want to make more power with the engine. You need to upgrade them with ARP bolts that are heavy-duty.
Another upgrade would be to replace the factory heads with the Vortec heads. The Vortec heads from newer engines work much better than the stock ones and produce a ton of more power. In addition, installing a Vortec intake manifold will also be a good move since this intake manifold will unlock more power.
Other logical upgrades would be installing a big 4 barrel carburetor and producing a ton of power. And if you have more money, getting an aftermarket camshaft that is designed for performance will also be a good idea.
But if you really want something big and reach that 500+ hp goal, you will need to do a complete rebuild of the engine with high-end performance parts. This might cost you a few grand and considering this, going for a fully built crate engine for about $6,000 might be your best bet.
How to Build a 400ci Small-Block Chevy Torque Monster for $2,500: Key Facts
The 400 small-block Chevy engine is rare but can be used to build a budget Gen I small-block engine with increased torque and power.
The Vortec iron heads are a cost-effective addition to enhance the 400's torque capacity.
To build a budget short-block, avoid the cost of boring and torque-plate-honing the block.
Summit's cast-iron rings and basic bearings can be used for the bargain-basement plan.
The stock Vortec head uses a large-diameter valve spring guide that requires machining for larger valve lift.
Modified Vortec heads can be ordered from Scoggin-Dickey, which come with better springs and the machine work necessary to clear most street cams.
The GM Performance Products large port Bow Tie Vortec heads are drilled with both bolt patterns and come with larger valves and five angles on the seats.
Holes must be drilled to vent steam and air bubbles vertically out of the block and into the heads.
If the engine's deck height is too low, the compression ratio is reduced, lowering power output.
To improve the compression ratio, a 5.7-inch stroker rod and custom piston with a D-shaped reverse-deflector-style dish would be ideal.
Conclusion
In this article, we have learned a lot about the small block. We covered the basics of the small block and its characteristics, then we compared the small block with the big block design.
After we covered the 400 small block and its specs. We learned the advantages and disadvantages of this engine and its tunability. As we can say this is a truck engine that can reach incredible horsepower with some tweaks.
So, if you are a Chevy guy this should be one of your top priorities. Even though it is damn difficult to find these engines since most of them were scavenged. But if you are lucky and persistent, you might get hold of one of them.