In the dynamic realm of automotive diagnostics, having a dependable OBD2 scanner is paramount for both automotive aficionados and skilled mechanics.
Here, we present a roundup OBD2 scanners review in 2023, shedding light on their features, advantages, disadvantages, and our personal experiences with each.
No scan tool is the best for everyone but you will find the best for you in this review.
Let's dive in!!
1. AUTEL AL319
The Autel AL319, despite its budget-friendly tag, managed to surprise us with its capabilities.
It's the perfect entry-level scanner for those seeking basic diagnostic functions.
During our test, the user-friendly interface and color-coded LED display made navigation a breeze.
However, we did encounter some limitations in terms of compatibility with specific vehicle models.
As a standalone device, it's straightforward and reliable, making it a great tool for quick diagnostics without delving too deep.
Pros:
Affordable,
User-friendly interface,
Live data streaming,
LED display,
Reliable for quick diagnostics.
Cons:
Limited vehicle compatibility,
Lacks advanced features.
Verdict: The Autel AL319 is an excellent entry-level OBD2 scanner that suits beginners and DIYers looking for basic diagnostics without breaking the bank.
Customer Review: "I couldn't believe how much value the Autel AL319 offered at such an affordable price. It helped me diagnose and fix an issue with my car's engine in no time. The LED display is a great touch, and the interface is intuitive. Just be aware of the compatibility limitations – it didn't work well with my older model." – Mark D.
2. BLUEDRIVER
Our experience with the Bluedriver OBD2 scanner was an intriguing blend of modern technology and automotive diagnostics.
The wireless connectivity via Bluetooth to our smartphones proved to be a game-changer, as we were able to access detailed repair reports and real-time data graphs with ease.
The app's frequent updates ensured that our scanner remained compatible with the latest models.
However, we did notice that the learning curve might be steeper for users who prefer traditional standalone devices.
For tech-savvy users, the Bluedriver scanner opens up a world of comprehensive insights and convenience.
Pros:
Wireless connectivity,
Detailed repair reports,
Real-time data graphs,
Frequent app updates,
Modern technology integration.
Cons:
Relies on smartphone,
Might be complex for some users,
Lacks tactile interface.
Verdict: The Bluedriver OBD2 scanner is a tech-savvy choice for those who appreciate in-depth insights and smartphone connectivity.
Customer Review: "Bluedriver's Bluetooth feature is a game-changer. I can read and clear codes while monitoring my car's performance on my phone. The detailed repair reports saved me a trip to the mechanic for a simple issue. But if you're not tech-savvy, this might be overwhelming." – Emily M.
Related post: HOW TO USE AN OBD2 SCANNER & CODE READER?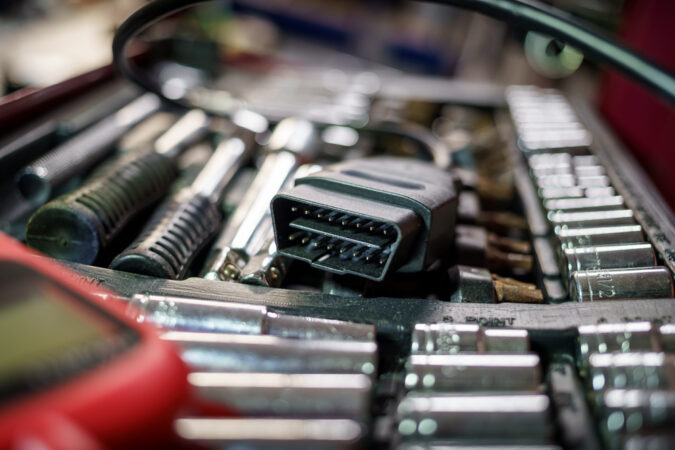 3. AUTEL MK808S
The Autel MK808S left a lasting impression on us with its advanced features and capabilities.
During our testing, we were able to explore full-system diagnostics, perform bi-directional control, and even engage in advanced coding functions.
The large touchscreen and intuitive interface made using this scanner a pleasure.
However, the higher price point might be a deterrent for those seeking only basic diagnostics.
For professionals and serious DIYers, the Autel MK808S is an investment that offers a comprehensive range of diagnostic tools and controls.
Pros:
Full-system diagnostics,
Bi-directional control,
Advanced coding,
Large touchscreen,
Intuitive interface.
Cons:
Higher price,
Might be excessive for basic needs.
Verdict: The Autel MK808S is a powerhouse OBD2 scanner suitable for professionals and serious DIYers seeking comprehensive diagnostics and control.
Customer Review: "As a mechanic, the Autel MK808S is my go-to scanner. It's like having a mini diagnostic station. The bi-directional control is a lifesaver for certain fixes. It is a bit pricey, but for what it offers, it's worth every penny if you're serious about diagnostics." – Alex S.
Related post: CARLY OBD SCANNER REVIEW
4. OBDLINK MX+
Our encounter with the OBDLink MX+ unveiled a scanner that bridged affordability and functionality with finesse.
It showcased a variety of diagnostic functions, including real-time data, readiness testing, and code reading and clearing.
The scanner's streamlined design and practical portability made it a reliable tool for diagnostics on the move.
Notably, the absence of advanced features that high-tier scanners offer became evident.
For users seeking a dependable mid-range option, the OBDLink MX+ emerges as a reliable choice.
Pros:
Affordable,
Diverse diagnostic functions,
Practical portability,
User-friendly design.
Cons:
Lacks advanced features,
Limited compatibility with specific vehicle models.
Verdict: The OBDLink MX+ shines as a dependable mid-range OBD2 scanner, particularly suited for users aiming to strike a balance between cost and functionality.
Customer Review: "The OBDLink MX+ is simple yet effective. The affordable price doesn't mean it's lacking – I got accurate readings and could diagnose a couple of issues myself. It's compact, which is great for on-the-go diagnostics. However, don't expect it to do everything a high-end scanner can." – Chris R.
Related Post: OBDELEVEN REVIEW
5. LAUNCH CRP129X
The Launch CRP129X made quite an impact on us with its extensive range of diagnostic capabilities.
During our testing, we found that it excelled not only in standard diagnostics but also covered advanced areas like ABS, SRS, and transmission diagnostics.
The large, user-friendly display and sleek design enhanced our experience.
However, we did observe that its plethora of features might be overwhelming for casual users, and the higher price aligns with its advanced functionalities.
For professionals and enthusiasts seeking comprehensive control over their diagnostics, the Launch CRP129X is a top-tier choice.
Pros:
Comprehensive diagnostics,
large display,
enhanced capabilities,
covers advanced areas like ABS and SRS.
Cons:
Might be overwhelming for casual users,
higher price,
learning curve for beginners.
Verdict: The Launch CRP129X is a top-tier OBD2 scanner suited for professionals and enthusiasts requiring in-depth diagnostics and control.
Customer Review:
"The Launch CRP129X is a beast when it comes to diagnostics. I'm a car enthusiast, and this scanner helped me identify an issue with my ABS that my previous scanner missed. But honestly, it has so many features that it can be confusing if you're not tech-savvy. It's an investment, but it's worth it if you're serious about maintaining your car." – Jordan B.
In conclusion, the selection of the best OBD2 scanner hinges on individual requirements and budget considerations.
Whether you're an occasional user looking for basic diagnostics or a dedicated professional requiring intricate control, this comprehensive roundup provides insights into the leading OBD2 scanners of 2023.