It has been an exciting year for Motor Verso and I have had the pleasure of shooting some amazing cars. Each one posed its own particular challenges and made all the more difficult by constant battles with the weather, people, weather, traffic, weather, time constraints and oh, did I mention the weather! Yet for all of these little problems, one thing is for sure, we have had amazing fun with these cars and have always put in 110% effort to get the best possible shots of them. In the season of 'giving' here are my top 5 shots, in no particular order…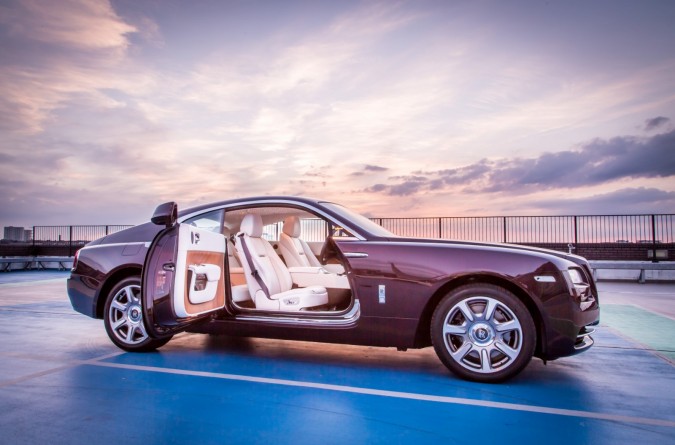 1) Rolls-Royce Wraith
The Wraith was always going to make an appearance wasn't it? Probably the best car that I've shot, it was certainly a challenge, not least because of its size! Trying to 'place' a car the size of an aircraft carrier is no easy task. Editor, Paul, and I found a location on top of a multi-story car park in Birmingham City Centre and set about 'prepping' the big beast by giving it a good clean and wiping our drool of the luscious interior.
As any photographers out there will tell you, the key ingredient for good photography is good light and we were treated to a very nice sunset. With the perfect backdrop, we set about getting 'the shot'. As the light faded, we opened up the enormous 'suicide' door and showed off that luxurious interior. Overall, I am really pleased with the shot, it has some really classy elements considering its location and even ended up pinned on the Rolls-Royce Marketing Departments noticed board, not bad…
Take a look at the Rolls-Royce Wraith review.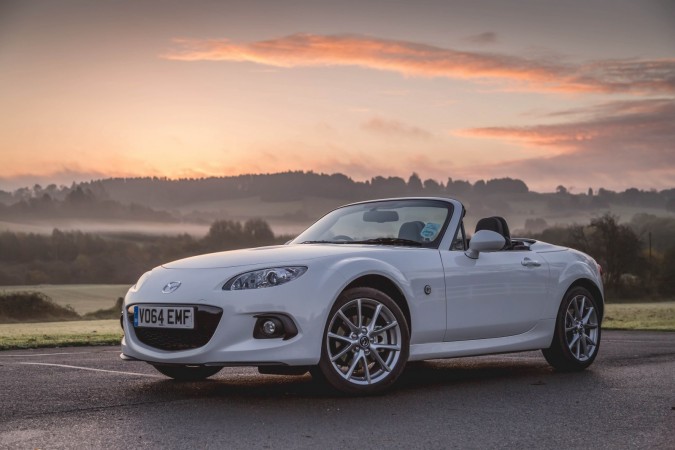 2) Mazda MX5
The little MX5 is a fantastic car, adored by millions and we certainly enjoyed our time with it. Therefore, it was only fitting that we gave it some extra special attention and set out at a ridiculous time on a Sunday morning (as we do with many of the cars we feature, sorry Paul!) to get that beautiful early morning light. After finding a suitably 'pretty' background to compliment the lovely curves of this plucky little Japanese roadster, we stood in awe as nature did the rest.
It's not very often I do this, but I almost forgot to take the shot as we watched the sun illuminate the clouds as the mist rolled over the hills in the background, it was a fantastic moment. This isn't the final image, it is barely edited to show you how picking the right location, at the right time and getting a little bit of luck from mother nature can create a very striking image. Photography on days like this is a very rewarding thing…
Read the full Mazda MX5 review.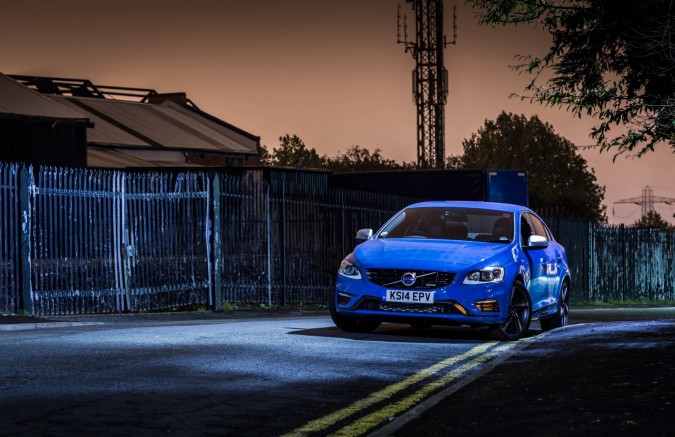 3) Volvo S60 R-Design
You don't need a bald man and a 'larger lady' to tell you the importance of 'Location, Location, Location'! and for all the planning we do before a shoot, sometimes, you just get lucky! We had tried a few different places with the big Volvo and even though the shots were OK, some of my favorite shots (like the one above) were almost completely accidental. I had wanted to find an industrial back drop and whilst driving through a part of Birmingham that you really would not want to stop in, we found some LED street lamps throwing down brilliant white light.
The shot itself was straight forward, placing the car under the street light and getting the exposure right was the easy part. Keeping an eye on our very expensive camera gear in a pretty rough part of town was the major worry – the things you do to get a shot though! The light on the bonnet and the trails down the side of the car would not normally be ideal, but I feel they add to the drama of the shot. By using the 'rule of thirds' and placing the car to the right, it really sucks you in to the gritty, industrial backdrop. We packed up quickly after this shot…
You can still see the full Volvo S60 R-Design review.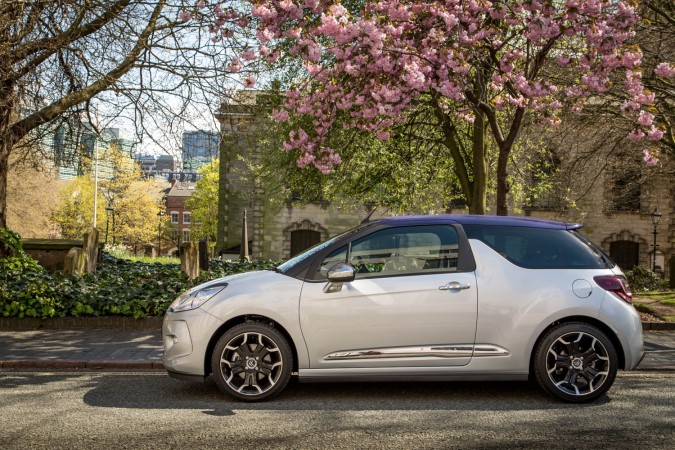 4) Citroen DS3 Cabrio
Sometimes, the simple shots are the best. We timed it well with the DS3 Cabrio and picked a beautiful Spring day to take advantage of that enormous canvas roof, which spent most of the day peeled back. I must admit, I'm not normally a fan of 'soft-tops' but the quirky little Cabrio won me over. This was one of the last shots of the day and it just seemed to look 'right' underneath the Spring blossom.
A lot of automotive photography can be a bit pretentious. Highly Photoshopped images with almost every detail removed can sometimes end up looking a bit cold and uninviting. Maybe it's just me, but I prefer a bit more of an honest image that shows a car in a typical environment (on a road) being used as it would if you actually owned the car! That's not to say that the images aren't tidied up a little and given a bit of extra punch, but a simple image like this one feels far more natural to me…
Have a read of the Citroen DS3 Cabrio review.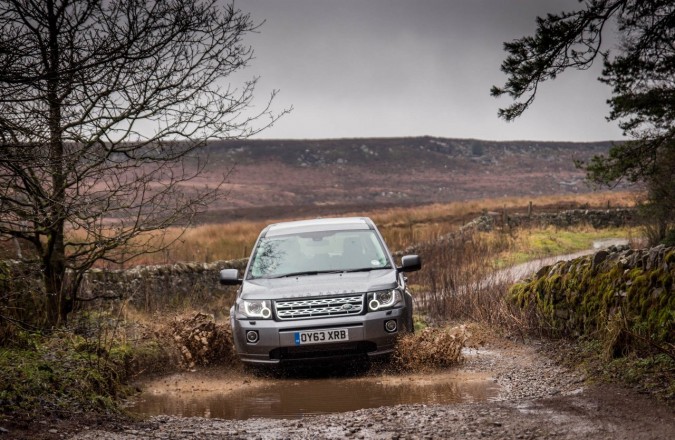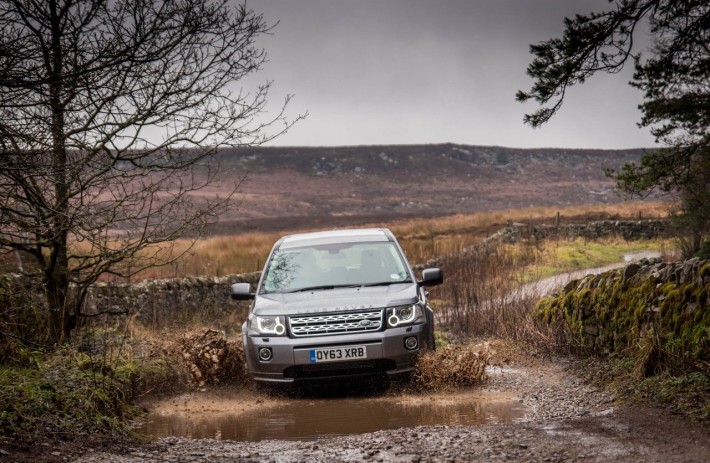 5) Land Rover Freelander 2
We have to go all the way back to the start of 2014 for my final image and a great (but cold) day spent putting the Freelander 2 through its paces. I was pleasantly surprised that the Freelander handled the rough-stuff as well as it did, and regularly getting it on less than all four wheels was very enjoyable! However, I couldn't resist going for the typical 'splash' shot, maybe not the most dramatic you will ever see but throwing somebody else's car through a puddle with no idea how deep it is, is a scary thing!
After hours of playing around in puddles and slipping off giant boulders, we called it a day. I must admit, we always seem to end up shooting in some really strange locations, but the great thing is, both the good folk of Motor Verso and I, love what we do, no matter what ridiculous time of the morning, whichever odd location and in whatever horrendous weather, we just love it.  It's a dirty job, but we're glad we do it! Can't wait to see what 2015 has in store!
See the full Land Rover Freelander 2 review.
Cheeky Bonus Image
Here is a little sneak-peek of the Hyundai i30 that we shot just a few days ago and another example of why we head out so early to get those beautiful sunrises! Look out for the review coming soon.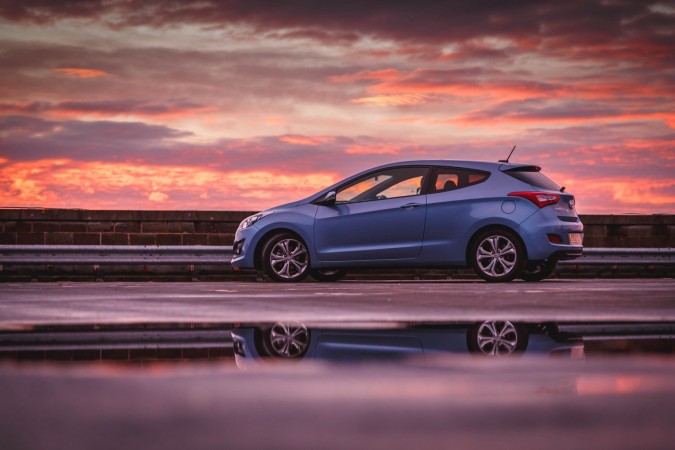 Take a look at the full Hyundai i3o Gallery.