Pickup trucks have become all the craze lately, as dealerships are selling them hand over fist. As just one example, Ford averages more than 100 F-150s every single hour across the entire US. That goes to show the immense popularity of pickups, with GM being among the top of its class. With marques like GMC and Chevrolet under its umbrella, you might wonder, what is the 6.6 Duramax diesel MPG?
It's a good question, given that GMC's Sierra and Chevrolet's Silverado are some of the best-selling pickup trucks on the market today. Sure, you could find smaller and more economical engines like the 2.8-liter Duramax turbo-diesel. But this is one really suitable for midsize pickups. If you need to haul around a lot more load, few can match the sheer torque and power of a 6.6-liter Duramax.
This is a powerplant that has proven itself well. Since its introduction in 2001, it remains a top pick as the engine of choice for many would-be pickup owners. It's truly a marvelous diesel engine. However, raw grunt isn't enough of a consideration… What about the 6.6 Duramax diesel MPG? Why should it matter that you have a beefy engine when it requires a refill every other mile?
Duramax 6.6 Engine
Before we get into discussing the 6.6 Duramax diesel MPG, it's worth understanding more about its history. In a nutshell, the engine in question is a 6.6-liter, turbocharged, V8 diesel. Its conception began way earlier, back in 1997. At the time, General Motors and Isuzu agreed to cooperate jointly in creating a new engine. This revolutionary idea that came to be would be known as "Duramax".
It would soon become the first high-pressure common-rail, direct-injection diesel engine of its kind to be sold in the USA. A new company sprouted and was spun off just to make these engines, DMax Ltd. The latter is a 60-40 joint venture between GM and Isuzu. It manufactures an array of engines, also made elsewhere in Poland and Japan. The plant itself has since been based in Moraine, Ohio.
It's fair to say that the Duramax series of V8 turbo-diesel engines has been a massive hit. Following the first Duramax that rolled off the line in 2000, more than 2 million engines have been made. All of them came out of that Moraine, Ohio plant. As for GM, this one engine – and its numerous iterations over the years – raised their market share of diesel vehicles from 5% in 1999, to an impressive 30% in 2002.
Before the release of the Duramax, GM relied on a comparatively agricultural diesel motor. It was an all-iron 6.5-liter 'IDI' diesel V8. It could muster around 215hp and 440lb-ft of torque in its top trim and on a good day. The 6.6 aluminum-head Duramax, on the other hand, could deliver 300hp and 520lb-ft of torque. That's its first iteration, and it has only gotten torquier and sprightlier with age.
6.6 Duramax Specs
The 6.6 Duramax diesel was relatively far ahead of its time when it launched. As we mentioned, it was a gigantic leap forward when looking at GM's older indirect-injection diesel. For all of its 2001 model year inclusions, there was nothing but praise. Even when compared to its competitors such as Ford and Dodge, GM and Isuzu knocked it out of the park with the 6.6 Duramax turbo diesel.
To put it into perspective, Cummins – another large maker of diesel engines – took another two years to make a competing common-rail injection diesel. Ford, meanwhile, didn't include a high-pressure common-rail diesel in its line-up until 2008 with the 6.4-liter Power Stroke. With around 200,000 of these 6.6 Duramax diesel being cranked out of Ohio, it was (and still is) a masterpiece in design.
And, it's one masterpiece that evolved over various arcs. To get a better understanding of how much is a 6.6 Duramax diesel MPG, it's worthwhile to look into its design. More importantly, how has this engine changed in the last 20 years, where it remains a hot seller to this day. It isn't exclusively a 6.6-liter V8, remember. Tuned by GM and Isuzu, respectively, it can be had as an inline-4 or V6.
As for displacement, it could be optioned from a 2.5-liter to 3.0-liter in those configurations. But for today, we'll try to focus more on the 6.6-liter V8 diesel. These are the top-of-the-range if you're on the hunt for maximal performance. So, let's take a look at the evolution of the 6.6 Duramax diesel V8s by its individual RPO (Regular Production Option). This being GM's engine naming scheme.
1. LB7 (2001 To Early-2004 Model Year)
The 6.6 Duramax diesel V8 'LB7' was the first of many. From 2001, the LB7 was manufactured until early 2004. It has a 32-valve design, with a ground-breaking high-pressure common-rail and direct injection design. Moreover, the LB7 included a then-experimental composite cylinder head. It was included primarily in the Chevrolet Silverado HD and GMC Sierra HD, between 2001 to 2004.
Nevertheless, the LB7 was uprated and was capable of powering larger medium-duty trucks, too. This included the Chevrolet Kodiak and the GMG TopKick. Other than that, here's a brief list of its many features:
It had a cast-iron engine block, with aluminum heads, and was naturally aspirated.
That direct-injection high-pressure common-rail system was conceived by Bosch.
At its peak in 2004, horsepower was rated at 300hp, with another 520lb-ft of torque. The earlier 2001 to 2003-spec engines had 235hp and 500lb-ft of torque.
The compression ratio was a fairly high 17.5:1.
LB7s were commonly mated to a commercial-grade 5-speed Allison automatic gearbox. There was also a 5-speed manual.
They were incredibly reliable owing to their simplistic and robust design.
Unfortunately, LB7s were infamous for fuel injector failure, which prompted a recall. Not only did GM replace the injectors, but also tossed in an extended 200,000-mile warranty for those injectors. The fault was mainly blamed on poorly filtered diesel.
As the LB7 was unveiled before stringent emissions regulations, it didn't include any diesel exhaust fluid (DEF), diesel particulate filter (DPF), or selective catalytic reduction (SCR) systems.
2. LLY (Mid-2004 To 2006 Model Year)
After the smash hit that was the LB7, changes were made to the 6.6 Duramax diesel V8. This came out as the 'LLY', which replaced the LB7 mid-year through 2004. The LLY was mostly the same, as it was fitted on the following iterations of the Chevy Silverado HD and GMC Sierra HD. Nonetheless, GM had become more conscious of its emissions output by now, especially in the 6.6 Duramax.
While the LB7 was naturally aspirated, the LLY had a Garrett turbocharger – which remains to this day. It was tuned to include a variable geometry vane system, and GM-Isuzu installed an EGR valve, as well. Outside of Chevrolet and GMC, fellow GM stablemate, Hummer, included the 6.6 Duramax turbo diesel in the H1 Alpha. Apart from that, here are a few more unique features of the LLY:
Power output was raised across the board to 310hp and 520lb-ft of torque. Although in the 2006 model year, torque was increased further to 605hp.
Owing to that Garrett turbocharger and the inclusion of variable valve timing tech, torque could be delivered at revs as low as 1,600RPM.
The LLY had emissions-controlling systems, whereas the LB7 did not. While it did control tailpipe emissions, more componentry meant that there were more potential woes.
It wasn't just less polluting than the outgoing LB7, but delivered greater performance and made the engine easier to drive.
The fuel injector failures from the LB7 were solved with the LLY. Plus, the valve covers were changed so that access to the injectors was much easier. Without having to remove the valve covers, a huge chunk of labor costs were saved.
But now, GM had to contend with a new problem – overheating. LLYs became especially heaty while towing, and GM has blamed the issue on restrictive cooling or airflow.
3. LBZ (Mid-2006 To 2007 Model Year)
Production on the LLY's successor, the LBZ (not to be confused with 'LB7') 6.6 Duramax turbodiesel V8 commenced in mid-2006. From then on to the 2007 model year, it was once again fitted to the Chevy Silverado HD and GMC Sierra HD. The most noticeable improvement was in its performance. Now, the LBZ could deliver a respectable 360hp as well as 650lb-ft of torque.
Additionally, upgraded versions of the LBZ 6.6 Duramax were included in the Chevy Kodiak and GMC TopKick medium-duty trucks. The Chevrolet Express and GMC Savanna vans also had this same 6.6 Duramax as an option on higher-end trims. However, the latter two had a reduced power output and were fitted to a 4L85E automatic gearbox. The LBZ had a host of enhancements, including:

It remains to be highly desirable, thanks to its simplicity. Among the 6.6 Duramax engines, the LBZ is sought after for its reliability, performance, and with it being pre-emissions that had no DPFs.
The cylinder block machining and bearing material were strengthened.
The compression ratio was lowered to 16.8:1, which included revised cylinder heads.
The piston pin bore diameter and connecting rod sections were enlarged for better durability.
The injection pressure was upped from 23,000psi to more than 26,000psi.
There were new seven-hole fuel injectors, a higher-pressure fuel pump, and new fuel rails.
Fuel injectors now spray directly onto an upgraded set of glow plugs for more reliable cold starts (with some learning into how many spark plugs does a diesel have).
The Garrett turbocharger is more efficient, delivers power more smoothly, and helps to cut down on emissions even further.
EGR valves had a larger cooler and intake to bring higher volumes of exhaust fumes to the engine.
The LBZ had a new 32-bit E35 controller that could compensate for fuel flow much quicker.
4. LMM (2007 To Early-2010 Model Year)
As usual, the iterative 'LMM' update to the 6.6 Duramax diesel line-up was featured predominantly in the Chevy Silverado and GMC Sierra. Furthermore, it can be found in the aforementioned Kodiak, TopKick, Express, and Savanna. The highlight of the LMM was no doubt GM-Isuzu's ability to crank out more performance, despite ever restrictive and stringent emissions regulations.
The LMM could output 365hp and 660lb-ft of torque, which was fairly impressive for its class. Fun fact, the Trident Iceni – a small British sports car-slash-grand tourer – had a Duramax engine based on the LMM. It never made it into production but could've otherwise been the first diesel supercar. As with the LBZ, LMMs were mated to an Allison 1000 6-speed auto or a ZF S6-650 6-speed manual.
Assembled in April 2007, a particular LMM motor also marked the one-millionth Duramax diesel V8 built. To bump up its performance over the LBZ, the LMM had improved cooling, a new ECU, as well as various other little tweaks like a revised head design. Here are some of the changes in the LMM:
As it had a diesel particular filter (DPF) and exhaust gas recirculation (EGR) system, the LMM could get pretty hot. To help with cooling, LMM engines had a larger EGR cooler.
The LMM featured closed crankcase ventilation to reduce nitrogen oxide (NOx) emissions.
Its variable-geometry turbocharger was fine-tuned to be more efficient and potent.
It had a redesigned fuel injector, which now features a 6-hole nozzle design and a 159-degree spray.
LMMs – as with the earlier LBZ motors – have pistons that can be prone to cracking under heavy load.
5. LGH (2010 To 2011 Model Year)
Another key generational upgrade to the 6.6 Duramax turbo-diesel V8 began in 2011 with the 'LGH'. The suspects are similar, with the LGH included as a standard fit on several heavy-duty trucks and vans. Although, the vans – Chevy Express or GMC Savana – had a lower power output of 260hp and 525lb-ft of torque. Meanwhile, the trucks could make do with 335hp and 685lb-ft of torque.
This time, you only get one transmission option, a 6-speed 'MYD-6L90' automatic. Changes aplenty include a higher injection pressure, now sustaining upwards of 2,000 bar. Thanks to its emissions kit, the LGH can reduce harmful NOx emissions by at least 63%. Aside from being the cleanest such diesel engine, the LGH Duramax is compatible with B20 biodiesels.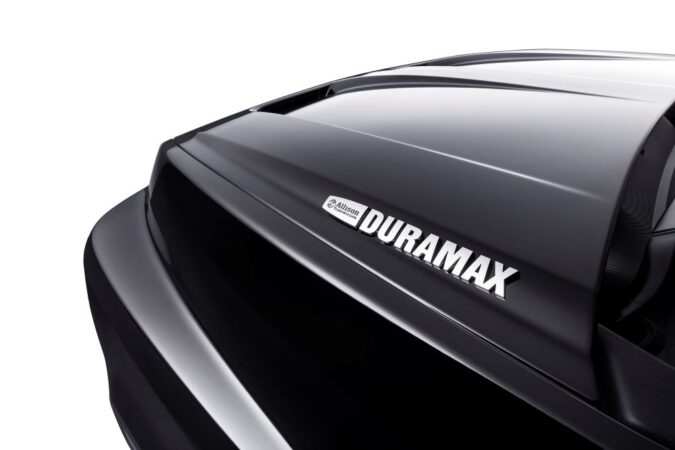 The casting and machining on the cast-iron cylinder block have been strengthened. The crankcase, meanwhile, is now made out of aluminum to reduce weight.
Pistons have been redesigned without pin bushings to reduce reciprocating weight. This allows the engine to rev quicker and become more responsive.
There are piston-cooling oil jets that help to lubricate and cool the pistons, preventing excess wear.
6. LML (2011 To 2016 Model Year)
Whereas the LGH 6.6 Duramax diesel was meant to be an interim engine, then came the LML for the 2011 to 2016 model years. Mechanically, the LML was mostly similar to the LGH. As such, it had a better piston oil flow design that improved temperature control, and a new oil pump design. All of it adds to the ease of use of the 6.6 Duramax, not to mention better performance and emissions.
Power was rated at 397hp and 765lb-ft of torque. It was thus compatible with the LGH's – which is a revised LMM motor – 29,000psi Piezo injectors. Plus, it's compatible with B20 biodiesel mixes, with improved recycling of exhaust fumes and unburnt fuel. Alongside the DPF regeneration, enhanced turbocharger, and other tweaks to the engine, the LML is both powerful, and cleaner than ever.
The crankshaft and connecting rods are made from forged steel, hardening them against wear and tear.
Engine lubrication systems have been redesigned to keep the motor slicker and operate more quietly than before.
Aluminum cylinder heads can take on the high engine compression, and aid to cut down on weight.
7. L5P (2017 Model Year To Present)
Finally, we get to the L5P, which is the current generation of the 6.6-liter Duramax turbo-diesel V8s. This could very well be the prime of the 6.6 Duramax, with a power output of 445hp and a massive torque figure of 910lb-ft. This is mightily impressive and mated to an equally capable Allison MW7-LCT 1000 gearbox. There's also a lesser L5D that's used in medium-duty trucks by Chevrolet.
These include the Silverado 4500HD, 5500HD, and 6500HD. The L5P marks another leap forward for Duramax V8s over the LGH. For instance, there's a stronger cylinder block and rotating assembly, as well as a new and reprogrammed ECU. 90% of its peak torque could be accessible from just 1,550 RPM. Some of the other features and notable changes are:
6.6 Duramax Diesel MPG
Alas, we have arrived at the elephant in the room – what is the 6.6 Duramax diesel MPG like in the real world. Naturally, your mileage may vary, as the fuel economy figures vary wildly depending on a few key factors. These could be, for example, how fast you're driving, how aggressive or smooth your driving style is, as well as how much cargo are you hauling or the load that you're towing.
On top of that, we can't simply take the manufacturer's MPG figures reliably, as they can sometimes be unrealistic. To get a better understanding of how much a 6.6 Duramax diesel MPG would be like in the real world, we're using data from Fuelly.com. They compile data from hundreds or thousands of owners that regularly experience these fuel economies. 6.6 Duramax turbo-diesel V8s included.
These are their actual results over daily workloads typical of any would-be owner of a pickup that had a large-capacity V8. Or, any other vehicle, for that matter. In addition, these results are reliable, as they reflect millions – often tens of millions – of driven miles. For this test, we'll be using the most common vehicles fitted with the 6.6-liter Duramax turbo-diesel V8 – the Silverado and Sierra.
More specifically, the Silverado 2500HD and 3500HD, and the Sierra 2500HD and 3500HD. Here's what we've found, with all data being accurate as of writing:
1. Chevrolet Silverado 2500HD, 6.6 Duramax Diesel MPG
Chevrolet Silverado 2500HD
Engine: 6.6-Liter Duramax Turbo-Diesel V8
Sample Size: 1,383 Vehicles
Total Miles Driven: 35.4-Million
Model Year
Average MPG
Samples
Total Fill-Ups
Miles Tracked
2001
15.5
31
2,535
835,319
2002
15.0
79
6,417
1,899,631
2003
14.7
94
5,233
1,625,793
2004
14.4
90
5,943
1,812,212
2005
14.1
145
13,417
3,388,493
2006
14.4
127
11,572
3,129,369
2007
14.6
151
17,212
4,600,413
2008
14.3
76
8,167
1,956,412
2009
13.1
42
4,343
1,012,271
2010
14.8
8
975
286,100
2011
13.7
57
4,284
1,418,418
2012
13.4
34
2,865
1,048,639
2013
15.0
40
4,137
1,463,266
2014
13.9
22
1,652
587,349
2015
13.8
125
9,982
4,132,788
2016
14.4
76
7,254
2,605,055
2017
14.0
48
2,999
1,112,380
2018
13.5
41
2,594
934,020
2019
14.5
48
2,537
889,454
2020
14.1
28
957
471,309
2021
14.8
21
452
165,242
2. GMC Sierra 2500HD, 6.6 Duramax Diesel MPG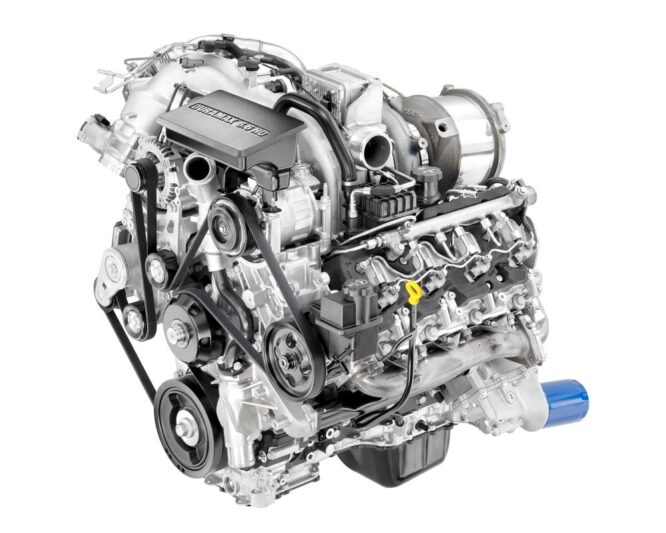 GMC Sierra 2500HD
Engine: 6.6-Liter Duramax Turbo-Diesel V8
Sample Size: 745 Vehicles
Total Miles Driven: 18.7-Million
Model Year
Average MPG
Samples
Total Fill-Ups
Miles Tracked
2001
14.2
17
564
176,251
2002
13.5
18
1,725
654,343
2003
15.2
43
2,906
939,067
2004
15.3
37
4,177
1,163,787
2005
13.7
38
3,238
822,195
2006
14.7
72
9,295
2,304,380
2007
14.7
48
4,574
1,154,296
2008
14.4
51
8,041
2,076,806
2009
14.4
16
829
289,123
2010
14.9
9
552
169,565
2011
14.1
33
2,068
722,273
2012
13.6
25
2,499
846,701
2013
13.2
35
1,913
659,135
2014
13.4
18
1,266
425,129
2015
13.6
75
5,349
1,844,103
2016
13.9
55
4,167
1,505,185
2017
14.1
40
2,827
1,008,952
2018
15.3
47
2,907
1,194,418
2019
14.4
18
735
299,630
2020
14.9
22
748
292,134
2021
13.5
28
555
191,410
3. Chevrolet Silverado 3500HD, 6.6 Duramax Diesel MPG
Chevrolet Silverado 3500HD
Engine: 6.6-Liter Duramax Turbo-Diesel V8
Sample Size: 287 Vehicles
Total Miles Driven: 6.2-Million
Model Year
Average MPG
Samples
Total Fill-Ups
Miles Tracked
2007
12.0
10
940
339,170
2008
12.0
22
1,438
423,705
2009
11.6
9
431
124,587
2010
13.2
5
257
96,649
2011
12.8
18
1,741
511,510
2012
12.1
9
788
253,996
2013
12.4
17
984
356,883
2014
13.4
7
549
197,496
2015
12.5
45
2,974
1,057,307
2016
13.0
29
2,417
803,584
2017
12.9
20
1,474
477,560
2018
12.4
23
2,102
627,045
2019
13.7
24
1,323
475,951
2020
14.1
24
764
306,541
2021
12.6
25
471
140,206
4. GMC Sierra 3500HD, 6.6 Duramax Diesel MPG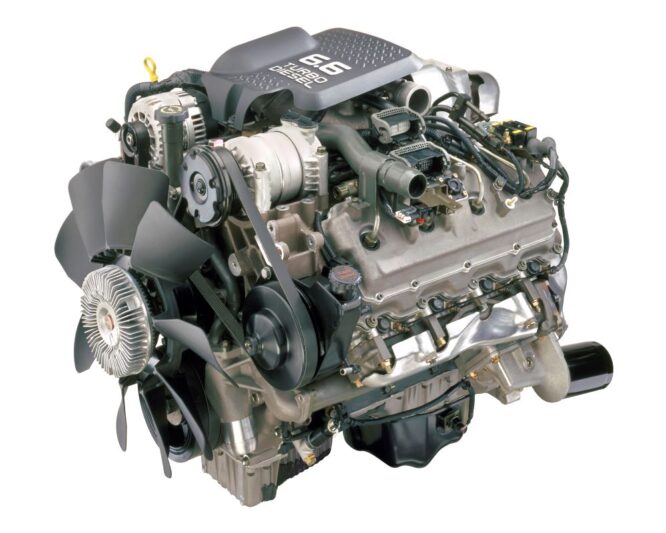 GMC Sierra 3500HD
Engine: 6.6-Liter Duramax Turbo-Diesel V8
Sample Size: 227 Vehicles
Total Miles Driven: 5.3-Million
Model Year
Average MPG
Samples
Total Fill-Ups
Miles Tracked
2007
12.8
7
267
83,916
2008
13.4
6
672
195,718
2009
15.2
5
161
68,057
2010
13.0
4
230
74,185
2011
13.3
13
870
314,047
2012
13.3
13
1,632
570,135
2013
12.2
12
1,510
443,648
2014
12.1
5
422
162,266
2015
14.2
30
2,455
933,651
2016
13.1
22
1,706
531,886
2017
13.2
20
1,757
587,777
2018
11.7
21
1,394
459,578
2019
10.9
17
1,234
358,447
2020
13.5
27
826
308,366
2021
13.7
25
519
172,363
How To Get Better Fuel Mileage In A 6.6 Duramax
Here are some tricks that you can practice to try and get better fuel economy from your 6.6 Duramax diesel…
6.6 Duramax Diesel MPG, Increase MPG Tips #1: Optimizing Turbocharger Use
While Duramax diesel engines benefit from turbocharging, excessive or frequent hard acceleration can consume more fuel. When driving, make sure to accelerate smoothly and progressively. Avoid pushing the engine into its higher RPMs unnecessarily. Letting the turbocharger spool gently conserves fuel and also prolongs the turbo's lifespan.
6.6 Duramax Diesel MPG, Increase MPG Tips #2: Clean Your Fuel System
A clean fuel system ensures optimal fuel injection and combustion. Over time, deposits can build up in the injectors, affecting their spray pattern and efficiency. Consider adding a quality diesel fuel system cleaner to your tank during routine fill-ups. Cleaning out these deposits can restore injector performance and improve miles per gallon.
6.6 Duramax Diesel MPG, Increase MPG Tips #3: Maintain Your Exhaust System
The Diesel Particulate Filter (DPF) can become clogged over time, leading to reduced performance and fuel efficiency. When the DPF warning light illuminates, ensure you follow the recommended procedure for a regeneration cycle. Keeping the exhaust system, especially the DPF, in good condition ensures that your engine runs efficiently.
6.6 Duramax Diesel MPG, Increase MPG Tips #4: Limit Excess Weight
Carrying unnecessary weight or large external accessories can drastically reduce fuel economy. Make it a habit to remove any unnecessary items from the truck bed and interior. If you've installed large roof racks or other external modifications, remember they can create added drag, further decreasing fuel efficiency. Remove them when not in use.
6.6 Duramax Diesel MPG, Increase MPG Tips #5: Upgrade to a Cold Air Intake
By ensuring your engine receives a steady flow of cold air, you can enhance its performance and efficiency. An aftermarket cold air intake can provide this benefit. Cooler air is denser and contains more oxygen, which can lead to a more efficient combustion process.
6.6 Duramax Diesel MPG, Increase MPG Tips #6: Monitor Engine Temperature
Engines operate most efficiently at their optimal temperature range. Always monitor your engine's temperature, especially during extreme conditions. Overheating can result in decreased fuel efficiency and potential damage. During cold starts, avoid excessive idling and drive gently until the engine reaches its optimal temperature.
6.6 Duramax Diesel MPG, Increase MPG Tips #7: Use Cruise Control
On highways or long stretches of straight roads, engage cruise control. Maintaining a constant speed helps the engine run efficiently and can result in significant fuel savings.
6.6 Duramax Diesel MPG, Increase MPG Tips #8: Adjust Your Driving Style
Aggressive driving, like hard acceleration and sudden braking, can negatively impact fuel efficiency. Adopt a smoother driving style by anticipating stops, gradually accelerating, and coasting to a stop when possible. Being a proactive rather than reactive driver can do wonders for your fuel economy.
6.6 Duramax Diesel MPG, Increase MPG Tips #9: Limit Aftermarket Power Add-ons
While aftermarket power modules and chips can increase horsepower and torque, they can also affect fuel efficiency. If you've added any of these, use them wisely and sparingly. While they might provide an exhilarating driving experience, they often come at the cost of fuel efficiency.
6.6 Duramax Diesel MPG, Increase MPG Tips #10: Regularly Check Your Alignment
Misaligned wheels can cause your truck to work harder, leading to decreased fuel economy. Regularly check wheel alignment, especially if you notice uneven tire wear or if the vehicle pulls to one side.
Regular maintenance and mindful driving habits can significantly boost the fuel economy of your 6.6 Duramax diesel engine. By implementing these tips and tricks, you can ensure optimal performance, extend the lifespan of your engine, and save money at the pump. Always remember, an efficiently running engine is not just about fuel economy; it's also about preserving the integrity of your Duramax for the years to come.
Diesel Trucks and Fuel Efficiency: Which Diesel Truck Gets the Best MPG?
Diesel trucks have strong gas mileage compared to regular and premium gas engines and are great for towing due to their impressive torque.
The 2021 Dodge Ram 1500 is equipped with a 3.0-liter EcoDiesel V-6 engine, provides 260 horsepower and 480 pound-feet of torque, and gets 22 mpg in the city and 32 mpg on the open road.
The 2021 Chevrolet Colorado diesel engine gets 181 horsepower and 369 pound-feet of torque and gets 18 mpg in town and 22 mpg on the open road for the ZR2.
The 2021 GMC Canyon Elevation diesel engine provides 181 horsepower and 369 pound-feet of torque and gets 19 mpg in town and 28 mpg on the highway.
The 2021 Ford F-450 sports a 6.7-liter V-8 diesel engine providing 475 horsepower and 1,050 pound-feet of torque and goes through gas at a rate of 10.5 mpg.
The 2021 Sierra HD series includes a diesel engine at the 2500 level that can generate 445 horsepower and 910 pound-feet of torque, and gets 17 to 19 mpg on the highway.
The 2021 Jeep Gladiator diesel engine provides 260 horsepower and 442 pound-feet of torque and gets 21 mpg in town and 27 mpg on the open road.
The 2021 Ford F-150 diesel engine has 250 horsepower and 440 pound-feet of torque and gets 22 to 24 combined mpg.
The 2021 Chevrolet Silverado 1500 is equipped with a 3.0-liter DOHC I-6 turbo-diesel engine providing 277 horsepower and 460 pound-feet of torque and comes with a six-speed or eight-speed automatic transmission depending on the trim level.
Choosing the right diesel truck depends on what tasks you have in mind, and it is important to consider the gas mileage ratings of the vehicles available, as well as where you want to drive your truck. Techniques such as using synthetic oil, higher quality oil, and cruise control can improve fuel economy.
6.6 Duramax Diesel MPG: In Conclusion…
In all, we can see here that the real-world and realistic 6.6 Duramax diesel MPG – based on the data and testimonies submitted by thousands of owners altogether – is rather decent. Remember that the 2500-class of trucks by Chevy and GMC accordingly are smaller than the super-heavy duty 3500s. It's not a surprise then that the MPG figures for the smaller 2500s are slightly higher by 1 or 2 MPG.
An average of 13 to 15 MPG is respectable and is on par with its rivals from Ford or Cummins. When you combine that with an abundance of performance and dependability, you can see why it's such a hit. Some owners have even hit near 20 MPG. If these figures for the 6.6 Duramax diesel MPG are rather low for you, there are other options. One such choice is tuning your Duramax turbo-diesel V8.
Some owners have recommended removing or bypassing the emissions systems to make the engine breathe a bit easier. Doing so entails removing the EGR valve and deleting the DPF. That said, you should know that this could be illegal in some states. Moreover, bypassing these systems may affect your vehicle's warranty, resale value, and servicing, and potentially cause unwanted damage or wear elsewhere.
Though, you may be able to boost the 6.6 Duramax diesel MPG by up to around 18 to 22 MPG. With that in mind, the better, safer, and more environmentally friendly alternatives that we'd recommend are springing up for the smaller engines. Those inline-4 and V6 Duramax motors could supposedly get up to 33MPG. The downside is that they do lack the towage capacity, unfortunately.