Car insurance is one of the popular insurance policies in the US. They have become so essential today because they help save a lot of costs, and in most states having car insurance is actually a compulsory requirement for owning a car on the road.
Since these insurance policies are so essential, there are many options available for car owners to choose from. However, when you are looking for car insurance, you are searching for an offer that matches your personal interests.
Car insurance comparison websites exist to meet this need. They will help you discover different quotes that match your personal profile, and you can compare and select one of them right there on the site. mInsurance is one of the popular insurance comparison sites frequently used by US car owners to discover car insurance quotes.
What Is mInsurance?
There are so many car insurance options available for US residents today. While this means that people get a lot of attractive offers to choose from, it also makes the process of finding the best policy for you really difficult. mInsurance takes all this difficulty away. mInsurance is a car insurance information site that helps users find and compare car insurance quotes that match their personal profiles.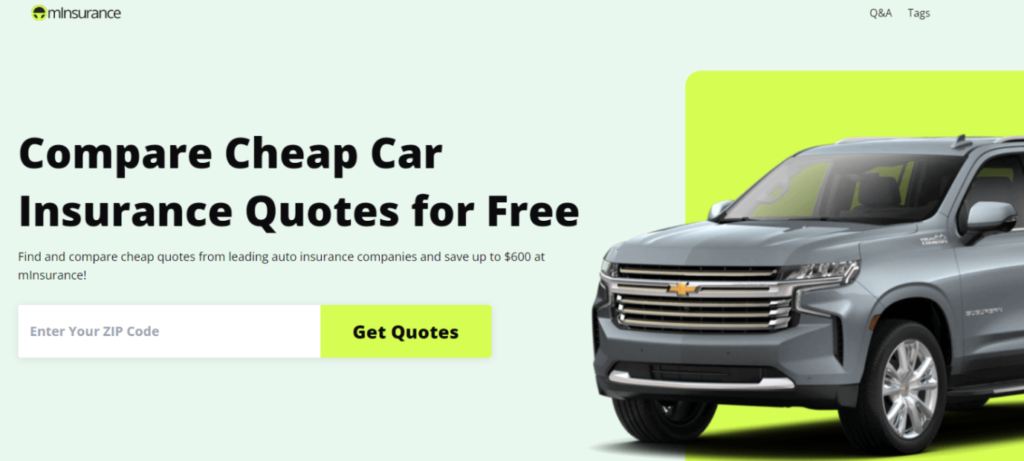 No matter what car you drive or what your credit history is, if there is an insurance policy available for your profile, mInsurance would discover it for you along with others for you to compare and select from. Just by discovering and comparing cheap insurance policies on mInsurance, you can save multiple hundred dollars for yourself while your car also gets all the protection it needs.
Apart from comparing car insurance quotes online, mInsurance also helps with finding useful advice, tips and answers to questions about car brands like Alfa Romeo. If you are interested in more automotive news and tips, you can browse mInsurane site for your needs.
What Details Do I Need To Receive Quotes from mInsurance?
mInsurance does not generate generic results for every user. Instead, all the quotes generated are presented based on each person's personal profile. In order to do this adequately, the site has to collect some useful information from the user.
Motor Vehicle Report
The site uses your driving record to determine whether you have been in accidents, you have gotten a DUI charge in the past, or you have gotten tickets for road violations.
Vehicle Information
You will need to provide specific information about your vehicle, like its make, model, year of manufacture and similar details. Also, the site will need to access the usage information of the vehicle. Here, data like the car's mileage and what it is used are what you will need to share.
Personal Data
Sharing some personal data is essential to get the right insurance quotes for you. Information like your age, address, marital status, and gender will be requested and filling it in accurately will help you get the personalized quotes you need.
Contact Information
The site will also request your contact information, like your phone number and your email address, to share more information on your insurance quotes request with you.
Process of Comparing Quotes on mInsurance

The process you need to follow to find out car insurance quotes on mInsurance is fairly easy. Once you have all the information that we have highlighted as necessary for generating results, you are ready to go.
The first step is to fill in the ZIP code of your residence on the site. Insurance policies tend to differ across states, and mInsurance will narrow down the results to your actual location. After filling in your ZIP code, you need to give the website some information. Data about your vehicle, your driving records, some personal information and your contact information will be requested.
Once all this is done, the website will generate different results for you. With all the information that has been presented, you can now compare the different quotes available and find the one that is right for you.
Perks of Getting Auto Insurance Quotes from mInsurance
mInsurance is just one out of many insurance comparison sites that are available. So many people choose to use mInsurance today because of some of the features that make it stand out from the rest.
Wide Selection of Insurers
mInsurance receives quotes from a wide range of insurers in your location. This means that you get to select from a variety of options because all the policies that match your profile will be discovered and presented to you on this site.
Cheap Rates
Since mInsurance brings all possible insurance quotes for your profile, the cheapest ones you can find will be here. By comparing the quotes, you can find the right offer that has the protection you are looking for and is also placed at a good price.
Free Service
mInsurance does not add any charges to the services it offers. As a user, you can access and enjoy the offers on the platform with no costs attached.
Easy and Fast Process
Once you have all your details ready, the process of generating quotes will be completed within minutes on this platform. Comparing insurance policies is also easy because each quote is presented using basic information that anyone can easily understand.
Data Encryption and Protection
Insurance comparison sites handle a lot of users' data in order to produce accurate results that match their profiles. With mInsurance, any data submitted on the website is properly encrypted and protected from data breaches.
Concluding Remarks
Adequate research is necessary if you are looking to get auto insurance protection and still save money on the quotes you get. mInsurance can handle all the research, and all you have to do is compare the results and select the offer you prefer.
The insurance rates you get will be determined based on factors like your location, your personal characteristics, your vehicle, your driving history and different other unique characteristics. mInsurance filters the results it generates for you based on these factors. All you need to do is to have your information at hand, follow the basic steps that the site recommends, and you will be able to compare and find the right insurance deal within a few minutes.