The Skoda Kushaq is the company's newest SUV, designed for the Indian market. It's part of the India 2.0 product campaign, containing four vehicles built by Skoda/VW. You can read more about the campaign on Skoda's official website by clicking on the link.
The Kushaq will itself be revealed in full on Thursday 18th March and here, we have the first glimpses into the cockpit with some interior sketches.
As you can see from the press photos, the main eye-catching element is the free-standing centralised infotainment system. Diagonally, from corner to corner, it measures approximately 10 inches.
It's also interesting to note that you can quite clearly see the car's character line on these sketches. The engineers appear to have modelled this character line around the Skoda grille's shape. A nice, subtle touch.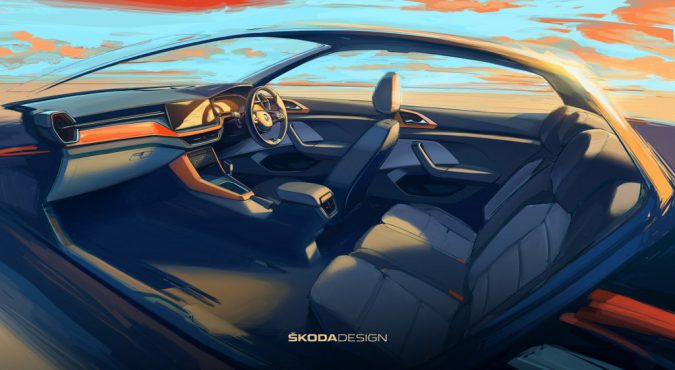 On top of the other features visible in these sneak-peak pictures, the Kushaq will also be loaded with a multitude of Skoda's "Simply Clever" features. These Simply Clever features are simple, basic gadgets to make your life, in general, more comfortable. Click on the link to go to Skoda's website and read more about it.
You'll probably also notice the spacious appearance, living up to Skoda's reputation for producing cars in which you can stretch out a little bit. As well as this, you'll get plenty of storage options.
In terms of measurements, the Kushaq will be classed as a mid-sized SUV.
Along with the other vehicles in the India 2.0 range, the Kushaq will be based on the MQB-A0-IN platform. Similar to the standard MQB-A0 platform, the MQB-A0-IN was designed and will be built locally in India.
What Is The MQB-A0 Platform?
The MQB is a platform developed by Volkswagen and carried an investment of around $60 billion from the company. It's a modular design created for all of its front-wheel-drive, transversely-mounted, front-engine cars.
It stands for "Modularer Querbaukasten" in German, which translates to "Modular Transversal Toolkit".
Using the MQB platform means that you can use the same base model to produce a wide variety of different cars, ranging from a super-mini to an SUV.
The MQB-A0 has been in use for a couple of years already, with cars such as the Skoda Scala and Kamiq, the VW Polo Mk 6 and the Audi A1 Mk 2 relying on it.
The MQB-A0-IN – the platform designed explicitly for India – has been confirmed for the Skoda Kushaq and Volkswagen Taigun. This model meets the stricter safety and emissions laws recently introduced in the country.
What do you think? Let us know down below.