There are so many pet hammocks on the market today that it's hard not to get confused when choosing. To find the best option and not waste money, we're looking for the highest rated dog hammocks. And just hope that advertising and positive reviews do not lie.
But are there any features worth your special attention? Minor details to help you find the right car dog hammock among the best?
Yes, and today we share them with you. In our article, we will discuss four most highly rated brands and what features to consider to choose the best backseat dog hammock.
Picking Out The Best Rated Dog Car Hammock
Among all the benefits that top sellers highlight, it can be challenging to understand what really works. Let's take a closer look at the key car dog hammock characteristics and details that show their quality.
Protection
Above all, you need a backseat dog hammock to your car interior from dirty paws, dog hair, nails and teeth. To make sure the level of protection is actually high, pay close attention to the number of layers, materials and sidewalls.
The most durable material a manufacturer can use for dog hammock car seat covers is nylon and Oxford cloth. These fabrics are water-, stain- and tear-resistant. Please note that Oxford fabric can have different density, from 210D to 600D. We recommend choosing the highest density. 600D Oxford cloth has much better waterproof and anti-vandal properties than the same fabric of 210D.
Make sure that all other materials of a car dog hammock are of good quality. Fasteners and attachment straps are best if they are also made of nylon. The most durable hardware is made of metal. And if the hammock has extra trim or accessories – such as cases Kurgo hammocks have – check that everything is neatly and evenly sewn.
How many layers should a top dog hammock have? At least three! For example, a waterproof lining, soft padding, and a non-slip bottom layer. Single- and double-layer dog hammocks, even if they are called "premium", cannot be 100% waterproof and tear-resistant. The more layers a dog car hammock has, the stronger and longer-lasting it is.
It's good if you protected the seat upholstery. But don't forget about the doors! Many dogs like to keep their front paws on them and look out the window. Other pets get really nervous in the car and scratch the doors to get out. So for total car interior protection, choose dog hammocks with special sides.
Check that the sides keep their shape well and are also anti-vandal. The best dog hammock car seat covers have sidewalls with sturdy inserts inside. Like this brown six-layer car dog hammock from Owleys with solid sidewalls.
Safety
Whether you're looking for a large dog car hammock or a single seat hammock, one for a jeep or for sedan, road safety remains paramount. And a pet hammock as a car accessory should also be safe.
Make sure the hammock has access to the car's seat belt buckles – there are usually special holes in the fold of it. You attach the belt to your pet's harness and rest assured that your doggie will be secured on the road. Some brands also put a seat belt as a free gift – for example, Chewy.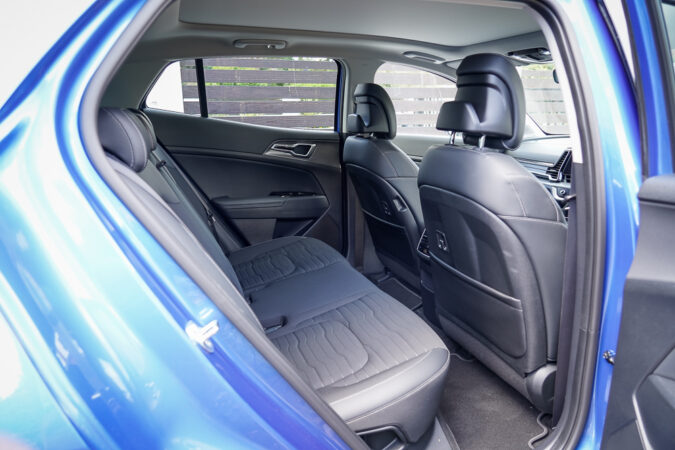 Please keep in mind: if there are no holes and you cannot secure your dog with a car safety belt, such a backseat dog hammock is simply dangerous to use!
Another bonus for road safety is a non-slip bottom coating. It holds the hammock more securely on the seat and reduces slippery while on the road or under an active pet. Especially useful if you have leather car seats.
Usability
A good backseat dog hammock is safe and great to protect your car interior. But the top hammock is also easy to use. So in order to save yourself time and nerves, check before buying how to install and wash the car dog hammock you're interested it.
It's super convenient if you can wash your dog car hammock in the washing machine, like hammocks from Carhartt. But we advise choosing ones that are easy to clean with a damp cloth without even removing them from your car.
As for the installation, it's a great solution to see instructions in advance or watch a video showing the installation process. The simpler it is, the better.
Dog Car Hammocks Reviewed
In our article, we have mentioned four highly rated car dog hammock brands. But is there a better one among them that we would recommend you?
If we were choosing one for ourselves, we would get a backseat dog hammock from Owleys. And that's why:
– It is made from 600D nylon-based Oxford fabric and has six layers, including two waterproof layers, two layers of soft padding, a top layer and a non-slip bottom. It also has metal hardware and sidewalls with solid inserts.
–  It has two holes in the fold for attaching your pet with a safety harness. Super important!
– You can wash this hammock right in your car with a damp cloth to remove dirty and sticky stains.
– Installation is clear and simple – takes a few minutes to deal with.
– With brown eco-leather trim and pockets, this hammock looks very stylish compared to other brands. The sewing and look are truly premium.
– What's more, this hammock has a unique zipper design. You can use it on the entire back seat or on one side of it for a single seat. Quite a smart design – we haven't seen anything like this yet. Overall, our current favorite!
So, let's sum up all the above.
When choosing a top dog hammock, pay attention to three key features: protection, safety, and usability. For better protection, choose multi-layered nylon or 600D Oxford fabric hammocks with sidewalls. For better safety, make sure there are holes for attaching your pet with a safety belt. For better usability, check the ease of installation and washing. Considering all the features mentioned above and among the four best rated dog hammock brands as Carhartt, Chewy, Kurgo and Owleys, we favor the latter.