The MG Car Club visited the Snetterton circuit for their annual meeting at the Norfolk venue. Usually the season closer, the truncated motorsport schedule has left Snetterton as the midway point in the season.
What is the MG Car Club?
Formed in 1930 by the original MG factory, the club provides strong factory support for all generations of MG owners. Steeped in heritage, the club is based on the edge of the MG car company's old headquarters in Abingdon.
Not only for road cars, but the MG Car Club also has a strong motorsport division running a huge variety of cars at the most prestigious race circuits across the UK. Often attracting big grids, some of the closest racing in the country can be seen courtesy of the club.
Aero Racing Morgan Challenge
A phenomenal effort in qualifying saw Andrew Thompson qualify his Morgan ARV6 over 4 seconds clear of Simon Orebi Gann in second. An ominous sign for the competition if he could maintain this performance into the days two races.
Carry it over he did and in just a 30-minute race, Thompson amassed a lead of 55 seconds which meant he averaged just over 4 seconds per lap faster than second-placed Gann setting a time faster than his pole position time in the process.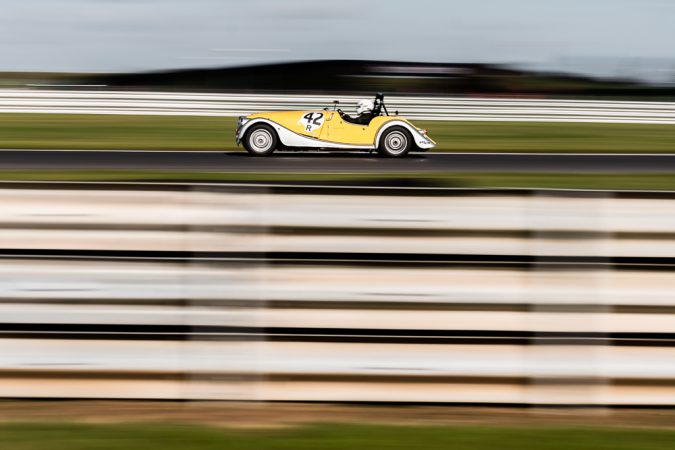 Behind it was a closer affair with Jerry Knight taking advantage of the fight between John Emberson and Brett Syndercombe to charge to the final step of the podium in third. Emberson just pipped Syndercombes race-long efforts to make a move and crossed the line with an advantage of just 1.3 seconds ahead of the Morgan 4/4.
Race 2 saw a similarly dominant performance from Thompson who finished 53 seconds ahead of Gann this time. Gann managed to set a lap 1.4 seconds faster than his qualifying time just showing how much the circuit had evolved since the opening session of the day.
It looked set to be a repeat rostrum until disaster hit Knight. Retiring on lap 6 this paved the way for Emberson to take an easy third position finishing 7.7 seconds ahead of Syndercombe having managed to pull away early in the race.
BCV8 Championship
Qualifying saw Ollie Neaves set record pace to qualify 2.7 seconds clear of his nearest rival, Russell McCarthy, and set the tone for what would be an absolutely dominant performance.
Getting a great start it looked like Neaves would never be headed, and as expected, he built up a commanding lead until Ronald Watt had an unfortunate incident barrell rolling his car at the final corner and bringing out a lengthy safety car.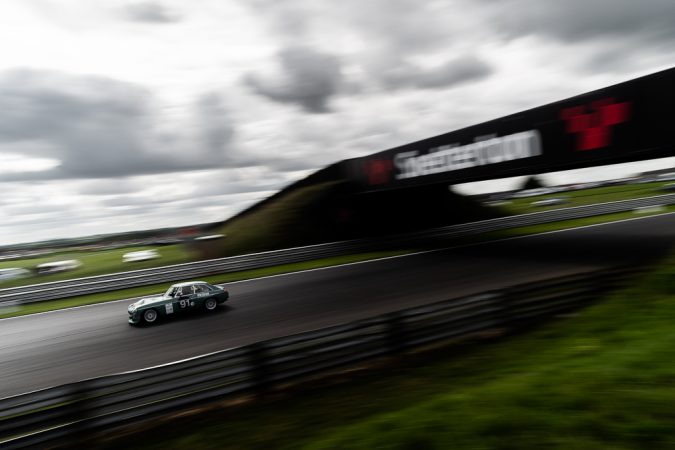 This didn't worry Neaves as with just one racing lap after the safety car pulled in, he pulled a 3.9-second gap to take a commanding win from McCarthy with Neil Fowler just 0.5 seconds back in third.
Race 2 saw a similar result with Neaves yet again setting record pace to storm off at the start and power to a clean sweep of the weekend's action.
6 seconds behind was the ever consistent Russell McCarthy to claim another second position rounding out a good performance. Ian Prior took the final podium position, albeit 43 seconds behind McCarthy.
Equipe Pre 63 / Pre 50's
Coming straight from the Masters Historic Festival at Brands Hatch, the Equipe racers faced a new challenge from the tree-lined forest to the wide-open Snetterton.
This didn't phase Mark Holme who took his good form from Brands and immediately qualified on pole position for the day's race. Jeremy Welch took second with pro driver, Jack Rawles, qualifying in third having only just been introduced to his Austin Healey 3000 MKIIA.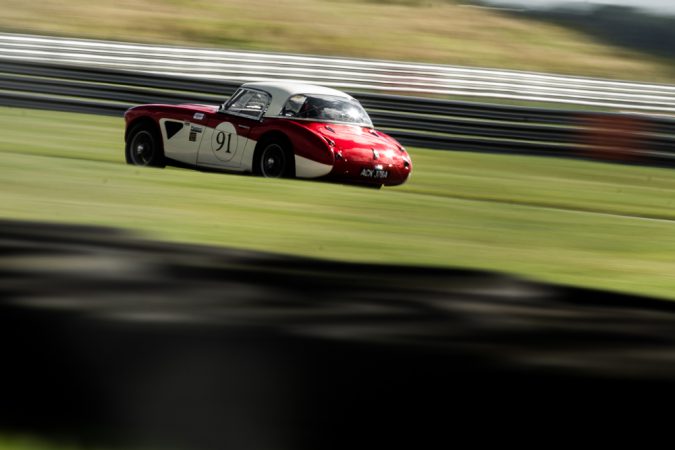 The race saw Holmes Masters disappointment overcome as he took a well-earned victory by 4.7 seconds from an equally impressive Jack Rawles who adapted quickly to the historic cars. Jeremy Welch claimed third place just 2.6 seconds behind Rawles.
The leading trio were in a class of their own with 4th placed Bernado Hartogs 43 seconds behind Welch in fourth position.
Only two retirements in the race with Harry Willmott and Richard Hywel Evans failing to make the chequered flag. The fact that Evans made the start was the most impressive feat in the race. Suffering a dramatic incident in qualifying where he rolled his Austin Healey at the end of the Bentley Straight (the fastest point on the circuit) meant his team worked incredibly quickly to ensure the car was ready to take the start.
Equipe GTS
Another Equipe series coming straight from the Masters Festival. Lee Atkins made it two successive pole positions in his TVR Grantura qualifying just 0.2 seconds ahead of 5th place Masters finisher, Mark Ashworth with Alan Ross-Jones just behind in third place.
The opening laps saw a titanic battle between the top three qualifiers with several lead changes taking place per lap. Lap 4 however saw Atkins hit trouble. With coolant pouring from his car he just about kept it under control coming through Coram corner but unfortunately was forced into retirement.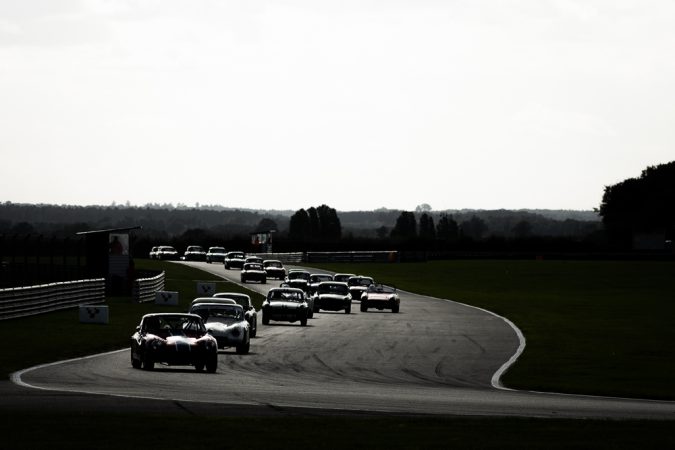 Ashworth and Jones now sensing a greater shot at victory fought even harder and the last lap pass by Ashworth saw him take victory by just 0.8 seconds from Jones. Mark Holmes switched his Healey for an MGB and three-wheeled his way to another podium. Impressing the crowds by consistently lifting an inside wheel all around the circuit.
MG Trophy
Finally, the MG Trophies Fred Burgess pulled out all the stops to qualify 1.3 seconds ahead of Ross Makar in their MG ZR 190's.
Drama then hit on the formation lap with Makar failing to make it out of the garage with a mechanical issue and then polesitter Burgess stopped just short of the grid with another mechanical issue. This would have left the way clear for Patrick Booth to have a clear run except he also had an issue and was yet another pre-race casualty.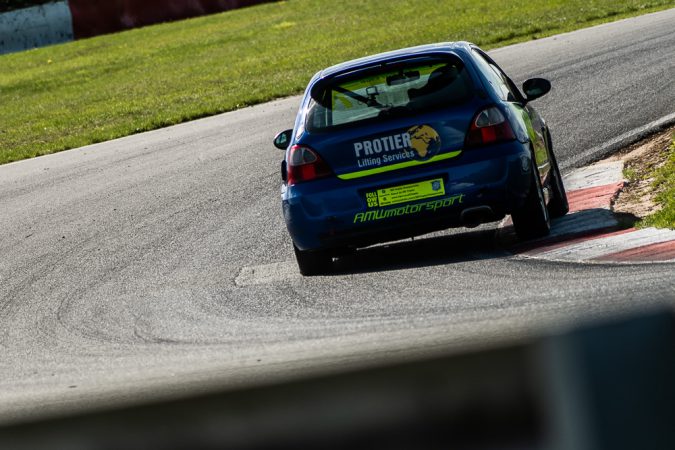 Tylor Ballard, therefore, took a net pole position despite starting in the 4th position spot on the grid. With all that drama out of the way, it was Adam Jackson who got the holeshot and cruised off to a 6.8-second victory. Ballard tried to take the fight to Jackson but had his own troubles in fending off multiple attacks from James Dennison and Joseph Dalgarno. All three cars crossing the line within a second of each other with Ballard in second and Dennison in third.
All event results can be found in full here thanks to TSL Timing.
The MG Car Club will conclude their shortened season at Oulton Park in early October.