It's almost hard to think that as of 24th of June 2021, Alfa Romeo will turn 111 years old. This would make it one of the oldest carmakers in the world. More impressively so, given that it's still standing strong till this day. Definitely not trying to make a big deal out of this, of course, as Alfa just flaunted a bit of its heritage in this year's 39th edition of the historic Mille Miglia.
Otherwise known as a 1,000-mile endurance on public roads, covering Italy across the Brescia-Rome-Brescia route. Enzo Ferrari himself once called it the "most beautiful race in the world". More than 400 priceless classics took part, with 121 of them belonging to the sibling brands of Alfa Romeo, Fiat, and Lancia. Among them are four stunningly beautiful Alfas from its back catalogue.
These moving works of art on wheels include a 1928 Alfa Romeo 6C 1500 Super Sport, 1954 1900 Sport Spider, 1954 2000 Sportiva, and a 1900 Super Sprint from 1956. Lots of numbers and names to go through, all of which are indisputably beautiful. They even have talented drivers among them, such as Giovanni Moceri and Daniele Bonetti, as well as Stellantis chairman, John Elkann.
A Beautiful Race Made Prettier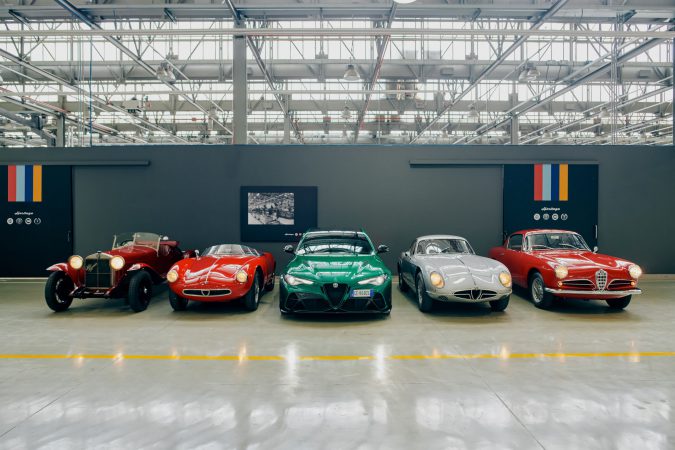 Each of these cars has built a legacy on its own. For example, the 6C Super Sport from 1928 had quite a few victories under its belt. A similar car won the Mille Miglia in its original racing format all the way back in 1928. In recent re-enactments, this 6C here won in 2005, 2007, 2008, and 2019. All thanks to its determined drivers, and 76hp from a 1.5-litre inline-6 capable of cruising at 87mph.
Moving across history, the later 1900 Spider, 2000 Sportiva, and 1900 Super Sprint became faster, sportier, and ever more evocative. A surprising company to have in this year's Mille Miglia from the Alfa stable, would be the newly announced Giulia GTA and GTAm. Seemingly out of place with its carbon paraphernalia and aggressive aerodynamics, these two are their spiritual successors.
They were named after the highly successful Autodelta-built 'Gran Turismo Alleggerita', or "grand touring lightened" from 1965. That racy Giulia Sprint GT racked up win after win in its heyday. With the new-age GTAm, technical science and mastery of lightweight componentry, aerodynamics, suspension, and chassis dynamics is the perfect match for its Ferrari-borne 2.9-litre twin-turbo V6.