In the world of ebikes, KBO is a well-known brand for its cutting-edge design and durable material. They come in various great designs for use by different riders.
The KBO folding ebike is a terrific option for commuters, city residents, and any other riders who need a small, portable bike that is simple to store and carry. It's lightweight, dependable, and simple to assemble. They come with top-notch parts like Shimano gears, disc brakes, and adjustable seats and handlebars to fit riders of all sizes.
Riders who want to stay active while moving will find a folding e-bike a convenient option. However, we've compiled all you should know about KBO Folding ebikes.
Things To Know About KBO Folding Electric Bike
A popular electric bike model, the KBO folding model, is made to be portable and practical for riders. What you should know about this e-bike is as follows:
• Sturdy Foldable Aluminum Frame
The KBO folding electric bike is lightweight, portable, and made to be simple to carry. It can be folded easily and weighs only 57 lbs, making it the perfect choice for individuals who transport their ebikes on public transportation. In addition, this ebike is a wise investment that will pay off in the long run due to its compact design, lightweight construction, and eco-friendly features.
• Power
Speed is one distinguishing quality of KBO bikes. With a solid 500W motor, this folding electric bike has enough power to handle slopes, sand-filled paths, and rugged terrain. However, the bike's top speed is close to 20 mph, the limit for e-bikes in many places. On a single charge, the KBO Flip can travel 30 miles in pure electric mode and 55 miles in PAS mode. The ranges may vary depending on the riders' weight and road conditions.
• Lithium-ion Battery
When purchasing anything electrical (such as a car, motorcycle, etc.), the battery's capacity is one factor every buyer considers. KBO bicycles have a 48V 16Ah lithium-ion battery that offers up to 50 kilometers of range on a single charge. It takes about 4-6 hours to fully charge the battery, which is easily removable and rechargeable and it's also removable.
• Powerful Sustained 500W Brushless Geared Hub Motor
The brakes on KBO folding bikes are a noteworthy additional feature. There are many dangers that a malfunctioning brake can cause; however, the folding ebike has 160mn forged alloy brakes that are very effective and reliable. These brakes were easy to adjust and work with overall. The KBO folding electric bike's front and rear disc brakes offer plenty of stopping power and ensure you can ride securely in various circumstances.
• 20″ *3″ CHAOYANG Tires
KBO folding bikes have robust tires that can handle any route because commuting is their primary usage. CHAOYANG tires are, though, quick to roll and excellent on bends. These tires have great traction and are tough against thorn and debris punctures. The foldable electric bike has 20-inch tires, which offer a comfortable ride and lots of traction in various conditions. The tires' resistance to punctures can aid in avoiding flats and other problems.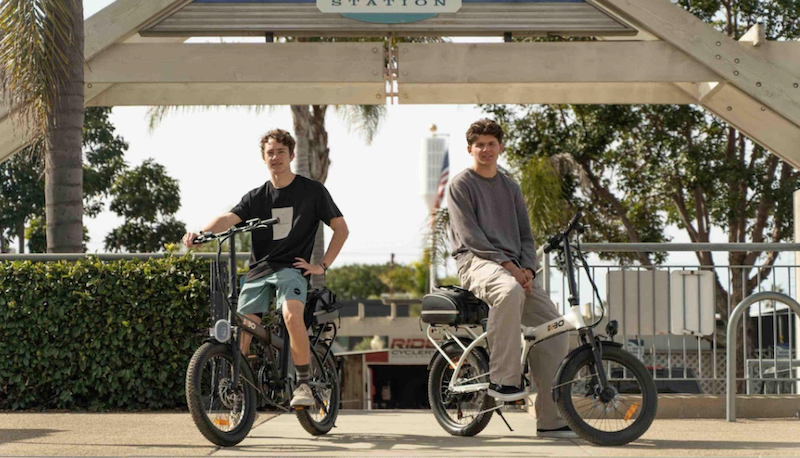 Benefits Of KBO Folding Bikes
KBO folding electric bikes are known for the benefits they offer their riders; below are some of them:
• Lightweight
KBO folding bikes are often relatively light, making them simple to pack and travel. They can be compressed into a portable design in a few seconds, weighing 57 lbs.
• Easy To fold
For commuters who must rapidly go from riding to walking or taking public transportation, KBO folding bikes are ideal because they are typically simple to fold and unfold. Due to their compact design, they are easily folded and stored under your desk or beside you when you board a bus or train.
• Easy Storage
One well-known benefit of folding electric bikes is that they take up significantly less room. It's light, unlike the conventional bike, which requires a specific amount of space.
• Security
You can conveniently keep a foldable electric bike in your home, office, or any safe spot. As a result, you won't have to worry about your electric bike missing.
• Excellent For Trips
For people who frequently travel, a folding electric bike is ideal. A folding e-bike is simple to transport in the trunk of a car or van due to its small size and lightweight. Moreover, this means you can take your bike on vacation or camping trips, allowing you to see new places and stay active while on the go.
• Versatile In Nature
If you want both the convenience of a folding bike and the advantages of an electric bike, a folding e-bike is a great option. An e-bike folding design makes it simple to store when not in use, and it can help you effortlessly travel long distances or through hilly terrain.
Performance Summary
Folding bike manufacturer KBO is well-known for its practical features. Even though there are numerous models of KBO folding bikes, it has a 36V 15.6Ah battery and a 500W rear hub motor. It can travel up to 60 miles away. It has mudguards, a cargo rack built into the rear, and a front suspension fork for carrying items and essentials for shopping.
Due to its dual front suspension fork, it can adapt to various rugged terrains. It has a powerful dampening effect, so its riders would experience a comfortable ride. The central folding hinge, which has numerous safety redundancies and locks securely, prevents accidental unlatching.
You should be able to travel 15 to 25 miles on a single battery charge. Other KBO folding electric bike features include a front suspension system, movable handlebars and seats, and an LED display that provides vital information like speed and battery life.
Conclusion
For commuting and urban riding, KBO Bikes is a firm that produces premium folding bikes. Their bikes are portable, robust, and simple to fold and carry. They are a fantastic option for commuters and urban riders searching for a handy and dependable transit option because of their reputation for having high-quality components, durability, and ease of use. Numerous bike enthusiasts prefer our folding bikes to other types of bikes due to their benefits.