Aston Martin have announced at the Geneva Motor Show that they are launching a new brand, AMR. This new brand will bridge the gap between the road and race cars currently produced by Aston Martin, offering up race inspired dynamism and performance.
Road Car to Race Car
The plan laid out at the announcement tells us that for every core model currently found in the Aston Martin range there will eventually be an AMR branded derivative; so it looks like AMR have a lot of work ahead of them. They will be taking the technology and racing prowess Aston Martin have cultivated over years in motorsport to amplify the already impressive road cars' abilities to their extremes.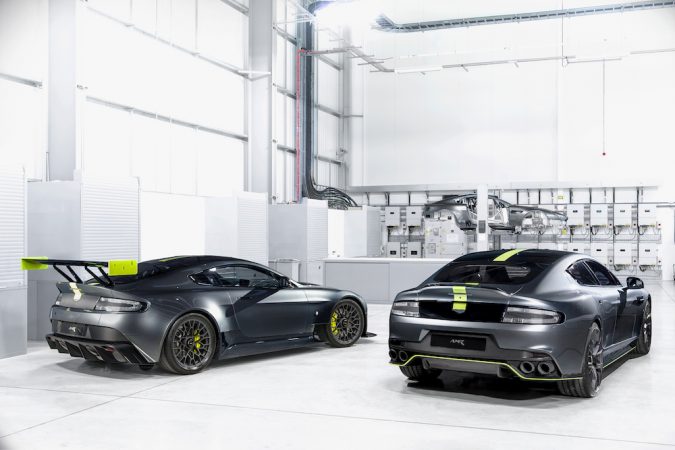 Aston Martin really mean business with AMR as the core models are being developed as part of Aston Martin's central vehicle engineering teams. The AMR Pro models on the other hand will be headed up by Aston Martin Advanced Operations. This is the department responsible for creating extreme Aston Martins we are already familiar with, including the Vantage GT12, Vantage GT8 and Aston Martin Vulcan – all managed by Aston Martin's VP and Chief Special Operations Officer, David King.
A further underscoring of AMR's importance is its location. AMR's European development and brand centre will be based at Aston Martin's state-of-the-art Nürburgring Test Centre, situated within sight of the legendary Nürburgring Nordschleife race track, so there should be no shortage of inspiration there.
So far two of the new AMR models have been announced in Geneva, the Rapide and the Vantage.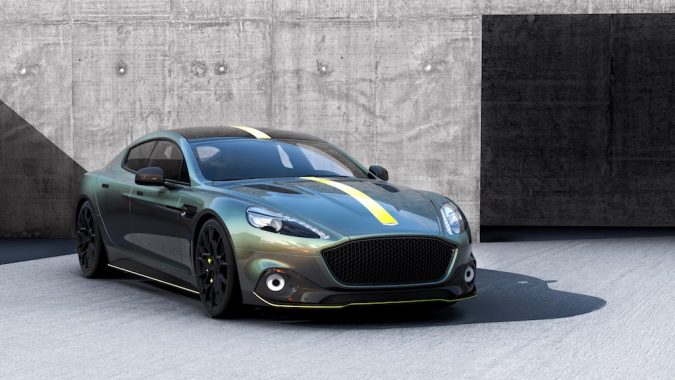 Rapide AMR
The Rapide is representative of the first tier of AMR, making a multitude of enhancements to produce a sportier four-door car. Featuring a 592 bhp version of Aston Martin's 6.0 litre naturally aspirated V12 and use a new quad exhaust system, making its statement as the world's fastest four-door, capable of 210 mph. It will be riding on new 21 inch alloy wheels and featuring a full-height signature grille, front splitter, side sills, rear diffuser and aero flip on the rear decklid.
The Rapide will have extensive carbon fibre detailing and come in AMR's signature Stirling Green with vibrant lime green accents along the body. The interior will feature lightweight carbon fibre front seats, trimmed throughout in Dark Knight Alcantara with Lime Green accents and carbon fibre waterfall, centre console and door casings, for a blend of race car practicalities and luxury.
Vantage AMR Pro
The Vantage, a Pro model, will take influences from Aston Martin Racing's WEC winning V8 Vantage GTE. It is designed to be the epitome of the core concept behind AMR, pushing a road car to the absolute extreme.
The Vantage AMR Pro will be a track-only car of powered by a 500 bhp iteration of Aston Martin Racing's GT4 race engine, it is by far the most powerful V8 Vantage ever. It shows off race-spec adjustable suspension, competition engine and transmission mounts, alongside new 19 in x 9.5 in front and 19 in x 11.5 in rear centre lock wheels shod with Michelin Pilot Cup 2 tyres promising handling, precision and exceptional levels of grip and traction. Its styling will be very similar to the Rapide but it will use the same bonnet and rear wing as the World Endurance Championship winning V8 Vantage GTE racer.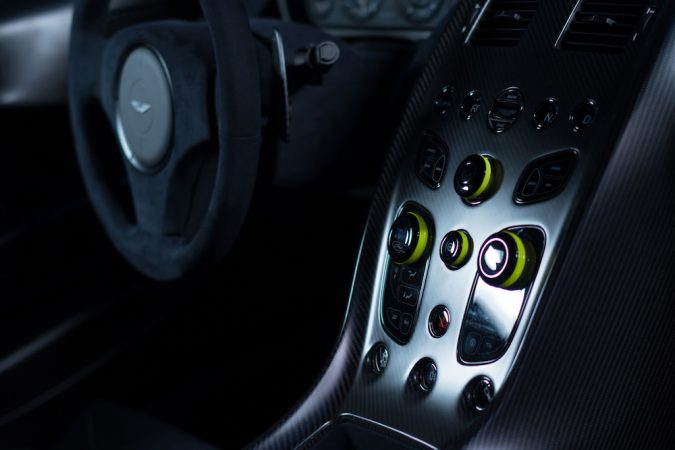 Aston Martin's President and Chief Executive Officer, Dr. Andy Palmer, revealed that 'the Vantage in an extremely limited series of no more than 7 cars; the Rapide as a run of only 210 cars'.
Creating all these new cars will be a huge task for AMR, but one that will surely deliver some phenomenal feats of automotive engineering.
Aston Martin AMR