To this day, the legacy of the old Quattro remains as strong as ever, as Audi is once again taking an active role in the world of rallying. And just like that old Quattro, Audi is leading the way forward with new-age and ground-breaking tech. Earlier this year, their RS Q e-tron rally car won its first desert rally in Abu Dhabi. But already, Audi's working hard on improving it even further with its successor.
Now, the RS Q e-tron E2 is an all-around improvement over its predecessor, prepping Audi for a hopeful win in the upcoming 2022 Morocco Rally and 2023 Dakar Rally. Both of which are seen as some of the toughest races in the world, capable of breaking both Man and machine. As such, they've been working overtime at introducing a plethora of changes and updates to the RS Q e-tron.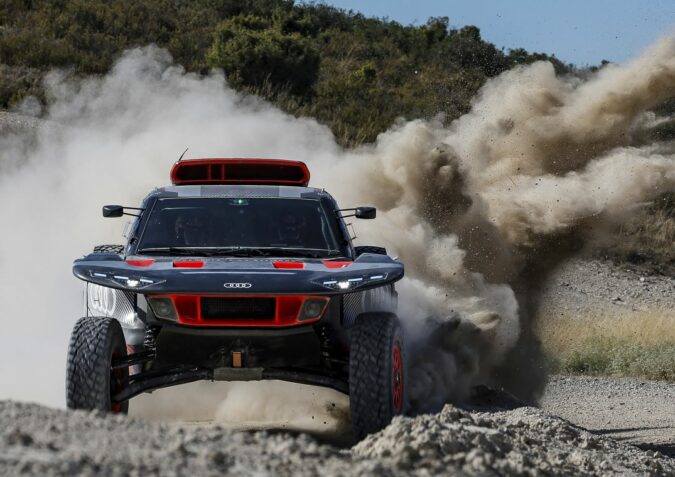 Lighter, More Aerodynamic, And More Efficient
For starters, Audi has reduced the weight of the RS Q e-tron E2 over the E1. This is thanks to its all-new bodywork, which also guarantees a lower centre of gravity. This presents a few trickle-down benefits, as well. The evolved E2 model is more aerodynamic. And, its electric powertrain has been calibrated to run more efficiently. This is no doubt a boon in the arduous races to come.
Still, its top speed remains limited to 170km/h, despite the 15% reduction in drag. Still, at least reducing the weight of the RS Q e-tron E2 to around 2 tonnes instead of a porky 2.1-tonnes did make it easier to handle. With a super-efficient powertrain and energy management set-up on top of it, it looks like it'll be an exciting race. So, let's see if this new Quattro has what it takes to win.