We're guessing you want a motorcycle for commuting since they're small and agile, which makes them great for weaving through traffic. But you're probably here because you want an automatic motorcycle either because you find the manual ones too tiring or you're still learning and you don't want to ride a manual motorcycle.
Well, whatever the case, you've come to the right place. This article will discuss everything you need to know about automatic motorcycles. From how they work, what you should consider buying, and how to take care of them. Here's a table of contents to help you find what you need:
Automatic Transmission Motorcycle
Just like cars, motorcycles can come with a manual or automatic transmission. Although automatics are a bit rarer. Anyway, there are three types of automatic transmissions in bikes: CVT, semi-automatic, and DCT.
Before we delve further into auto-transmissions in bikes, we need to briefly explain motorcycle types. If you already know about motorcycle types, you can skip to the next section. Otherwise, you should continue reading:
In the eyes of the law, there are three types of motorized two-wheelers. These are mopeds, motorcycles, and scooters. The legal definition is a little complicated though, so we'll simplify it into two categories:
Mopeds are motorized two-wheelers that have an engine no larger than 50cc and can't go over 30mph. Meanwhile, motorcycles don't have speed, power, and engine size restrictions. Additionally, three-wheelers also fall into the motorcycle category.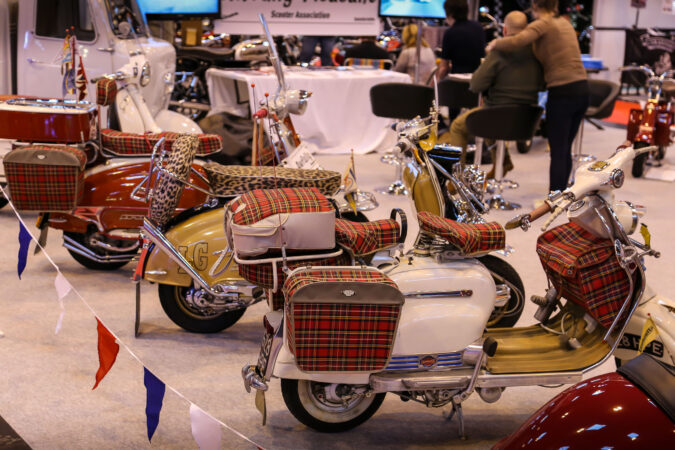 There are many different types of motorcycles. Motorcycles that have a floorboard for you to rest your feet on is referred to as a scooter. Every other chassis type, whether it's step through, trellis, or monocoque chassis, is referred to as a motorcycle.
Anyway, let's not focus on that too much. You can learn more in our article about mopeds vs motorcycles if you like. But if you want to know more about automatic motorcycles, let's discuss the different types of automatic transmissions in bikes:
CVT Transmission Motorcycles
CVT stands for Continuously Variable Transmission, and they're very different from other types of transmissions. In manual or planetary-gear-type automatic transmissions, the transmission has a set of gears differing in sizes that controls the power output to the wheels.
CVTs don't use gears, but instead, use a couple of pulleys and a belt or sometimes a chain that connects the two pulleys. The diameter of the pulleys varies depending on speed and throttle input.
The diameter of the pulleys also affects the diameter of the belt, which affects its rotational speed. The wider the diameter, the slower it rotates but it creates more torque and vice versa.
The CVT transmission has no gears and hence there's no gear change. This makes for a very different feeling when riding, but it results in a very smooth experience since there are no gear changes.
This type of transmission is the most common in automatic scooters, such as modern-day Vespas. While there are downsides, they're very simple in operation. And are great for automatic scooters since they don't take up a lot of space.
Semi-Automatic Motorcycle
As the name suggests, this type isn't fully automatic. These types of bikes don't have a clutch lever on the left handle, but it still has the foot-operated gear shift lever. So, the bike's Engine Control Unit (ECU) automatically operates the clutch. But you'll still need to manually change the gears.
With this type of transmission, you put the bike in gear, twist the throttle, and you're good to go. While this means you still have to change gears, you don't need to operate a clutch lever. And that's typically the hard part for most new riders.
Semi-automatics are found in predominantly underbone-type of motorcycles, otherwise known as the step-through motorcycles. The step-through motorcycle is quite rare though in the States, and it's mostly found in South-East Asia. But some touring bikes do use this type of transmission.
Dual Clutch Transmission Motorcycles
The Dual Clutch Transmission or DCT is similar to semi-automatic transmissions. But as the name suggests, it has two clutches in the system; one for the even gears, and one for the odd gears.
This setup allows for a lightning-fast gear change and results in a negligible power lag, and perhaps more importantly, a very smooth ride.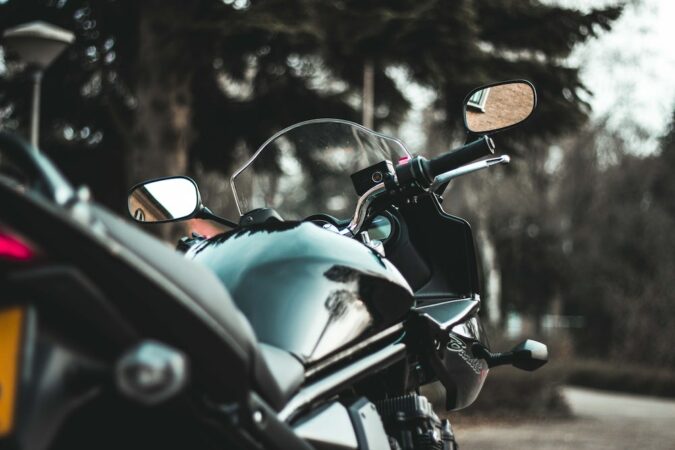 Like the semi-automatic system, DCT bikes don't have a clutch lever but still have the heel-and-toe lever or triggers to control the gear changes. But unlike the semi-automatic system, certain bikes have a fully automatic mode.
This means you only have a selector for the 'Neutral' and 'Drive' gear, and then the bike will do the rest for you. Shifting through the gears while riding is all done by the bike's computer. However, since the DCT system is quite expensive, you'll find this mostly in high-end bikes.
Best Automatic Motorcycle
So, now you know there are three types of automatic transmissions in motorcycles. And while the DCT transmission is expensive and usually reserved for high-end bikes, don't worry, we have a lot of recommendations. Surely, you'll find something that suits your needs down here:
125cc Automatic Motorcycle
If you're looking for an automatic motorcycle with a small engine size, unfortunately, you're going to be limited to scooters. As mentioned, step-through bikes virtually don't exist in the US, and other bikes with this engine size typically come with a manual transmission. So, you're going to have to make do with scooters.
While they're not the coolest looking thing, they're still very capable and convenient. And our pick goes to the Yamaha Zuma 125. It's a 4-valve fuel injection engine that can go up to 58mph, which is respectable. But if you're planning to go on the highway, you're going to have to find a bigger bike.
 

View this post on Instagram

 
Anyway, it has both a kickstand and a center stand, so you can park it in any way you like. The storage space is decent, and it has a 1.7-gallon fuel tank. With a fuel consumption figure of 89mpg, you can do a little over 150 miles in just one tank of fuel.
Being a scooter, the transmission, as you'd expect, is a V-belt automatic otherwise known as CVT. There's nothing too special about this scooter, but it does all the things you'd expect out of a scooter, and it looks great. It certainly still looks like a scooter, but the dual cylindrical headlights make it stand out. The MSRP for the Zuma is $3,699.
150cc Automatic Motorcycle
You're also still limited to scooters if you want 150cc automatic motorcycles. While there are street bike-style options, they're mostly from relatively unknown brands so we can't really recommend them. Instead, we recommend the Vespa Sprint 150cc.
Vespa Piaggio makes a wide range of scooters, and the Sprint is largely the same as its sibling, the Primavera. The differences are mostly aesthetic, such as the trapezoidal headlight, sharper-looking mirrors, 12-inch alloy rims with low-profile tires, and red shock coils. Essentially, this is the sportier version of the Primavera.
The 150cc motor is a fuel-injection motor with three valves, making a healthy 12.7 horsepower. And this will get the bike to 60mph with ease, and given a long enough road, it can go up to 65mph. So you can take this to the highway more confidently than 125cc bikes.
To stop the speed, there's a 200mm disc brake up front and a 140mm drum brake in the rear. This is the same as the Primavera, but unlike it, the Sprint has ABS and a traction control system so it's safer during sudden braking. You can learn more abou this system in our deep-dive into what does traction control do.
Again, it's still very clearly a scooter. But the Vespa brand has its own charm, and the Sprint is one of the better-looking scooters on the market. And of course, it has a CVT transmission.
One thing to consider is that the rear-end of the bike is quite wide, and can be uncomfortable for passengers even on short journeys. I hated this as a passenger, but it's a lovely little scooter to ride. You'll need $4,100 to bring home one of these.
250cc Automatic Motorcycle
Options for the 250cc automatic bikes are few and far between in the States. Probably because at this price point, most people already opt for street/naked and sports bikes. And unfortunately, those bikes don't come with DCT or semi-automatic since the systems are too expensive for this price range.
If you don't mind getting a secondhand bike, then the Honda Reflex 250 is your best choice. But if you want a new bike, then the closest thing we could find is the Suzuki Burgman 200. Yes, it's not a 250cc, but it's the closest we can find. And yes, it's still a scooter.
It's larger though than the other scooters on this list. And while it's not the best-looking bike, it ticks all the boxes: good handling, plenty of storage, top speed of 75mph, and around 60mpg in fuel consumption. But at $4,999 we think it's a little too expensive for what it is.
Automatic Cruiser Motorcycle: Honda Rebel 1100 DCT
Right, those are the affordable options. Now, let's get to the exciting ones. We'll start with the cruiser segment, and since Honda seems to be the market leader when it comes to DCT transmissions in bikes, you're going to see a lot of them here.
We start with cruisers, otherwise known as choppers. These are low-riding bikes where you sit low down and lean back. As the name suggests, they're meant for cruising so it makes sense for them to have an automatic transmission.
We recommend taking a look at the Honda Rebel 1100 DCT. It comes with a liquid-cooled 1,084cc twin-engine paired with a 6-speed dual-clutch transmission. This makes 85 horsepower and is good for about 140mph.
The rebel has a set of buttons on the right side for you to choose the gears. There's Neutral, Drive, and a button to toggle between automatic and manual mode. If you engage in manual mode, there are a couple of triggers on the left-hand side to shift the gears.
The Rebel also has several riding modes, which are Standard, Rain, Sport, and a user-configurable mode. These adjust the power delivery, traction control, and the behavior of the transmission as well.
To be honest, cruisers somewhat lose their charm when you fit them with an automatic transmission. Nevertheless, it makes it easier and less tiring to ride. And if you like the idea of an automatic cruiser, the Rebel 1100 DCT is going to set you back at around $9,900.
Automatic Naked Motorcycle: Honda NC750X DCT
Naked bikes are essentially sport bikes but without the fairing, and a slightly taller and more upright riding position that makes them more comfortable for daily commuting.
If you want an automatic naked bike, then you're going to have to go with the Honda NC750X DCT, yet another offering from Honda. It has a 745cc liquid-cooled twin-engine just like the Rebel and starts at a slightly lower price of $9,299.
This has the same DCT system as the Rebel, so operation is similar; you pick gear with buttons on the right side, and shift using triggers on the left side should you engage the manual mode.
It has a top speed of about 120mph, sips fuel at around 65mph as long as you don't put it in Sport mode, and has lots of storage which makes it very convenient for your daily commutes.
Overall, it's a great bike that strikes balance between sportiness and usability. Reviewers note that the bike feels agile, despite its weight of 493lbs. This is the bike if you want a comfortable and usable everyday bike, but have fun with it on the weekends.
Automatic Sport Touring Motorcycle: MV Agusta Turismo Veloce Lusso SCS
Let's take a break from the Hondas, shall we? Sport Touring bikes are tall bikes meant for long journeys and can go just about anywhere the rider pleases. For this segment, we recommend the MV Agusta Turismo Veloce Lusso SCS. And there's more to this bike than just the cool name.
It's an 800cc three-cylinder bike, boasting 110 horsepower and a top speed of 143mph. The SCS stands for Smart Clutch 2.0 system, which is MV Agusta's name for a more advanced version of the semi-automatic system.
Unlike Honda's DCT, the SCS system still requires you to shift the gears. But the quick-shifting technology means you don't need to operate the clutch lever. And it also has a launch control feature, so you can quickly set off without having to control the clutch.
To be fair, this isn't a fully automatic bike. But at least you don't have to operate the clutch if you don't want to, and that's the hard part. Now, it is quite expensive, MSRP is around $22,500.
However, like cars, Italian bikes have a certain charm. That X-factor, if you will. And I promise you, while that three-cylinder engine isn't the fastest or most powerful, it certainly sounds unique and you're going to love it.
Adventure Automatic Motorcycle: Honda Africa Twin Adventure Sport ES DCT
Adventure bikes are like sport touring bikes but with a larger focus on offroad performance. They're not quite as dedicated as dirt bikes, but it's more capable off the road than sport-touring bikes.
For this segment, you're going to have to go with Honda once again. Specifically, the Honda Africa Twin Adventure Sport ES DCT which costs about $17,900.
 

View this post on Instagram

 
It has the same DCT system as the aforementioned Honda bikes. So, you only need to use the triggers if you want to change gear manually. It comes with the same 1,084cc engine as the Honda Rebel, and the top speed is at a slightly lower 125mph.
There is a base model that retails for about $15,000. But this Twin Sport model comes with a larger gas tank and a better electronic suspension. Both come with a DCT, so it comes down to how much you're willing to spend.
Luxury Touring Automatic Motorcycle: Honda Gold Wing DCT
The Honda Gold Wing is the gold standard when it comes to the ultimate touring bikes. So, it's only natural that we recommend the Gold Wing DCT. Up until 2018, all Gold Wings came with a manual transmission, but you can now get it with a 7-speed DCT.
It's identical to the standard Gold Wing, and you get all the luxury features. Full-color TFT screen with built-in navigation, it's Apple CarPlay/Android Auto ready, smart key operation, and driving aids such as torque control and hill start assist.
You get a massive 1.8L engine making 124 horsepower and good for 140mph. The DCT operates the same way as the other Honda bikes on this list, so you can cruise across the country in comfort without worrying about gear changes.
The price for the DCT version starts at $25,300 which is pretty expensive. But then again it's the ultimate touring bike, and it's a small price to pay for the ultimate touring bike experience.
Electric Motorcycles
Unlike internal combustion engines, electric motors don't need a transmission. So, while technically not "automatic", the lack of transmission means you don't need to operate any gears and an electric bike works like an automatic motorcycle. Here are some quick recommendations:
Electric Cruiser – LiveWire One from Harley Davidson, $21,999.
Electric Scooter – BMW CE 04, $11,795.
Electric Superbike – Energica Ego+, $24,610.
The BMW CE 04 and Energica Ego+ are particularly intriguing. The BMW has very unique styling that will surely turn heads everywhere you go. While the Energica is the only superbike where you don't have to worry about gear-shifting.
Automatic Motorcycles Facts:
Electric motorcycles are expected to take over and bikes with an electric motor are expected to come with automatic transmissions.
There are some good reasons why someone might want to choose an automatic motorcycle, including an easier style of riding, no stalling, and smoother rides.
Automatic motorcycles are perfect for riding in city traffic and for newer riders who can concentrate on the fundamentals of riding without clutch operation to worry about.
There are four types of transmission: traditional manual, semi-automatic, DCT transmission, and CVT transmission.
Honda has been leading the charge with automatic transmission motorcycles since 1973, with over 100,000 units of their DCT transmission sold.
The Honda Africa Twin has the option of dual clutch transmission with smoother gearshifts and minimal drive disruption, and three riding modes can be selected.
The Honda Gold Wing has the option to choose between a manual 6-speed transmission or an automatic DCT 7-speed transmission, and it is the pinnacle of long-distance touring.
The Honda NC750X is the King of practicality and is suited for all purposes, and it was the second Honda to get the DCT back in 2012.
The Honda Rebel 1100 is the only cruiser available with an automatic transmission and offers all the best bits of a V twin without the heavy gear shifts and heavy clutch lever pull.
The Aprilia Mana 850 is possibly the only Italian CVT transmission motorcycle and was produced between 2007-2011.
Automatic Motorcycle FAQs
Got any more questions about the world of automatic motorcycles? We try to answer as many questions as possible:
Are Motorcycles Automatic
Most scooters are automatic, using a CVT-type transmission. But most standard motorcycles come with a manual transmission. There are semi-automatics, but they're quite rare in the United States. Meanwhile, the Honda is currently the only one embracing fully-automatic dual-clutch transmission in motorcycles. And even that is only available in their larger bikes.
Are There Automatic Motorcycles
There are plenty of automatic scooters to choose from. But other types of motorcycles, such as standard/naked, sports bikes, and touring bikes rarely come with an automatic transmission. However, many of them have a quick-shift feature where you can change gears without operating the clutch while at speed.
Is Manual Faster Than Automatic
In motorcycles, this depends on the type of automatic transmission. If you compare a manual with a semi-automatic transmission, the manual is likely to be slower during gear shifts but could launch faster in the hands of an experienced rider. But if you compare it to dual-clutch transmissions (DCT), then DCT is always going to be faster. Meanwhile, CVTs focus on smoothness rather than performance.
Are Honda Groms Automatic
No, the Honda Grom has two trims: the ABS and non-ABS versions. Both come with a 5-speed manual transmission.
Are There Automatic Dirt Bikes
Yes, there's the Honda Trail 125 (but it's more of a scooter), the Zero FX which is electric, and the KTM Freeride E-XC which is also electric. Automatic dirt bikes aren't really a thing, probably because being able to control the clutch while dirt biking is more beneficial. But if you're willing to splurge, there's the Honda Africa Twin DCT. It's more of an adventure bike, but it's the closest thing to an automatic dirtbike with an internal combustion engine.
How To Ride An Automatic Motorcycle
This depends on the type of automatic transmission that the motorcycle has. In a scooter with a CVT, you simply hold the front brake (right lever) when you turn it on. And when you want to go, let the brake go and start twisting the throttle. In a semi-automatic system, you have to put it in gear with the foot lever and then the clutch operates automatically. In DCT systems, particularly in Hondas, you select the gear (Neutral, Drive, and sometimes Reverse) with a rocker switch and then twist the throttle to go.
Automatic Motorcycle: Final Thoughts
Automatic motorcycles are great for new riders that are still learning the ropes. And for experienced riders that just want to commute or cruise in comfort.
It does take the charm from certain bikes though. An automatic cruiser just isn't quite the same when it has an automatic transmission. However, there's no denying that they're very convenient.
To summarize, if you want a small automatic motorcycle, your options are limited to scooters. And even if you want a larger bike, most of your options are going to be Honda's offerings since they're at the forefront of DCTs in motorcycles.
While DCTs are fairly common now in cars, they still haven't caught on in motorcycles. Honda seems to be the only one embracing it in the motorcycle industry.
Still, Honda makes great motorcycles. Sometimes not as charming as their Italian or American counterparts, but they make good bikes nonetheless. And if their DCT options turn out to be a hit, likely, other manufacturers will soon follow.