There has always been a strong connection between motorsport and luxury watches, maybe because the intricate mechanical workings of many watches echo the perfectly balanced mechanical workings under the bonnet of many classic and modern motorcars. Chopard's Mille Miglia collection was specifically designed in support of the Mille Miglia rally, and some fans may be aware that current Chopard CEO Karl Freidrich Scheufele, along with his father (also Karl), have been long time collectors of vintage cars. Tag Heuer's Monaco was famously showcased by Steve McQueen in the 1969 film 'Le Mans', and started a passion for watch collecting in many older racing fans when they first saw that movie as a child.
AMJ watches have sent us a watch winder to check out and review –  Andrew Michael's Jewellers have a large collection of luxury watches and accessories from well known brands such as Chopard, Tag Heuer and Breitling Watches and love to get involved with the motoring community as many of these luxury watch manufacturers have done in the past.
What is it?
If you've ever left a mechanical watch alone, you probably found out the hard way that they don't hold charge for a long period of time. This single winder by Barrington keeps your mechanical watch charged when you're not using it, so it's ready when you eventually want to wear it. It's a simple solution to a simple problem, but because this is Barrington, it's an elegant solution as well.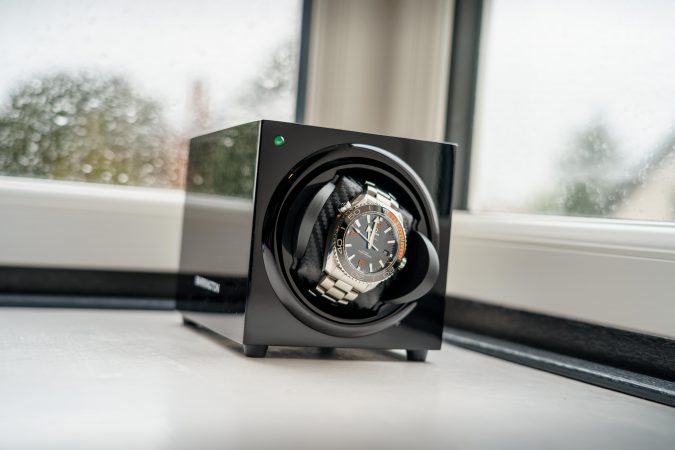 How large is it?
The case size is 11cm by 11cm by 15cm, so it's relatively small compared to a lot of other watch winders. Because it's a single, i.e. you can only charge one watch, it's compact enough to be easily transportable.
What I love about it is just how beautiful it looks. Finished in this lovely deep black, it looks about as elegant as any other winder on the market, if not more. As most of you know, black looks good with every other colour, so you can genuinely use the winder (along with your watch) as a display piece as well. You don't have to hide it in the corner or in the drawer.
How does it get power?
The Barrington is extremely versatile, so you can either power it from the AC mains or using two AA batteries. Obviously, the former is better if you don't want to keep changing out the batteries, but even so, we found out you can get a reasonable amount of charge time from just two AA batteries. It uses an extremely quiet Japanese motor, so pretty silent too.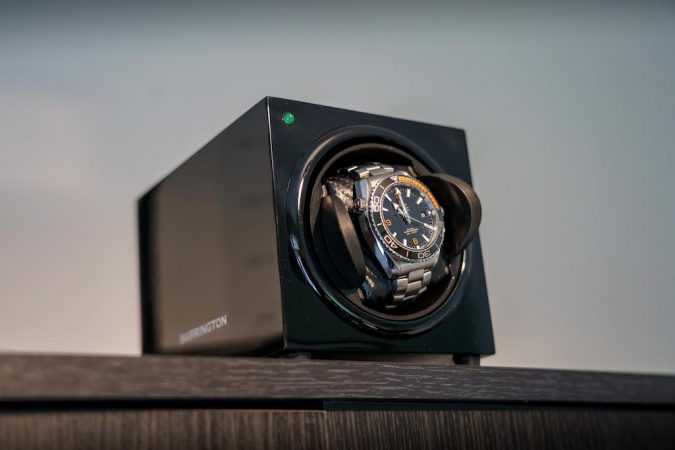 Any other features?
Yes, a couple in fact. It has multiple Turns Per day (TPD) settings, ranging from 650, 750, 850, 1000 and 1,950, so it can just about suit any type of mechanical watch. It's also got an adjustable cushion which is perfect for watches with a strap or a bracelet circumference between 15.7 and 20.5 cm. The LED light illuminates to indicate that the watch is correctly attached and is charging, and as standard, it comes with the UK plug.
Is it good value for money?
I would say so. It costs £125, for what you're getting, it's great value for money. Plus, you have to consider the lifespan of the product. This is something you can use for many years to come, and if you've got expensive watches you need to take care of, why would you settle for something cheap which might break or looks awful in comparison to the Barrington? On top of everything, it comes with Barrington's full manufacturer warranty, so you have nothing to worry about.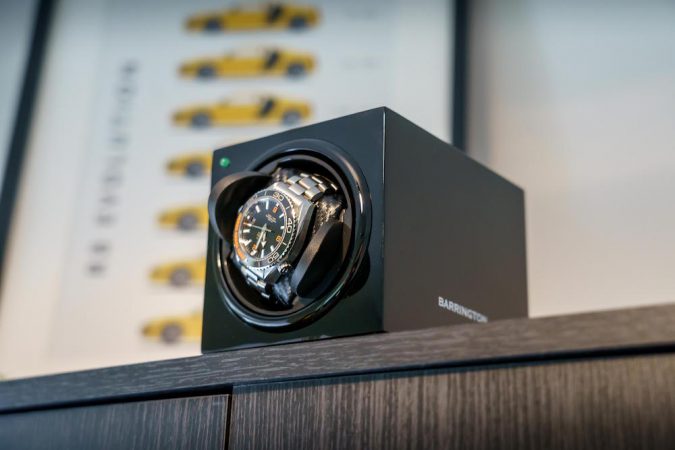 Would you recommend it?
Without a doubt. It's elegant, it's stylish, it does what it says on the box perfectly, and it's an all-around great package. Backed up with Barrington quality and warranty, it's a really great product.