Automobili Pininfarina's Battista hyper GT has achieved two new world records, cementing its position as the world's fastest accelerating production car. The Battista broke records for the ¼ mile sprint, with a time of 8.55 seconds, and the ½ mile test, with a time of 13.38 seconds. These records were set in collaboration with Autocar India at Indore's Natrax facility, where the car achieved a 0-300km/h time of just 10.5 seconds.
Exceptional Performance – Top Speed of 358.03km/h
The car's exceptional performance was also reflected in a top speed test, where it hit a top speed of 358.03km/h on track, officially making it the fastest car ever to be driven on Indian soil. In addition, the Battista is now officially the fastest electric vehicle (EV) tested in India.
High Power & 4 Wheel Drive
The Battista produces over 1,900hp and 2,340Nm torque, with power distributed across all four wheels via four motors and through a unique, sophisticated torque vectoring system. This system has been tuned by Automobili Pininfarina's engineers at the luxury carmaker's development centre in Italy.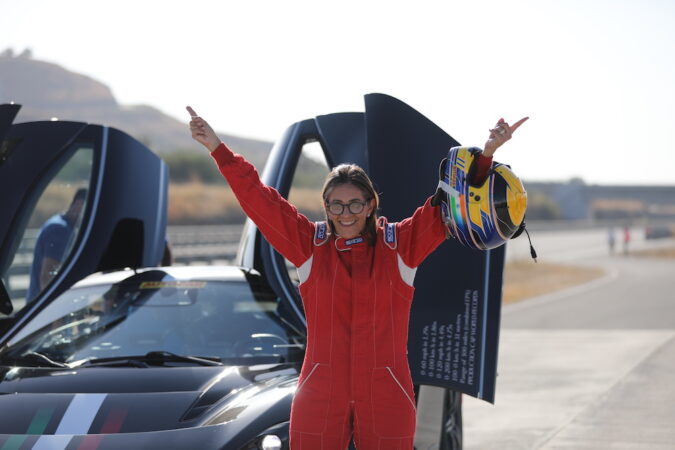 Unmatched Speed – 0-60mph achieved in 1.79s
The Battista's acceleration is unmatched, with 0-60mph achieved in 1.79s, 0-100km/h completed in 1.86s, 0-120mph executed in 4.49s and 0-200 km/h obliterated in just 4.75 seconds. Official tests also confirmed Battista achieves the shortest stopping distance of any electric vehicle in the world, completing 100-0 km/h in just 31 metres.
Tyre Choice
The car's top speed test was undertaken with Michelin Pilot Sport Cup 2 tyres fitted. The acceleration tests, on the other hand, were done with Michelin Pilot Sport Cup 2R tyres. Both sets of Michelin tyres are available to order with the Battista at the point of purchase.
Battista's performance during the testing was independently validated by the Federation of Motor Sports Clubs of India (FMSCI), the Indian sporting body affiliated to the FIA.
The Exposed Carbon Fibre Body Looks Incredible
The Battista hyper GT is not just a speed demon, it is also a beautifully designed and crafted car, with an exposed carbon fibre body. Its unique launch control technology contributes to its Formula 1 car-beating acceleration, and it has a level of vehicle dynamics that sets a new benchmark among hypercars.
Paolo Dellachà, Automobili Pininfarina CEO, said: "We conceived Battista as a hyper GT – a special blend of beautiful design and attention to detail synonymous with the Pininfarina brand, allied to extreme electrified performance and a level of vehicle dynamics which sets a new benchmark among hypercars. In these tests, the Battista has shown that record-breaking performance is there to be enjoyed by every driver on road or track."
The Battista is an exceptional car that breaks records and redefines what is possible for electric cars. It is a testament to Automobili Pininfarina's vision and commitment to delivering high-performance electric vehicles that are just as thrilling to drive as their petrol-powered counterparts.