This article was recently reviewed by car expert Paul Hadley to ensure it is as accurate and helpful as possible.
ATVs used to be niche products. Few people had genuinely justifiable reasons to buy one, let alone the best ATV. Most people just end up buying a dirt bike if they needed something to zip around their own property.
Nowadays though, that sentiment has changed. ATVs used to be more about utility, but makers eventually grasped that 'utility' and 'sports' can co-exist.
ATVs nowadays differ greatly from what they used to be. Modern ATVs can keep up with cars, yet maintain off-road capability and offer creature comfort. Some ATVs can even be registered for use on the road.
Combine that with the masses who see online influencers bombing around in their expensive ATVs and having a blast. It's only natural for people to want to partake in the ATV hype.
Types Of ATVs
Before you go out and spend a lot of money on a brand new ATV, do you know that not all ATVs are built for the same purpose?
In general, all-terrain vehicles, ATVs, are vehicles that travel on low-pressure (or non-pneumatic) tires with a straddle seat and steers with a handlebar.
It's important to distinguish this. However, this is only in the strict sense. The expensive buggy-like Polaris 'buggies' you see people driving in are technically considered utility-terrain vehicles (UTV) and side-by-sides (SxS), not ATVs.
But there's a significant overlap between the SxS and ATV markets so people tend to lump them in together. To protect it from damage, look for an ATV cover that fits your vehicle type.
Sports 4 Wheeler
This is most likely the type of ATV you think of when someone refers to a 'quad'. Sport ATVs are often purchased for recreational use or just as a hobby.
Imagine it like a dirt bike with 4 wheels (you can learn more in our guide on how to make a dirt bike street legal and how to ride a dirt bike). Common features are powerful, high-revving engines, manual transmission with clutches, long-travel suspension, a narrower body, and rear-wheel drive.
Sport ATVs are quick and lightweight, made to traverse through dirt trails at a rapid pace. If you are looking for an ATV purely for fun and the joy of riding, then a sports ATV is what you need.
Some sport ATVs can be ridden on the road legally. They're more akin to a sportbike with four wheels, and some people use them as a legitimate mode of transport.
Utility ATV
Utility ATVs can essentially be the complete opposite of sports ATVs. Think of these as working vehicles, made to haul loads around a farm.
If we talk about utility ATVs in car terms, these would be the purpose-built 4x4s that are getting increasingly rare. Think low speed, high torque, and complex. These often feature four-wheel-drive systems and automatic transmissions.
Need to go somewhere that's narrow in muddy, treacherous terrain? Utility ATVs are your best bet. They are often exceptional tow vehicles too, and can often fit two people comfortably.
Most of the time utility ATVs are bought as a workhorse for a ranch or farm, or as a method of transport around one's own property. Some are used for highly specialized work such as oil spill response and exploration crawlers.
Youth ATV
Youth ATVs aren't exactly a completely separate category per se. These are often sport ATVs made with the knob turned all the way down.
So if your sport ATV has a 700cc engine, a youth ATV might have a modest 50cc to work with instead. They are often small, feature automatic clutches/transmissions, and have a simple suspension setup.
They often feature little to no novelties to keep costs low. Suspension travel on youth ATVs is often limited, so you'd want to stick to smoother trails or roads.
Depending on the age that the youth ATV is intended for, adults might not even be able to ride them due to the weight limit. It's made to be lightweight so even kids can handle one safely.
Side By Side ATV
SxS resemble a car more than an ATV. Imagine them as a buggy that's made for commercial sales. If you want to go somewhere remote while bringing passengers and cargo along, an SxS is your best bet.
Make no mistake, SxS might be bigger and heavier than a sport ATV, but they can still outpace one on a dirt trail. They feature large-capacity engines and long-travel suspension to facilitate off-road use.
Of course, these things are expensive. Some ATV enthusiasts also feel that SxS offer a disconnected driving experience compared to actual ATVs.
However, for the purpose of thrashing around a trail at high speeds while bringing passengers and cargo, these are safer than a sport ATV. These are popular in the rural countryside where pavements are scarce for this purpose.
SxS can be segregated into various categories. Some are made to navigate forest trails, others are built to storm around the wide-open countryside or desert dunes. There are special-built ones for rock crawling too.
SxS is often used by the military or fire department for utility purposes too. So, they are not solely recreational.
Strictly speaking, SxS are not ATVs. They are utility terrain vehicles or UTVs. So I won't be touching on UTVs in this article.
Sport vs Utility ATV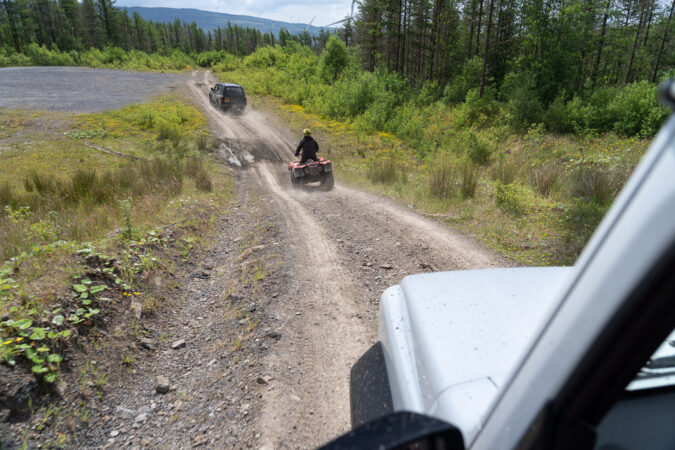 With that said, some people aren't exactly certain about whether they need a sports or utility ATV. Sometimes, when you spend a lot of money on an ATV the line starts to blur. So here's a list to clarify the purpose of both so you know what you're getting into.
Sports ATV
1. Narrow And Lightweight
As the name implies, sports ATVs are intended for dirt trails and open tracks. They have a narrow body and seat so the rider can effectively shift their body around to transfer weight.
Furthermore, sports ATVs are lightweight. This improves the maneuverability and agility of the ATV, allowing the rider to sling the ATV around quickly to turn a corner.
Because of this, sport ATVs normally feature manual transmission and rear-wheel drive. It allows for serious oversteer action while reducing weight and complexity. Sport ATV riders will tell you how the feel of riding one can't be replicated.
2. No Practicality
If you need to carry something with you, then sport ATVs aren't ideal. They are not geared for towing and are generally ill-suited and unsafe for more than one rider.
Sport ATVs are also low-riding. Compared to utility ATVs they have less ground clearance, meaning that it's easy to get stuck on an especially hazardous route.
3. Open For Mods
Some of the most well-known sports ATVs have a big aftermarket for them. People modify and customize their sports ATVs to their liking and bring it for races.
Utility ATV
1. Go Anywhere
With four-wheel drive and more weight, utility ATVs are built and geared to go places that nothing else can go. Plenty of traction allows utility ATVs to hike rocks on a narrow trail.
In general, utility ATVs are high-riding for this purpose. It avoids getting stuck and averts damages that come with navigating a rocky track.
2. Pragmatic
Utility ATVs are definitely slow compared to sports ATVs, but that's a good thing when you have to tow and haul things. Some utility ATVs even come with low-range for this purpose.
While cars might be stuck in a blizzard, utility ATVs are capable of operating in harsh snow. Folks even use these ATVs as a snow plows.
3. Comfort Features
If you want an easy ATV to learn and ride, utility ATVs are the way to go. The major selling points usually include automatic transmission, power steering, and a comfort-optimized suspension.
Nowadays, utility ATVs are not exactly slow anymore. For most people, utility ATVs are fun enough to ride and justifiable as a purchase for their practicality.
4. Specialty
In some cases, manufacturers design ATVs for a specific purpose. For example, some utility ATVs might have 6-wheels or even treads to tackle unique terrains. There are even ATVs capable of traveling on water.
5. Bulky
On the other hand, due to the increased complexity, utility ATVs are generally big and cumbersome compared to sports ATVs. Handling and how one feels to drive might be subpar, much like when you compare a heavy SUV to a sportscar.
To give you an idea, a sports ATV can be around 400 lbs while a utility ATV can be twice that. It's not just the bulkiness too, because the more complex design makes a utility ATV expensive.
Best Sports ATV
Obviously, it's pretentious and unfair to just say one ATV is the outright best. Take this as more of the ideal, definitive sports ATV for someone that lacks experience.
Yamaha Raptor 700R
Sport ATVs are unfortunately living on borrowed time. The Raptor has been a legendary name in the sports ATV market for a long time, and it remains the best-selling ATV of all time.
The Raptor 700R might just be your gateway to a modern classic that can still be bought new. In fact, it's fair to say that the 700R has achieved legendary status amongst sport ATVs.
The 686cc liquid-cooled single-cylinder overhead cam engine has been in use ever since the 700R's initial inception. However, it has received updates over the years.
Most notably, in 2015, Yamaha increased the compression ratio to 10.0:1 from 9.2:1, where it remains today. It's an oversquare engine with 102.0mm bore and 84.0mm stroke. It has approximately 45 horsepower and 50 Nm of torque.
It has all the modern amenities you want. Electronic fuel injection, transistor-controlled ignition, electric start, and a 5-speed manual transmission with reverse. It's chain-driven at the rear.
The front features a double-wishbone suspension with adjustable preload and 9.1″ of travel. The rear also has an adjustable preload and 10.1″ of travel. It weighs 422 lbs.
1. Gentle Giant
Don't let the intimidating name frighten you, owners like the Raptor for its smooth, forgiving demeanor. It is well-regarded for the smooth and forgiving ride that gives the rider an easier time.
The 686cc engine has plenty of grunts for low-end fun. Yet it maintains a smooth, controllable power delivery all the way to the 9,000 rpm redline.
This is why people like it so much, and why even with its recommended to newcomers even with its big engine. It's not very demanding to ride, but it'll still reward a skilled rider on the ragged edge.
2. Big Aftermarket
Since the Raptor is the best-selling ATV, you can only imagine how big the aftermarket for it is. If you're starting out riding a sports ATV, this is what you want.
You can keep it stock, but make modifications to improve the potential of your quad as you grow. It also means that parts for the Raptor are easier to source when necessary.
3. Reliability
Finally, the biggest selling point of the Raptor 700R. It's a quad made for racing and hard riding, and Yamaha knows people won't treat it tenderly.
So it has gone through all the effort to make the Raptor 700R a dependable ATV for keen enthusiasts. Underneath all that plastic is a simple, straightforward construction with sensible design and parts choice.
The 686cc Raptor engine can last a long time. Remember to keep the air filter clean and do proper oil changes every 40 hours of ride time. Even under hard riding the brakes and tires can last for a long time, and the chain doesn't need frequent tightening.
4. Variants
Yamaha actually makes a few Raptors. The model that strikes a good balance between budget and features is the 700R, on sale for $9,099. It comes with the piggyback reservoir shocks which give the Raptor a smooth ride.
The more affordable Raptor 700 at $8,499 comes with basic gas-charged shocks with preload adjustment that rides rougher. The $9,699 Raptor 700 SE comes with additional GYTR grab bars and heel guards along with a wave-style rear rotor.
Best Sports ATV – Honorable Mention
Japanese 400/450cc Quads
Honestly, it's hard to pinpoint one particular quad for this list. Most of them are not being produced by the manufacturer anymore, unfortunately.
These are the Honda TRX400EX, Honda TRX450R, Suzuki LT-Z400, and Kawasaki KFX450R. All of them are highly praised by their owners for their performance, fun factor, and reliability.
The fact of the matter is that it's hard to go wrong with any of them. They are also way more affordable than a Raptor 700. As long as you're fine with a used ATV and don't mind looking for a good used example, there's nothing wrong with getting one.
To know which one is truly better though is all dependent on the rider. You have to get some seat time in each of them to get a feel and ascertain the perfect one for you.
Best Utility ATV
Yamaha Grizzly EPS
If you can only own a single ATV, then the Grizzly might just be the answer. As the moniker suggests, the Grizzly is built to handle work in a variety of harsh conditions and shrugging it off like it's nothing.
It's powered by a very similar 686cc SOHC liquid-cooled engine found in the Raptor 700, just with a revised cylinder head for better low-end torque.
In lieu of a manual though, the engine is mated to a CVT, the Yamaha Ultramatic, with low-range and reverse. Power is transferred to the rear, with a lockable front differential for 2WD, limited-slip 4WD, and locked 4WD.
It features double-wishbone suspension at all four corners offering 7.6″ of travel at the front and 9.1″ at the back. There are no piggyback reservoirs though, just typical gas-charged struts with adjustable preload.
Stopping the Grizzly are hydraulic-operated disc brakes at all four wheels. The Grizzly EPS weighs 701 lbs wet, so it's surprisingly light for being feature-rich.
1. All-Round Capability
It's no secret that owners appreciate the off-road aptitude of the Grizzly. The engine provides plenty of verve to power the Grizzly along steep hills. When the trail opens up, you can even take the Grizzly for a spirited drive.
The power delivery is smooth and controlled though, allowing for precise throttle modulation when you need it. It has sufficient engine brake to slow the Grizzly without providing too much that it locks up the wheels.
With the fully independent suspension setup, the Grizzly manages a supple ride without compromising the handling too much. The Grizzly offers 11.3″ of ground clearance with this setup.
It might be a utility ATV that can tow over 1,300 lbs, but the Grizzly will fare just fine on a fast trail. Not just that, it boasts over 300 lbs of carrying capacity across its front and rear racks.
2. Amenities
It's the little things that count when you're spending nearly $10,000 for an ATV. All Grizzlies come with electronic power steering as standard. It's not as assistive as Polaris Sportsmans, but enough so that you can still feel the road.
People often overlook one of the most important components of an ATV you'll be riding a lot – a comfortable, plush saddle. The Grizzly is often praised for its comfy seat.
LED headlights and taillights are also nice to have, and it's something you come to appreciate when you have to use it. The large 4.76-gallon tank is plenty for a long ride.
3. Reliability
The major reason people go with a Yamaha over something from Can-Am, Polaris, or Arctic Cat is simple – reliability. It might have a CVT, but Yamaha's CVT is renowned for its reliability and performance.
It really depends on how you pilot your ATV, but the Grizzlies are known for their ability to take a beating. Things that require more frequent attention are primarily ones that are exposed to dirt and mud, much like any other ATV.
4. Variants
The Grizzly EPS starts from $10,199. However, there's the SE for $10,799 which comes with larger 27″ Maxxis 'Zilla tires on 14″ wheels, as well as unique paintwork.
The XT-R model at $11,199 is intriguing as it comes installed with a WARN VRX 2500 winch that'll handle 2,500 lbs.
It's also worth noting that if you don't need all the extra features (EPS, electronic locking differential), the Yamaha Kodiak range represents a superb value. It's a Grizzly toned down a notch for more utility than sports.
Best Utility UTV – Honorable Mention
Can-Am Outlander And Polaris Sportsman
The truth is that for most people, the Outlander and Sportsman offer all that they need. Both will tow 1,300 lbs, both have a sufficiently potent powerplant, CVT, selectable 4WD, big fuel tank, and optional EPS.
For all of that, you're looking to pay a starting price of $6,499 for the Can-Am and $6,599 for the Sportsman. That represents a significant value compared to the Grizzly. The luxury features don't actually demand an exorbitant premium either.
Best Youth ATV
Honda TRX90X
The age of the rider influences the youth ATV you should get significantly. If you're looking to get your kid aged around 9 years old into the ATV experience, it's hard to go wrong with the Honda.
The 86cc SOHC air-cooled, carburetted single-cylinder engine is legendary. Its core design has remained for over 50 years, and the reason is simple, it just works.
Paired with the 4-speed manual transmission with an automatic clutch, the TRX90X can be a bundle of fun. It'll even go up to 30 mph.
It has an electronic starter with an ignition key, as well as an adjustable throttle limiter. Mandatory features for a youth ATV, of course.
1. Great Driving Experience
To actually appeal to the young, a youth ATV must be entertaining to ride. All the controls are ergonomic and sensible, and there's enough power to have fun around a race trail.
It might offer just 2.6″ of suspension travel at the front and back, but it rides comfortably enough so it's easy to handle. The 1.7-gallon tank will power the 86cc engine for 2 hours of spirited driving too.
Most importantly, the foot-shifted 4-speed transmission will teach your kid how to drive a manually shifted bike or ATV in the future. It doesn't have a reverse, but it highly contributes to the TRX90X's responsiveness.
2. Low Entry Costs
There's really not much to go wrong on the TRX90X. The suspension design is simple, with single A-arms up front and a swingarm at the back.
The sealed drum brakes offer plenty of stopping power, and they will last much longer than discs. The modest engine and simple manual transmission will last for ages with routine maintenance.
And as your kid gains more experience riding an ATV, you'd be pleased to know that there's an aftermarket for the TRX90X. There are even kits that allow you to upgrade to the suspension and brake components from the TRX300EX.
Honda still sells the TRX90X new starting at $3,249. If you have an older youth (~12 y/o), then the bigger TRX250X is well-known and definitely worth considering at around $5,049 new.
Best Youth UTV – Honorable Mention
Suzuki Quadsport Z50
If you have a really young kid that you'd like to get into the sport, 50cc might be more appropriate. The Suzuki Z50 is well-known amongst the ATV community to be a great starter quad for young kids.
It has a CVT instead of a semi-automatic manual so there's less to worry about for the rider. There's still an adjustable throttle limiter and ignition key too, as well as an electric starter. Prices start at $2,099.
FAQs On The Best ATV
If you're still curious to learn more about the best ATV on the market today, our FAQs here might help…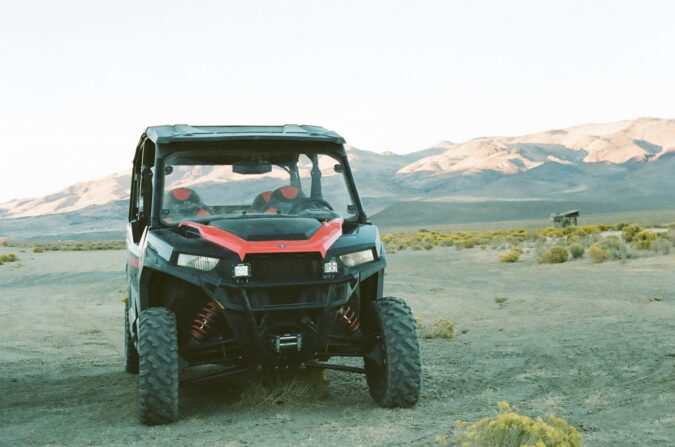 How Much Is A Four Wheeler
On average, a four-wheeler is going to cost you between $2,000 to upwards of $15,000, on average. Usually, youth-sized ATVs that are perfect for older children, teenagers, and younger adults will start at around $2,000 to $5,000. From there, a common sports or utility UTV that's good for generally everything else will set you back between $5,000 and as far up as $15,000. Typically though, $10,000 should be more than enough to get you a fairly capable ATV with a punchy engine. If you're on a tighter budget, consider looking at second-hand ATVs. Used four-wheelers can sometimes be had for as little as just $500, and are still in decent condition.
How Much Do ATV Weigh
One of the hallmarks of an ATV (aka a four-wheeler or quad) is its low weight and compact form. Combined with the improved traction of four wheels and potent engines, this is what allows ATVs to easily hop around and trek even the most difficult terrains. On average, a typical ATV would weigh around 500 or so pounds. However, it can vary quite a bit depending on the type of ATV you're looking at. For instance, sports ATVs can be as light as just 350lbs. Meanwhile, utility ATVs and their added functionality raise their weight profile to between 500 to 700lbs, or even as high as over 1,000lbs. A much smaller youth ATV, however, could weigh as little as 200 or so pounds.
How To Start A Four Wheeler
To start an ATV, ensure that your four-wheeler is pointed in a safe direction. Then, shift the transmission into Neutral or Park, and engage the parking brake. Now, turn on its fuel valve, and set the engine's ignition stop-switch to the ON or RUN position. Should the engine be cold, remember to set the choke to the ON position, as well. Give it a bit of time for the engine to warm up. Once you're ready, apply the handbrake and release the parking brake. Finally, shift into 1st gear. When you've done that, slowly release its handbrake and gently apply the throttle until it's going at the desired speed.
Can-Am Outlander 1000 Top Speed
These days, most four-wheelers are easily able to reach pretty high speeds, even with stock settings. Most of the faster ATVs out there could reach the high-70s to low-80s mph. If you're crazy enough to modify an ATV and add rocket thrusters, you might even be able to just barely reach under 200mph. Regardless, Can-Am makes some of the fastest ATVs on the market today. Its Commander four-wheelers, for example, tops out at a speedy 75mph. The same goes for the Outlander 1000, which is capable of easily reaching similar speeds in the high 70s mph. Although, if you remove the limiter with an ECU flash, some have even breached 83mph in an Outlander 1000.
Where Are Can-Ams Made
Cam-Am is one of the most popular brands of ATVs and side-by-sides worldwide. In fact, Can-Am four-wheelers are sold in over 100 countries, by more than 4,000 dealers as well as distributors around the globe. To be able to reach such a wide scale, Can-Am's vehicles are manufactured by Bombardier Recreational Products (BRP). The Canadian company is one of the largest manufacturing conglomerates in the world, with factories in Canada, the United States, Mexico, Finland, and Austria. Meanwhile, its global headquarters is in Valcourt, Quebec, Canada, and have more than 8,000 employees worldwide.