When you are going somewhere with your car, the last thing you would want to have to deal with is a dead battery. While the popularity of smartphones has made it easier for people to get a tow or a jump, it can still be quite the frustrating and time-consuming experience to sit and wait around for it. Especially if you have to go somewhere urgently. We have a selection of some of the best battery charger that will help you get back on the road without a problem!
The great news for you is that you can avoid getting into a situation like that with the help of the best battery charger. Your battery can die due to many different reasons, such as old age, due to the weather, you just draining them out, or just leaving your headlights on. It could be anything, the truth is that car batteries don't last forever.
Having a portable battery charger at your disposal helps you avoid situations where you have to ask a random stranger in the middle of the road for help, or just keep on patiently waiting for someone to show up with jumper cables. This is why we have sorted out a list of some of the best portable battery chargers for you. Keep on reading to find out more!
Best Car Battery Chargers
When you are out picking the best rechargeable battery charger for your car, the type of vehicle you are driving doesn't matter as much. This is mostly because almost all types of cars, SUVs, motorcycles, trucks, and any other type of vehicles on the road, make use of lead-acid batteries.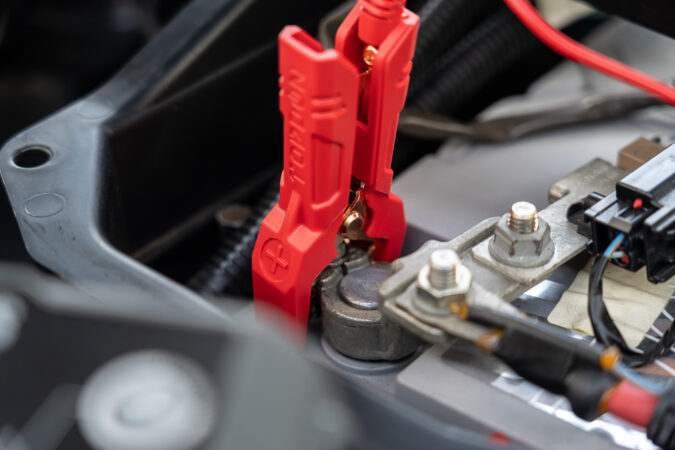 The main reason behind choosing lead-acid batteries for most vehicles is that they are not only a lot more inexpensive when it comes to manufacturing, but they are also actually quite resilient.
Here is a list of some of the best battery chargers for your car.
1. Battery Tender Plus 12V Battery Charger
A charger that can power up a 12-volt lead-acid battery inside of an SUV will be able to do the same for a battery inside of a motorcycle. One of the best battery chargers that we would recommend is the Battery Tender Plus 12V Battery Charger. This is a great choice since it works with a range of different lead-acid batteries.
A great thing about this charger is that it is automatic. What this means for you is that you will be able to stop overcharging your car battery since this battery charger comes with a charge controller that shuts it down when your car battery is fully charged.
The Battery Tender Plus also has a battery maintainer mode which allows it to be at full power even when it is not being used. This is to help make up for the self-discharge that usually comes in with lead-acid batteries.
Another good thing you get with this battery charger is that it has a 1.25 amps power output. This means that the battery of your car will be charging low and slow which is better for the overall health of the battery.
Not only is the Battery Tender Plus safe and easy to both connect and disconnect, but it is also spark-proof, and it checks to ensure that a secure connection has been established before it starts to transmit power. There have also been multiple great reviews about this battery charger being extremely in any temperature, both hot and cold.
2. NOCO Genius1
Currently, one of the bestselling car battery chargers is the NOCO Genius1 and there is a good reason why. This battery charger by NOCO is an automatic charger that allows your car battery to charge at a stable rate. One of the other things that make the Genius1 a popular choice, well other than the price that it is offered at, is the versatility you get with this.
The NOCO Genius1 works great with both the 6-volt as well as 12-volt types of the AGM, lithium-ion, and even deep cycle batteries. It is also one of the best deep cycle battery chargers out there in our opinion. Not only does this charge your battery, but it also maintains it with the trickle charge feature. This feature allows your battery to stay charged even over long periods of inactivity.
This battery charger makes use of sensors to measure the temperature so that it can accordingly adjust the 1 amp charge. The features are not done yet. The Genius1 by NOCO can charge batteries that are completely dead as well.
Usually, this is something that comes as a problem for most automatic chargers, but the Genius1 has a feature called the "force mode" which allows this battery charger to work just like a manual charger. What this means is that it will continue to provide your battery with a flow of charge until you turn it off. Moreover, you can also use this battery charger to revive the batteries with zero battery voltage.
The Genius lineup by NOCO also has some models that provide higher amperage, and provide your battery with a lot more in case you require faster charging. However, the Genius1 has to be the best bang for the buck offer and performance that you can get from NOCO.
3. Schumacher SC1281

When you are out looking, you can easily find battery chargers that are available in a range of power levels and sizes. Some of the ones that are on the larger side, even have enough juice needed to charge a car battery as quickly as possible.
However, you will often come across car battery chargers that are so large that they would be better off in an auto garage than in the home of a consumer.
It is quite a bit of a challenge when you need to find a car battery charger that is powerful enough but also makes sense to use at home. It is quite a delicate balance. With the Schumacher SC1281, you get just the right balance. You get both the high maneuverability as well as the high power.
If you want the battery of your car to be charged slowly then you can do that with just the 2 to 12 amps of power, and if you want a quick boost in the charging you can go up to 30 amps even. But, if you are looking to go complete jumpstart mode then you also have the option to go up to 100 amps. The whole battery charger unit itself weighs around 12 pounds, and it also comes with a nice handle to make carrying it around a bit easier.
Even though the Schumacher SC1281 delivers a great amount of power to your battery, it can charge your car battery well. Since it is a smart automatic battery charger, overcharging your car battery should not be a worry at all. Moreover, the trickle charge feature keeps your unused battery all the way juiced up for you.
In case you connect the clamps to the wrong terminals of the car battery, the battery charger also has reverse polarity protection that can stop it from being used. This keeps the charger functioning a lot more safely. While this battery charger is a bit more on the pricier side, it is worth it given the set of features that you get with it.
4. Optima Digital 400
While automatic car chargers are a great option for your car battery since they can easily just shut off when the battery of your car is at 100%, most of them are not able to provide charge to a dead battery.
Manual chargers can do this because they indiscriminately send electricity to a source, while automatic chargers on the other hand are required to locate the battery. This is something most automatic chargers can't do when the battery is dead.
However, Optima Digital 400 does not fall into that category of automatic chargers. This is a smart automatic car battery charger that comes with a charge controller to help fill up your battery and also stop after so that it can charge through the night without putting any damage to the power bank. However, it is still able to locate as well as charge dead car batteries.
Moreover, the Optima Digital 400 also offers great user-friendly use. There is an LCD screen that updates the user on the progress of the process of charging. This charger unit also offers the user to choose from a range of battery types quite easily. This battery charger works with AGM batteries, deep cycle batteries, standard lead-acid batteries, 12-volt batteries, and many more.
Another great thing is that with the 12 amp max charge, you can make the entire charging process of your car battery a lot faster when compared to many other models of automatic car battery chargers.
5. Schumacher SC1325
The first thing that you would most likely notice when you see the Schumacher SC1325 is that it is quite big. This battery charger comes in around 2 feet tall, and including the handle, it weighs about 30 pounds.
This battery charger is also one of the more expensive options that you can consider. Due to these reasons, it might make more sense to keep the SC1325 in the garage in your home than to have it in the trunk of your car.
With all that being said, you can't beat the SC1325 if you are trying to move quickly. This battery charger makes the weight even more manageable since it comes with wheels on it. It has a charging as well as a maintenance mode that delivers your car battery with 2 or even 6 amps of power. If you want you can also get a 40 amps boost to revive a car battery, or, if it seems necessary to you, you also have the option of going up to a 250 amps jumpstart that will get even those large engines back running again.
While it is important to note that these super-fast charges can easily put the battery of your car and your car itself at risk, you might still need it in an emergency.
Of course, with the SC1325 by Schumacher, you will also be able to handle a range of different batteries as well. Starting from your standard lead-acid batteries to the AGM batteries, and even the deep cycle battery units and the gel batteries as well. However, all of this still does not mean that this battery charger is the one for you.
The main thing that it comes down to is whether or not the SC1325 meets all your requirements or not. If it does not, or even if it is just overkill for what you will be using your battery charger for, then you can easily just go with something a bit smaller and less expensive and be just as fine with it.
If what you are looking for is something that provides you with heavy-duty performance and power, a battery charger/a jump starter, something that is going to get you ready to move in little time if there is an emergency, then the Schumacher SC1325 might just be the one for you.
6. CTEK 40-206 MXS 5.0
You will see most the road vehicles run on the standard lead-acid batteries, of course, recreational vehicle batteries are an exception to this. For example, RVs use a deep cycle battery. These are a type of lead-acid battery that was designed to provide power to your vehicle for longer periods.
Something about deep cycle batteries is that they are meant to be completely drained and charged back up many times, while on the other hand, the standard lead-acid batteries are not meant to be depleted as a part of their regular use. As you can tell from all this, RVs require a battery charger that can handle deep cycle batteries quite well.
The CTEK 40-206 MXS 5.0 does exactly that, and it also charges almost every other type of lead-acid battery out there. With this battery charger, you get an eight-step charging process that is automatic. It also has an indicator that allows you to see the progress of the battery charge and when your vehicle will be ready to use.
This also comes with a float system. It helps to keep your car battery around 95% to 100% capacity from when the initial charge is done with. This float system has a maximum current going up to 4.3 amps.
Another great thing about the CTEK 40-206 MXS 5.0 is the customer satisfaction that it provides you with. Almost every buyer of this battery charger has left good reviews for it after their use. There is not much else to say about this when the customers love it so much after using it.
Things To Consider Before Buying A Battery Charger For Your Car
When you are buying a battery charger for your car battery, there are several things that you should look into. Especially if you are new in this area and have no previous experience with car battery chargers.
1. Type Of Battery Your Vehicle Uses
This is the most the first thing you would want to take a look at. However, the answer would most likely be the standard lead-acid battery, but it could be something different, like a deep cycle battery if you are driving an RV. What we are trying to say here is that just make sure that the battery charger you are getting is compatible with your battery.
2. Manual Or Smart Automatic Charger?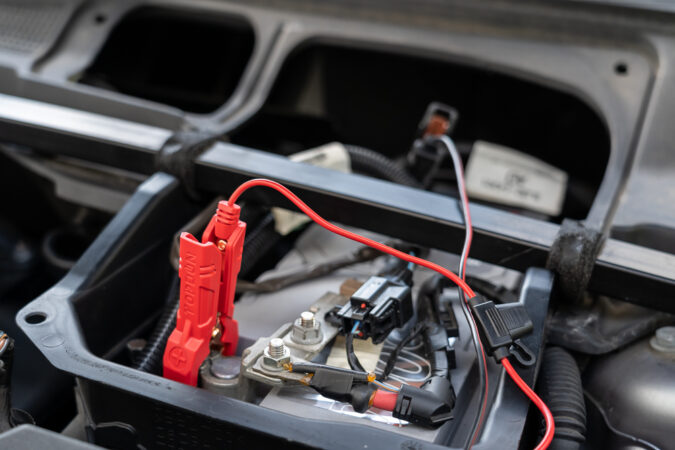 It is generally easier to use automatic chargers since they can regulate their charge and avoid any damage to your battery from overcharging. If you are looking for a battery charger to revive your car battery then manual is the better option for you.
3. What Sized Battery Are You Looking For?
Even though all of the models that we discussed in our list are technically portable chargers, some of them come in a larger size which makes them a little harder to use and move around with. Remember that if you want more power from your battery charger then you will usually have to go with the larger and less portable options.
4. What Are You Willing To Spend On A Battery Charger?
This is also something important to look into as your budget will determine the quality of the battery charger that you are getting. You need to keep in mind that there is a direct relationship between the cost of the whole unit and the power that is provided.
So if you are looking for something that will charge up your vehicle a lot quicker, then you will need to be spending quite a bit more.
Portable Car Battery Charger: Facts and Recommendations
Car batteries can lose their charge due to weather, age, or leaving the lights on.
A portable car battery charger can help you avoid the hassle of waiting for someone with jumper cables or flagging down a stranger.
A jump-starter can be rough on batteries, and you are better off using a regular charger if possible.
Portable car battery chargers include solar battery chargers and automatic chargers that can work with different types of batteries.
The Battery Tender Plus is the best overall car battery charger due to its automatic charger, charge controller, and float battery maintainer mode.
The NOCO Genius1 is the best budget car battery charger with versatile features, including sensors that adjust its 1-amp charge.
The Schumacher SC1281 is the best car battery charger for home use with high power and maneuverability, and an automatic smart battery charger that prevents overcharging.
The Battery Tender Junior is the best car battery charger for long-term storage, and is an affordable option that can be left attached to the battery terminals.
The Optima Digital 400 is the best car battery charger for dead batteries, an automatic smart battery charger that can resurrect units previously thought dead.
The CTEK 40-206 MXS 5.0 is the best car battery charger for RVs, offering an eight-step automatic charging process and the ability to handle deep-cycle batteries.
Frequently Asked Questions (FAQs)
Here are some of the most commonly asked questions about car battery chargers.
How Many Amps Do You Require
The important thing to keep in mind about this is that the fewer amps that you are using to charge your car battery, the better it is. There are still some exceptions to this. For example, if your battery comes with a lot of sulfation, it can be broken up by a thrust of high amperage. Another thing is that more amps can charge your battery up faster when you need it done quickly.
How Long Does It Take To Charge A Battery
This is mostly dependent upon how depleted the battery of your car is. However, generally, it can take anywhere from 4 to 24 hours. Typically every car battery comes with around 48 amps, and you will know, from the amperage of a battery charger, how many amps it will provide in an hour. For example, a 4 amp charger will need around 12 hours to fully charge up your dead battery and with a 10 amp, you can have it done in just under.
What Is The Best Battery Charger
The best battery charger for you would be something that suits all your needs and requirements. Anything that does everything that you want it to do and does it well, should do the job for you. However, in terms of performance and power, we would have to say that the Schumacher SC1325 has to be one of the best battery chargers that you can get.
What Is The Best Portable Car Battery Charger
As we said earlier, the Schumacher SC1325 has to be one of the best car battery chargers that you can get, but it does get in the way of portability. If you are looking for an option that provides you with the ease of carrying it around then the best option to go with would be the NOCO Genius1. We chose this because of the features that this battery charger has to offer and the versatility that you get with this. It works with most types of batteries, and it also can charge a car battery that has been completely depleted.
How Long Should A Car Battery Charger Last
If you are someone who can take good care of their equipment then there is no reason why your car battery charger will not last for about 10 to 15 years. Keep in mind that this is something that also really depends on the charger you choose for your car battery. It should come as something obvious to you that a battery charger that is low quality will not of course not last anywhere near as long as something more expensive.
Final Words
When you are looking into battery chargers for your car, it can be hard to find the best battery charger. This is because there are a ton of options to choose from, and this makes it hard to find the right one.
Our list focuses on all types of battery chargers so that everyone can find something that works the best for them. We hope you were able to find the best option for you and your vehicle as well!