Looking for a car can put you in a tough position. You want to know that you aren't being hassled or misled. You want to make sure the deal you're making is the best one for you. And Atlanta is a big city, with a lot of businesses to sift through. So you may need some guidance to find the best car dealerships in the Atlanta area.
What To Look For In A Car Dealership
Good criteria to evaluate include the dealership rating, the quality of their vehicles, policies, services, and customer satisfaction. It is also important to look at car insurance policies and practices. So you'll be sure to find some good, cheap car insurance in Atlanta in addition to a quality car dealership.
Buying a car is a big commitment. Whether you are just learning to drive, or if you've owned multiple cars for decades, it's important to find the right car and the right deal.
There are already many variables to look into when buying new cars, such as mileage and payment plans. And these days you also have to keep a sharp eye on the market adjustment on cars, as many dealerships are hiking the sticker price on a vehicle much higher than the MSRP (Manufacturer's Suggested Retail Price) to overcome low inventory from supply chain issues.
So having the perfect dealership picked out will be one big step off the checklist for buying a new car.
Motorvation: A Reliable Car Dealership
Motorvation has a perfect 5-star rating on Google from its customers. It is located at 1157 Battle Creek Road in Jonesboro, Georgia. Motorvation has high-quality vehicles no matter your budget and prides itself on its ability to accommodate any budget.
They have amazing customer service and are highly reliable and trustworthy. Customers often are satisfied with the price of cars and the knowledge of the salespeople. Their services include new and pre-owned vehicles, specials, financing, parts, and servicing.
Mercedes-Benz Of Buckhead: Family-Owned And Personable
Mercedes-Benz of Buckhead has a 4.5-star rating on Google from 2,500 customers. Its address is 2799 Piedmont Rd. NE in Atlanta. This dealership is family-owned and managed, and it prides itself on the fact that the staff is very friendly and personable.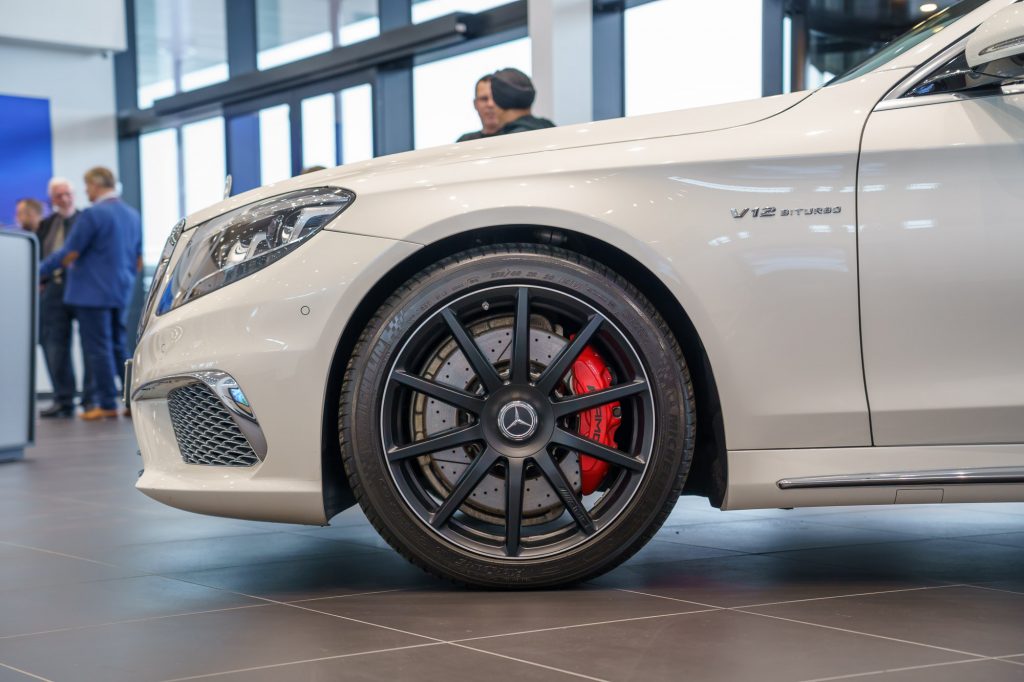 This is a great dealership if you are looking for a new or pre-owned Mercedes-Benz. Their services include: new and pre-owned Mercedes-Benz vehicles, specials, financing, parts, and servicing. Customers have dubbed buying from Mercedes-Benz of Buckhead a "luxury experience" with no rush or pressure.
Carvana: A Super Convenient Dealership Experience
Carvana has a 4.3 out of 5 stars rating on Google from over 1,500 customers. It is located at 166 16th St. NW in Atlanta. Carvana is a Fortune 500 company as well. They have an enormous inventory of vehicles that you look through either on-site or online.
In terms of the online buying experience, customers rave that it is simple, convenient, and that their car was delivered exactly as pictured in the app. Carvana's services also include new and pre-owned vehicles, specials, financing, parts, and servicing. Carvana is a great option for those looking to buy a new car.
The Best Car Insurance In Atlanta, Georgia
Atlanta is going to be slightly more expensive than the rest of Georgia for its insurance. So it is important to know cheaper options out there.
The cheapest providers will be Coast National Insurance Company, GEICO, USAA, and State Farm. And the highest-ranking insurance companies, all with at least A+ ratings, will be State Farm, Progressive, Allstate, and USAA.
Time To Find That Superb Car Deal
So, now you know some great options both for car dealerships and insurance in Atlanta. It's time to find the perfect, insured vehicle, with no hassles. You can even start by browsing online, for example, using Carvana's extensive online database.
Karen Condor writes and researches for the car insurance comparison site, CarInsurance.org. She is passionate about sharing her knowledge gained from personal experience, as well as friends and family in Georgia, on the best ways to acquire and maintain high-quality vehicles at the most-affordable prices.