You've invested a lot in your car, so it's safe to assume that you'd like extra protection for them. Finding the best car tracker becomes a necessity, especially if you're a parent with teens who can drive. With car theft rising, tracking your vehicle is your best shot at recovering a stolen car.
If you are hunting for the best car tracker with an easy install, the Americaloc GL300W Mini Portable GPS Tracker may be just what you need. It is tiny so that you can install them in door pockets or glove boxes. Car trackers reveal where your vehicle has been and how long it's been used. 
There are plenty of benefits to owning car trackers, like peace of mind and more. Some car trackers are pricey; buying them may seem like too much investment in a car. But it isn't that much when you add up the total cost of vehicle theft. We analyzed dozens of products to see which ones were the best-reviewed, the most affordable and had the most features.
Best GPS Tracker For Car
1. Americaloc Gl300w Mini Portable GPS Tracker – Best Mini Car Tracker
The Americaloc GL300W is an excellent little GPS tracker that is great for cars, trucks, and other vehicles. It tracks almost anything, not only vehicles. It's a real-time GPS tracker that sends updates about your vehicle every minute. The update frequency is adjustable. You can change it to half a minute or less.
It has a rechargeable battery that lasts up to 2 weeks once fully charged. It doesn't only tell you where your car is, but also detects speeding, low battery, geo zone, etc., with the different alerts for each activity. You'll find the speed and parking tracking needful if your teenager is driving. You can check their driving skills through the tracker.
The Americaloc GL300 is pricey; it costs $95 with a monthly subscription fee of $25. They also offer a 2-month free trial after purchase. The device gives a tracking history for up to a year.
Pros
Long battery life.
One-minute updates.
Portable.
Worldwide coverage.
Two-month free subscription.
Accuracy.
No contract.
Enables geofencing.
Cons
It's pricey.
Monthly subscription.
2. LandAirSea 54 Gps Tracker- Best Waterproof Car Tracker
LandAirSea 54 is designed to withstand weather conditions like snow and rain since it's mounted on the car exterior. It has an outer casing to protect the device's internal components from water, dust, and sun. It has an in-built rechargeable battery that lasts for weeks depending on the frequency of tacking.
If you find charging stuff cumbersome, you'll definitely want this tracker. LandAirSea 54 is infused with strong magnetic materials, so you can mount it on the bumper or wheel well with ease without slipping off. Its tracking abilities are superb. You can set SMS alerts to update you in real-time as quickly as every 3 seconds.
It gives accurate coordinates within a six-feet distance of the car location. With $30, you can get all these benefits, but you'll have to subscribe monthly ($19.95–$49.95).
Pros
Long battery life.
Uses Google Maps.
Enables geofencing.
Gives real-time updates.
One-year warranty.
Includes a SIM card.
Affordable.
A magnetic case for easy installation.
Cons
3. Optimus 2.0 GPS Tracker- Hidden GPS Tracker For Car
Car thieves often search for vehicle tracking devices and disable them before taking them away. Getting a hidden tracker can save your car. The Optimus 2.0 GPS Tracker is the best man for the job. The tracker has a magnetic casing that allows you to mount it safely on the wheel well on the bumper.
It uses google maps to track, sending updates every minute. You can customize the update frequency to 30 or 10 seconds. Optimus 2.0 has an app that is available for both Android and iOS users. You can track location and speed, and parking history. If you have wandering teens or elderly parents, installing the Optimus 2.0 will help you check their driving skills.
The SOS feature is for emergencies like dead batteries or accidents. The casing on the tracker is waterproof, so it withstands weather conditions. It comes with a rechargeable battery that lasts up to 2 weeks after a full charge. It costs $39.95, but the monthly subscription fee is $19.95.
Pros
4G LTE enabled.
Has an app.
One-minute updates.
Waterproof and weatherproof case.
Long battery life.
Enables geofencing.
SOS feature.
Cons
Monthly subscription.
Coverage is limited to the US.
4. Bouncie GPS Tracker – Best Affordable Monthly Subscription Tracker
With the Bouncie GPS tracker, you won't spend so much monthly subscribing, the fee is just $8. It gives you updates every 15 seconds and is compatible with all kinds of devices. Bouncie has an app that you can download and set up an account in minutes. It's small enough to hide in your kid's cars to track their diving.
You'll mount the tracker in the OBD2 port of your car. Bounce not only tracks the car, but the company also offers assistance in emergency situations like fuel, battery, and flat tires. Since the device is installed in the OBD2 port, it can detect engine data and provide diagnostic information.
With the Bonnie GPS tracker, your kids can get roadside assistance without reaching you. The tracker gives accurate coordinates within a few feets from your car's location. The app allows you access speed, acceleration, hard braking, and idle time data. It costs $67.00, and the monthly subscription fee is lower than the others.
Pros
15 seconds updates.
Provides engine diagnostic information.
Has a companion app.
Lifetime warranty with a maintained subscription.
No battery is needed.
Roadside assistance.
No battery is needed.
Cons
5. Mastrack Hardwired Live GPS -Best Hardwired Gps Tracker For Car
If you want a more permanent car tracker, the FastTrack Hardwired Live GPS is the right option. You can wire it to vehicles, trucks, and heavy machinery. You can wire the device directly to your vehicle's ignition wire so that you won't need an extra battery for the tracker. It can detect when the car is being turned on or off.
It also alerts you when it's not getting power from the wiring harness, indicating that someone has unplugged it or it's damaged. With the FastTrack Hardwired, you can set a threshold for speed. The tracker alerts when that speed has been exceeded. It also detects when the vehicle is being towed; that is, the ignition is off while the vehicle is moving. It's the perfect tracker against thefts.
You can set reminders for maintenance based on the miles the car has traveled. The device costs $78, but the premium and basic service prepaid plans cost more.
Pros
Speed and acceleration alerts.
Hard braking.
Enables geofencing.
Detects idling.
Cons
6. Accutracking Vtplug Real-Time Vehicle Tracker- Best GPS Tracker For Car With Engine Shut Off
One of the best ways to safeguard your vehicle is by installing a tracker that works even when the ignition is off. The Accutracking VTPlug is also easy to install and use. There are no wires or cables required for this device, so installation should be quick and simple.
To use the device, simply plug it into the OBD 2 port, and you can start receiving updates on the companion app immediately. It comes with an app that allows you to view real-time updates from anywhere via Wi-Fi or a cellular connection and it also updates after every 2,1 minutes and even 30 and 15 seconds.
It integrates with Alexa so you can find your car through speech. You can pull up a tacking history of up to 30 days with accuracy on the Accutracking VTPlug app. Plus, it detects speed, idling, and acceleration. The subscription plans are $12.99, $15.99, $20.99, and $25.99 monthly.
Pros
Integrates with Alexa.
Easy to install.
Provides engine diagnostic information.
Lifetime warranty.
Enables geofencing.
Cons
Monthly subscription fee.
7. Spy Tec Sti Gl300ma – Micro GPS Tracking Device
Spy tec STI GL300MA is a micro GPS tracking device for car owners with advanced AI technology. It has an android and IOS enabled app that sends email, and SMS alerts about the car's location and movement.
It enables geofencing; if the car moves away from the area you restricted it to, you'll get an update. Spy tec STI is small enough to fit into seat pockets, center console, or on the wheel well. Installing the device is easy; it comes with magnetic attachments.
Pros
Easy to install.
Encrypts tracking data.
Provides free technical support in the US.
Accurate tracking data.
Cons
Monthly subscription.
Doesn't work in rural areas.
8. Tile Pro -Tile Tracker For Car
Tile Pro is a small Bluetooth tracker you can attach to anything, including cars. Use your smartphone to make it ring, find it on a map, or locate it from another Tile that's within 100 feet of your missing item.
Tile is the only tracking device with no subscription fee and no contract that needs to be charged. Just attach it to what you want to keep track of, and Tile will let you know when it moves away from your phone. Once you download the free app for Android or iOS, the easy-to-use interface makes monitoring items a breeze.
The simple yet powerful app allows you to find lost items like keys, bags, and wallets using the app or website. If your Tile is within 100 feet, it will play a tune, so you know exactly where it is. You can also use the app to see a map of all your Tiles nearby.
The battery lasts more than a year if used twice per day for 15 seconds at a time, and it charges quickly using any standard USB charger (it comes with one).
Pros
Water-resistant.
Works with Android and IOS devices.
It's mini-sized and can be hidden.
Cons
9. Vyncs GPS Tracker – GPS Tracker For Car With No Monthly Fee
The Vyncs tracker updates in 15 seconds; it enables geofencing and is less expensive compared to the other options. The tracker has one of the best mapping systems, a feature you'll love if you install it in your kid's car. It detects vehicle speed and location and provides diagnostic information.
To use the Vyncs tracker, you'll insert it in the car's OBD-II port or 12V outlet. You won't spend any money on rechargeable batteries. Vyncs tracker uses a SIM card attached to the OBD-II port. The cellular network is available in over 200 countries; the coverage is quite broad. It costs $89.99 plus a yearly subscription fee of $78.93.
Pros
No monthly subscription.
Updates in less than a minute.
Uses a SIM card.
Enables geofencing.
International coverage.
No battery.
Cons
High yearly fees.
Can't detect crashes.
10. Logistimatics Mobile-200 – Best for Audio Monitoring
Logistimatics Mobile-200 has an audio monitoring function that allows you to hear sound from the car's location. It sends real-time updates every 30 seconds. One of its outstanding features is the global SIM card that comes with it. It gives you worldwide 4G connectivity. You can track the vehicle in any country. It helps you check your kid's driving skills by monitoring their driving speed, location, and history. It costs $49.05 and a monthly subscription fee of $14.95.
Pros
SIM card.
Audio monitoring.
Ten-day battery life.
Easy to install.
Worldwide coverage.
Cons
Best Place To Put GPS Tracker On Car
The best place to put a tracking device on a car is in the OBDII Port. The OBDII Port sends diagnostic messages from the engine. Car trackers installed here can detect speed, acceleration, duel, and battery issues. Plus, you won't spend money on rechargeable batteries.
There are other places to install a tracking device on your vehicle. The most common areas for tracking devices are under the hood, the dash, behind the license plate, and even in your glove compartment.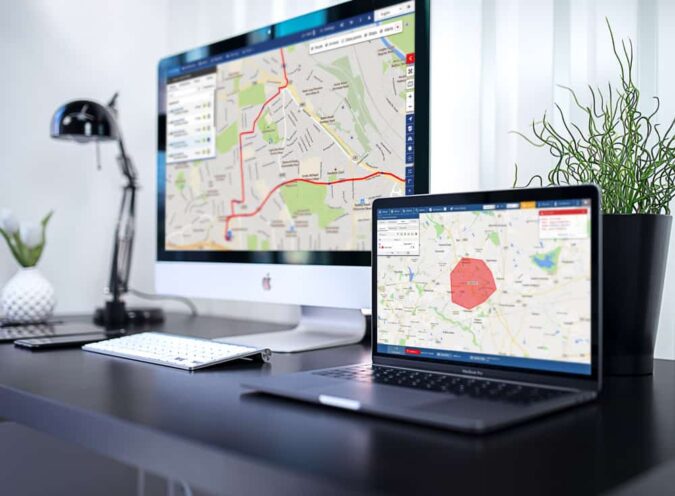 Under the Steering Wheel
 Rear Bumper
 On the Undercarriage
 OBD-II Port
Car Seat Cushion
Brake Lights
What Are Car Trackers
A car tracker is a device installed in your vehicle that allows you to track its location.
Some people use them for personal use, while others use them for business purposes. For example, if you're a delivery driver, it would be helpful to know where your vehicle is at any given time. This way, you can avoid situations where the driver is late in delivering an essential package or document. If you own a fleet of vehicles, it may be necessary to install a car tracker on each one to manage their movements and locations at all times easily.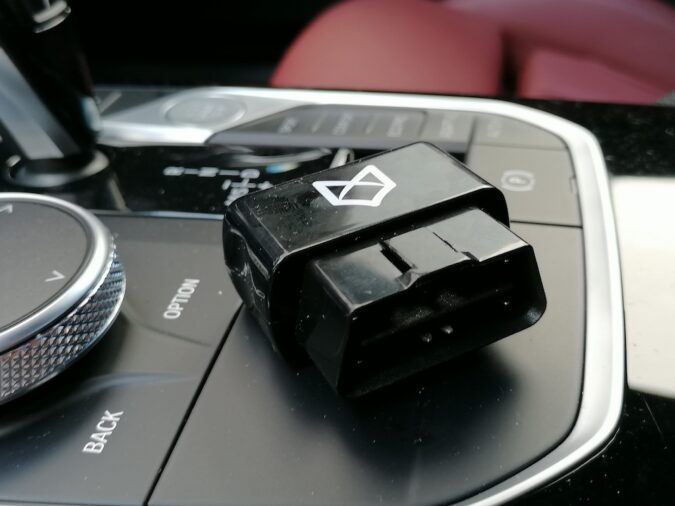 Car trackers use GPS technology to pinpoint a vehicle's location and monitor its route. They transmit this information to a central monitoring station or app, allowing users to see where their cars are at all times. In addition, some car trackers also include motion sensors that will trigger an alert if someone attempts to break into or tamper with your vehicle. They are most commonly used by parents who want added peace of mind when their teens have access to the family car.
Parents can install the device in their teen's car and set up alerts when used after curfew or driven beyond certain boundaries. The tracking device will also help parents keep tabs on their teen's driving habits and safety records so that they may curb any dangerous tendencies before they become serious problems.
Best Car Tracker App
GPS Route Founder
Hurdlr
SpotAngels
Automatic GPS
A-GPS Tracker
GPS Route Founder
It's a free tracking app that allows you to download and use maps while offline. It gives map details, including streets, places, and shop names. The GPS Route Founder also has a built-in navigation system to find your way around town. It works on Android devices.
Hurdlr
Hurdlr is one of the best car tracker apps. It's designed to help you keep track of your car's location, fuel usage, and mileage. It costs $5.99 per month and $79.99 per year, but there's a free trial.
SpotAngels
This is another free app with features that we love. It shows where you last parked and no parking zones, so you don't get parking tickets, but this feature is not available in every city.
Automatic GPS
Automatic GPS is one of the most popular car tracking apps around. It's simple, easy to use, and has many features that help you keep tabs on your vehicle. It allows you to share location with other users and includes automatic mileage tracking.
Family Locator- GPS Tracker
Family Locator is a car tracker application that lets you know where your loved ones are. You can use this app to track the location of your family members. It is an easy-to-use GPS tracking software with an affordable price tag. It allows you to share location, track mileage, and fuel consumption, and find nearby places.
Best GPS Trackers for Vehicles: Facts
Vyncs GPS Vehicle Tracker has been ranked the best option for long-term tracking. It costs $89.99 and comes with an activation fee of $40.
Vyncs provides unsafe driving alerts, real-time location tracking, and a companion app that can track mileage and provide roadside assistance.
MOTOsafety GPS Tracker is the best choice for new drivers. It costs $29.99 and comes with a $19.50 monthly fee. It includes a driver training program for teens and customizable location alerts.
Bouncie GPS Tracker is best for vehicle maintenance, costing $77.00 with an $8.00 monthly fee. It reminds drivers of wear and tear, battery charge, and recall notices, and is Alexa-compatible.
SpyTec STI GL300 GPS Tracker is the best portable tracker, costing $49.95 and requiring a $25 monthly fee. It is battery-operated and can be placed in a pocket or attached to the undercarriage of a vehicle.
Optimus 2.0 GPS Tracker is the honorable mention, costing $24.95 with a $19.95 monthly fee. It can update location every five seconds and can be hidden in a bag or pocket.
Autobrain and Vivint Car Guard are also GPS trackers for vehicles, with the former being a new brand to watch that offers maintenance alerts and emergency response capabilities, and the latter being a luxury pick with a $199.99 upfront cost that also serves as a diagnostic tool and security device.
GPS trackers should only be placed on vehicles you own, and it is recommended to speak to a loved one before tracking them out of concern for their safety.
In addition to GPS trackers, devices like dash cams and rearview cameras can improve vehicle safety and keep records of time on the road.
The review was conducted independently by SafeWise, an independent review site that earns money when readers click links on its site.
Frequently Asked Questions
Here are some popular FAQs:
How To Find Tracker On Car
If you think someone is tracking your car, check the exterior and interior parts of the vehicle. The wheel well, chassis, under the hood, and the dashboard are likely places. If you can't find the device in any of these places, get a GPS bug detector to scan and scan the possible locations where a GPS tracker can be installed. Take the vehicle to a mechanic if you do not succeed at it.
What Does A Tracking Device Look Like
A typical car tracker is a small device, about 3 inches tall and 2 inches wide, with a magnetic casing. They typically have a battery, which must be replaced periodically (usually every few months). The battery provides power to the device, allowing it to transmit a signal back to a receiver in your home or office.
How To Remove GPS Tracker From Car
If the GPS tracker on you came with a magnetic case, you'd easily detach it from its location. Most car trackers are installed this way. However, some trackers are hardwired to the vehicle. You'll need to disconnect the wiring harness from your car's wiring system. This will allow you to remove the device in an orderly fashion and reconnect it at another time.
How To Block Vehicle GPS Tracking
The easiest way to block vehicle GPS tracking is to locate the tracker and remove the battery. This will instantly disable the device, and GPS monitoring will cease. If the tracker were hardwired to the car, you'd have to disconnect it from the car ignition or let a professional do it. You can also wrap the GPS tracker with aluminum foil to block the tracker's signals. Conductive metals block electromagnetic interference. Another option is putting the tracker in a metal box before attaching it to the vehicle. Alternatively, buy a plug-in or handheld GPS blocker. These devices block tracking signals. To use the plug-in GPS blocker, connect it to your car's cigarette lighter or an auxiliary power outlet. When you turn on the ignition, the device disables monitoring.
How To Scan Your Car For A Tracking Device
You can scan the wheel well for a GPS tracker. Check your car for any signs of tampering. Look at the exterior of your vehicle. Check underneath the car, too. If you're still unsure after searching your vehicle, you can use a scanner to search for GPS tracking devices or other signals emitted by cell phones or radios inside your car. To scan your vehicle for a GPS tracker, you'll need an RF scanner/signal detector. RF scanners detect radio frequency, so if the GPS tracker emits radio waves, the scanner should be able to see it. The familiar places a car tracker can be found are the ear bumper, undercarriage, OBD-II Port, car seat cushion, etc. Turn on the RF scanner and move it over to these locations. Hold the scanner on each area for a few minutes to detect the signal.

Conclusion
We hope that our testing results will help you choose the best car tracker worthy of your hard-earned money. However, we also remember that it's not just about the price or the features; it's also about doing business with a reputable company that provides quality customer support if you ever need it. Carefully go through each of the car trackers listed above and choose one that meets your demand and also fits into your budget.