Dogs are human's best friends. Dog enthusiasts can go the extra mile to ensure that their companions are comfortable, relaxed, and healthy. Many dog lovers will even go to the trouble of purchasing cars based solely on the needs of the canine companions. If you may consider making this move, then you may be interested in knowing the best cars for dogs as this can help you make a selection depending on your needs and preference.
Your choice will be a car that matches your needs and preference. A car that can offer a smooth ride for your pet to ensure it is stress-free. You may prefer a large wipe-down boot in design that can offer enough space for your dog and easy ground clearance.
There are a variety of cars currently in the market that you can choose from. They are specifically designed to meet both human and pet travel preferences and needs. Our recommendations offer a range of qualities that make life more pleasant for both humans and the pet itself.
We have selected some of the best cars deemed fit for dog enthusiasts who would not leave their dogs behind whenever they set off for picnics or family outings. This will be of great benefit for those who rather love having their pets side by side whenever they are traveling. If you like giving your canine companion, the thrill associated with family picnics and outings that humans enjoy.
These cars have large and easily accessible boot areas and come installed with accessories that can help keep the rear of the car neat. The cars also have low cabin noise levels which set the best environment for your dog during travel.
Contents of this article entail;
Dog-Friendly Features You Need In Cars
If you are a dog owner, and you are always enthusiastic about dogs. You probably would wish to have your dog by your side for most non-official outings. This may give you the urge to go shop for a car that would give a balance between your needs, those of your dog, and the market price.
There are certain features that your car must have to be able to travel with your dog in your car safely without breaking the law. Either the road safety laws or the animal rights laws. Of course, you won't wish driving and your dog keeps jumping over you.
Your control of the steering wheel is likely to be compromised and that can pose danger to you and other road users. You would not wish to have your dog in an unpleasant section of your car like a dirty boot. You will most likely be breaking the laws governing domestic animals.
So here are the features to look for in your preferred car;
Leather Interior
Having a car with leather interior finishing will be the first factor to consider if you are going for a car that you can use to carry your pet. It can be very difficult to comprehend the stains and the smell your dog may leave on your seats if your interior is made of cloth finishing.
Vacuuming dog hair from cloth seating time and again can also make the car cloth finishing to get old so fast. You wouldn't compare this to the scratches the dog may cause to your leather interior finishing. The scratches can be easily manageable.
Roomy Backseats
The next thing that would be prudent to consider is getting a car with flat-folding seats and a large cargo area. There can be an instance where all the seats are full of passengers and there is no place to put your dog in the back seat. The only option that would be left is to put your dog in the cargo area.
If your cargo space isn't large enough or if your seats fold downwards in an irregular manner then you won't have a conducive place for your dog. A large cargo area can be more suited to transport your dog especially if you would wish to travel with your dog's carrier nor kennel.
Ground Clearance
A vehicle whose position is a bit lower to the ground would be more ideal. This can be of the essence especially if your dogs are of great weight or if they are very old. Carrying a 60lb dog can be tiresome, cumbersome, and awkward.
In this case, you would prefer a car with a rear liftgate or even a hatchback that would suit your need. This will make your dogs climb into the car with much ease and in a neat manner. This is a more organized way to manage your dogs rather than just leaving them to climb all over the seats.
Rear Climate Control
If your dog is going to be traveling in the cargo section of the car, then you will have to ensure that there is an ample rear climate control system. There must be adequate temperature and a controlled airflow within the cargo cabin so that your dogs don't end up suffocating for lack of enough airflow. The cargo cabin must be sufficiently ventilated.
Dogs-Friendly Accessories To Keep In Your Car
Some vehicles come from manufacturers already packaged with pet-friendly accessories. If your car does not have these accessories, you can always consider buying them separately. These pet accessories include;
Retractable pet barriers
Tether anchors for travel harnesses
Removable and washable seat covers
Rubber floor mats
Removable and washable cargo cabin mats
Pet tech features
If your car has stayed longer in the market, then it would be very easy finding animal accessories specifically designed for your car model.
Best Cars For Dogs
In this section, we are going to have a look at some of the cars that we consider best for your dogs. From our recommendation, you can have a selection of a car that suits your general needs and budget.
Subaru Outback
The Subaru Outback is the first recommendation for dog enthusiasts who like traveling in the company of their lovely canine companions. The car consist of a large cargo area of approximately 75.7 cubic feet of space. Subaru Outback also has a flat load floor and a cargo hook that can hook to help secure a dog's crate.
The rear seats of this car are folded flat. This enables all the dogs' equipment to fit at the back without any problem. Despite this car having a relatively high ground clearance height, it cannot be very difficult for dogs to jump into the car using the cargo opening door.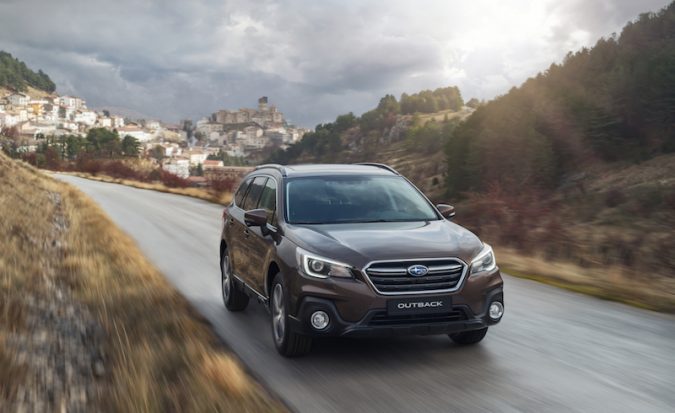 This car comprises a standard all-wheel drive and EyeSight suite of active safety features. Even the base Outback is a safe, capable vehicle for you and your dog. While the base Outback comes with durable cloth upholstery.
We recommend upgrading to the Onyx Edition, which comes with water-repellent synthetic leather upholstery. The upgraded material is easier to clean, and you won't have to worry about it when your dog gets muddy or wet. To own this car, you need a budget of $26,795.
Chrysler Pacifica
The Chrysler Pacifica is one of the cars that are the best for dogs since they offer power sliding doors, a lower floor that offers easy ground clearance, and highly customizable seats. The car is also comprised of a standard three-zone automatic climate control system that can adjust the temperature inside the cabin for your dogs.
The Pacifica also comprises an underfloor storage compartment suitable for the storage of treats and toys. The car also comes with dog accessories such as a carpet mat for the cargo area and a collapsible pet kennel.
Another important thing about the Chrysler Pacifica is that cleaning your cargo cabin has been made easy using an inbuilt vacuum cleaner that you can utilize to clean your car after you have had an outing with your dog. This comes in handy in that it saves you the hassles of looking for a vacuum cleaner.
There is also a Fancam camera that is installed in the car to enable the driver to have an overhead view of the rear seats and the cargo cabin of the car. This can help you closely monitor your dogs when you are on the road. To own this car, you need a budget of $35,045.
Volvo V60
The Volvo V60 is a Swedish automaker that offers dogs a serene environment for a ride for dogs that are usually afraid of car rides. This car offers a comfortable environment in the cabin for dogs to relax. The Volvo has a hands-free liftgate, a low cargo floor, and up to 50.9 cubic cargo space. This space is enough to carry all your dogs' accessories.
The dogs will enjoy a smooth luxurious ride inside the Volvo V60, a quiet interior, and insurance to your dog through Liberty Mutual.
The car also comes with added accessories such as a protective grille that separates the cargo cabin from the rear seats, a dog harness, a dog gate that divides the cargo area into several sections, and a pet carrier. To own this car, you need a budget of $40,950.
Kia Telluride
This would be the best recommendation for those who may not love driving minivans. The Kia Telluride is a high-end design SUV that boasts a stylish and rugged package. The car comes with standard leather interior finishing that makes it easy to clean your car after a dog ride.
Other essential features for dog lovers in the Kia Telluride include power sliding and folding rear seats, a hands-free power liftgate, and dual-zone automatic climate control. This car also has an intercom system that can enable the driver to talk to the dog in the rear seat without having to yell at the dog time and again and in a quiet mode.
The sound can also be muted from the rear seat speakers and only play the front seat speakers. This feature can be very useful especially if the dog is asleep in the rear seats and you don't want to disturb it. To own this car, you need a budget of $31,990.
Toyota Sienna
The Toyota Sienna comprises a hybrid powertrain that helps make the interior of the car incredibly quiet. This minivan has a power sliding side door and a power liftgate that allows your dog to easily jump into the car.
The Toyota Sienna comprises 33.5 cubic feet of cargo space just behind the third-row seats. The seats in the third row can also fold flat hence creating more storage space in the cabin. The car also has a tri and quad-zone automatic climate control, an inbuilt vacuum cleaner, rear sunshades, and a mini-fridge.
The mini-fridge helps keep treats and water cold. The Sienna is a comfortable vehicle for your dog since it also has an 11.6-inch display to entertain your dog with movies. To own this car, you need a budget of $34,460.
Jeep Wrangler
The Jeep Wrangler emerges as one of the cars best for dogs. This car may not be as low as possible for easy ground clearance but still emerges as one of the best cars for riding your dog in. the car is an SUV that offers exceptional compatibility for you and your dog when on the road.
The Jeep comprises a top, a windshield, and doors that could all be removed which can enable your dog to enjoy the open air when on a ride. The interior finishing of this car comprises long-lasting materials, water resistance seats that are very easy to clean.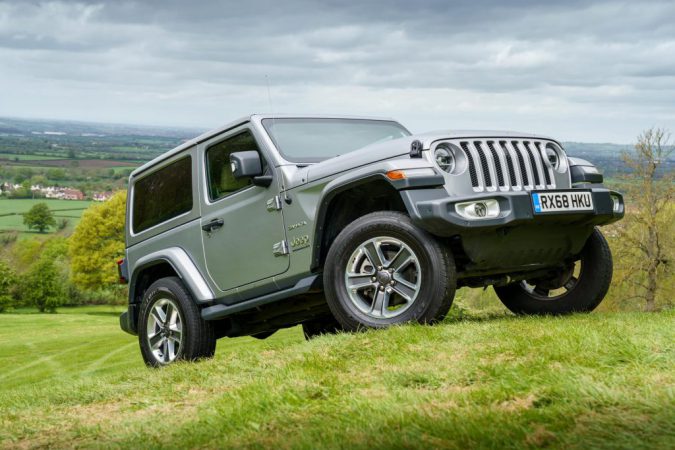 This means that no matter how dirty the dog must have become when on an outing you won't have to worry when the dog jumps into your car with all the dirt and mud. The Jeep Wrangler comprises many dog accessories that include a collapsible pet kennel and a rear seat partitioning.
Having good harnessing will be highly recommended since the dog may want to jump from the car when the doors are closed. To purchase this car you will need a budget of $28,295.
Honda Fit
The Honda Fit is neither a minivan nor an SUV. This car offers a large cargo area of 52.7 cubic feet. This makes it large enough to offer enough space to travel with your dogs. This space is enough to hold your dogs and their accessories which includes a crate and supplies.
Additionally, the rear seats are adjustable and this helps to create more space at the back. The Fit is relatively lower to the ground and this offers easy ground clearance for your dogs. They can jump on and off the car with ease.
The large cargo space is also ideal for loading large cargo. The Honda Fit does not have a stiff ride. This makes it more fun to drive but also makes it feel bumpy when on the road. If your dog usually feels anxious when on a ride or if it gets nauseous easily, it may not enjoy the ride in this type of car. To purchase this car, you will need a budget of $16,190.
Kia Soul
The Kia Soul is one of the top-rated cars best for dogs. It is a subcompact SUV that can serve as one of the best options to give your dogs a smooth and comfortable ride. The Kia Soul comprises a low floor and a large hatchback that enables dogs to jump in and out of the car with ease.
This car comprises a very large cargo area of up to 62.1 cubic feet. Large enough to accommodate dogs of all sizes. The Kia Soul has got a cargo floor that is slightly lower than the floor of the rear seats. This means that if you have to fold the rear seats to create more space, then you will have to level the floor using a dual-level cargo board that comes with the car.
The interior of the car is easy to clean since it is designed with a mix of soft materials and hard plastics. The seats of this subcompact SUV are made of durable cloth upholstery as the standard interior finishing. It also comprises easy-to-clean synthetic leather interior surfaces. To purchase this car, you will need a budget of $17,490.
Tesla Model 3
The Tesla Model 3 is one of the very few sedan types of cars best for your dogs. Many sedans do not offer a conducive environment for driving pets. This car comes with standard excellent featured that we deem fit for giving your pets a ride in town.
The Tesla Model 3 emerges as one of the top-rated electric cars with a range of at least 263 miles. Additionally, the Tesla Model 3 offers some of the best features that can be found in the market currently for any electric car.
As stated earlier this is a unique type of sedan that we would recommend for your dogs. This is because of the 'Dog Mode' feature that comes with this car. This mode enables you to leave your dogs in the car without having to worry much about them.
With the 'Dog Mode', you can set the climate control system to the most comfortable temperature conditions fit for your dogs. The car also has a 15-inch touch screen display where you can leave a message that says "My Owner Will Be Back Soon". To purchase this car, you will need a budget of $37,990.
Subaru Cross Trek
The Subaru Cross Trek is a subcompact SUV with an all-wheel drive and 8.7-inch ground clearance. If you are looking for one of the cars best for your dogs, then this would be another option to consider. Despite its relative height above the ground, it's still considered a good car for giving your dogs some adventurous rides.
This car consists of water-repellent cloth seat upholstery. These clothes are durable and easy to clean compared to the standard cloth seats. The car also comprises a standard cargo space of about 55.3 cubic feet. The Subaru Cross Trek also comes with dog accessories like a rear seat protector, a rear bumper protector mat, and seat covers. To acquire this car, you will need a budget of $22,245.
Honda Odyssey
The Honda Odyssey is one of the top-rated minivans cars that are best for dogs. This minivan offers powerful standard safety features, a powerful engine, and a comfortable ride. The Odyssey has unbeatable features that are favorable for those who would want to have a ride with their dogs. These features include;
A built-in vacuum cleaner that is handy any time you would wish to clean your car after a dog ride,
A CabinWatch camera that allows the driver to have a full view of the rear cabin seats on a touch display. This makes it easy to monitor the dogs if they are in the rear part of the car.
CabinTalk allows the driver to speak to passengers in the rear seats on the microphone. This feature is also important in that it can also help you speak to the dogs in the rear cabin.
CabinControl feature that allows the driver to regulate the climate in the rear cabin hence setting the favorable temperature for the dogs in the rear seats.
The car comprises a large cargo compartment of approximately 158 cubic feet after folding flat the third-row seats. This makes it possible to accommodate different sizes of dogs and their accessories. To purchase this car, you will need a budget of $31,790.
Toyota 4Runner
This is our last recommendation on cars best for dogs. This is an old compact SUV with some downsides such as poor fuel economy, outdated interior, and an uncomfortable ride. The car is also built high above the ground, therefore, does not offer easy ground clearance.
Despite its many outdated features, this car has one unique feature: a power-retractable rear window that allows the dogs to enjoy fresh air without causing a disturbance. Additionally, this car features durable and easy to clean interior features.
It comprises a mix between standard clothing and synthetic leather upholstery. This makes it suitable for carrying your dogs for a ride because you don't have to worry much about the cleaning difficulty. The 2021 model comes with a cooler to help keep your dog's perishable foods fresh. To purchase this car, you will need a budget of $36,340.
Best Cars For Dogs – Conclusion
If you are a dog lover who loves traveling with your dog, then you don't need to worry anymore. After going through this guide you can assess your needs, your dogs' needs, and your budget so that you can acquire a car that gives you the balance of the three.
You can never go wrong selecting one from our recommendation of cars that we consider best for your dogs.