Thinking of taking up the RV lifestyle and want to start with a small RV? Or maybe you're thinking of downsizing and getting a smaller one? Whatever the case, we're going to discuss the best small RVs on the market.
We'll be listing some of the best small RVs on the market, along with their advantages and drawbacks. Here's our table of contents to help you navigate:
Best Small RV: A Guide To RV Classes
RV or recreational vehicle is a broad term for mobile homes on wheels. This includes towable trailers, campervans, and those large motorhomes the size of buses—the last one is what most people think of when they say RV. You can divide RVs into two types: motorhomes and towable trailers.
Motorhomes are powered RVs that you can drive. Meanwhile, towable trailers are trailers that have the amenities of a motorhome, but you'll need to tow them with a separate vehicle since they don't have their own engine. You can break these two types further into their sub-classes:
RV Classes
There are three classes of RVs, which are:
Class A RVs are the largest of the bunch, also known as motorhomes. Their size range from 26 to 45 feet, and sometimes they have more than two axles. They weigh anywhere between 13,000 to 30,000lbs depending on the size. This is what most people mean when talking about RVs.
Class B RVs are often referred to as campervans. As the name suggests, they are vans that have been converted into mobile homes. They're usually between 17 and 19 feet in size and weigh up to 8,000lbs.
Class C RVs are actually bigger than campervans, measuring up to 28 feet and up to 13,000lbs in weight. They're usually built on a heavy-duty truck chassis that has had the chassis converted for mobile home use.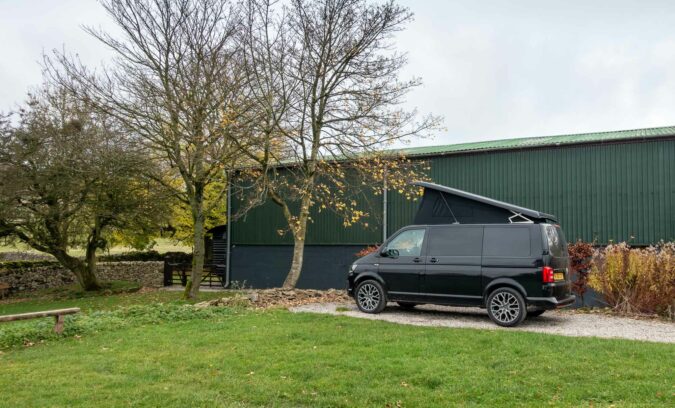 As mentioned, Class A RVs are the largest, sometimes as large as a coach bus. As you'd expect, we won't be listing our recommendations here since they're so big. Instead, we'll be listing down Class B and C RVs since they're much smaller.
Most Class B and C RVs are no bigger than heavy-duty trucks since they're based on either a van or a truck chassis. This means they'll be easier to drive and less intimidating for RV life newbies. If you're looking for big RVs, check out our five biggest RV lists.
Towable Trailer Classes
In addition to the three classes above, there are also towable trailers. These are unpowered trailers with all sorts of motorhome amenities. However, since it has no engine, you'll need another vehicle to tow it. Preferably a truck or SUV with a high towing capacity.
This could be the ideal choice for those who already have a vehicle that can tow. Additionally, they're usually cheaper than motorhomes. And they can also be broken down into several classes:
Lightweight trailers, as the name suggests, are the smallest of the bunch. But they can still come with decent amenities, including a shower. They usually measure no more than 34 feet and weigh up to 9,000lbs.
Travel trailers are the most popular type of trailers, measuring up to 40 feet and weighing up to 11,500lbs. As a result, you can get more amenities inside and have more space than lightweight trailers.
Fifth-wheel trailers are the largest and are the trailer equivalent to Class A RVs. Some of them are as long as 46 feet, weighing up to 22,000lbs. This makes them the trailer of choice for those who want an unmotorized mobile home.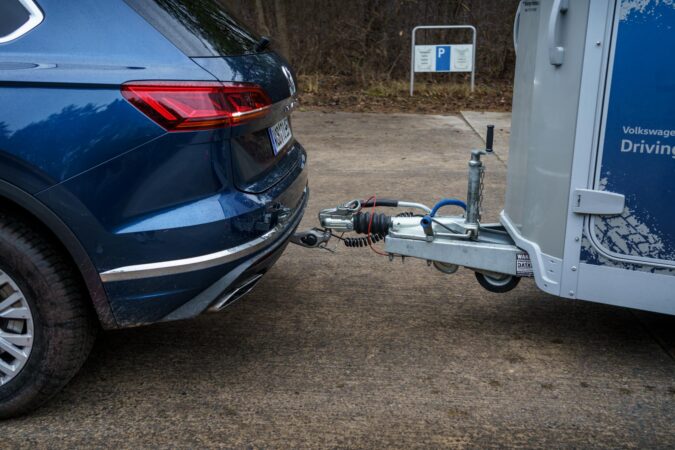 Since fifth-wheel trailers are so big, you won't see them in our recommendations. In fact, our recommendations will only go up to 25-foot, so we won't be recommending travel trailers either.
Additionally, note that there's also a class called 'Toy Hauler'. These trailers have an extra space at the back for your toys, such as motorcycles and ATVs. They're also quite big, usually based on a Travel or Fifth-wheel trailer.
Best Small RV: Class B Recommendations
We'll start with Class B RVs which are campervans. They are the smallest motorhomes you can get, here are our top 3 picks:
1. Winnebago Ekko
This is a brand new offering from Winnebago, and of course, you can expect it to be good coming from a brand that's synonymous with RVs. People often refer to RVs as Winnebagos, which shows that the brand is at the top of the mind of many people.
Anyway, the Ekko is built on the Ford Transit chassis with an all-wheel-drive system. It's around 23′ 2″ in length, so it's on the larger end of the scale for Class RVs. How about features then?
It has a 50-gallon water tank, a dry bath, and a cassette toilet. If you don't know, a cassette toilet essentially means it has a portable waste tank. This means you can dump your waste at a public restroom or dump station rather than having to dispose of it from your black tank.
The wet bath might not be your preference though. A wet bath means it has the shower and toilet in one combined space, rather than a separate one in most homes which is known as a dry bath. Nevertheless, it's still nice to have a bathroom even when you're mobile.
The Ekko comes only in one floorplan, this includes a twin bed, a kitchen, a refrigerator, and a fold-down table. It also has three solar panels, giving you 445 watts to keep your appliances running even when off-grid.
The MSRP starts at $163,622 brand new. And there are optional extras, such as a power generator which costs an extra $3,190 but will be very convenient should you choose to boondock. Since the Ekko is new, you won't find any used ones in the secondhand market.
2. Pleasure-Way Plateau TS/FL
I just want to say, the Pleasure-Way Plateau sounds like a car name in Grand Theft Auto. Anyway, based on a Mercedes-Benz chassis, the Plateau measures 22′ 2″ in length, making it smaller than the Winnebago Ekko. But it is still relatively large.
The Plateau comes in two different specs, which are the FL and TS. The TS has a larger bathroom, but it's still a wet bath type. Meanwhile, the FL has a smaller bathroom, but it uses that space for an extra TV at the front and a table. So, you could use this as an extra lounging area.
Both come with an electric sofa at the rear, which can convert into a 70×76-inch queen bed. Additionally, the FL has a hanging closet behind the rear TV. However, everything else, including the pantry, is the same.
If you value your bathroom space, you're better off with the TS model. You're definitely going to appreciate the larger bathroom. It comes with a 2.5KW generator, giving a wattage output of 2,500 watts, plenty for your appliances. If that's not enough, it comes with a 30-amp power cord as standard, and there are optional solar panels.
The MSRP is similar to the Winnebago Ekko, starting at around $172,000. If you don't need a new one, used ones from around 2018 cost about $120,000. And there are older ones for closer to $100,000.
3. Winnebago Revel 44E
Another one from Winnebago, the Revel 44E looks like a budget option. But it isn't, the MSRP for one of these brand new starts at a hefty $201,000. So, what do you get for that?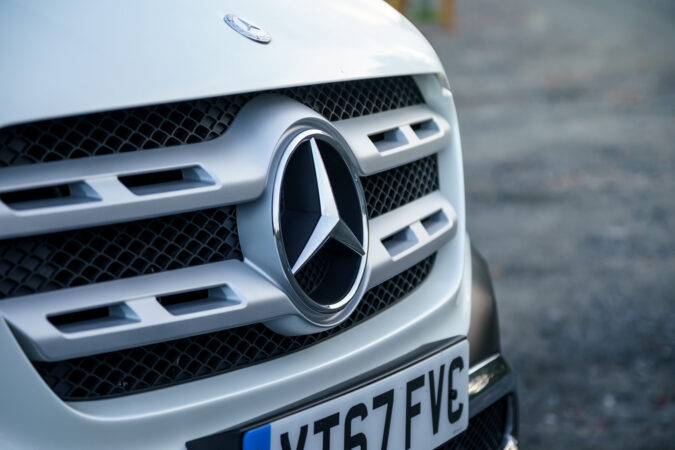 Well, you get a Mercedes-Benz chassis like the Pleasure-Way Plateau, albeit it's a different and shorter chassis. You also get the same 3.0L diesel engine, but crucially, the Revel 44E has four-wheel drive. So, if you were to take for a bit of light offroading, you don't have to worry too much.
The Revel is also much more compact than the other two we've listed, measuring 19′ 7″ in length and weighing just a little over 9,000lbs. It's really not that much bigger than a conventional van, so it's great for those of you who are intimidated by large RVs.
As for amenities, you get a pretty large 49″x79″ power lift bed, a decent size wet bath, bench seats for lounging, and a pantry with a refrigerator. Overall, it's just as good as the other two options. The main downside is that the smaller size has resulted in a smaller pantry.
Best Small RV: Class C Recommendations
Don't find anything you quite like yet in Class B? Maybe you'll like something in Class C. Additionally, Class C is more ideal if you're thinking of living the RV life full-time since they're larger and usually better equipped. Don't worry, we'll keep the recommendations as compact as possible:
1. Jayco Redhawk SE 22A
First up is the Jayco Redhawk SE 22A, based on Chevy's 4500 truck chassis. It's 25′ 2″ long, and weighs 14,200lbs. The Redhawk comes in several different floorplans, but the 22A seems to be the one that RVers love.
The 22A comes with a 60″x74″ queen bed, a 6 cubic-feet fridge, and a 24×32 dry bathroom. Yes, this means the shower and toilet are in a separate space, so you can keep the toilet dry when taking a shower. This is one of the advantages of going Class C, as most of them come with a dry shower.
The Redhawk has a 43-gallon freshwater capacity and 32 gallons for the black tank. The engine is a 6.0L Vortec V8 with 401 horsepower, so plenty of power to get going on the highway.
Overall, it's an excellent choice for those who want a Class C RV. The MSRP for the 22A starts at $116,768 before options. Nothing particularly exciting about this RV, but it's a good one from a reputable RV maker.
2. Gulfstream RV BT Cruiser 5210
If the Jayco is a little too big for you, consider the Gulfstream RV BT Cruiser 5210. The name isn't short, but the Cruiser 5210 is only 22-foot long, making it more compact than even some Class B RVs.
Much like the Jayco, it also has a dry bathroom. However, the Gulfstream doesn't have a queen bed, but rather a couple of jackknife sofas that you can use for both sleeping and lounging. If sleeping accommodation is of the utmost importance, then this probably isn't the RV for you. But it's still a very well equipped RV, take a look:
Some technical specs you might be interested in is that it has a 41-gallon freshwater tank, but the black tank is only 26 gallons, so a bit smaller than the Jayco.
It's not the most luxurious RV you'll find, but one good thing to note is that the bathroom is located at the back and far away from the lounging and sleeping area, which is something some RVers might like.
Again, it's not the most luxurious RV, but it is compact so it won't be too intimidating to drive for RV newbies. Additionally, the MSRP starts at a very reasonable $87,237, making it the cheapest one on our list so far. And you can find used ones for around $60,000.
3. Winnebago Minnie Winnie 22R
On the larger end of the scale, is the Winnebago Minnie Winnie. Based on a Ford Chassis, this RV comes in several different floor plans, and the smallest one is the 22R, which measures 24′ 10″ in length.
This floorplan gives you a queen bed with a TV, a generously-sized dry bathroom, a refrigerator, and a U-shaped dinette for lounging. Additionally, there's an overhead bed above the driving area, giving you extra sleeping space should you be traveling with more than two people.
As for the technical specs, this is based on a Ford E350 chassis and comes with a 7.3L Ford V8 engine. You also have the option to upgrade the chassis to a Ford 14,500lbs GVWR chassis, giving the RV better capabilities.
It comes with plenty of standard features, such as a 32-inch HDTV, powered patio, 3-burner range cooktop, an oven, and many more. To power all of these amenities, there's a 4,000-watt Cummins MicroQuiet generator.
Overall, we like the Winnebago the most when it comes to the Class C options. It's on the larger side, but not so much that it becomes intimidating or impractical to drive. The MSRP starts at $120,222 before options, but there are plenty of used ones for under $90,000.
Best Small RV: Towable Trailers
If you already have a truck or an SUV that can tow heavy loads, you might be more interested in getting a towable trailer rather than a motorhome.
The biggest advantage of this setup is that you can park your trailer at the campsite, unhitch it from your vehicle, and then you can explore the area or town you're in your truck or SUV without having to lumber around a motorhome. Overall, this makes for a more agile and practical solution in some cases.
Note that there are plenty of larger trailers out there. However, our list focuses on the smaller ones that don't sacrifice too much in living accommodations. Anyway, here are our recommendations for towable trailers:
1. Braxton Creek iCamp Elite
This is as small as it gets, measuring at just 14-feet long and weighing no more than 2,890lbs. If you want the smallest mobile home possible, the Braxton Creek iCamp is the one for you.
As you'd expect, there's nothing fancy about this trailer. There's a U-shaped dinette with a table, a kitchen, a fridge, a decent-sized wet shower, and that's about it. So, for sleeping accommodations, you're either going to have to make use of that U-shaped dinette or sleep in your truck/SUV.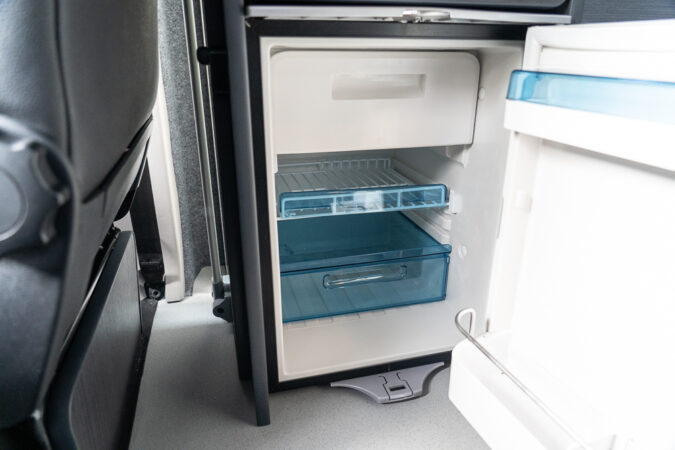 It has electric brakes, a 22-gallon freshwater tank, a 14-gallon gray water tank, and a 6-gallon black water tank. As far as we can tell, it doesn't have a generator, so power will have to come from the campsite. This is fine, but it does mean boondocking is out of the option.
Of course, since it's so simple, it doesn't cost much. MSRP is a very affordable $13,935, and there are optional extras such as a flat-screen TV and an air-conditioning unit. But this ticks all the essentials of a trailer.
2. Airstream Sport 22FB Bambi
If you don't need the absolute smallest trailer possible, then we recommend taking a look at the Airstream Sport trailer. Particularly, the 22FB floorplan. This is our pick, while it's larger at almost 22-feet long, it does mean you have more space.
This includes a larger queen bed for sleeping, a larger pantry with a U-shaped dinette, and a closet for your clothes. And crucially, it has a dry bathroom, so you don't have to get your toilet wet when taking a shower.
It sure doesn't look fancy from the outside, but the inside is miles ahead of the Braxton Creek iCamp. If you don't mind the larger size, we strongly recommend this for you.
Of course, the size and luxury come at a price, of $58,984 to be specific. The good thing is that it weighs 4,500lbs, this means a powerful mid-size truck is enough to tow this trailer. So, you don't need to worry about upgrading to a full-size truck or SUV should you want this trailer.
3. Happier Camper Traveler
If the Sport Bambi is too large, then the Happier Camper Traveler is the sweet middle ground in terms of size. It's 17-foot long, and as you'd expect, it's slightly lighter than the Sport Bambi weighing in at 3,500lbs. This means you don't need a lot of power to tow this trailer.
The interesting thing about this trailer is that it has a semi-modular design, which means you can configure the floorplan to your liking. Their standard floorplan includes a two-burner stove kitchen and a wet bathroom right in the middle of the trailer.
After that, you can configure the rest of the area to your liking thanks to the semi-modular design. In the video above, you can configure it to have a dining and lounging area at the front end of the trailer. And you can use the rear area for sleeping accommodations.
It's not the most spacious trailer due to the smaller size, but it's still larger than the Braxton Creek iCamp and has plenty of space for a couple to travel around the country. According to their website, the Premium Package comes with a lithium battery, a converter, an off-grid solar package, and many other features as standard.
It is quite expensive though, starting at around $68,950. Although this already includes the things we mentioned above, as well as several modular cubes so you can configure your living space as you like.
Is it worth it? We still like the Airstream Sport Bambi better. However, the Happier Camper Traveler has a unique modular design, decent space & equipment, and there's no denying that it looks really stylish from the outside. Not exactly the most important thing in RV life, but it does have its charm.
Smallest RVs with Shower and Toilet
Small RVs have many benefits, including being easy to park, maneuver, and go boondocking.
There are two types of RV bathrooms: wet baths and dry baths.
Wet baths are an all-in-one setup where the shower is over the top of the toilet. The entire bathroom gets wet during every shower.
Dry baths have the toilet separate from the shower, but this sacrifices storage space and sitting room in the RV.
The Airstream Interstate 19 is a 4WD Class B RV with a wet bath that includes a sink, built-in shampoo, conditioner, and body wash stations, as well as a clothesline.
The Winnebago Revel is a 4WD campervan with a wet bath and a bed that lifts to the roof, providing storage space for bulky items.
The Coachmen Nova is a Class B RV with a wet bath and luxurious interior features like blue LED lights and solid hardwood cabinetry.
The Pleasure Way Plateau TS is a Class B RV with a wet bath and a large kitchen countertop that extends to over six feet long.
The Thor Coach Gemini is a Class B+ RV with a dry bath and extra length for added comfort.
The Leisure Travel Wonder is a Class B RV with a dry or wet bath and four customizable floor plans to choose from.
The Scamp Deluxe, iCamp Elite, and Airstream Basecamp are small camper trailers with wet baths and all the necessary amenities for a comfortable trip.
Best Small RV: Final Thoughts
So, those are our nine recommendations for small RVs. You have three options: either get a Class B or Class C motorhome that has its own power and you can drive it. Or if you already have a truck or SUV, it might make more sense to get a trailer and tow it instead.
If you're looking for the smallest option possible, trailers are probably better since they are significantly smaller. Our pick has to go to the Airstream Sport Bambi. While it's on the larger end of the scale, it has plenty of creature comforts without being too big.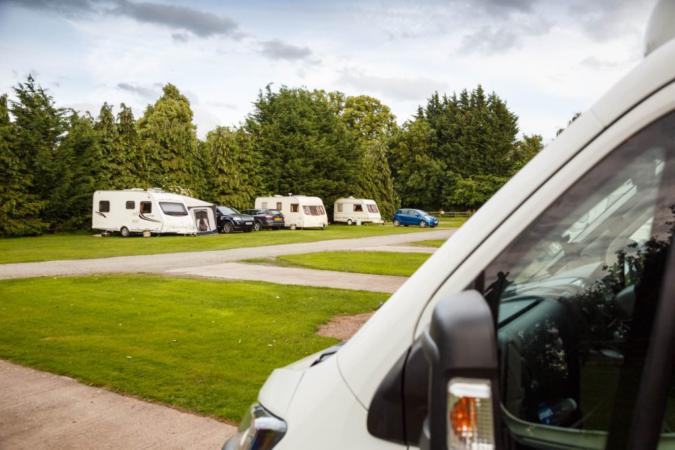 As for the other options, we like the Winnebago Ekko (Class B) and the Winnebago Minnie Winnie (Class C) a lot. The Ekko is a great choice, with lots of equipment and creature comfort. Additionally, it has all-wheel drive, and has won a total of three awards from multiple RV publications. There must be a reason why they love the Ekko, right?
Meanwhile, the Minnie Winnie gets our pick since it's affordable, decently equipped, and has a dry bath. We don't know about you, but we like to keep our toilet area dry.
Anyway, all of the options above are excellent choices that many experienced RVers love. But before you decide, it'll be a good idea to visit their website, or even better, their dealership to see for yourself if our recommendations will be a good fit for you. Hopefully, this has been helpful for you to get started on your RV life, and good luck!