Sports cars offer the most exhilarating driving experiences. While luxury automobiles sometimes sacrifice weight, handling, and precision in the name of performance, sports cars are all about performance at all costs. Combining the two traits is sometimes possible, but it comes at a cost. What are the best sports cars under 50k?
We can't all afford $80,000 sports cars, but if we scrape and save, we can find some really impressive performance vehicles under $50,000, many of which cost much less. Buyers may have to forego extra features for cars priced just around $50,000, but lesser-priced models allow them to customize.
Sports cars differ in look based on where they were made, but our list of the 17 best sports cars under 50k includes vehicles from all around the world. It is unnecessary to spend a lot of money to satisfy your desire for speed. While high-performance automobiles are more expensive than mainstream models, several options still deliver amazing performance at a fair cost. This article will discuss the best sports cars under 50k.
Best Sports Cars Under 50k
1. Lexus RC 2022 – $ 43,545
If you're not careful, the 2022 Lexus RC's exterior will trick you into thinking it's a fast grand-touring coupe capable of canyon carving. Still, it's actually a big softie hiding beneath its athletic appearance. A turbocharged four-cylinder engine or a naturally aspirated V-6 engine are both options in this price range. Regardless of which engine you choose, the RC is best suited for short commutes and strolls along the boulevard.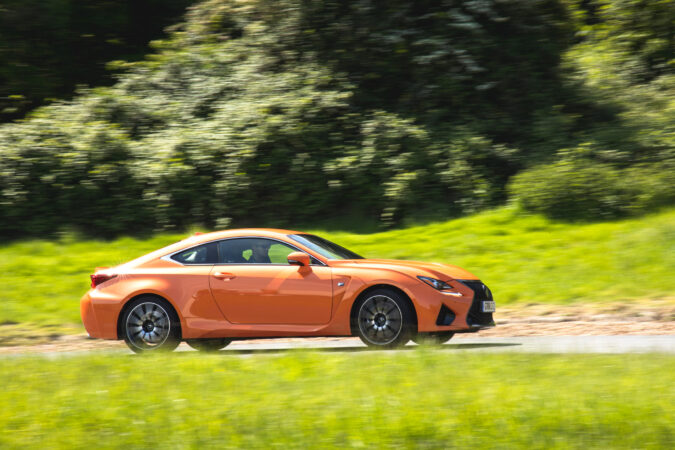 The interior is spacious and comfortable for the driver and front passenger, and Lexus' plush cabin atmosphere appears appropriately luxurious. The RC comes with a variety of standard and optional infotainment and driver-assistance features, but nothing groundbreaking. It is a sports automobile that costs less than $50,000. Lexus' sports coupe hasn't changed much for 2022.
2. Miata Mazda MX-5 – $25,000 (Best Small Japanese Sports Car Under 50k)
Mazda's MX-5 Miata lacks the power to compete with the other performance vehicles on this list. But it is still one of the ten best sports cars under 50k because of its snappy powertrain and go-kart-like handling. The Japanese automaker, which describes itself as a group of enthusiasts that build cars for other fans, knows a thing or two about designing nimble, appealing vehicles.
A SKYACTIV-G 2.0-liter 4-cylinder engine with 155 horsepower powers the 2016 Mazda MX-5 Miata Sport. Buyers can choose between a 6-speed manual or 6-speed automatic transmission. The Miata, with a starting price of $25,000, provides thrills to the general public at a reasonable price, so why not buy two?
3. Subaru BRZ/Toyota 86 – $25,395
In the late 1980s and early 1990s, Japan pushed heavily into the sports car market with products like the Acura NSX and Toyota Supra. Even yet, there are only a handful of analog performance automobiles on the market right now. Fortunately, the Subaru BRZ/Toyota 86, a joint venture between the two automakers, provides traditional rear-wheel-drive thrills in a contemporary package.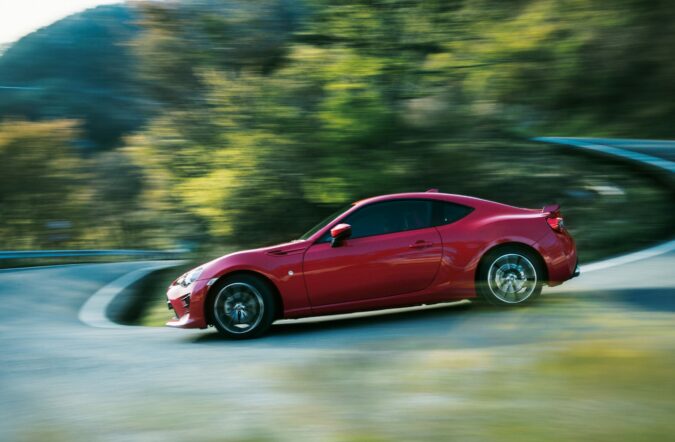 The BRZ/86 boasts a low center of gravity, great balance, and precise steering. Although some may think its 200-horsepower engine to be insufficient, its approachable performance should not be underestimated. For newcomers, the sports car is a great place to start, as well as a nostalgic ride for older drivers. The BRZ/86 is also one of the most affordable vehicles on the list, with the BRZ starting at $25,395 and the 86 starting at $95.
4. Audi TT – $42,900
There are a few strong mentions from the land of beer and schnitzel on our list of the best sports cars under 50k. For 2016, the Audi TT has been totally redesigned, and the result is a stunning automobile. The TT has crisp LED headlights, body creases, and wheel designs on the outside, but sumptuous leather and some of the most cutting-edge technology on the inside.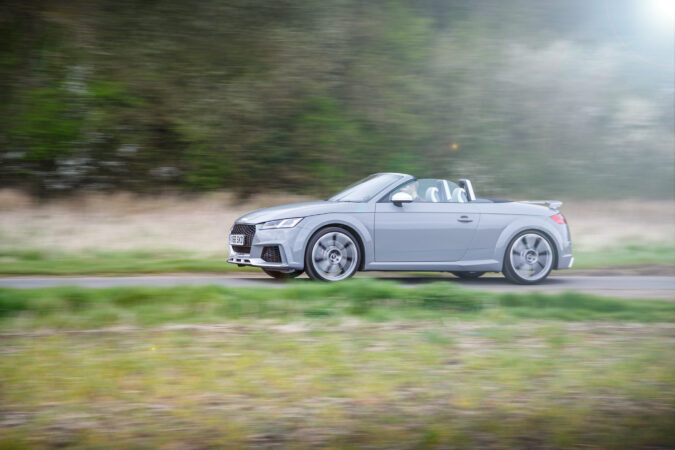 The TT's 7-speed dual-clutch transmission generates 220 horsepower and 258 pound-feet of torque. The total cost of the system is $42,900, but beauty isn't cheap. Drivers will find a flat-bottom steering wheel, leather, and Alcantara upholstery, and heated 12-way power sport seats on the interior. A 12.3-inch digital instrument cluster, an auto-dimming rearview mirror, and automatic climate control are also included.
Nappa leather interior, a 12-speaker Bang & Olufsen audio system, and a technology package that includes, among other things, a rearview camera, side assist, and GPS navigation are available as options. Slate Gray interior elements, Aluminum Drift trim, and Murillo Brown Nappa leather sport seats with Steel Gray diamond contrast stitching are included in the design selection package.
5. Subaru WRX STI – $34,695
Who says sports cars have to have only two doors? Subaru's WRX STI has been outperforming some of the fastest 2-door sports cars in its 4-door and 5-door body styles for numerous years. The Subaru WRX STI was redesigned in 2015, retaining its rally-bred heritage while also being capable of tearing up any paved road.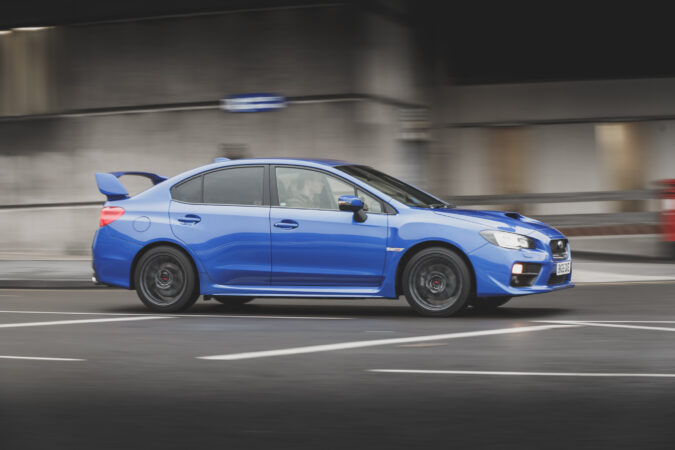 The WRX STI's 2.5-liter turbocharged 4-cylinder engine makes 305 horsepower and 290 pound-feet of torque. The 6-speed manual transmission is the only option, and Subaru's amazing all-wheel-drive system with three mechanical differentials is the only drivetrain. A Subaru WRX STI is difficult to beat in a straight line, and much harder to beat in the curves. The 2016 Subaru WRX STI is also thousands less than our $50,000 criterion, at $34,695.
6. Cadillac ATS Coupe – $37,995
The Cadillac ATS Coupe symbolizes modern luxury in America. It's also how the United States ranks among the best sports cars under 50k on this list. The ATS Coupe is an actual performance car with a gorgeous design, spirited powertrains, and the greatest chassis in its segment.
The 2.0-liter turbocharged 4-cylinder engine in the ATS Coupe, which begins at $37,995, delivers 272 horsepower and 285 lb-ft of torque. Most customers will be content with that level of power, but those who want more can go for the $47,750 335-horsepower 3.6-liter V6. With a 6-speed manual or 8-speed automatic transmission and GM's famed Magnetic Ride Control, the ATS takes on its German rivals.
7. Ford Mustang GT – $32,395 (Best American Muscle-Sports Car Under 50k)
In terms of horsepower per dollar, it doesn't get much better than an American muscle car, and the Ford Mustang GT is better than ever. The Mustang GT is anything but modest, with classic looks, a 435-horsepower 5.0-liter V8 engine, a roomy cabin, and the ability to lay burnouts the length of football fields.
The Mustang may still be thought of as a straight-line car, but its new independent rear suspension is designed to handle turns with ease. Choose between a 6-speed manual or an 8-speed automatic transmission and launch to 60 mph in 4.4 seconds with launch control.
The Ford Mustang GT begins at $32,395, but with performance options, it quickly rises to over $40,000.
8. BMW M235i – $44,150
A list of the 17 best sports cars under 50k wouldn't be complete without a BMW, but our alternatives become more limited as the Bavarian automaker's costs rise. The 2 Series, particularly the M235i, is the best value for money option. Though a 2 Series can be had for as little as $32,000, if you're willing to spend a little more, the 320-horsepower M performance version is available.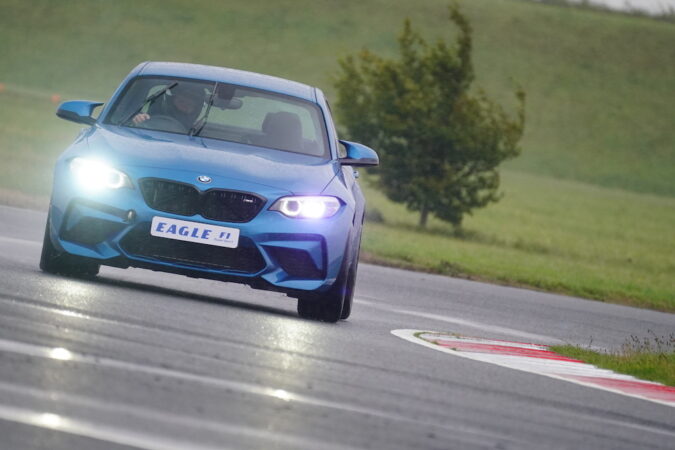 The M235i can reach 60 mph in less than 5 seconds and comes in coupe and convertible body styles, with a powerful 330 lb-ft of torque delivered via a 6-speed manual or an 8-speed automatic transmission. The M235i has a sticker price of $44,150, so choose your selections carefully.
9. Audi S4 2022 – $ 49,900
In 2022, the Audi S4 receives the slightest of updates and remains the best sports car under 50k. The sporty sedan now comes standard with carbon-fiber-inspired interior details instead of brushed aluminum trim. While the 2022 Audi S4 isn't very exciting for a sports sedan, clients looking for a stealth performance vehicle will like its modest approach to high performance.
The S4's turbocharged engine, a sportier version of the ordinary Audi A4, has six cylinders instead of four and produces a robust 349 horsepower; nevertheless, its mild sound may comfort some and deter some others.
While the Audi isn't as rapid as the BMW M340i or Mercedes-AMG C43 sedans, the car's quick-shifting eight-speed automatic transmission and standard Quattro all-wheel-drive help it accelerate quickly. The S4 readily switches between tranquil and lively modes, while its driving style is more enjoyable than miraculous.
Despite its small size, the interior is well-designed, and the trunk is spacious. The 2022 S4 is a minimal, quietly athletic alternative for adults, and it is one of the best sports cars under 50k.
10. Alfa Romeo Giulia 2022 – $ 44,945 (Best Four-Door Sports Sedan Under 50k)
The Alfa Romeo Giulia 2022 not only looks amazing, but also provides one of the best driving experiences in its class. Due to its precise performance and feisty turbocharged four-cylinder engine, the Giulia is well-equipped to compete with competitor sports sedans such as the BMW 3-series, Genesis G70, and Mercedes-Benz C-class.
The Alfa's cabin is well-equipped and designed with the driver in mind, even if it is not as spacious as comparable sedans. Passengers will like the spaciousness and comfort of the front seats. Even so, most adults will feel confined in the rear, a problem shared by the majority of vehicles in this class.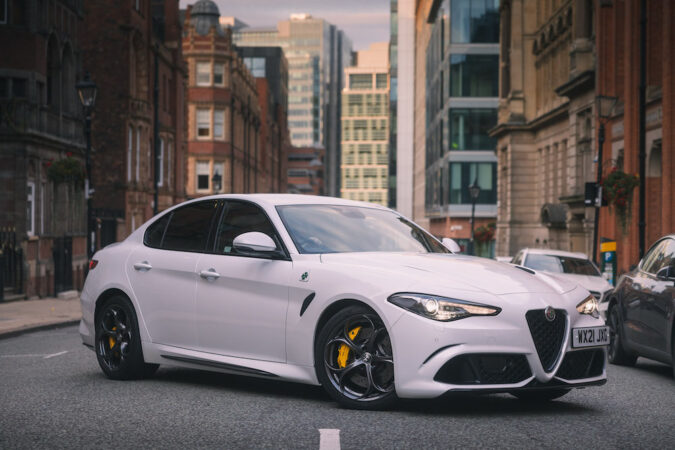 The Giulia Quadrifoglio (reviewed separately) sports a hot-blooded 505-horsepower twin-turbo V6 and is recommended for people looking for the peak of performance. For 2022, the Ti Sport trim has been renamed Veloce, and the Giulia range has received a slew of additional standard equipment. Standard GPS and a wireless phone charger are now included in the vehicle's entertainment system.
An auto-dimming rearview mirror, front and back heated seats, and an air-quality control system, on the other hand, are some of the additional comfort amenities. Blind-spot detection, adaptive cruise control, lane-departure warning, automatic high-beam headlights, and front and rear parking sensors are now standard.
11. Chevrolet Camaro SS – $37,295
The Chevrolet Camaro SS, like the Mustang, should be treated as a serious performance vehicle in all situations, particularly on the racetrack. It makes a list of the 17 best sports cars under 50k for a variety of reasons, but the fact that it's faster around a track than BMW's M4 should raise some red flags.
The 455-horsepower LT1 V8 engine in the Camaro SS is connected to either a 6-speed manual or an 8-speed automatic transmission. A turbocharged 4-cylinder Camaro is fine, but life is better with a V8, and nothing screams like an 8-cylinder battle cry. The base price for the 2016 Camaro SS is $37,295.
12. Volkswagen Golf R 2022 – $ 44,640 (Best Sports Hatchback Under 50k)
The 2022 Volkswagen Golf R was expected to dethrone the hottest hatchbacks that have won headlines in its absence. The R-rated Golf GTI is the result of enhancements to the Mk8 Golf GTI. It sports a more powerful turbo-four engine with 315 horsepower and an all-wheel-drive system with a drift mode. It's even on the list of Editors' Choices for 2022.
While VW's newest and best high-performance hatchback isn't as spectacular as rivals like the Honda Civic Type R and Hyundai Veloster N. Its more refined appearance may help catch opponents off guard while tempting customers searching for a fast, compact vehicle with a low-key exterior. A slew of unique features, as well as subtle visual differences, set it apart from the GTI. It boasts a modern cabin with a lot of gadgets.
After a hiatus from the 2019 model year, the Golf R is returned for 2022. Its comeback is timed to coincide with the launch of the eighth-generation Golf GTI. The GTI and R will be the only versions available in the United States as VW prepares to terminate the regular Golf hatchback and station wagon sales.
13. INFINITI Q60 2022 – $ 42,775
Except for wireless Apple CarPlay, the Q60 series will remain unaltered by 2022. Mechanically, the svelte sports coupe is similar to the previous model year. It is the best sports car under 50k and has the same standard and optional features. It's impossible to criticize the gorgeous 2022 Infiniti Q60, but discerning sports-coupe purchasers want a vehicle that speaks to them, not just looks good.
For dedicated drivers, the Infiniti coupe is a dial tone. Assume you're looking for a tight two-door with a powerful twin-turbo V-6 that's less expensive than competitors with comparable equipment. In such a scenario, the Q60 might be a better option. On the other hand, the entry-level model is necessary to maximize that value argument. As it undercuts turbo-six competitors such as the BMW M440i and Audi S5 by around $15,000.
While the savings come at the sacrifice of performance and genuine luxury. It beats overpaying for the 400-horsepower Red Sport 400. Which is outclassed and expected to be outpaced by the Audi and BMW. The 2022 Q60 is more of a supermodel than a supercar. But if looks are more important than performance, it will satisfy.
14. Toyota Supra 2022 – $44,135 (Best All-Around Sports Car Under 50k)
The Supra has been back in Toyota's lineup after a long absence for a few years now. Despite our growing familiarity with the Supra. We still consider the 2022 Supra to be one of our favorite sports cars. It is, in fact, on the 2022 Editors' Choice list.
Despite the fact that the Supra coupe and the BMW Z4 convertible were designed and constructed at the same time. The two vehicles have distinct personalities. The latter comes with two turbocharged engines: a standard 2.0-liter four-cylinder with 255 horsepower and a 3.0-liter inline-six with 382-hp as an option.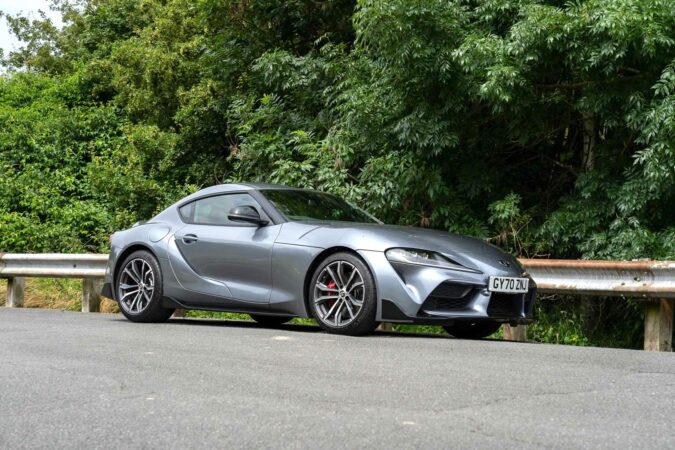 A quick-shifting eight-speed automatic gearbox connects both machines to the rear wheels. The Toyota's interior is small yet unexpectedly elegant due to the use of BMW components. The 2022 Supra also comes with a slew of infotainment and safety features.
For the 2022 model year, Toyota has designed a unique limited-edition trim called A91-CF. Carbon Fiber is abbreviated as CF. There will be only 600 units made. Each car will feature a carbon-fiber body, a rear spoiler, matte black 19-inch wheels, and red and black interior upholstery.
Phantom (matte gray), Absolute Zero White, and Nitro Yellow are the three exterior colors offered for the A91-CF Edition. Apart from that, the Supra now has heated seats as standard on 3.0 models. A new red interior design for the 3.0 Premium, and a full-screen Apple CarPlay for cars with the optional JBL audio system.
15. Genesis G70 2022 – $ 43,445
Although the 2022 Genesis G70 is based on the Kia Stinger, it has a higher level of luxury. It proves that the Genesis brand can compete in the entry-luxury market. The G70 requires both a dynamic chassis and a luxury interior to compete with sports sedan leaders such as the BMW 3-series and Mercedes-Benz C-class, all of which are strengths of the G70.
The smallest Genesis sedan not only provides fun driving and a well-appointed interior. But it also embodies the brand's value price, coming in thousands of dollars cheaper than big German competitors. It contributed to its selection in our 2022 Editors' Choice list. Not to mention its included ten-year guarantee, which is more than twice as long as most entry-level luxury automobiles.
For 2022, Genesis has updated the front and rear styling of its entry-luxury G70 car. As well as the inside, bringing it closer to the new G80 sedan and GV80 SUV. Genesis has also rectified one of the issues with a new, larger, and more premium-looking infotainment touchscreen inside the G70 for 2022. The G70's six-speed manual transmission is no longer available.
16. Nissan 370Z NISMO – $45,790
In 2020, the 370z was showing its age, but it still provides a lot of performance for the money. Even with the new Supra, the VQ37 power unit, with 332 horsepower and 270 lb-ft of torque, is still competitive. The 370z platform includes a manual transmission that rev-matches for you as you shift down. Eliminating the need to show your skill to everyone approaching a stoplight.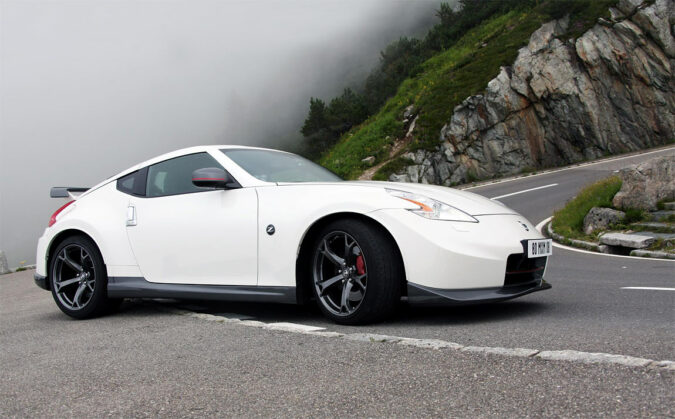 Of course, you may disable this feature to demonstrate your actual prowess. Whereas Supra owners can only get an automatic transmission. The 2020 Nissan 370Z Nismo offers 18 more horsepower and a 4.6-second 0-60 time than the normal model (350), but we'd recommend the sport to save $15k on customizations. The platform is getting on in years, but Nissan has hinted at a 2022 model. So I'll take this as a solid run on a classic platform that's still a blast to drive.
17. Tesla Model 3 2022 – $ 46,440 (Best Electric Sports Car Under 50k)
With a near-ideal combination of performance, range, and pricing, the Tesla Model 3 in 2022 lives up to expectations. The Trim 3 is quick and elegant, especially in the Performance model. Making it an electric vehicle that driving aficionados like us can support. It's even on the list of Editors' Choices for 2022.
The mid-level Long Range trim of the Model 3 has a driving range of 358 miles on a single charge. Removing the need to charge the Model 3 on a regular basis. The Model 3's low entry price allows it to reach its full potential. Its fit and quality fall short of competitors such as the Chevy Bolt.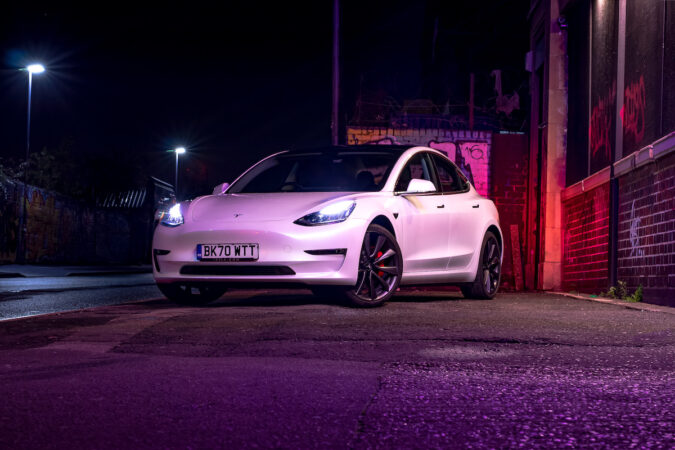 There is, however, no more cost-effective way to park one of Tesla's ground-breaking electric automobiles in your driveway. The Standard Range model was renamed Rear-Wheel Drive, and the nickel-cobalt-aluminum battery pack was replaced with a lithium-ion-phosphate battery pack.
The estimated range of the entry-level vehicle has grown to 272 miles, despite having a lower energy density than the previous battery pack.
Facts about sports cars and their base prices
The Hyundai Veloster N hatchback costs $32,500 USD and features a turbocharged 2.0-liter four-cylinder engine that delivers 275 hp and 260 lb-ft of torque.
The base price of the Volkswagen Golf R hatchback is $44,090 USD. It carries a 2.0 TSI engine, now with 315 hp and 295 lb-ft, all-wheel drive, and manual gearbox or DSG.
The Audi TT Coupe costs $50,500 USD and equips a 2.0 TFSI engine with 228 horsepower and 258 lb-ft. of torque. Its top speed is between 130 mph to 155 mph.
The Subaru BRZ base price is $27,995 USD and is powered by an all-new, naturally aspirated 2.4-liter four-cylinder Boxer block that delivers 231 horsepower and 184 lb-ft. of torque.
The Chevrolet Camaro LT1 costs $35,395 USD and features Chevy's iconic small block V8 with a total output of 455 horsepower and 455 lb-ft. of torque.
The Honda Civic Type R base price is $38,450 USD and boasts an extensive aerodynamic kit on the body, a reinforced lightweight chassis, and a 2.0L inline-4-cylinder engine that pumps out 306 hp and 295 lb-ft of torque.
The base price of the Mazda MX-5 is $31,150 USD (Club), and it features a naturally aspirated 2.0-liter four-cylinder block that produces 184 horsepower and 151 lb.-ft. of torque.
The Toyota Supra base price is $43,190 USD (GR 2.0), featuring a 3.0-liter turbocharged 6-cylinder engine that makes 382 horsepower and 369 pound-feet of torque, rear-wheel drive, and an eight-speed automatic transmission.
The Dodge Challenger R/T Scat Pack Widebody costs $50,150 USD (make sure you pick one from the best Dodge Challenger years) and features a 6.4-liter Hemi naturally aspirated V8 engine with 485 hp and 475 lb.-ft. of torque.
The BMW M240i base price is $50,950 USD (M240i Convertible) and has a 3.0-liter displacement that cranks 382 horsepower and 369 pound-feet of torque.
The Nissan 370Z Nismo costs $48,965 USD and features a 3.7-liter V6 engine with 350 horsepower and 276 pound-feet of torque, which is mated to a 6-speed manual transmission.
The Infiniti Q60 base price is $41,750 USD (Pure) and is powered by a 3.0-liter V6 twin-turbo 24-valve engine, aluminum-alloy block, and heads with a water-cooled air charging system paired with an electronically controlled 7-speed automatic with Adaptive Shift Control.
The Ford Mustang GT base price is $38,670 USD (GT) and features an aesthetic level that reflects the quintessential American muscle car.
Final Verdict – Best Sports Cars Under 50K
When looking for the best sports cars under 50k, it's easy to run out of possibilities because the greatest cars and parts aren't always easy to come by on the internet. Not to worry, we can assist you in finding the best sports cars under 50k. A plethora of websites provides a wide range of prices and alternatives.
However, if you want to find the best Sports Cars Under 50k online, you'll have to dig a little further than the usual websites. Sports vehicles provide the most exhilarating driving experiences. While luxury cars often sacrifice weight, handling, and precision for performance, sports cars are all about performance at all costs. A combination of both features is sometimes achievable, but it comes at a price.