One of the most pivotal – and expensive – investments one could make into their livelihoods is getting the right machine for their work. Be it someone who needs a big pickup truck to haul goods between worksites, or a farmer looking for the right tractor. Even if your plot of land is diminutive, this doesn't mean you have to compromise on mechanical capability. So, what is the best tractor for small farm?
Are the seasons finally turning for you to get back to tractorin'? You don't need me to remind you that these gargantuan machines, as versatile and powerful as they are, cost a lot of money. It's crucial you get the perfect tractor to suit your needs, the size of your land, and its would-be workload. There's at least some good news there, in that the tractor market is incredibly diverse with numerous choices.
So, you'll be spoilt with pickings, to say the least. And, if your real estate is more miniature than some others, you don't have to splurge heavily on a massive tractor. You'll most probably get your money's worth by choosing a more compact tractor. Yet, it shouldn't be any less capable once you start to get it moving. With that in mind, who makes the best tractor for small farm, and why does it matter?
Some Considerations To Make When Choosing The Best Tractor For Small Farm
Unlike the rudimentary and agricultural (pun intended) tractors of yesteryear, today's machinery is far more complex. Tractors are becoming interconnected with computers, with electronics aplenty to aid in making your tasks easier. All these software inclusions and electric assists do have a significant upside to it – efficiency. In other words, making your farming as quick and simple as possible.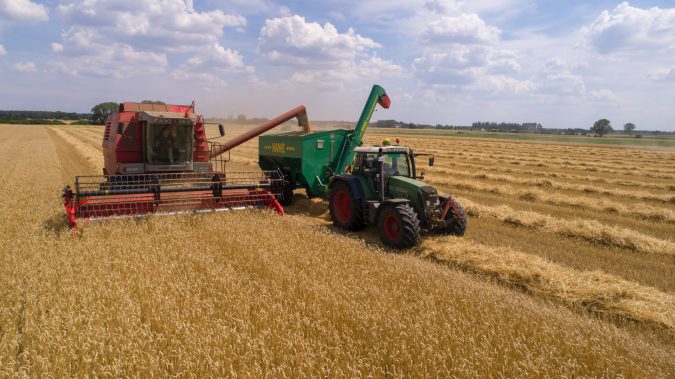 Finding the best tractor for small farm, therefore, won't be easy. There are various considerations you have to ponder over when browsing the catalogs. It's no longer a case of just picking that particular tractor that could carry the most stuff or could fit loads of attachments. The list of must-haves and other creature comforts is gradually expanding. With that being said, you can narrow it down.
Here are some of the most important criteria to base your selection off on, when searching to find the best tractor for small farm or homesteads. This should make the task of picking the right tractor that suits your needs a tad less daunting…
1. Mind The Hitch Sizing
As a pliable machine that will function to work varying workloads at a time, you have to consider the fitments that you're going to attach to your tractor. In particular, any implements and attachments may require to get work done. Thus, the ubiquitous three-point hitch is perhaps the most vital criteria that you have to match. You'll need to understand the right hitch sizing to see what you can fit.
Whether that's towing a trailer filled to the brim with hay bales. Or, attaching mowers, blades, tillers, diggers, forks, and other attachments that you'll want to get your farm up and running:
Cat-0 – The smallest implement category, relying on 5/8" lower arm pins. As compact and lightweight as these attachments are, they're quite new on the market. So, you'll have a tougher time finding the right Cat-0 implement, as selections are scarce. They tend to be more expensive, too. That said, Cat-0 tractors are limited by their low power, puny dimensions, as well as weight restrictions.
Cat-1 – Most consider this the standard implement size, and is the most common on smaller tractors. It uses 7/8" lower arm pins, and most Cat-0 attachments could be retrofitted to fit Cat-1 tractors. This is compounded by how widespread Cat-1 is. As a result, you can find an abundance of options varying in width, size, or ability. These implements are readily available, thus making them cheaper.
Cat-2 – The largest category of implements among the best tractor for small farm is commonly Cat-2. They adopt 1-1/8" lower arm pins and isn't as common among tinier tractors as Cat-1. Usually, these are reserved for beefier tractors that have more power. Or, for those who put heavier workloads on their tractors. Cat-2 is more robust, and could easily accommodate smaller Cat-1 attachments.
2. Tractor Classifications
Meanwhile, you'll have to wonder about what "class" of tractor suits you best. Manufacturers classify their tractors based on their capability, performance, dimensions, as well as pricing. The compact machinery that makes up the best tractor for small farms can be grouped into 4 distinct classes:
Sub-Compact – The smallest of the bunch, you can find these sub-compact tractors for about $12,000. They're generally suitable for covering land between 1 to 3 acres. You can expect performance to be in the ballpark of 20 to 25 horsepower. As for weight, you should be expecting 1,400lbs to 1,600lbs for a sub-compact, with a lifting capacity of at least 1,000lbs or thereabouts.
Compact – A step-up from that, compact tractors are found with a sticker price of $15,000 to $23,000. Farms that are 2 to 5 acres large are quite fitting for these compact tractors. Typically, you're getting 24 to 30 horsepower, with a curb weight between 1,600lbs to 2,200lbs. You'll find this class of tractor capable of lifting upwards of 1,200lbs.
Mid-Size Compact – Able to carry at least Cat-1 (mostly Cat-2) implements, mid-size compact tractors sit in a price range of at least $40,000 or more. You're likely able to cover more ground, though, with these tractors easily handling 5 to 15 acres, and 25 to 40 horsepower. Weight is somewhere between 2,200lbs to 2,900lbs. You can hope to see a lifting capacity of around 1,600lbs to 2,200lbs.
Full-Size Compact – The biggest of the compact tractors are often priced high and above the $60,000 mark. With that, you're getting a meatier machine that's good for lands sized from 15 acres or more. Additionally, you're getting more power, with engines running from 40 to 60 horsepower. They weigh 3,300lbs to 4,400lbs and could carry another 2,100lbs to 3,000lbs.
3. Picking A Gearbox
Most older tractors rely on manual-style transmissions, and many operators are thus attuned to its driving characteristics. You can still find some of these around if you prefer to have manual control or be able to manage finer movements:
Manual – A tried-and-tested gearbox, you'll have to operate an old-school clutch to get it moving. This transmission option generally includes 3 to 5 gear ratios, with roughly 2 to 3 gear ranges.
Manual Shuttle – Similar to a conventional manual gearbox underneath, it differs in its operation. You get a dedicated shift lever for forward and reverse gears.
Power Shuttle – Commonly, you'll find this type of gearbox being offered on the larger of the compact tractors. It adopts a wet clutch, which enables you to shift from forward to reverse without having to press the clutch pedal or needing to stop.
Nonetheless, manual gearboxes are going the way of the dodo on most tractors. In fact, today's bulk of tractors are mostly sold with hydrostatic transmissions, instead. At the end of the day, it depends on what sort of work you'll be doing on your farm. You'll thus have to gauge the amount of strain this puts on the transmission and think about how much you'd value the ease of simpler gearshifts.
Hydrostatic gearboxes are proven to be more long-lasting than traditional manuals, and you'll burn out the clutches frequently. It uses a hydraulic motor to power the gearbox, which technically lets you differ with infinite speeds. You don't have to work a clutch or feather the pedals to control either direction or speed. All you need to do is select a gear – like an auto in a car – and set a speed range.
4. Tire Styling And Sizes
When that's all said and done, you'll then have to move on to determine what type of tires are you going to fit on the best tractor for small farm. As you choose, find the right ones that fit your specific working conditions, as well as the general terrain of your homestead. Compact tractors carry 3 picks in general:
R-1 Agricultural Tires – R-1 style of tires provide the best traction in muddy and dirt-heavy terrain. It's the best option if you're using your tractor for general farm use. They're also the narrowest shape of tires. This does lead us to one major downside of agricultural cleat tires, though. Its aggressive tread patterns could damage softer grass and soil. So, don't use these on well-manicured lawns.
R-4 Industrial Tires – These R-4 tires are a fantastic compromise if you need to use your tractor away from the farm, and drive it on tarmac. As such, they happen to be the most popular fitment for many compact tractors. Moreover, some R-4 tires feature puncture resistance and have the longest tread life of any tire here. Although, they may not have the best traction in muddy or hilly terrain.
Turf Tires – Turf-style tires provide the best flotation among all the options here. As the name might suggest, they're also kinder to softer grass and soil patches. You ought to bear in mind, nevertheless, that it provides minimal traction. Therefore, you're relegated to using this on level terrain. Unless you're mowing your lawn, turf tires provide limited advantages for tractors.
5. Power Take-Off (PTO)
Every tractor has a PTO – or power take-off – system in place. You'll spot this as a spinning shaft that links the engine and transmission to where you're connecting implements to. It's from a PTO is how an attachment is being driven and powered through the engine's power. Most tractors have PTOs in the rear, while others could have them beneath the cab for implements like a mower:
Transmission PTO – This is the most common and oldest style of PTO system available. As you might have guessed, this PTO is powered by the gearbox. You probably don't want this if you can avoid it. That's since taking the transmission out of gear or engaging the clutch will cut power from the PTO to your implements.
Live PTO – An all-around improvement from earlier designs, a live PTO is managed by two clutches. If you were to press the clutch halfway down, you're still able to shift gears or put the tractor to a halt, and without powering down your implements. Press the clutch pedal all the way down, and only then will the PTO stop sending power to your attachments.
Independent PTO – A much newer system, this style of PTOs no longer relies on the transmission. It's essentially a separate machination altogether, which you can control with a simple on/off switch or a lever. Consequently, you can keep your attachments powered regardless of whether or not you're in gear. For the best ease of use, an independent PTO is our top pick.
6. Other Miscellaneous Considerations
Besides the key points of considerations that we've noted earlier, there are a few more when picking out the best tractor for small farm:
You might come across compact tractors that aren't fitted with four-wheel-drive systems. If your work is relatively light, then two-wheel-drive may be sufficient. Nonetheless, we'd recommend finding one with full a 4×4 drivetrain, as most compact tractors do. Even if your land is easy to traverse, you may never know when extra traction might come in handy.
Not all tractors come with mid-ship PTOs, or "power take-off" features. These would allow you to run and power your rear- or front-mounted implements with ease. They're more powerful than standard PTO systems and include the ability to drive a snowblower. For those farming in chillier climates, this is a must-have. At the very least, find a tractor where you can bolt on an aftermarket PTO later on.
Most compact tractors – including the best tractor for small farm – are topless. In other words, they're not fitted with cabs. This isn't an issue for most people, as you're not entirely missing out on A/C or a heated cabin. Though, it will make a huge difference for those using their tractors in wintery climates. It's a pricey inclusion, but a cab will at least let you farm in comfort.
Maintenance will be a sore point during your ownership period for any vehicle. But unlike a car, you can't easily find a tractor dealership a block away. Therefore, you have to assess whether or not this tractor you're planning to buy is easy to service. In addition, are there ample supplies of spare parts, and could you easily ring up a local technician to fix it when it inevitably breaks down?
What Are Some Of The Best Tractors For Small Farms?
Right, so you've gone through all those criteria, and are ready to pull the trigger on that best tractor for small farm. Alas, you have endless options to choose from. The most popular brands include the famed marques of John Deere, Massy Ferguson, New Holland, or Kubota. On top of that, you have upstart brands in the tractor space too, such as Mahindra, Kyote, or Yanmar.
But once you filter it down, here are a few winners worthy of contending for the top spot as the best tractor for small farm…
1. John Deere 1025R – Best Tractor For Small Farm In Ease Of Use
It's no surprise that the most well-known tractor brand has made it into this list, with the John Deere 1025R. It meets our strict set of criteria, and then some. You get a potent 23.9hp diesel engine that's most noted for its reliability and power. Additionally, it's a Tier IV emissions-compliant powerplant. It then includes other nice-to-haves such as a full four-wheel-drive system for maximal traction.
To make your day-to-day farming easier, the 1025R includes power steering. Compared to a few other similar options from John Deere's own line-up, the 1025R comes as standard with a more luxurious kit. For instance, you get cruise control, as well as a more ergonomic operator's station. The latter has a few neat touches, like thickly cushioned seating, armrests, and rubber mats to keep you comfy.
Moreover, you get auto-connect decks, as well as their specialized i-Match quick hitching system. It can let you attach implements with ease in as little as just 5 minutes. John Deere's Quik-Park loader system and Quik-Tatch front hitch let you connect or remove equipment in a hot minute, no tools are needed. Quik-Knect also lets you bolt-on accessories to the PTO without significant difficulty.
Speaking of PTO, it has a fully-independent power take-off, meaning that you could power all of your attachments without ever stopping. The key benefit of the 1025R is its ease of use, especially for tiny farms around 5 acres or so. You have a wide array of attachments, which can be fitted, swapped out, and kept running easily. Even with little experience in tractors, you can easily handle the 1025R.
Starting Price: $15,970
2. Kubota BX1880 – Best Tractor For Small Farm In Bang-For-Buck
As the best-selling sub-compact tractor right now, we have to put the Kubota BX1880's as one of the best tractor for small farm. Its outright popularity is down to one key factor – value. Despite its rather low starting price and Kubota's generous financing options though, the BX1880 certainly doesn't lack in features. It's the entry-level model in the BX series, but it's still no less capable than the big boys.
You get a capable 16.6hp diesel, which has been rated as the #1 most reliable under-100hp engine in the USA tractor market. A 4×4 drivetrain comes as standard, as is the equally dependable hydrostatic gearbox. While you might be deterred by its petite dimensions, the BX1880 has a respectable 680lbs lift capacity, or up to 739lbs with a rigid front loader. The PTO system is quite handy, as well.
A live-independent system, you can manage your equipment without compromising the driveability of your tractor. Plus, you can mount PTO attachments in the middle and rear of the BX1880. Just as with John Deere's offerings, Kubota wants to make connecting and detaching implements as easy as it can be. The BX1880 is fitted with their bespoke Swift-Tach front loader, which can be readily removed.
You don't even have to leave your station to do it. The same goes with the backhoe, which requires no tools to be removed, and Kubota includes a four-point front hitch. With that, you can pick from any of Kubota's expansive catalog on first-party implements to suit every need. The Kubota BX1880 is the best tractor here for sheer bang-for-buck, as you get quite a lot of tractor and power the money.
Starting Price: $9,863
3. Mahindra eMax 20S HST – Best Tractor For Small Farm In Versatility
The final contender in our top-3 best tractor for small farm is Mahindra's eMax 20S HST. It remains to be one of the most versatile compact tractors on the market. Despite its miniature stature, the eMax 20S is powered by a performant 19.4hp diesel engine. It's designed to operate at low RPMs, hence a lot of low-end grunt and long-lasting operation. There's a 7-year powertrain warranty for that, too.
As per its name, the eMax 20S HST is mated to a hydrostatic gearbox, which solidifies top-notch fuel efficiency and easy operations. Load capacity is measured at 680lbs, though this could carry plenty more with the right loader on it. If you're concerned that your farm may be too small, then don't fret. The eMax 20S HST boasts a short wheelbase and best-in-class turning radius and maneuverability.
You could leverage that with easy fitment with a wide selection of tires, no matter the terrain. Be it a set of agricultural, industrial, or turf tires. Naturally, the eMax 20S HST brings with it easy coupling tech to make fitting in and removing implements without breaking a sweat. You can pair that with a heavy-duty three-point hitch, and a wide array of distinct first-party attachments on offer.
That large displacement engine would do wonders with the live-independent PTO, so you could keep your implements powered seamlessly on the move. While the regular operator's station is already a comfortable place to spend those long hours in, the optional cab makes it a truly luxurious interior to work from. As an all-rounder for complete versatility, Mahindra's eMAX 20S HST takes the cake.
Starting Price: $11,807
Final Thoughts On The Best Tractor For Small Farms
And there you have it, our top-3 in a search for the best tractor for small farms. Of course, there are countless more honorable mentions worthy of a shout-out. New Holland's Workmaster 25S would be a strong competitor to the John Deere 1025R for its simplicity and ease of use. On the other hand, Massey Ferguson's GC1725M would rival Mahindra's eMax 20S HST for do-it-all flexibility.
In all, the tractor space – especially concerning the compact segment – is littered with fine machinery worthy of any plot of land. It's all a matter of choosing the right one to suit your needs, and based on what sort of farming you're intending to do. Additionally, think about the long-term ownership, such as maintenance and repairs. Even for a small budget of $15,000, you'll be left spoiled for choice.