What's the biggest pickup truck in the world? Well, you're about to find out. Whether you're looking to buy the biggest pickup truck possible or want to expand your trivia knowledge to show off, this post is all about big pickup trucks.
So, definitely no Ford Mavericks or Toyota Tacoma here. Now, we realize the definition of "biggest" may differ depending on who you ask (length, height, weight, etc.) So, we'll try to cover all the basics here. If you need some references, check out our deep dive into how long is a typical car, and how wide are normal cars.
As for rules, we'll try to keep this to consumer trucks only. Commercial trucks are okay, so long as they can be driven on the road without a commercial license. So, none of those large mining trucks or chassis trucks. So, what's the biggest pickup truck in the world? Well, let's find out:
Biggest Pickup Truck In The World: Rainbow Sheikh's Dodge Power Wagon
Yes, the biggest pickup truck in the world is the Dodge Power Wagon. But it's not the original 1950s model, rather, we're talking about a gigantic replica that's roughly eight times the size of the original Dodge Power Wagon.
Sheikh Hamad bin Hamdan Al Nahyan, colloquially known as the Rainbow Sheikh, is a car collector in Abu Dhabi. He loved the Dodge Power Wagon so much that he decided to build a monument of the truck in the middle of a desert.
It's so big that it has air-conditioned bedrooms, the tires are twice the height of an adult, and its parts have to be sourced from mining trucks and oceanliners. The craziest part? It's a fully functional truck.
Yes, it has an engine—although no idea what sort of engine is underneath, we're guessing it's from a mining truck of some sort—and it can actually move under its own power. So, this isn't just for display, it's an actual driveable truck.
That being said, it's not road legal. Not sure it will fit on any road in the first place. But hey, you wanted to know the biggest pickup truck in the world, and there you go. The answer is the Rainbow Sheikh's Dodge Power Wagon. It is, by a long way, the biggest pickup truck in the world.
Okay, okay. So we did say we wanted to keep the list to production and consumer trucks. But we can't possibly make an article about the biggest truck in the world without at least mentioning the Rainbow Sheikh's Dodge Power Wagon.
Now that's out of the way, let's move on to more realistic trucks that will actually fit on the road, shall we?
Biggest Truck In The World
The thing about these superlative lists is that it can be hard to determine what cars (or trucks) can go on the list and what can't. To make it easier, we decided to just classify them by three things: length, height, and weight.
As mentioned, we'll limit it to consumer production trucks. Commercial trucks are okay, so long as they're available for road use and don't require a commercial license to drive. Additionally, we won't be including custom trucks. Anyway, take a look:
Biggest Pickup Truck In The World By Length: Ford F-450
What's a truck list without a Ford F-Series truck, right? The world's best-selling pickup truck has to be somewhere on the list, and it's the longest consumer pickup truck. Yes, yes, the F-450 is sometimes considered a commercial truck. But lots of consumers buy these as recreational vehicles and even use them daily.
To be clear, some consumer pickup trucks are longer than the Ford F-450. One example is the International RXT (Recreational Extreme Truck) made by Navistar from 2004 to 2008. But let's stick to the trucks that are still in production, shall we?
Anyway, like many other trucks, the F-450 is available in several different trims and configurations. You can get it as either the Regular Cab or Crew Cab, and the only bed available is the 8-foot bed. No puny 6-foot bed here.
Opt for the Crew Cab, and that brings the F-450's total length to 266.2 inches. Narrowly beating the Chevy Silverado's longest version by 0.2 inches. This configuration is available in all variants; from the base model XL to the Limited trim.
Prices start at around $64,000 for the XL trim and $103,000 for the Limited. All are only available with dual rear wheels, and the only engine available is a 6.7L Power Stroke V8 turbo diesel engine. But there is a $2,500 option to get a High-Output version of that engine that has 500 horsepower and 1,200lb-ft of torque.
Speaking of engines, we've previously discussed the 6.0 PowerStroke years to avoid, and compared the PowerStroke vs the PowerBoost, if you're keen. Note that the F-250 and F-350 trucks also reach this length when you opt for the Crew Cab with the 8-foot bed. The only difference is that they're available with the shorter 6-foot bed.
Biggest Pickup Truck In The World By Height: Unimog U 5000
Many of you might not be familiar with the Unimog. For the uninitiated, this is Mercedes' idea of what a big commercial truck should be like. Yes, you read that right: Mercedes-Benz, a purveyor of some of the most luxurious cars in the world, makes utilitarian commercial trucks.
Technically, the older U 500 model was taller at around 2,940mm or 115.7 inches (9'6″). Whereas the U 5000 is "only" 2,740mm or 107 inches (8'9″) tall. However, as mentioned, we want to keep this to trucks that are in production. And the current Unimog models available are the U 4000 and U 5000.
While the U-500 has been out of production for years. You're now probably thinking "wait, didn't you guys say that you're only including consumer trucks?" Well, the Unimog is legal to be driven without a commercial license on the road, thus technically making it a consumer truck, albeit not a very practical one considering its size.
The video above from Doug DeMuro is a look around at the older U 500 model. It's hard to find a good and insightful video of the newer U 5000 model. But in any case, the Unimog U 5000 is—as far as we can tell—the tallest pickup truck that you can buy. Sort of.
The new Unimog is not on sale in the US. Seems that it has something to do with the emissions regulations of diesel engines. However, you can legally import one over 25 years old. Or you can buy one already in the states. They're usually sold in auctions for around $50,000, although rare models can fetch over $300,000.
For any clues on what folks typically do with Unimogs, our write-up on Unimog camper vans might give you an idea. Or, if you want something more extreme, you might even consider a 6-wheel Mercedes Unimog truck, instead.
Biggest Pickup Truck In The World By Width: Chevy Silverado 3500 HD
When it comes to width, Chevrolet's Silverado 3500 HD takes the crown. It narrowly defeats the Ford F-450 by about 0.7 inches, measuring 96.7 inches wide without the mirror. Note that the widest version is the dual-rear-wheel configuration, while the single-rear-wheel version is only about 81 inches wide.
Prices start at around $45,000 for the base Work Truck (WT) trim, which comes with a 6.6L V8 diesel engine making 401 horsepower and 464lb-ft of torque. Oh, and that's the rear-wheel drive model.
If you want the four-wheel drive model, it starts at about $48,000. And for a more luxurious spec (the LTZ is usually preferred), that's going to set you back around $64,000 before options.
Oh, and you'll need an extra $10,000 if you want the 6.6L Duramax turbo-diesel V8 engine (if you need to learn more, head over to our guide on the 6.6 Duramax diesel MPG, as well as our search to find the best Duramax engine), which is a lot but it comes with a 10-speed auto transmission for better gas mileage.
The Silverado is a highly-acclaimed truck with a great engine and it's very capable. It will do everything you could ask out of a truck. But a Ram truck—while more expensive—offers more features as standard and has a more luxurious interior.
Biggest Pickup Truck In The World By Weight: Ford F-450
Once again, the Ford F-450 takes the crown of the biggest pickup truck in the world in terms of weight. And once again, the International Extreme Truck series by Navistar deserves an honorable mention.
The Extreme Truck Series, specifically the CXT (Commercial Extreme Truck) model, weighs in at a very hefty 14,500 lbs. Meanwhile, the Ford F-450 weighs in at a much more modest 8,565 lbs at its heaviest configuration. Not exactly a Lotus Exige, but there you go.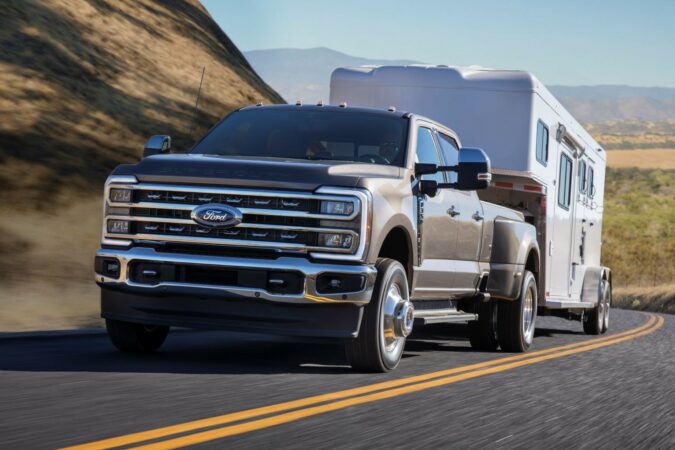 We'd also like to take this opportunity to mention that the Ford F-450 is the biggest truck when it comes to towing capacity. It can tow a gooseneck trailer of up to 37,000 lbs, although this is only available with the F-450 Regular Cab with the 4×2 drivetrain. Other configurations will have to make do with 24,000 lbs.
Don't need to tow that much? Well, even the F-350 can still tow up to 20,000 lbs. It's mighty impressive, considering its rivals usually top out at around 15,000 lbs. Note that the max tow rating often varies depending on the truck configuration and cargo. Certain packages may need to be installed.
If you're curious, feel free to keep a lookout for our write-up on vehicles that can tow 10 000 lbs or more. Plus, we've also looked at the towing capacity of a smaller 1/2-ton truck.
Honorable Mentions
So, those are the biggest trucks in the world according to length, height, width, and weight. Of course, there are many other notable trucks in this world. We're going to be a bit more lenient for this list, in the sense that the trucks don't have to be in production to win the title.
In any case, here are other notable trucks to expand your truck trivia knowledge:
Most Expensive Truck In The World
We did some research, and apparently, the most expensive truck in the world is the, *checks notes*, Dartz Prombron…? So, Dartz is a luxury, armored vehicle maker based in Latvia. They can cost over $1,250,000. But since very little information is available, let's find another truck that's a little less secretive and less unhinged.
The most expensive production truck in the world currently is the Hummer EV. While customer delivery will take place in 2024—a year from the time of writing—production is confirmed. So, it's eligible to take the title of the most expensive production truck in the world.
However, if we were to include non-factory trucks (production trucks that have been modified by a tuning house), then the answer would be the Hennessey VelociRaptor 6×6.
 

View this post on Instagram

 

As the name suggests, the Hennessey has a third pair of wheels to make running over your neighbors' cars easier. The 3.5L EcoBoost V6 (though, be wary of the 3.5 EcoBoost problems) is uprated to 558 horsepower and 672 lb-ft of torque, it runs on 20-inch wheels with 37-inch offroad tires and dual-locking rear axles.
Oh, of course, the price? A very reasonable $399,000, for context, that's Rolls Royce money. To be honest, we'd rather have the original Ford Raptor. Or maybe the Raptor R, which actually has 702 horsepower as standard, by the way.
Most Powerful Truck In The World
What's the most powerful truck in the world? Well, if you're only including factory trucks, then the answer is the Ram 1500 TRX. Powered by a supercharged 6.2L HEMI V8, the TRX makes a ridiculous 702 horsepower and 650lb-ft of torque. Despite the immense power, this isn't the fastest truck in the world.
That title goes to the next truck on our list. But this is due to the TRX being an offroad-focused vehicle; it has offroad tires, offroad suspension with 13 inches of travel, and a top speed limited at 118mph. Presumably, because it's so tall that it would be unsafe to go any faster.
If you a more detailed look, check out our guide on the RAM Rebel vs the Ford Raptor to find the speediest off-road trucks available. However, there are tuning shops that can remove that limiter for you. Or, you could check out our guide on how to make my car fast for some more tips and tricks.
Nevertheless, this is an ultra-powerful truck that can accelerate from 0-60mph in just 3.7 seconds. That's only 0.2 seconds slower than a current-gen Porsche 911 Carrera S, and the TRX can do it on just about any terrain. The Carrera S, on the other hand, can only do that on asphalt.
Now, if you want to include non-factory cars, then you can include Hennessey's MAMMOTH 1000. Based on the TRX, Hennessey upped the performance to 1,012 horsepower and 969 lb-ft of torque.
Why you would need that much power in a truck is beyond us. But if you think a thousand horsepower will come in handy, then Hennessey is your solution. Mind you, at around $185,000 it costs nearly $100,000 more than the standard Ram 1500 TRX. We'll stick with the factory car and make do with 702 horsepower.
Fastest Pickup Truck
Now, we have to define "fastest" first. If by fastest you mean the fastest accelerating truck, then the answer is the TRX we mentioned earlier. Although, Motor Trend has tested the new GMC Hummer EV and it did a 0-60 run in just 3 seconds. Insanely fast, considering how big and heavy that Hummer EV is.
However, if by fastest you mean the highest top speed, then the answer is the Dodge Ram SRT-10, colloquially known as the Viper truck. Yes, as the name suggests, this was an early-2000s Dodge Ram truck with the V10 engine from the glorious Dodge Viper.
Dodge had the brilliant idea of putting the Viper's V10 in the Ram truck. Not sure where this idea came from, but presumably someone was quite drunk when they came up with the idea and threw it around the room as a joke. In any case, we're glad that idea became reality.
Dodge produced the Viper truck from 2004 to 2006 and only made around 10,000 of them in the process. The engine was the 8.3L version of the V10, making 510 horsepower. And it was available with either a 6-speed Tremec manual or the 4-speed automatic transmission but only for the quad cab.
The truck's top speed was 154mph, and it's the fastest factory production truck ever. Faster than the F-150 SVT Lightning, the F-150 Raptor, and even the Ram 1500 TRX. That's because the Viper truck was from an era of fast, low-riding trucks, which has since died out. We sure wish manufacturers would bring back this type of truck.
Longest Pickup Truck Bed
We've talked about the longest truck by overall length. But what about the longest truck bed? What truck has the longest bed? Well, we don't know when it comes to custom beds. But when it comes to factory truck beds, the longest one is the 2015 Ram 1500's bed.
Like other full-size trucks, the Ram 1500 came with either a standard bed (around 6 feet) or a long bed, which is usually 8 feet at most. The long bed option in the 2016 Ram 1500 was 98.3 inches long, or around 8.1 feet.
 

View this post on Instagram

 

This beats the Chevy Silverado and GMC Sierra's 97.8-inch bed, and the Ford F-150's 96-inch bed at the time. So, if you need to haul lengthy cargo, the 2015 Ram 1500 with the long bed is the way to go.
Unfortunately, the brand new Ram 1500 no longer comes with the option of a long bed. You're stuck with either the 5'7″ bed or the 6'4″ bed. That won't even fit your typical NBA Small Forward laying down. And in the Big Horn trim or lower, you're stuck with the smaller Quad Cab if you want the 6'4″ bed.
For more insight on what this all means, you can refer to our Chevy truck bed dimensions chart and detailed truck bed size chart. Other than that, we've also discussed how long is a truck bed, and if you want something smaller, maybe consider one of these iconic cars with truck beds.
FAQs
Got more questions about big trucks and big cars in general? We try to answer as many commonly asked questions as possible:
What Is The Best Pick Up Truck
The Chevy Silverado arguably offers est the best bang for your buck of any full-size pickup truck. However, Ram trucks offer better ride comfort, equipment, and a luxurious interior. If that's what you're after, you might want a Ram truck instead. Of course, then there's the Ford F-Series. This is arguably the best and most well-rounded truck of them all.
How Long Is A Pickup Truck
This depends on the truck class you're asking about. Trucks are anywhere around 196 to 262 inches long depending on their class and configuration. But to make a long answer short, a midsize truck is around 212 inches or 17.7 feet long on average. Meanwhile, full-size trucks are around 19.8 feet or 237 inches long on average. However, that's the shortest configuration. As we've learned in this post, they can easily exceed 240 inches in certain configurations.
What Is The Tallest Car In The World
Currently, the tallest car in production is the Daihatsu Wake, a Japanese-only Kei car standing at 72.2 inches. If you want to include trucks, the Unimog is technically the tallest truck at 116.4 inches. But the tallest car or truck currently available to US consumers is the Ford F-450, standing at a very tall 81.7 inches or 6 foot 8 inches.
What Is The Heaviest Car In The World
The heaviest car in the world is the 2017 Mercedes-Maybach S600 Pullman Guard at 11,244 lbs. This is a heavily armored version of the standard S-Class, so naturally the armoring adds a lot of weight. As for trucks, the heaviest consumer truck is the International Extreme Truck Series, weighing in at 14,551 lbs. The current heaviest truck available to US consumers is the Ford F-450 Super Duty at 8,600 lbs.
Who Made The First Pickup Truck
Ford made the first pickup truck. The world's first pickup truck was the Ford Model T Runabout, a version of Ford's popular Model T that only has single-row seating with a 2.5-foot or 30-inch bed.
What Truck Has The Biggest Cab
Overall, Chevy's Silverado trucks have the most room when configured with the Crew Cab. It offers significantly more headroom, around 0.6 inches more front legroom, and 0.2 inches more rear legroom. Doesn't sound like much, but it can make all the difference for tall individuals.
Biggest Pickup Truck In The World: Wrap Up
So, the biggest pickup truck in the world depends on how you want to measure it. By length and weight, the Ford F-450 takes the crown. Whereas the Chevy Silverado 3500 HD is the widest, and the Unimog U 5000 is the tallest. An extra nod to Ford F-450 for having the largest tow capacity too.
Of course, the International Extreme Truck series by Navistar dwarfs all of those trucks we mentioned—except by height if you compare it to the Unimog U 500. But we decided it would be more fun if we only include consumer trucks that are still currently in production.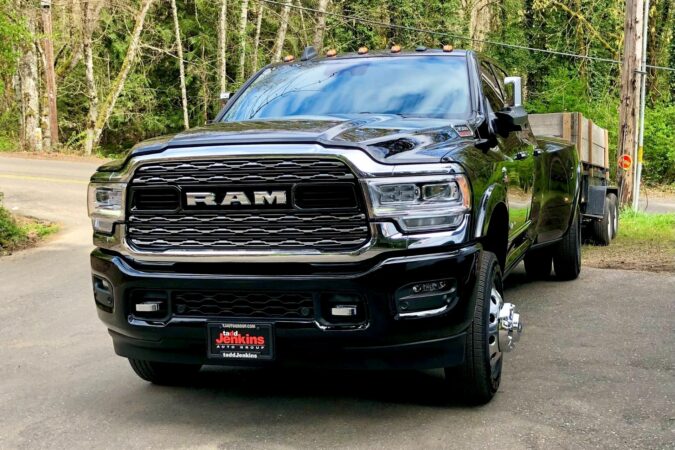 You might notice that there's one truck missing here, and that's the Ram series trucks. While it's by no means small, the Ram truck is just not quite as big as its rivals. Still, Ram trucks are usually praised for having a more well-built and luxurious-feeling interior, so they've got that going for them.
But, before you get a RAM truck of your own, do check out some of our other resources to find out if they're worth it. We've previously discussed the reliability of the RAM 1500 by model year, the 2014 Dodge RAM 1500 problems, the type of RAM trucks available, comparing the RAM V6 vs V8, and the reliability of the RAM EcoDiesel.
This has been a fun article to write, and we hope it's been fun for you to read. At the very least, now you have more pointless truck knowledge. And you can share that with your friends and bore them. Makes for good icebreakers, too.