Bowler Motors has revealed the celebratory 100th Edition Bowler Defender 90 Road Car Conversion, expertly engineered to mark the 100th full commission of a 90 wheelbase Defender by Bowler. This exclusive model is a one-of-a-kind Fast Road Conversion, an evolution from the successful Defender Challenge Rally Series vehicle which spanned three years from 2014 to 2016.
Bespoke Features and Unique Design
The 100th Edition Defender is a unique celebration model that incorporates several bespoke features, including Bowler's new signature headlight surrounds, bespoke graphics, and specially commissioned badging. This stunning vehicle also comes with a Corris Grey body protection pack, roll-over protection, relocated spare wheel, and Bowler's signature white rally wheels developed for off-road racing.
The interior of the 100th Edition Defender features Recaro SVX 60th Anniversary seats, leather dash tops, MOMO Race Style Alcantara Steering Wheel, and a fully soundproofed interior. It also includes an Alpine double din head unit with a reverse camera and bumper-mounted Lazer ST4s. The exterior of the vehicle features LED headlights, smoked side lights, and side repeaters.
Unmatched Performance
The 100th Edition Defender is powered by Bowler's Stage 2 Engine Upgrade, which includes an intercooler and Bowler Performance Exhaust with Mudflap Kit.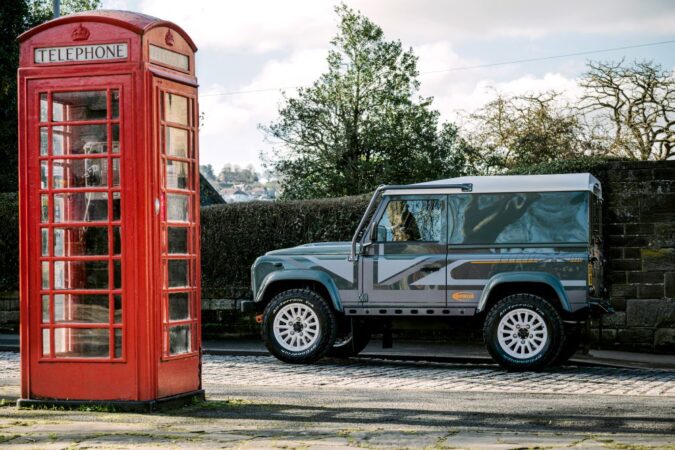 It also comes equipped with a Bowler Big Brake Kit, Bowler Fast Road Suspension, and Bowler 18″ Lightweight Alloy Wheels with 285/60/18″ BF Goodrich All Terrain Tyres. The vehicle's half bulk-head deletion, Alcantara roof lining, and Bowler Gear-shifter Kit further enhance its performance capabilities.
Available Now
The Bowler 100th Edition 90 is available to buy now, priced at £78,000 (+ VAT). Interested parties can contact Bowler or email them to place an order.
About Bowler Motors Ltd
Bowler Motors has a rich heritage, a team of highly talented designers, engineers, and a racing team, earning it a global reputation for quality, performance, and passion. Since its founding in the 1980s at a farm in Derbyshire by Drew Bowler and his family, Bowler has grown and achieved an enviable cabinet of awards and accolades.
The company has always worked closely with Jaguar Land Rover, and in 2019, Bowler became part of Jaguar Land Rover's fast-growing Special Vehicle Operations division.
In addition to road vehicles, Bowler Motors has its Defender Rally Championship. The series is designed for novices and competition veterans alike, with 12 teams taking part in nine events, including seven competitive rounds in identical Defender rally cars. The future looks bright for Bowler, with the introduction of several new road vehicles on the horizon.