Bridgestone, a globally renowned name in tyres and sustainable mobility solutions, has launched the Dueler All-Terrain A/T002. This new premium all-terrain tyre equips 4×4 drivers with the ability to confidently navigate all surfaces and weather conditions.
Derived from extensive market research, the Dueler All-Terrain A/T002 has been designed to meet drivers' need for safety and all-terrain performance, while satisfying their desire for freedom and adventure.
Key Features of the Dueler All-Terrain A/T002
The Dueler All-Terrain A/T002 has been specifically engineered to handle off-road challenges while still providing excellent on-road performance. Key features of the tyre include:
An aggressive tyre design with an innovative hexagonal block shape and pattern architecture. These features enable the tyre to adapt and react across diverse terrain, providing excellent traction and braking balance, and the ability to handle mud and snow while staying clean on asphalt.
Exceptional grip in both wet and dry conditions, ensuring ultimate control in straight-line and cornering manoeuvres. The high silica compound contributes to superior adhesion on wet surfaces. Additionally, the tyre has earned 3PMSF and M+S markings, making it fully winter-ready and compliant with winter tyre legislation.
Improved mileage by 40% compared to its predecessor. This improvement comes from a maximised footprint width, optimised contact patch and increased skid depth.
Empowering Adventure and Ensuring Safety
"According to our comprehensive market research, drivers of 4×4 vehicles crave freedom and adventure while also prioritising safety and reassurance for their journey ahead, regardless of weather or terrain," says Emilio Tiberio, Chief Technical Officer and Chief Operating Officer at Bridgestone EMIA. "The new Dueler All-Terrain A/T002 is designed to offer all these features to all 4×4 drivers – whether they are adventure seekers or daily commuters – ensuring confidence and control in all driving conditions."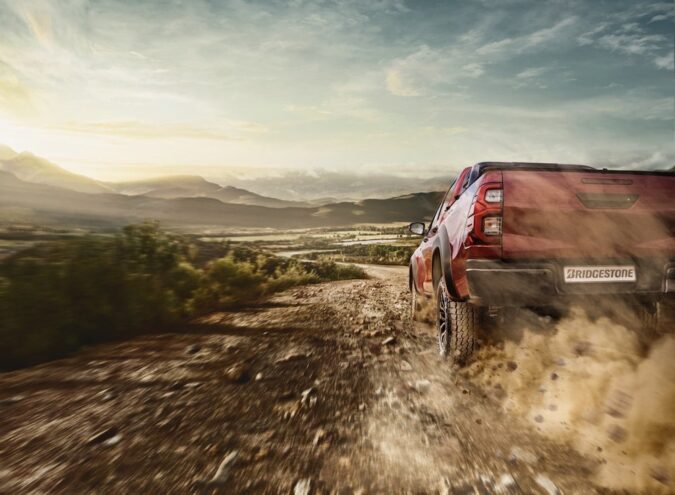 Developed and Manufactured in Europe
The Dueler All-Terrain A/T002, which is available in 43 sizes ranging from 15 to 19 inches, was developed and manufactured in Europe. The tyre was designed and tested at Bridgestone's European R&D Centre using Virtual Tyre Development technology. This sustainable approach allows a digital version of a developing tyre to be created and tested virtually before building prototypes, leading to significant savings in raw materials and CO2 emissions during development.
Aligning with Bridgestone's E8 Commitment
The Dueler All-Terrain A/T002 is not just a product of extensive research and innovation, it also exemplifies Bridgestone's commitment to sustainability, aligning with their E8 Commitment. This eco-friendly all-terrain tyre builds upon the experience and expertise Bridgestone gathered while developing its original fitment tyre for the Lamborghini Huracán Sterrato. As the exclusive tyre partner for this supercar, Bridgestone developed the world-first supercar run-flat all-terrain tyre, which enhanced the Huracán Sterrato's all-terrain capabilities while maximising the thrill and excitement of asphalt driving.
In a world where adventure and sustainability are key, Bridgestone's Dueler All-Terrain A/T002 stands as a testament to the brand's commitment to these values. It's a tyre that empowers 4×4 drivers to conquer their journey, whether on or off the road.