Bridgestone Weather Control A005
Leading tyre and rubber company Bridgestone has launched a new all-season touring tyre, the Weather Control A005, to give drivers a year-round solution without sacrificing performance in weather extremes which most all-season tyres compromise on.
"For drivers who want to stay in control, with the same tyres, all year round regardless of sun, rain or occasional snow, we wanted to design an all-season tyre that keeps them going without compromising safety. This is what we achieved with the A005,"  explains Laurent Dartoux, Bridgestone EMEA's Chief Strategy & Marketing Officer.
Inspired by extensive customer research, Bridgestone gathered insights on the needs and expectations held for all-season tyres by 15,000 end-users before beginning on the design process.
"Drivers want to be confident that their all-season tyres are capable of handling different kinds of weather conditions," continues Dartoux. "But the research showed that safety in wet conditions was the primary concern for European consumers."
Designed and manufactured in Europe
The design and development of the new tyre fell to the Bridgestone Technical Centre in Rome where their NanoPro-Tech rubber compound with a high silica content was used to give the tyre extra performance. The tread pattern features a V-shape layout, a Z side shape and high-volume slots in the shoulder to disperse more water.
Fuel efficiency and tyre wear are more acceptable than many year-round tyres and in fact the Weather Control A005 gives the same mileage as Bridgestone's Turanza T005, their premium summer touring tyre.
Best-in-class for grip in the wet
In certification tests by one of Europe's most respected testing institutes, TÜV SÜD, the A005 outperformed the leading competitor for braking in both wet and snowy conditions. It was also awarded the best-in-class EU label A-grade for wet grip and C-grade for rolling resistance. Some of the narrower sizes scoring a very respectable B-grade for this.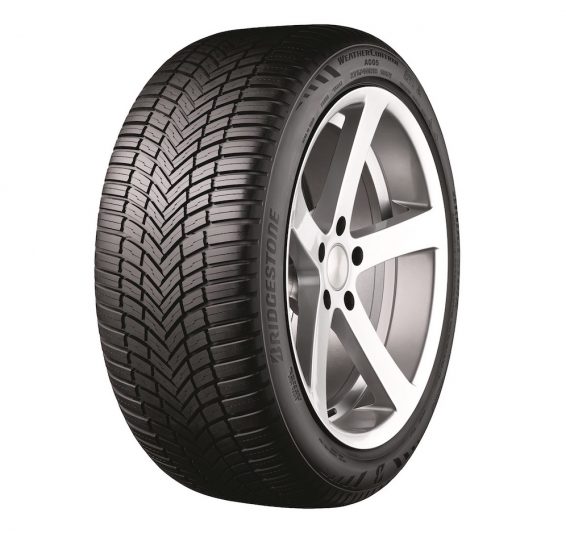 Another certification received was the 3 Peak Mountain Snow Flake (3PMSF) marking for performance on snow giving it 365 day legal compliance.
Aren't winter tyres optional though?
In over a dozen countries across Europe, winter tyres are compulsory in snowy and icy conditions and non-compliance can be costly in fines or a reduced insurance payout in the event of an accident.
Most of the countries demanding winter tyres are those that you'd expect; Scandinavia, Baltic states and most alpine regions with the strange exception of Switzerland. Oddly, temperate Luxembourg insists on them too although with the heavier winter we had this year drivers in many other countries were caught out by the conditions and could have benefited, especially in remote or mountainous regions.
When can you get hold of them?
The Weather Control A005 tyres went on general sale during May of this year and as they're for year round use there's no reason why you would need to wait until weather conditions deteriorate to get them fitted. With over 68 sizes available this year from 15" to 20" rims around 94% of passenger cars will be able to benefit. Later this year in November, four tyre sizes for small-vans will be launched featuring lighter weight run-flat DriveGuard technology.
If each year you think of driving down to the alps for your family skiing holiday instead of flying, but are put off by the expense and inconvenience of storing and fitting winter-shod spare wheels, then the Bridgestone Weather Control A005 may offer a solution.