To answer that question, I imagine most of you would say, No. But that doesn't mean that someone out there isn't willing to try it out. Caterham happens to be that someone, as a celebration to mark the unveiling of their new Seven 170. Their destination for such a stunt – Brighton's British Airways i360. Okay, so many it's not so much 500 feet, as it is 450 feet. Still, it's getting there.
Indeed, this is already a record of sorts as the highest known elevation for building a car. In any case, engineers from Caterham took just under six hours to build this Caterham Seven 170. This is from scratch mind you, as it slowly came to life bolt by bolt. And all of this inside the British Airways i360 pod viewing deck, too. It's quite an astounding achievement, so a round of applause is in order.
This is given the fact that it would normally take a single person around 100 hours to build a Seven 170, or any other Caterham. Supported also by Avon Tyres and Halfords Advanced, you can actually go ahead and order yourself a Seven 170 from what is now the world's highest car dealership. And, it marks the first time that any vehicle's been all the way up there at all.
Simplify, And Add Lightness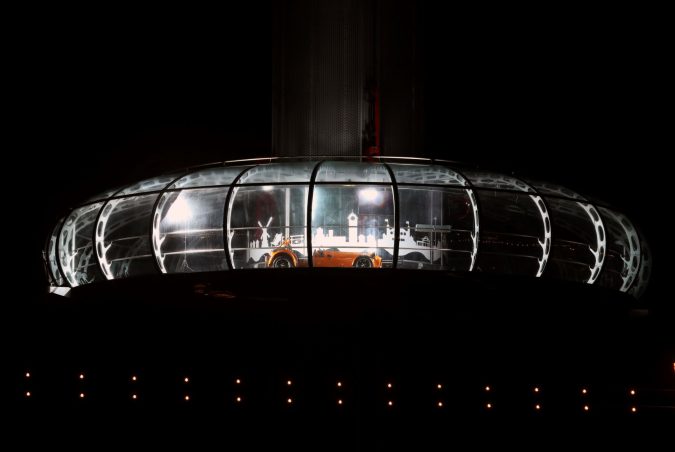 Caterham Cars CEO, Graham Macdonald, said:
"We set the engineers a daunting challenge building the car at such a height, but we had faith they'd complete it – and they did. This will certainly go down as one of the most interesting and memorable places we've ever built a car. We hope the public who came down to watch the build enjoyed their first sighting of our lightest ever production car – the Seven 170."
But what about the car itself, and what is this Seven 170 anyway? Well, this latest creation from the minds at Caterham will also be their lightest production car ever. This is easier said than done, given that every Caterham is simplified, with lightness added from the factory. In fact, the Seven 170 weighs 440kg, which fits with Kei car standards. I've known motorcycles to weigh more than that.
With a 660cc turbocharged three-cylinder Suzuki engine, it can just about manage 84hp and 116Nm of torque. With a power-to-weight ratio of 170 horsepower-per-tonne, and alongside those skinny Avon tyres, I can tell that this little Seven will be a joy to drive.