It's a common trend nowadays to see owners keeping their cars for longer… With some opting to keep a car for 15 to 20 years before moving on to something new. For the most part, cars tend to age fairly well too, with engines and transmissions being equally as durable and robust. But, the same can't typically be said of the electronics inside of a modern car, with the infotainment system being a usual eyesore.
As soon as the next-gen of vehicles comes along, your old infotainment system starts degrading speedily… Losing out on software updates, or no longer having decent compatibility with your fancy new phone. An ideal solution would be upgrading your infotainment system every few years, but that's not entirely easy to do. That's unless you're looking at the right solutions on the market, like CARPURIDE's car stereo.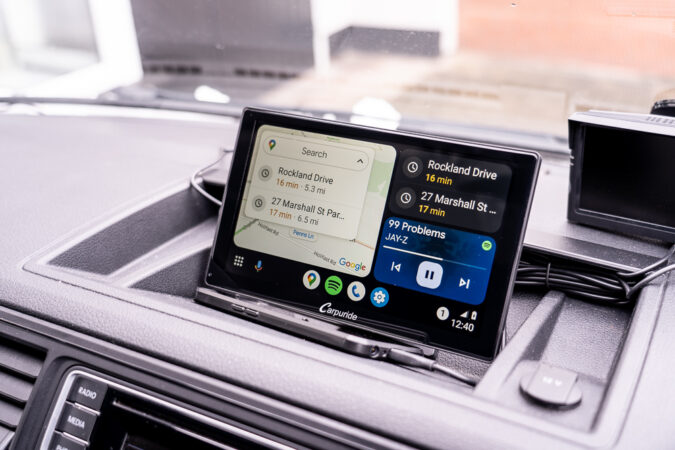 On the surface, it looks like any other third-party or aftermarket infotainment system. But, unlike most of what you've seen before, CARPURIDE's solution does have some neat aces up its sleeve. It's a lot slimmer, sleeker, and more compact than most competing products. This also means that installing it can easily be done without relying on a pro mechanic to do it for you. Plus, there's its usability and performance.
The screen is crisp and vivid, and navigating the UI is both slick and intuitive. Moreover, you could pair it to your phone wirelessly, with support for both Android Auto and Apple CarPlay. Most aftermarket third-party stereo or multimedia systems can't say the same. On top of that, the entire package comes to you with a great starting price, so it's a relatively economical alternative to bring your car up to date.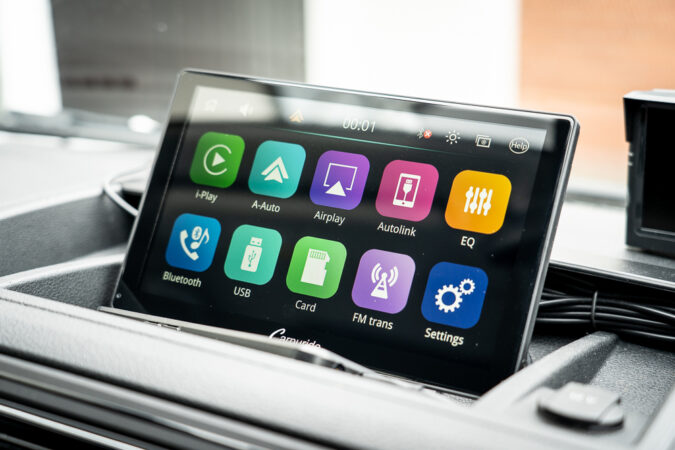 Easy To Install & Massively Adjustable
For now, let's take a step back and go at it one by one. First off, how easy is it to install? If any of you've ever done an infotainment upgrade on your car before, you'll know that it's hardly ever straightforward. But, CARPURIDE makes it incredibly simple. In this case, it's the perfect upgrade for our VW Transporter campervan. The latter of which originally came with a basic radio and not much else on top of it.
So, a modern infotainment unit is definitely worth considering. The CARPURIDE car stereo fits neatly into the little cubby hole on the Transporter's dash. Though, there are various mounting options – courtesy of two brackets and a suction cup that came in the box. So, you can be a bit more creative with where and how you place it… Be it installing it onto the dashboard, or having it suctioned onto the windshield.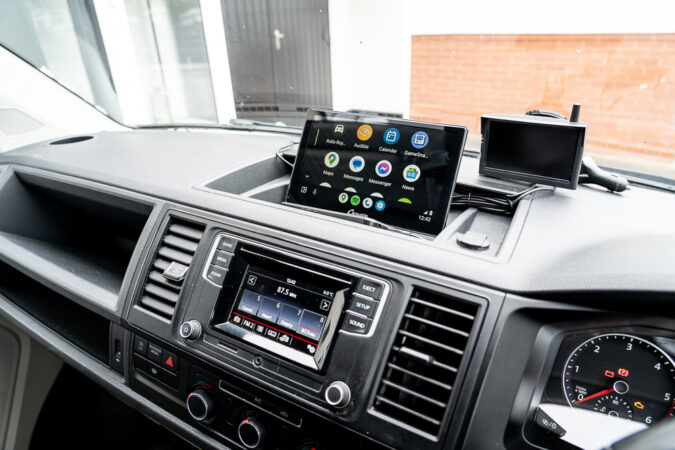 Moreover, there's a lot of adjustability with the mounting brackets, such as fine-tuning the angle. And, if you're going to change your mind down the line, the suction cup, while strong, can also be handily taken off and re-positioned. Furthermore, the CARPURIDE car stereo comes bundled with a backup camera. To be fair, unlike installing the stereo, wiring the backup camera is much harder, as it's not wireless.
So, there's a lot of cabling involved to not only power the backup camera. But, to then have a data cable run the video feed back to the CARPURIDE car stereo's 9-inch display. Meanwhile, it also asks that you'll wire that backup camera into your car's reversing light circuitry. If there's one thing we wished would be different, it would be that CARPURIDE offers a wireless backup camera, instead of a wired one.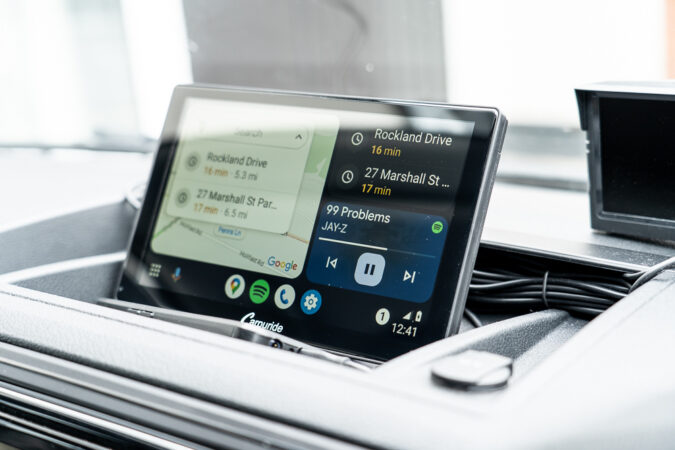 You Don't Even Need A Cable
Speaking of wiring, the installation process for the aforementioned car stereo was not that tough, either. We powered our CARPURIDE car stereo using an optional hardwire kit, rather than the included cigarette lighter car charger. This means that the hardwire kit runs around the back of the CARPURIDE stereo, and into your car's fusebox. You could certainly cable it a bit neater than what we've done here.
Granted, this is dependent on where the fusebox is in your car and whether or not you're willing to drill a hole through the dash to hide the cables. To connect that hardwire kit, you need to have an empty slot in the fusebox. This is where you plug it in, before then installing additional fuses and the original fuses that can run through the connector. Also, CARPURIDE relies on a more commonplace 12-24V power supply.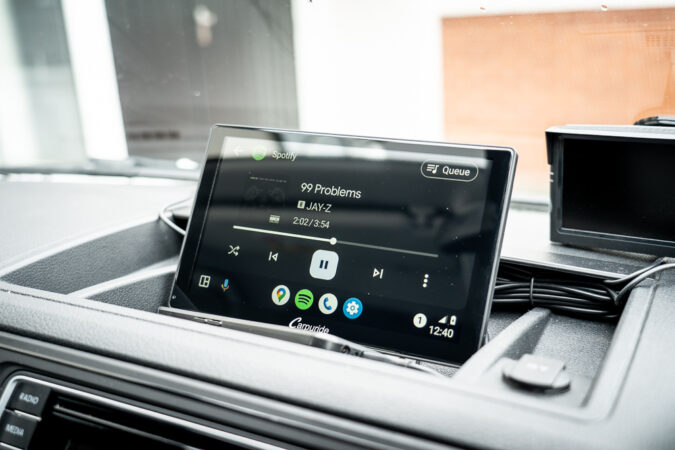 This means that you could install their car stereo on a large variety of vehicles. This makes it particularly perfect for older cars like our VW Transporter campervan. On the topic of cables, one of the noteworthy highlights of the CARPURIDE car stereo is the ability to sync your Apple CarPlay and Android Auto either wired… Or, wirelessly. The latter is a big boon, as many equally-priced solutions don't offer this.
In addition, the CARPURIDE car stereo supports Siri and Google Assistant voice control, so you can more safely navigate the system. For example, wanting to set the satellite navigation or change the music, all without taking your hands off the wheel. Thanks to the use of the later Bluetooth 5.0 and 5G Wi-Fi, that wireless is also more reliable and speedy. There are, of course, other options to play media, too.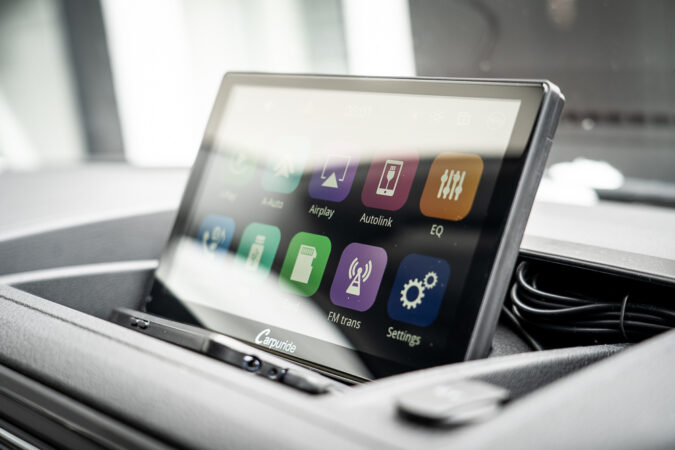 Simple Controls And Navigation
Hence, there's Bluetooth, USB, (wireless) mirror link, or simply plugging in an SD card. If you need to play audio from the CARPURIDE through your vehicle's speakers, there are various options. The best one that I've found was synching up the CARPURIDE car stereo and your car's built-in radio via FM radio. You can do this by ensuring that they're playing on the same channel, and it'll relay audio to your speakers.
This works pretty well, I must say. The alternative would be to either use the built-in speakers or wiring in an AUX jack from the CARPURIDE to your car's radio. If you need to tweak or adjust your audio output, it's got a built-in equalizer, as well. Otherwise, the rest of the hardware is fairly well-built, especially for what you're paying (more so than pricier rivals). It has a super bright and sharp 9-inch, 2.5D, IPS screen.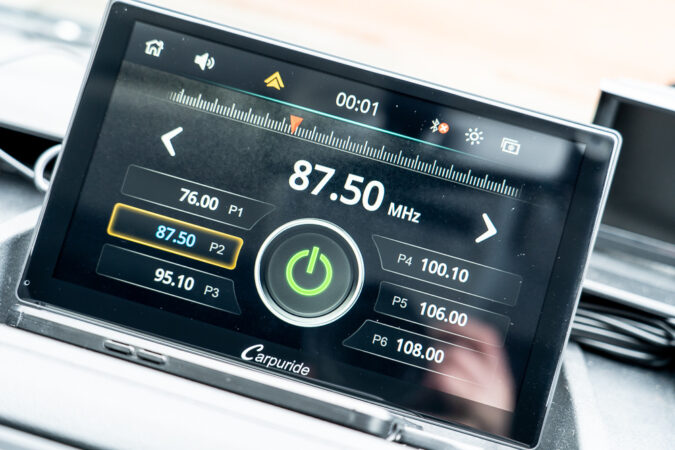 Though it's bright enough to counter sunlight, its screen has a glossy finish, so it would be a good idea to position it properly if you're worried about excessive glare. Though, I've found no concerns with contrast or the viewing angles. Additionally, the CARPURIDE stereo has an ambient light sensor to actively change the brightness of the screen based on your surroundings. Performance, overall, gets a good score.
It boots up quickly, and navigating around the UI is slick and easy to use. To help you move around more speedily, there are handy little shortcut buttons on the bezel, too. The animations are smooth, and we do like the look and feel of the user interface. For about $259.90 (marked down from $379.90 as of writing), the CARPURIDE car stereo is one of the most compelling aftermarket stereos that you can find today.
AI Car Expert Thinking 

.

.

.