Are you on the market for an off-roader? Then the Jeep Wrangler would probably be on the top of your list. But still, there are some cars similar to Jeep Wrangler that are also worth your attention. I'm saying this because you might love to get something different if you see what is there on the market. And for a better deal.
Prices of cars have skyrocketed lately, and this also affected some good and cheap products like the Wrangler as well. Although the Wrangler is still cheap by a good measure. There are still some better deals out there that you might want to look at.
And sometimes the price isn't the only reason why you would want to look at something different except the Wrangler. Because there are a ton of capable vehicles that exceed the Wrangler's off-roading capability as well other aspects. Namely, the practicality and usability of the internal space. Quality of materials, infotainment system, and quite a lot more bits and pieces that would make you purchase a certain vehicle. But you shouldn't worry because we are going to cover everything.
In this article, we are going to learn what is the Jeep Wrangler and why is it so popular. For instance, the Wrangler has a huge aftermarket product market so finding a custom Jeep Wrangler Cargo Liner will be really easy to find. Then we will see which are cars similar to Jeep Wrangler. And then we will see which of them should be on the top of your buying list. Knowing this will make your life easier and the process of purchasing a new vehicle similar to the Wrangler would be a breeze. So, follow along.
What Is The Jeep Wrangler?
Before we move into more complex topics. We first need to learn what is the Jeep Wrangler and what this car is all about. Since not all of you readers out there are car guys and know the ins and outs of every vehicle. So, what is the Wrangler?
The Jeep Wrangler is a Jeep product. Jeep is owned by Chrysler, which is owned by Stelantis. Things can be really complex when you start understanding these things. But nevertheless. The Wrangler is an off-road SUV. So, what does an off-road vehicle mean?
This means that the Wrangler is equipped with systems that allow it to tackle rugged terrains. Most of the cars that we see on a daily basis do not have this ability. They are either rear-wheel drive or front-wheel drive. This means that they do not transfer power to the surface with all four wheels.
So, when you get stuck, with the front wheels, the rear wheel will not be able to move the vehicle and you will get stuck. With all-wheel drive, on the other hand, this vehicle is much more capable and you will be able to tackle almost any terrain with good tires.
The Wrangler carries its lineage from the WW2 Willy's Jeep. This Jeep practically won the war because it was so extremely strong and durable. This made a huge difference at the front and helped the troops to progress in their fight against Nazi Germany.
This made this design extremely popular. So, most of the modern Jeep's front facia derives from Willy's Jeep. Willy's front grille is characteristic of the modern Jeep vehicles that are produced today. And so for the Wrangler. Although other cars similar to Jeep Wrangler try to copy it.
Why Is It So Good?
In simple words why is the Wrangler so good is that it moves where most off-road vehicles stop. The Wrangler is an extreme off-roader that loves to tackle any terrain possible.
You just equip the Wrangler with the right tires for tackling these terrains and it will deliver quite a performance. But you also need to have a lot of experience before you decide to take some extreme hills with it.
Also, the aftermarket is huge when it comes to the Wrangler. The Wrangler is a Chrysler product which means that all the parts are readily available on the shelves. Unlike some Asian or European off-road vehicles that are a big headache when it comes to getting the parts that you plan to upgrade on your SUV or truck.
There are also a ton of companies that offer aftermarket suspensions, lift kits, reinforcements of the chassis, off-road wheels, and tires. And all this for a good price. That's another reason why the Wrangler is so popular.
Also, the car community which is huge when it comes to Wranglers or any kind of Mopars. There are car meets at every corner where you can hang out with fellow Wrangler owners or other off-road guys.
This is why the Wrangler is the number one choice for many people out there who want to get an off-road vehicle for themselves. But sometimes people want to get something different. That's why they look for cars similar to Jeep Wrangler. And if you are one of them, you shouldn't worry because we have a ton of interesting options later in this article. Bur first let's cover the Jeep Wrangler 2021 specs.
Jeep Wrangler 2021 Specs
The newest generation of the Wrangler was introduced back in 2018. This model is still in production. But what does this mean, do I get an old car? Absolutely not, the Wrangler keeps receiving regular upgrades during its whole life. And as we said, the aftermarket is full of parts for the Wrangler. So much, that you can upgrade your Wrangler and make it even better from the Wrangler Rubicon which is the top-of-the-line Wrangler. Yeah, but what are the specs?
The bottom end of the engines is 2.0 gasoline. This gasoline engine is a straight-4 engine and is not producing a lot of power. The thing that you want to get would be the 3.6 Pentastar V6 engine. This engine delivers quite a bit for what you pay and your Wrangler becomes a true off-road beast. But it doesn't end here.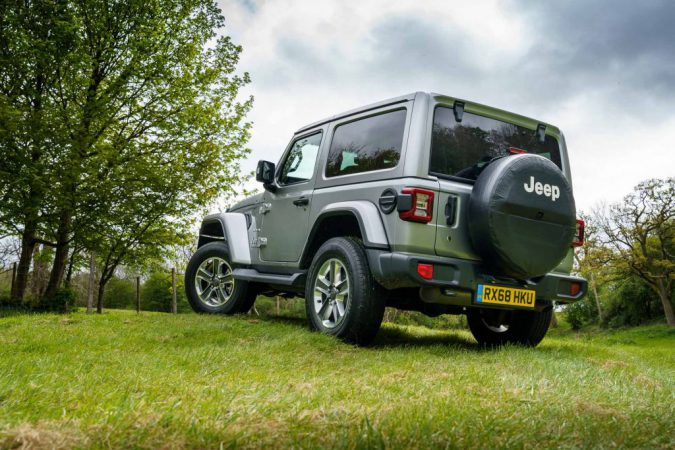 In 2021, just a few weeks ago, the Wrangler started to come equipped with a 6.4 HEMI V8. This model is codenamed the Rubicon 392. Because the HEMI has 392 cubic inches of displacement. And this model costs more than $75,000.
When it comes to the transmissions, there is a 6-speed manual and two 8 speed automatics. There is also a Plug-in Hybrid option for the ones who want something more Eco-friendly.
There are few trim levels when it comes to the Wrangler. These are the Sport and Sport S, the Sahara, the Moab, and the Rubicon. The Rubicon is probably the most popular choice out of the bunch because it offers quite a bit more than the regular Sport trims.
Enough about the Jeep Wrangler, now let's discuss the cars similar to Jeep Wrangler. In the following chapter, we are going to share our tips on which Wrangler replacement you should get.
Cars Similar To Jeep Wrangler
We have covered the Jeep Wrangler in detail, now let's discuss what does the market could offer when it comes to the Wrangler. What are the cars similar to Jeep Wrangler? Let's elaborate.
Ford Bronco
When it comes to a proper replacement for the Jeep Wrangler, that would for sure going to be the new Ford Bronco. The Bronco name is a legend by itself and since recently, Ford has decided to revive this nameplate and bring the Bronco back to life and relive its former glory.
It is also fairly new. Much newer than the Wrangler. The new Ford Bronco was introduced in 2021 after many months of hype that the Bronco enthusiasts were making.
The Bronco is also similar in size when compared to the Wrangler. They both belong in the mid-size SUV category and they both come in 2 doors and 4 door configurations.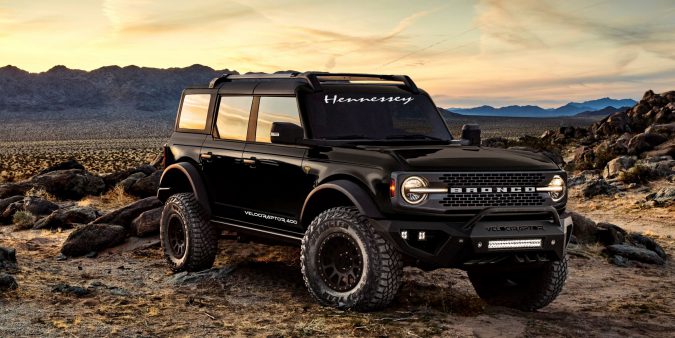 The Bronco also includes some capable engines as well. A 2.3l straight 4 engine and a 2.7l V6 twin-turbo engine. The latter is one of the most desirable engines out there when it comes to off-road use. They are paired with either a 6-speed manual or a 10 speed automatic. So, if you are on the market for a capable off-roader you would probably want to get the manual (as you would with an Audi TT manual transmission). But this transmission is only available with the 2.3 engine.
When it comes to off-roading the Bronco is a serious contender. The Bronco implements a full body on frame design which makes it extra rigid and durable. The chances that the frame would bend are almost non-existent. It's practically built like a tank.
It also incorporates modern five-link coilover Bilstein suspension on all four wheels. There are Dana axles on each wheel as a standard. You can toggle between 4WD Low, 4WD high, 4WD auto, and 2WD. Which is excellent for beginner users. So, this is one of the cars similar to the Jeep Wrangler, now let's move to the next.
Toyota 4Runner
The Toyota 4Runner is another capable candidate that could fill the Wrangler's boots. This is one of Toyota's best off-roading vehicles at the moment and also one of the best on the market.
The Toyota 4Runner is not only a capable off-road vehicle but also a very spacious and pleasant vehicle to be in. It closely resembles an SUV but under the skin, it is a pure off-roader.
The front facia of the 4Runner resembles the Tacoma and the design lines basically overlap on each other. But the 4Runner has a different role and that is to be capable of tackling the obstacles.
 

View this post on Instagram

 
For this purpose, Toyota has equipped the 4Runner with a powerful 2.7 straight 4 engine and also a bigger and more powerful 4.0 V6 all this paired with a 5-speed automatic transmission.
The most recent model was introduced in 2010 but it is constantly refreshed in order to receive the latest tech when it comes to improving the driving experience. The top of the line 4Runner is the TRD which has all the goodies when it comes to off-roading and luxury.
A good buy if you want to have the drivability in off-road condition while keeping the comfort that an SUV could offer.
Suzuki Jimny
The Suzuki Jimny or Suzuki Samurai as it is known in the US is probably one of the cutest cars similar to the Jeep Wrangler that you could get. But what is unfortunate is that you cannot purchase one in the States. If you want one, you would probably have to import it from Japan or some other country that has left-wheel drive.
This would probably be Mexico since they are the ones that imported the Jimny. So it would be quite useful if you want to get one to learn your laws if you can get one for yourself because you are missing quite a lot.
That's why we still decided to cover the Jimny because it is a true off-road legend and not many cars can have this reputation as the Jimny has. The Jimny is one of the rare cars that was designed with off-road in mind and it is worth every penny.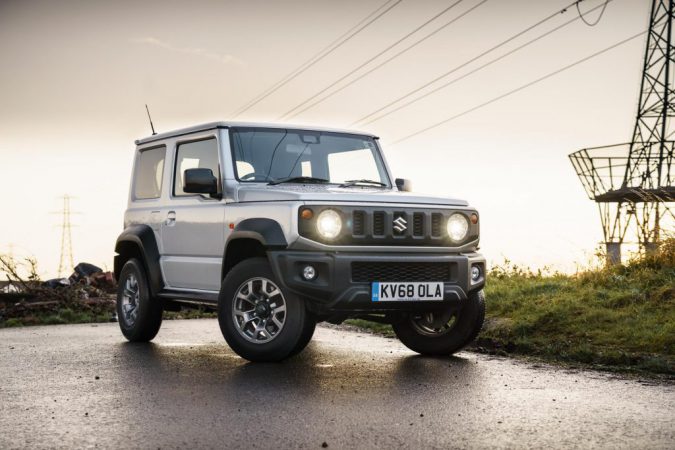 The Jimny also has the closest visual resemblance to the Wrangler when it comes to looks because both were modeled to Willy's Jeep that won WW2 back in the day.
Nevertheless, the Jimny comes equipped with a 1.5 turbocharged engine which delivers a good performance. You can also get a 5-speed manual and a 4 speed automatic.
The Jimny also uses a body on frame design which makes it extremely durable and could tackle any hill out there with ease. If you could snatch one for yourself you will experience a true off-roader and you would probably get the proper replacement for the Wrangler.
Jeep Gladiator
When it comes to discussing cars similar to Jeep Wrangler, we cannot avoid talking about the Jeep Gladiator. The Gladiator is a Wrangler, but better.
One day the engineers at Jeep had the idea to slap all of the off-roading capabilities in a pickup truck. They saw that there was a big market when it came to pickup trucks in the US and they have decided to make a pickup that could also do off-road quite well.
The Jeep Gladiator is also a fairly new model. It was just introduced in 2020. So, getting one on the used market in excellent condition would be quite easy to pull off.
As we mentioned, although the Gladiator is a pickup truck. It still carries the off-road DNA and incorporates most of the technology that was used in the Wrangler. It also looks like a Wrangler. So when it comes to cars similar to Jeep Wrangler, you cannot find a better example of this.
 

View this post on Instagram

 
The Gladiator gets all the checkmarks when it comes to off-road and practicality. It is equipped with the same V6 Pentastar engine that is quite capable and can deliver a ton of performance. There is also a diesel option for those who want to run coal.
All this is paired with either a 6-speed manual or an 8 speed ZF automatic. If you can, go for the manual, this way, you will experience the Gladiator to the fullest.
There are also a ton of special editions like the Rubicon, North Edition, Mojave, Altitude, Willys, Texas Trail Edition, and more. But the Rubicon is probably the one to go for if you want something really good. Overall, excellent truck and off-roader at the same time.
Toyota FJ Cruiser
When it comes to cars similar to Jeep Wrangler we cannot avoid the Toyota FJ Cruiser. This retro-futuristic SUV has all the checkmarks when it comes to off-roading and a Jeep Wrangler replacement.
It also has somewhat a cult following in the car community and there is a huge amount of people that are proud owners of these cars.
As we said the FJ Cruiser has a retro-modern design that takes a lot from the original Toyota FJ and implements it in a more modern way.
 

View this post on Instagram

 
And it's not only the looks the FJ Cruiser is a very capable off-road vehicle that could tackle any obstacles that you put in front of it. This makes the FJ highly desirable, that's why the prices of these SUVs have risen by a good margin.
Unfortunately is that the FJ Cruiser is no longer in production. So, it would be extremely tricky to get a good example and not spend a bunch of money on it. Because good samples with low mileage are quite expensive.
But when it comes to cars similar to Jeep Wrangler, the FJ Cruiser for sure is one of them. But if you are keen enough to get one for you it's totally up to you.
Land Rover Defender
When talking about off-roading, this article would not be complete if we don't cover the Defender. Which is a true legend when it comes to off-roading and SUVs in general. Since these Defenders were the early ancestors that modern SUVs were shaped from.
This utilitarian vehicle is probably one of the best there is when it comes to off-road in general. This is the case because it is offered in quite different configurations that you could purchase the Defender. Namely the 90 and 110. These numbers are the wheelbase size in inches. So, when you see these numbers you know that this is the wheelbase.
Also, these Defenders are very desirable and can cost a good penny. More precisely the 90s are the ones that are most sought after and the prices of these are insanely high.
The good thing is that for a 110, you will not have to spend a ton of money in order to get one. They are affordable on the second-hand market. Engine swaps are extremely popular when it comes to these. So, if you are one of those guys that would do an LS swap into a Defender then this is the deal for you.
Just make sure that you get one in good condition. Remember that these vehicles are utilitarian vehicles and were not particularly garaged or kept as a house pet. These vehicles were driven and here and there when you start to look at some of them you will notice that they are missing some things here and there. So, getting a sample in excellent condition for good money could be a difficult task.
Mercedes Benz G-Class
This list would not be complete if we don't mention the G-Class or the G Wagon as it is known because this off-roader is probably one of the best out there. But what is bad is that it costs a ton of money to be owned.
This wasn't always been the case when people bought the G-Wagon to drive it off-road and not like an expensive toy. But sadly these vehicles have gone up considerably in value and now are worth a ton of money. Even in the second-hand market, these SUVs are seen as expensive luxury items which is crazy.
But when it comes to the off-roading abilities of the G-Wagon, the hype is real. This off-roader handles almost anything pretty well and without any problems.
So, if you are looking for cars similar to Jeep Wrangler, this might be it. It doesn't look like a Wrangler, but it handles like one. Or even better.
That's why if you find one of the older models for a good deal. This might be the right option for you. Just make sure that you get one in decent condition and a G-Wagon that was not trashed. Because the parts for these are crazy expensive and will cost you a fortune to fix.
Conclusion – Cars Similar To Jeep Wrangler
In this article, we have covered a lot when it comes to cars similar to Jeep Wrangler. We learned what is the Jeep Wrangler and why is it so popular. Then we covered the specs of the Wrangler so you have a better idea of what the Wrangler could deliver.
Then we have covered the cars similar to Jeep Wrangler. We learned that there are a ton of alternatives that you can just go and buy.
These alternatives include the new Ford Bronco that was released this year, the Toyota 4Runner and FJ Cruiser, the Land Rover Defender, the G-Wagon, and the most likable car of all, the small Suzuki Jimny. It is really unfortunate that it is not imported in the USA. But you can import it if you want from another country.