Many consumers often overlook audio quality when buying a car, even though the sound system is probably one of the most used features in a car. If like me, you also care about audio quality, we'll discuss cars with the best sound system in this car.
Good factory sound systems are obviously going to be expensive. So, we'll take a look at some aftermarket options as well. You'll be able to enjoy good quality audio regardless of your car.
Cars With The Best Sound System
If you don't want the hassle of installing an aftermarket system, take a look at this list of cars with the best sound system. There will be a variety of options here, but we should mention that a lot of these are going to be on the premium side.
Regardless, here are the best cars with the best sound system from the factory (in no particular order):
1. Mercedes-Benz S-Class – Burmester High-End 4D Sound System
Mercedes-Benz's audio partner right now is Burmester. You'll find it available as an option in their lower-end trims and models, and as standard in the higher-trim cars. Since Mercedes has an expansive lineup, there are several versions of the Burmester speakers.
The best one—and the most expensive—is the Burmester High-End 4D Sound System, available only in the Mercedes-Benz S-Class. And unless you get the ultra-expensive spare-no-expense Maybach S680, it's a $6,730 option.
We recommend watching the video above with quality headphones to get an idea of how good it is. I'm using my Sony WH-1000XM3 and I think it does a great job of translating how the speakers sound in real life.
Anyway, it's a 31-speaker system and is a speaker worthy of Mercedes' flagship sedan. There isn't much to say about it other than the fact it's money well-spent. Of course, it's a lot of money. A standard S500 will have an MSRP of $117,830 after you tick the Burmester option box.
Honorable mention to the Burmester High-End 3D Surround Sound, available in the GLS, SL, CLS, and a few other Mercedes cars. It's a 26-speaker system that will still blow your mind. If you're looking at smaller Mercedes though, you'll have to make do with the Burmester Surround Sound system.
2. Volvo – Bowers & Wilkins
Volvo also offers a great-quality sound system in their cars. They currently have three systems on offer: their in-house standard system, a 14-speaker Harman Kardon system for their higher-end trims, and a 19-speaker system from Bowers & Wilkins.
Note that the Bowers & Wilkins system is a $3,200 optional extra. Available on all of their cars except for the smaller XC40. It has 19 speakers, including their iconic tweeter on top of the center speaker.
It may not be as beautiful as Mercedes' Burmester speakers with tweeters that pop out when you turn on the media controls. But it's still one of, if not the best all-round speakers in any car.
Clarity is great throughout the range, with just enough bass to satisfy EDM enthusiasts without muddying the sound. We think this is the best bang-for-your-buck out of all the factory car speakers.
3. BMW – Harman Kardon Surround Sound
Even if you're not an audiophile, you're probably familiar with the Harman Kardon brand. Makers of high-quality consumer audio electronics, and BMW's audio partner for over a decade now. Their high-end system is the HK Surround Sound S688A, available in many BMWs including the 3-Series, the X5, and the 7-Series amongst others.
The system is standard in the higher-end models and trims, but an optional extra for around another $2,200 in their lower-end cars (this includes a Premium Package which is mandatory for the speakers). Note that BMW's smaller cars such as the 2-Series come with a different Harman Kardon system—more on that after this.
The system boasts 16 speakers—2 woofers, 7 midrange speakers, and 7 tweeters—all around the car. The heart of the system is a 10-channel amplifier, making sure those speakers are all put to good use.
The system is all around very solid, but if you watch the review above, then you'll know that the bass is a little lacking. However, mid and high clarity is excellent. So, if your playlist doesn't include bass-heavy EDM songs, you'll probably be perfectly happy with it.
BMWs aren't cheap, even the entry-level 3-Series starts from $42,300. Add the sound system option that's a pretty hefty $45,500 for a BMW with an excellent—but imperfect—sound system. If you want to go budget and still get an excellent sound system, consider this:
4. MINI Cooper S – Harman Kardon Hi-Fi
MINI is a premium brand, and their cars aren't exactly cheap. However, they're more affordable than the other cars on this list, and out of the cars in this price range, they have the best speakers. Thanks to the 12-speaker system from Harman Kardon, you're going to have a good musical experience in a MINI Cooper.
Note that you'll need to opt for the sportier Cooper S model and then spend around an extra $3,000 for the Iconic Package 2.0 trim to get the Harman Kardon speakers. This applies to all of their lineup, including the Countryman, the Clubman, and the convertible.
If you're buying the 2-door hatchback, this brings the MSRP to about $36,000 before you choose other options such as body color and upholstery. Another option is to spend around an extra $4,000 for the John Cooper Works model. This gives you more power and more performance-oriented parts, and of course, that Harman Kardon sound system as standard.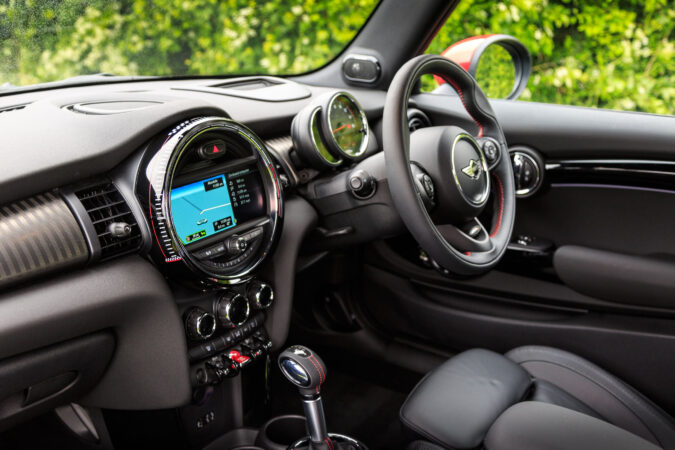 However, before you head to the MINI dealer, note that the Harman Kardon system in the MINI is the lower-end S674A model Hi-Fi rather than the S688A Surround Sound system. This is the system that Harman Kardon uses in smaller BMW cars, such as the BMW i3, 2-Series, and the MINI Cooper lineup due to chassis size constraints.
While it's still a very good system, it's not going to be up to standard for you audiophiles. I've had first-hand experience with the HK speakers in both the new and older MINIs. And while it didn't blow me away, I can say it's a very satisfying audio system. Good clarity overall, but a little lacking in bass.
5. Lexus – Mark Levinson
Mark Levinson has been Lexus' partner since 2001, and it's a subsidiary of Harman Kardon. So, it's no surprise that they make some of the best car sound systems on the market.
There are a couple of versions of the Mark Levinson system in Lexus, and you'll want the Navigation/Mark Levinson Premium Audio Package which is a $3,365 option.
It's available on almost all of their lineups, including the NX, RX, and LS sedan amongst others. This package includes a 15-speaker, 835-watt surround sound system, and Lexus' in-house navigation system with a 12.3-inch touchscreen display.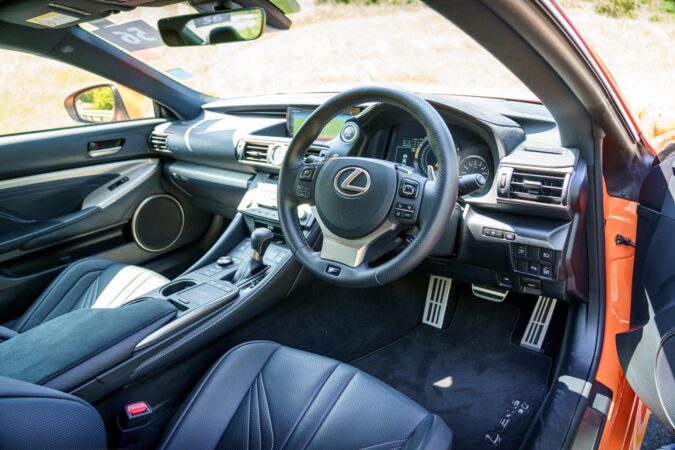 It's not the absolute best system, but it has great clarity and bass all-around. The downside is that the equalizer is limited, so you can't fine-tune it to your taste. Still, you won't be disappointed.
One last note, the Lexus LX lineup has a different Mark Levinson system with a 25-speaker setup. However, we've seen reviews saying that the mid-range sounds a bit muddy, and it's a little disappointing for a flagship car such as the LX. So, manage your expectations.
6. Cadillac Escalade – AKG Studio Reference
If you're looking to buy a large SUV with the absolute best speakers, consider the Cadillac Escalade over the Lexus LX. Cadillac's partner is AKG, an Austrian audio company also owned by Harman Kardon.
While not quite as prestigious as the other brands here, they're still a renowned audio company and make some very excellent earphones. And their 36-speaker system in the Escalade is one of the best in the market—possibly beating the Mercedes' Burmester system.
The AKG Studio Reference system is a 36-speaker system with a 28-channel amplifier. The highlight of the system is just how clear and crisp it sounds even when playing music at a very high volume.
It's currently available only in the Premium Luxury and Sport trim of the Escalade. And you'll need to add a few other packages, which all add up to $9,550.
That is a lot of money, but you do get a lot of features with the package. Including an electronic limited slip-differential, magnetic ride control, and a smart trailer integration indicator among others.
7. Audi A8 – Bang & Olufsen Premium
Bang & Olufsen is a Danish maker of high-end consumer electronics including audio products. Their home speakers look absolutely beautiful in design and sound as good as it looks.
The ones in Audi though are a little underwhelming in terms of design. But they still produce great sound quality just like their home audio counterparts.
Higher trim versions of their cars come with a Bang & Olufsen system as standard. Meanwhile, the A8 lineup comes with a set of premium speakers. This brings 3D surround sound to the car and a BeoCore amplifier with 23 channels.
8. Rolls Royce Bespoke Audio
We can't possibly make a list of cars with the best audio system without mentioning Rolls Royce now, can we? Unlike other carmakers, the ultra-luxury British carmaker went out and develop its own audio system. A third party probably still supplied the components, but the design was done in-house.
Rolls Royce has a standard 16-speaker system. But for their audiophile customers, there's a Bespoke Audio system with 18 speakers and a 1,300-watt amplifier.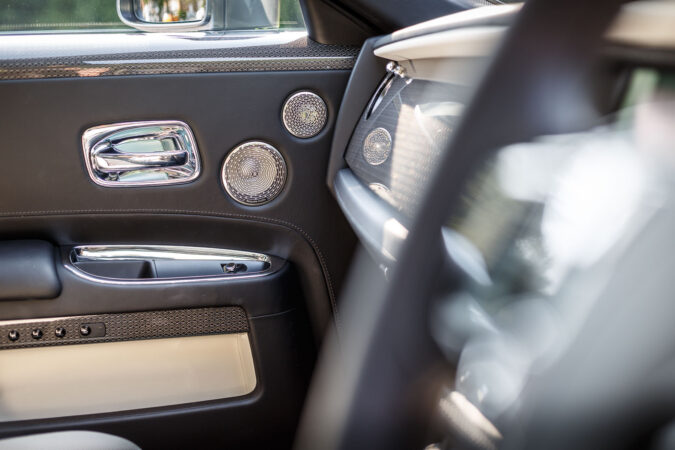 The goal was to create a studio inside the car. And reviews indicate that Rolls Royce succeeded in achieving this goal. AutoExpress UK notes that the system produces an expansive sound stage and that the bass was deep but remained crisp.
We're not quite sure how much this option costs. But just like their cars, it's probably out of reach for us mere mortals. Additionally, they design and place the speakers differently in each Rolls Royce model to achieve the same sound quality regardless of the model. It's truly bespoke.
Best Aftermarket Car Speakers
If you find the sound quality in your current car a little lacking, then there are plenty of aftermarket options out there. We're going to quickly mention some speakers, subwoofers, and amplifier recommendations here:
| Aftermarket Speakers | Price And Configuration (Prices May Vary) | Amazon Product Page |
| --- | --- | --- |
| JBL GTO629 Premium 6.5-Inch | $140 for a set of two | |
| Rockford Fosgate Prime R169X2 | $60 – $90 for a set depending on the size | |
| Alpine SPS-610 6.5-inch 2-way | $110 for a set of two | |
| Kenwood KFC-1696PS 6.5-inch 2-way speakers | $63 for a pair | |
| JBL Arena X12 | $586 (subwoofer only and requires a custom enclosure) | |
| JBL GT-BassPro | $250 (subwoofer only, all-in-one and doesn't require custom enclosure) | |
| MB Quart PS1-316 | $317 (complete set) | |
| Rockford Fosgate P400x4 Amplifier | $340 | |
| Alpine MRV-F300 Amplifier | $230 | |
| Rockford Fosgate R2-500X4 Prime Amplifier | $330 | |
So, there are quite a lot of options out there. Our first four options are only the speakers, but they're 2-way speakers meaning it already includes the tweeter in the enclosure. And if you need a subwoofer, then consider the JBLs.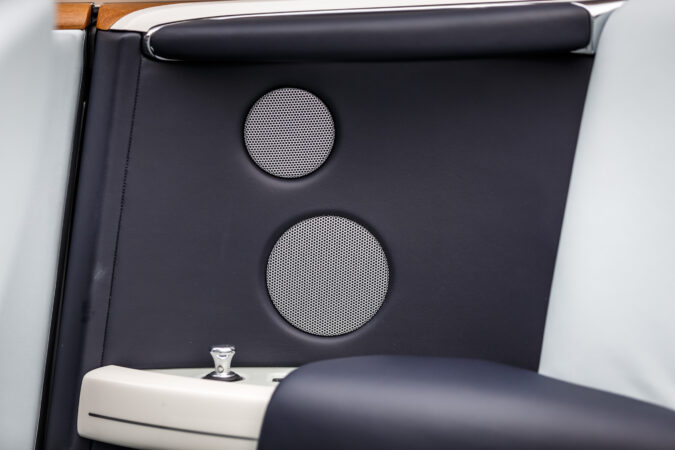 If you don't want the hassle of picking out different brands, we recommend taking a look at the MB Quart PS1-316. It includes a total of six speakers and an external crossover network to separate the sound range. Of course, you'll need to check if it will fit your car.
Meanwhile, the final three options are amplifiers from Rockford Fosgate and Alpine. All are very good options, with the Rockford Fosgate P400X4 being the top pick. We recommend visiting the product pages to learn more.
Best Car Audio Setup For Sound Quality
If you're planning to install a new sound system in your car, here are the things you should keep in mind:
Check the speaker sensitivity, which is the decibel rating. You'll want speakers that have a sensitivity rating of at least 90dB. The higher the rating, the better sound it can produce with less power.
Make sure the speaker fits in your car. Otherwise, you'll need to do some fabrication. Websites like Crutchfield have a tool to filter the speakers that will fit your car.
Get speakers with a good range of frequency responses. Most speakers have a frequency response between 50 to 20,000 Hertz.
Location. There are three speakers: tweeter, midrange/woofer, and subwoofer. Many aftermarket systems have them in one housing, but for the best result, a tweeter should be separate and placed higher up somewhere on the A-pillars.
Get an amplifier. Some aftermarket head units come with an amplifier built-in, and the more channels it has the better. This helps to produce better sound quality from your speakers.
There are more things to consider, such as the material. For example, ceramic or metal tweeters will produce a crisper sound. We recommend watching the video above to learn in more detail about what you should consider when choosing an aftermarket sound system.
In my experience, it's best to have at least eight speakers in the car: two tweeters, four midranges (two each in the front and back doors), and two subwoofers. If you're after that deep bass, putting the subwoofers underneath the seats will help.
Of course, every car is different. If you're still not sure, it's probably a good idea to consult first with a car audio shop near you. Where's Xzibit when you need him?
Aftermarket Sound System Cost
The cost will vary depending on the sound system you're buying, and your car's make and model. The sound system in some cars is more difficult to replace, hence higher labor costs.
On average though you can expect a straightforward speaker replacement to cost around $200 in labor cost. A more complex setup will cost around $400. And if fabrication or custom job is necessary—such as installing a separate tweeter—expect it to go up to around $600 on top of the sound system's price.
How To Install
The process of installing a sound system varies from car to car. Especially if you're going to need custom or fabrication to install separate tweeters, subwoofers, and amplifiers.
If you're getting two-way or three-way speakers (the tweeter and/or the subwoofers are built-in in one woofer housing) it's going to be a lot easier. Since all you have to do is take out the old speakers and install the new ones in the existing housing in your car's doors.
Note that it will still require you to remove the door panel, and then wire the new speakers to the head unit. Needless to say, you'll also need to wire the head unit if you're getting a new one and the amplifier.
The video above from Donut Media is an example of a very simple setup to improve the subpar stock system in their Mazda Miata project car. All they had to do was install an amplifier in the trunk. And then replace the existing speakers with the new ones.
The difficulty really depends on your car. The door trims in some cars are harder to dismantle, others are more difficult. If you're not comfortable with electrical jobs like this, we recommend just going to a professional to do the job for you.
Best Car Audio Systems: Facts You Need to Know
The best car audio systems can create an immersive cocoon of sound, enhancing the feeling of tracks while driving.
The sound system of a car is referred to as the "emotional engine" of a car, and should not be considered an afterthought.
Top car manufacturers are now putting the same thought into their audio systems as they do with the overall car design, partnering with big audio brands to create powerful sonic experiences within a vehicle.
McLaren and Bowers & Wilkins have developed a 12-speaker premium audio system with available carbon-fiber sub-bass woofers and Kevlar mid-range drive units for the McLaren GT.
Bose has partnered with Chevrolet to create a stunning 14-speaker Bose Performance system for the Chevrolet Corvette Stingray, providing true studio-quality sound.
The Jaguar F-TYPE is fitted with a Meridian sound system that delivers a total of 380 watts of big, bright sound, with dual subwoofers in the back to really bring out the bass.
Acura's ELS STUDIO 3D Sound System, which comes standard on most of its new TLX models, delivers an immersive 3D soundscape, with the ability to play tunes in true 5.1 surround sound.
Land Rover and Meridian have partnered on a state-of-the-art sound system with a focus on music clarity and authenticity, with the ability to deliver up to 1700 watts.
Lincoln has brought the concert experience into its new fleet of vehicles with a 14-speaker premium Revel audio system, which delivers warm, spacious sound into the luxe two-row SUV.
Lincoln pays tribute to its Detroit roots, working with the Detroit Symphony Orchestra on custom "symphonic chimes" that work as car alerts, adding a subtle nod to the musical legacy of the Motor City.
FAQs About Cars With Best Sound System
Got any more questions about car speakers? These answers below might be helpful for you:
How Many Speakers Are In My Car
This depends on the car you have and its trim level. Most cars with entry-level speakers will have between 6 to 10 speakers. This usually includes four mid-range speakers, a couple of tweeters, and maybe one or two subwoofers. Tweeters usually sit on the A-pillars, mid-range are the ones on the lower part of the doors, and subwoofers are usually either behind the dashboard or underneath the seats.
What Are The Best Car Speakers
Some of the best speakers are the Rockford Fosgate, Alpine SPS-610, and Kenwood KFC-1696PS. It all depends on your preference; some are better for rock music, and others focus on giving you a deep and heavy bass. If none of those fit your car, look at other renowned brands such as Pioneer, JL Audio, and Boss Audio Systems.
What Kind Of Speakers Are In My Car
Most cars have either standard or coaxial speakers. In the simplest terms, a coaxial speaker is multiple speakers in one assembly. This includes the tweeter and a midrange, and sometimes the subwoofer as well. Coaxial sounds better than a standard speaker. However, many premium cars typically don't use this setup. Rather, the tweeter and subwoofers are separate. And this produces a better and more rounded sound. You'll need to find information online to find out the type of speakers in your specific make and model, as they usually don't mention in the spec sheet.
Are Aftermarket Car Speakers Better
Aftermarket speakers are generally better than most factory speakers in cars without a premium or branded sound system. This is largely due to factory speakers using foam and paper as their material, which produces a nice warm sound but isn't very crisp. Additionally, they tend to deteriorate a lot faster.
How Much Is A Sound System For A Car
It depends on the brand, quality, how many speakers, and the level of fabrication necessary to fit the speakers in your car. Some speakers may need custom brackets to fit in your car's make and model. You can get a sound system for about $200, but a high-quality system is usually around $400 to $600 but it could be more.
What Car Has The Best Sound System
Overall, we'd say the Cadillac Escalade with the AKG Studio Reference system is currently the best. But for the best bang-for-your-buck, consider Volvo's lineup with the Bowers & Wilkins. They produce great sound quality, and their cars are much more affordable than the Escalade.
Cars With Best Sound System: Final Thoughts
Mercedes-Benz and Cadillac seem to have the best car speakers in the market right now. Of course, there's Rolls Royce's Bespoke Audio system. But their cars aren't exactly mass market now, is it? So, Mercedes and Cadillac it is.
They're not exactly cheap brands either, but hey, we're talking about cars with the best sound system here. If you're looking for something cheaper, again, consider Volvo's offerings with the Bowers & Wilkins. They seem to strike a good balance between price and quality, and enough to satisfy the audiophiles among you.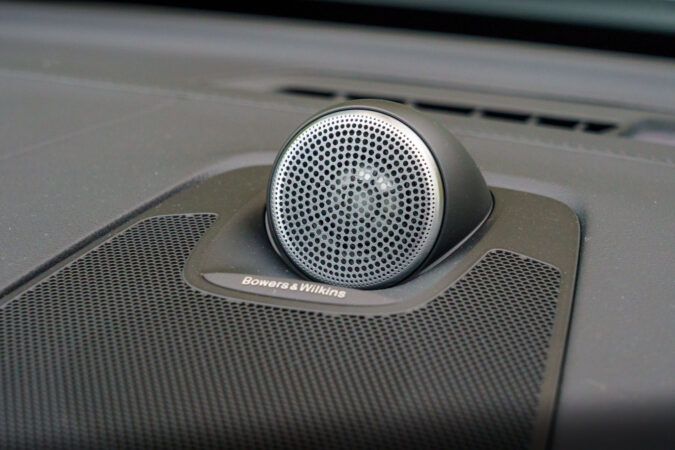 MINI's Harman Kardon system isn't half-bad either. I can tell you from first-hand experience that they sound great and is enough to satisfy a non-audiophile such as myself.
If you're not looking to buy a new car, hopefully, our aftermarket list will help you to make an informed decision. In any case, now you know which car and/or speakers to go for. Time to prepare your driving playlist for your next road trip then.