We got hold of a pair of Columbia Sportswear walking boots for when the road stops but you want to keep going. As much as we love cars, we know that we can't drive everywhere and we need to walk sometimes. A good set of walking boots could make your journey a lot easier. See what we thought of the Men's Columbia Sportswear Terrebonne Outdry Ex Mid Shoe & Women's Columbia Sportswear Redmond Mid Waterproof Hiking Shoe.
Men's Columbia Sportswear Terrebonne Outdry Ex Mid Shoe
The first boot we tested was the Men's Columbia Sportswear Terrebonne Outdry Ex Mid Shoe. We liked the look of this boot from the start, as it's advertised as waterproof yet breathable in extreme conditions. This is created by using a design called OutDry Extreme. As you can see below, the outside of the boot is made up from mostly one material which keeps the water on the outside.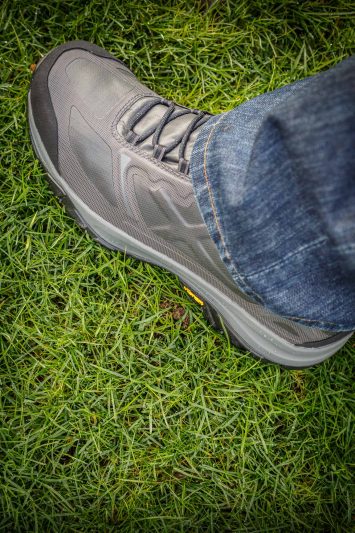 Vibram MONT Performance Durability Outsole
Underneath the hiking boot, there is a Vibram MONT Performance Durability outsole. Vibram specialise in making quality, high-grip outsoles and this is one of their best yet. The Vibram MONT compound is designed for mountaineering, trekking, acrobatic workouts and motorbike racing. They have tested the sole on the highest peaks at low temperatures, so it is well suited to the world's most difficult terrains.
Although my less sophisticated testing in the local valleys wasn't the most extreme, I am happy to report that even on the most difficult terrain, I could find the right level of grip. The protection that the boots offered was fantastic.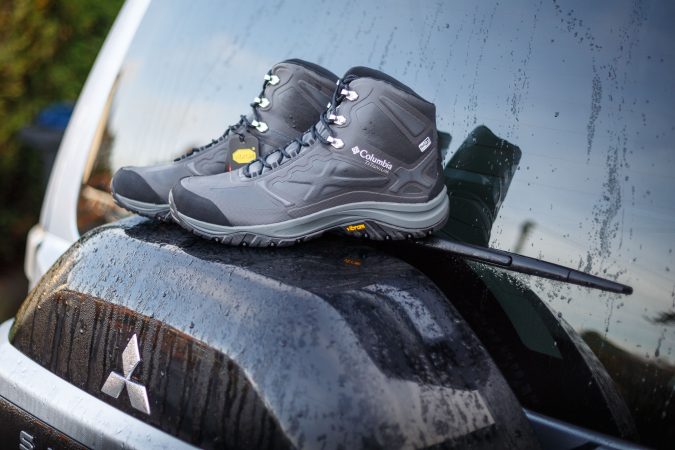 Perfect Walking Comfort
A long hike was no bother for the Columbia walking boots. They feel super lightweight, almost like trainers.  The cushioning around the ankle of the boot is very soft. It gives great support but doesn't cause rubbing.
From my testing, there were two main factors that made this boot so comfortable. Firstly, was how dry the boots kept on a long walk. Secondly, was the quality of the midsole. Its superior cushioning made every step a pleasurable experience rather than a chore.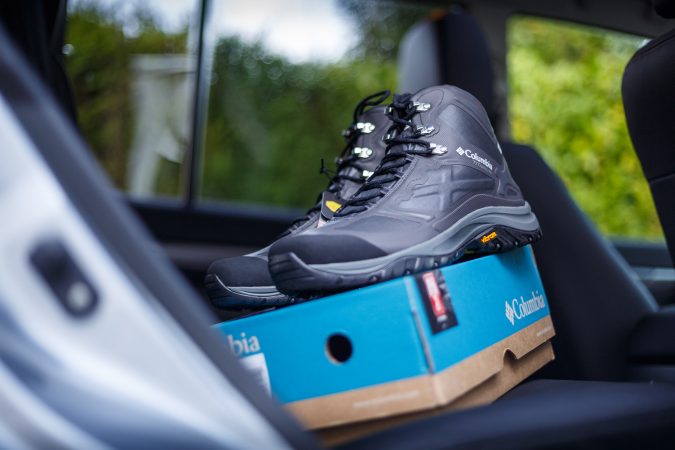 Women's Columbia Sportswear Redmond Mid Waterproof Hiking Shoe
The second set of Columbia walking boots that we tested was the Redmond Mid Waterproof Hiking Shoe. The design is a lot less extreme when compared to the previous boots. This mid-cut hiking shoe is still a waterproof construction with a fully breathable upper material. It is also lightweight and offers extreme traction.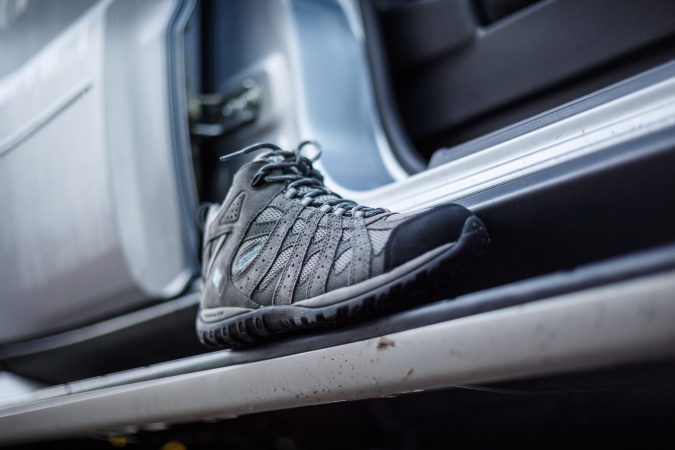 Columbia Design
The shoes have a more informal look to them. They are a nice mix of grey and blue, made from a combination suede leather with mesh, and webbing. They are attractive and fashionable. Their clever design also means that each shoe only weighs 342g.
Inside, the midsole is made up of Techlite which is optimised for long-lasting comfort, superior cushioning, and high energy return.
Omni-Grip Non-marking Traction Rubber
You only need to look at the underside of these shoes to realise they are going to have good grip. The hiking shoes use Omni-Grip technology that has been designed to grip rock, loose dirt, and gravel and also function in and around water.
When going on more difficult walks where grip is important, it can make a real difference. We tested them in snow and ice and they will be our go-to shoes when the weather takes a turn for the worse.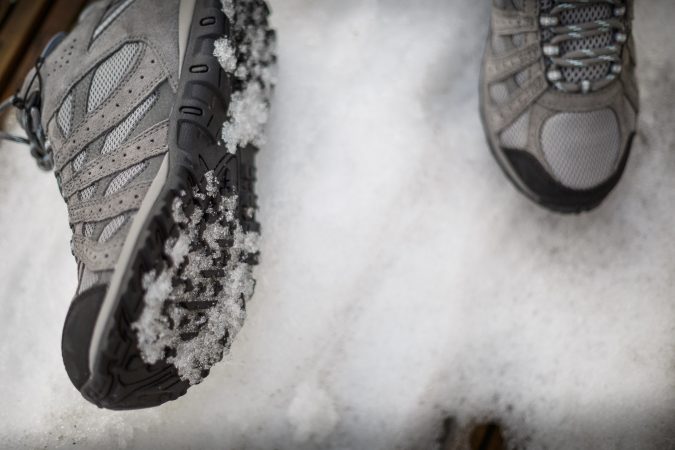 All Round Perfect Pair for Walking
It can be difficult to know what shoes to choose from the vast selection available on the market. Being able to test the Columbia Redmond Mid Waterproof Hiking Shoe was a real eye-opener. They demonstrate just how good a pair of walking shoes can be as they are a reasonable price, lightweight, waterproof and comfortable. What more could you ask for?