Dedicated To An Icon
A stamp commemorating the iconic Fiat 500 has been issued in Turin this month. The new stamp, dedicated to Fiat's memorable model, was issued on the car's 60th birthday.  In a special tribute, the stamp was presented at the birthplace of the 500 back in 1957. A celebratory postmarking ceremony was held in the Mirafiori building in Turin. The event, heralding the new postage stamp, took place in the presence of some of Olivier François, Head of Fiat Brand and FCA Chief Marketing Officer. He was joined by some of Italy's important figureheads. Ivan Scalfarotto, Italian Deputy Minister for Economic Development, and Alfredo Altavilla, Chief Operating Officer FCA EMEA, were amongst the guests.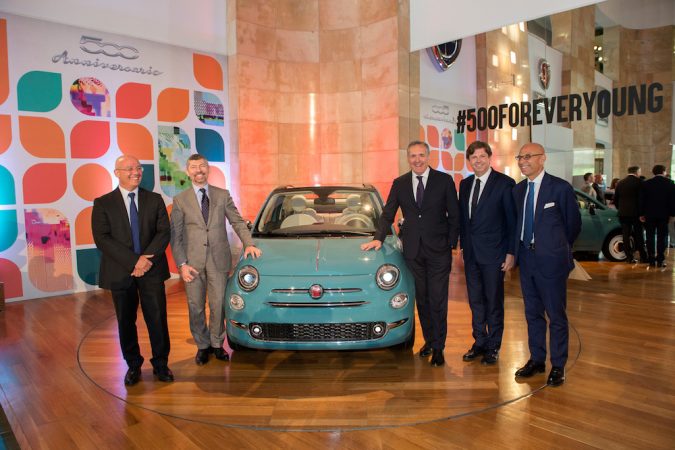 60 Years In The Making
The commemorative stamp celebrates  60 years of Fiat 500 history. It's now regarded as a collector's item, with just one million produced. The stamp went on sale from the 4th July 2017 to fall in line with the 500's birthday. It's printed by Mint and Officina Carte Valori of the State Printing Office, and holds a value of 0.95 Euro.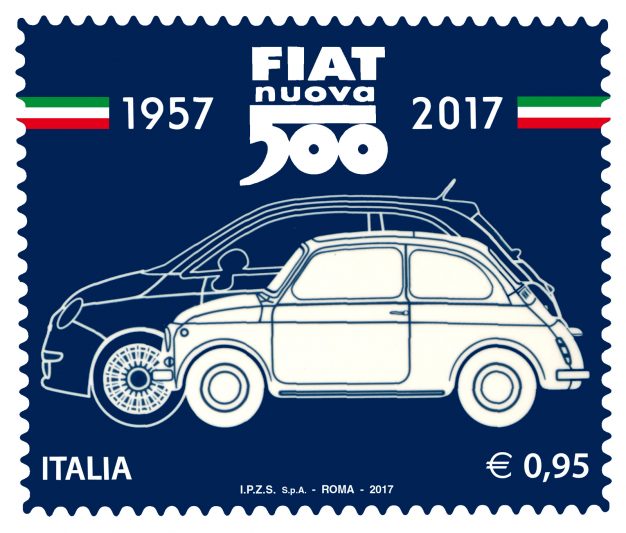 The design of the stamp brilliantly celebrates the evolution of one of the most iconic cars in the world. The unmistakable outline of the classic Fiat 500 is superimposed onto the image of the current model. Both silhouettes stand out against a deep blue background, with the colours of the Italian flag streaming above. In tribute to the 500's history, the words "Fiat Nuova 500" are written in the same font as the original 1957 advertising posters. The dates 1957-2017 are also present on the stamp, heralding the car's 60 year anniversary.
Homage To A Legend
The miniature tribute pays its respects to a true Italian legend. The 500 accompanied Italy's economic recovery before exporting all across the globe. The classic model is so popular today that 80% of models are sold outside of Italy. Thanks to its instantly recognisable design, functionality and innovative technologies, the 500 is the leading car in Europe.
The postage stamp pays tribute to a winning design. For decades, the 500 has set the bar for mass-market models. The model has a huge influence in the design of many modern city cars. The 500 made waves again in 2007. The car swung to the forefront of cultural relevance with its compact and classic design, alongside intuitive technology. The 2007 model was an instant hit with modern motorists, and achieved worldwide popularity. The 500's success story, formed over 60 years, is a valuable heritage that few other manufacturers posses.
To this day, the 500 is immensely popular and hugely desirable. The car is a true icon of suave Italian style. The postage stamp heralds 60 years of the Fiat 500's success, but there will certainly be many more to come.