Have you wondered what is the most expensive car in the world? Which car carries the greatest value around and makes all car owners envious? The short answer is that it is not a Bugatti like many of you thought it was. But a Mercedes Benz. You probably are asking yourself the question which Benz is this since the most expensive Benz would set you back "just" around $200,000? Well, this is a diamond encrusted Benz that was modified in order to boost its value up.
Modifying cars to boost the value of the vehicle has always been present and there are thousands of examples out there that were modified either by inserting precious stones and gold on the body of the vehicle. Or by adding some custom paint jobs that look spectacular and cost quite a lot of money and man-hours to be performed for that result to be delivered.
Either way, if you are one of those guys that want to have the most unique and special car on the road and this article is probably for you. Because we are going to cover a lot when it comes to adding custom touches to vehicles.
In this article, we will learn the story of the diamond encrusted Benz. Then we will discuss car customization and the ways you can customize your car on the cheap. So, follow along.
What Car Is The Diamond Encrusted Benz?
The diamond encrusted Benz is a Mercedes SL600. This Mercedes Benz is based on the R230 chassis and was produced between 2001 to 2007. It is an older model for sure, but that doesn't mean that it is less beautiful.
When I was a kid, these Mercedes cars were one of the most stunning and most expensive models that you could get if you were a rich guy. But since then, they have dropped in value significantly and are much more affordable by today's standard. Considering that the early models of the SL600 are more than 20 years old by now.
The SL600 was the top of the line in the SL lineup short only to the SL65 AMG that was the most powerful model around. But even though the SL600 is considerably less powerful than its bigger brother the SL65 AMG. It still packs some power under the hood with that powerful V12 engine producing almost 500hp and 590 lb-ft of torque. This Benz is a real torque monster and it simply goes forever.
The V12 engine is considered to be one of the smoothest engines ever produced. Even if you place a coin on the top of the engine it will not fall off when you rev it. It is that good.
And if you are an SL600 fan and you love your car. Is it any better way to customize it than adding 4.8 million worth of diamonds on it? I think not! This is crazy, to be honest, during my long career as a motor journalist I have never seen such modification. But how this was made possible for the owner to add so many diamonds to his car? Let's find out.
How Was The Diamond Encrusted Benz Made Possible?
This car, the diamond encrusted Benz was unveiled in 2007 at the Dubai Auto Show. The project was specifically made to make a homage to the longevity of the SL nameplate and to celebrate the longevity of almost 50 years of production of the SL model.
And what is the best way of celebrating this long history than covering the whole car with diamonds? There were 300,000 diamonds with a total worth of 4.8 million US dollars at the time. And adjusted with inflation this car could be worth more than 5.5 million dollars in today's money, which is insane.
The car is owned by the Saudi prince al-Waleed bin Talal bin Abdul-Aziz that was one of the top 10 richest people on the planet by Forbes at the time. A huge car fan with more than 50 cars in its collection.
This diamond encrusted Benz was a real challenge with 13 experts working on it for two weeks to get the Benz ready on time for the show. The Benz was covered with more than 300,000 small diamonds that made the whole car look spectacular.
But would you be brave enough to drive it on the street without the worry that someone could do something to it or you accidentally damage it? Any repair on this car could cost hundreds of thousands of dollars and it's basically worth a fortune. With $4.8 million, this could easily be the most expensive car in the world.
Imagining a Bugatti Chiron is only costing somewhere between 3 to 3.5 million euros, this car's value is far more than anything else on the market. But since we discuss customizing cars, now let's see what are the ways that you can customize a car and make it unique.
How To Customize A Car Like The Diamond Encrusted Benz?
Everyone loves to leave their own stamp on some product. Products like mobile phones, laptops, or a car as we saw above with the diamond encrusted Benz. There are millions of ways that you can customize a car and make it look spectacular and most importantly, unique.
Some people, just want to be unique and be different from the crowd. Everyone can afford the same car. But can they can make it look that good as your car? For example, people will say "oh another M3", but if you want to modify your M3 and add some custom touches like a rear diffuser or spoiler, people will say "here is a cool M3 with an amazing spoiler".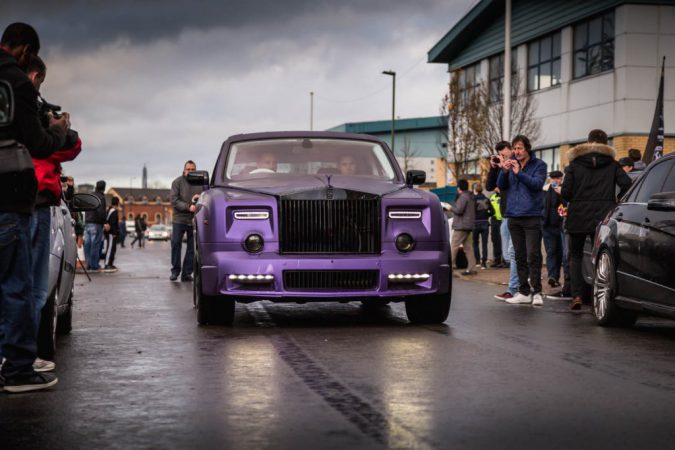 And that's what's different when you try to add your own touches on a car. You basically put your name on it and make it one of a kind. There wouldn't be any car on the road that will resemble your car and your car would be easily distinguishable and unique.
That's why modifying your car is an excellent idea. You will make your car wear your DNA. But how you can modify a car and make it unique. What are the ways that you can make it look spectacular like the diamond encrusted Benz that we discussed above? But on the cheap! Let's find out.
Add Custom Paint Job Or A Wrap
Almost all cars these days are painted with the same boring black, white, or gray colors. All of them look the same and do not have character.
Color is important if you want to make your car stand out from the crowd and look spectacular. But how you can do it? If you have a hooptie, you can do all this process at home in your garage.
Custom Paint Job
You will only need a compressor, paint gun, and paint. Not to forget about a lot of free time at your disposal since paint jobs are not done in a day or a weekend.
This project will highly likely take you months or even years in some cases. There are people that started a restoration or paint project and they have never finished it. Some of them by lack of money but some of them by lack of will.
That's why when you want to make your car unique like the diamond crusted Benz. You need to invest a lot of time, love, and money into this car and make everything perfect. So, if you are prepared to take on the task and try to make your car special, then you are good to go.
The cheaper the car the better, since you will not have to spend a ton of money on expensive paint and metalwork. You will just be able to find replacement panels from a junkyard and put them back together.
If you don't have a ton of time to spend on the car and you want this job to be done quickly and effectively. You can take your car to Maaco and pay them $400 for a paint job. This paint job may be cheap but you need to prepare the car and remove all of the components like headlights and blinkers to make it ready to paint. You also need to get paint supplies as well.
If you want a quality paint job, you can expect to pay a lot more and this custom paint job will cost you between $2,000 to $6,000 if you want everything to be done at the shop.
Custom Wrap
A custom wrap is also another great idea to increase the visual appealing of your vehicle. Since wraps do not cost like painting the car costs and they are far simpler to install.
Not to mention the choice of colors which is extremely big and you can wrap your car into anything. There are also camo wraps that will make your car look extremely appealing and unique on the road.
Not to mention that wraps last for a couple of years and you can just peel them off from the car if you don't enjoy the looks anymore. This is perfect if you want to change the looks of your car more often.
So, how is wrapping done? Wrapping is done by special shops that also tint windows and also install protective films on cars. Depending on your car and the wrap that you will choose, prices can vary and you can expect to pay a considerable amount of money to get this done right.
The bigger the car, the more material and time will be involved in getting this work done right. You can expect to pay somewhere between $1,500 to $5,000 if you own an exotic vehicle that is extremely tricky to do. Still, far cheaper than the diamond encrusted Benz that we have covered before.
Not to mention that every wrap costs differently since some wraps are higher quality than others and the manufacturing process is far more expensive compared to cheaper options out there.
Custom Wheels
Custom wheels are another cool option that you can consider if you want to improve the appeal of your car. These wheels come in all sizes.
It's up to you to pick the ones that work best for your car and make sure that will fit the wheel wells perfectly. This is key because you cannot install just any wheel on your car.
Not to mention the bolt pattern should also match with your car and you cannot use a bolt pattern from another car because some wheels have four, some have five bolts and some even have six bolts that are holding the wheel. That's why you need to work with what you have and find the best for that specific bolt pattern.
When it comes to custom rims. There are hundreds of companies that make them. Some of them make really expensive wheels and can cost you like you bought that diamond encrusted Benz that we covered before. While some of them are far cheaper and relatively inexpensive.
They will change the look of your car and make it look exquisite. Especially if they are bigger in size and are running some low-profile rims.
You can also snatch a good deal from Facebook Marketplace. Where people have already swapped their rims and want to get rid of the old rims on the cheap. And you could get a good deal for these.
Another option is to get brand new wheels. But they are going to cost you more than getting used ones. You can expect to pay somewhere between $500 to $2,000 depending on the wheel and also the quality. That's why you need to plan your budget smart. Just be aware of Chinese knock-offs. Some of them are really low quality.
Custom Interior
Adding a custom interior is another way to leave a good impression on your occupants and get a lot of compliments. Almost all car interiors look bland and pretty much the same. There is nothing really that is going on inside.
That's why you need to make the interior look better. Start from simple things like the floor mats. In every car, you get the same cheap rubber floor mats that don't look particularly good.
You can replace them with something fancier like a cloth floor mat with stitching that matches your exterior car color. This will look splendid.
Another way to add a custom touch to the interior is to get a new steering wheel. Or restitch the already existing one with the same color as your car color. This new look is going to give the interior an extra depth that will make it look exquisite.
Another cheap mod that you can do is custom LED lighting in the foot area. Something similar to what Mercedes is installing on their expensive cars. These LEDs can be found on AliExpress for a few dollars. You just need to install them and then your car will look a million times better at night. But be aware, that you want the interior to be classy and not like a ricercar. All these changes need to be nice and subtle. That's how you will get the most of it.
One of the better mods that you can do is to get a proper infotainment system for your car. There are plenty of options on the market for different vehicles that offer the chance to retrofit a new infotainment system in your vehicle. These systems usually cost between $200 to $500 and are plug-and-play.
Window Tint
When it comes to improvement to the visuals, tinting the windows is also a good idea to do. Why I'm saying this? This is the case because window tints give the car that extra depth and make it look more mysterious let's say. Everyone is asking himself what is behind that tint. That's why if you have tint on the windows, people going to look at your car quite more compared to when the car is tintless.
But be aware that there are laws when it comes to window tinting and you are not allowed to use those reflective tints that look like mirrors like that diamond encrusted Benz that we have covered before.
Also, it is not allowed to install window tint on the front windshield and the driver and passenger windows. If you install tint on the front windshield you are going to be pulled over and fined right away. If you install it on the driver and passenger windows you might get away from it for some time but eventually, you will face a police officer that will not like your mod and will fine you as well.
Everything behind the B pillar is allowed to tint and you can make it look dark as much as you like. Also, with tinting the windows you also preserve the interior. The window tint acts as a protective layer when it comes to not allowing UV lights to enter the cabin and damage the interior besides looking good.
That's why it is a good idea to have a tint installed on your vehicle. It will improve the looks as well preserving your car in the long run.
Aerodynamic Upgrades
Aerodynamic upgrades can also make your car visually appealing more than a regular car. And on the market, there are quite a lot of them, to be honest.
They depend much on the make and model of your vehicle. That's why you need to get a car that is a good platform for mods and there is a lot of following when it comes to that specific model. Let say you own a BMW 3 series, Mustang, or a Dodge product like the Charger or the Challenger. All these cars are very good platforms when it comes to mods. And the aftermarket is full of components designed to be bolt-on when it comes to these cars.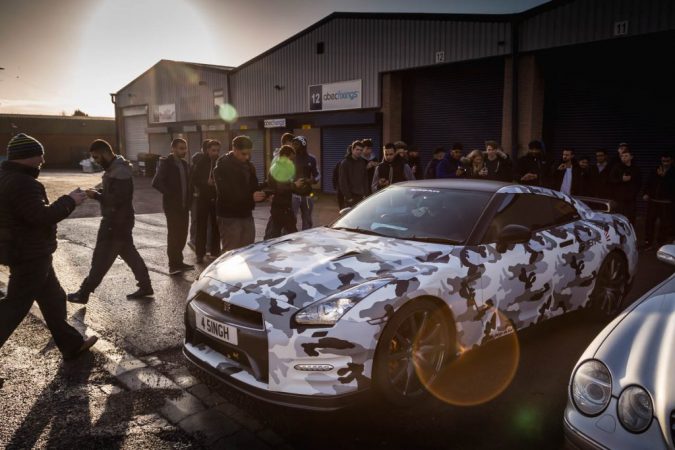 You can get front lip spoilers, new grills, side skirts, rear diffusers, and spoilers. Basically, everything you need to make your car stand out from the crowd. They will also cost you quite a bit of money. But the results will be worth it. Similarly, to the diamond encrusted Benz that we have covered at the beginning of the article.
Performance Upgrades
Adding a performance upgrade can also improve your vehicle's styling as well. For example, if you add a powder-coated valve cover to your engine. Or installing aftermarket exhaust that will make the car scream. This will also improve the flow of exhaust, wining you some extra horsepower. Since we already know that better flow means more performance.
Installing aftermarket brakes can also improve the visuals as well the performance. Everyone wants big Brembo's on their car and for a reason. Their red color is striking and they gather a lot of attention.
Also, using light green, smurf blue or similar colors on your brake calipers can make them look much better than they already are. So, if you haven't painted the calipers already, you can give it a try. A spray can of paint is only a few dollars and the result will tell a lot when you are done with it.
The wheels are another performance part as well, we mentioned them above. But to add that painting them as well can improve the appealing of the wheels and take them to the next level. Powder coating is a trend right now when it comes to wheels.
World's Most Expensive Car Mercedes With 300,000 Diamonds – $4.8 Million Diamond Car
The most expensive car in the world is a diamond car, a mink-furnished Mercedes SL600, worth $4.8 million.
The car is adorned with 300,000 diamonds and was unveiled at a Dubai auto show to celebrate the 50th anniversary of the Mercedes-Benz SL550 in 2007.
The car is the property of Saudi Prince (Amir) al-Waleed bin Talal bin Abdul-Aziz, one of the top 10 richest people in the world according to Forbes.
There are two versions of the diamond Mercedes: the original white color and the gold color.
Thirteen experts worked on the car for two weeks to attach the 300,000 diamonds to its exterior.
A single touch on the diamond car costs $1,000, and any scratch would cost thousands of dollars to repair.
The diamond-studded car is equipped with a powerful V8 and V12 engine that could help the car accelerate from 0 to 60 mph in 4.4 seconds.
The car's interior is the Mercedes-Benz SL600 2007, which is known for its elegant styling, cutting-edge technology, and impressive performance.
The diamond Mercedes SL600 features diamond-studded logos, and even its exhaust pipes are covered in diamonds.
The diamond car is part of Prince Waleed's collection of 50 cars.
Conclusion – Diamond Encrusted Benz
In this article, we have covered the diamond encrusted Benz and learned its story. One of the coolest cars out there for sure. Unfortunately, many years have passed since the Dubai Auto Show where this car was premiered and we don't know the fate of the diamond encrusted Benz. Where is it now and what has happened to it? Who knows? That will remain a mystery.
Later in the article, we covered a lot when it comes to visual upgrades on your car. There are tons and tons of ways that you can customize your car and make it look extra appealing. Some of them are cheaper while some of them are more expensive. It's up to you to find out what works best for you and your budget.