Interested in buying a car with the Dodge 4.7 V8 engine? You've come to the right place, we'll be discussing this engine. From its history, technical specifications, as well as a list of common problems you can expect from this engine. And if you do decide to buy a car with this engine, we've got a list of mods that you can install to squeeze more power out of the engine.
4.7 Dodge Engine
The Dodge 4.7 engine is a 4.7L V8 gasoline engine. The engine was actually made by Chrysler, but it was fitted to several Dodge models. Hence it's often referred to as the Dodge 4.7 engine. Dubbed as the Chrysler PowerTech engine and sometimes called the Magnum engine.
This engine was initially developed by American Motors Corporation (AMC) but it's credited to Chrysler and it was made in good old Motor City, Detroit. The engine made its debut in 1999, first appearing in the second-generation Jeep Grand Cherokee. Afterward, several cars from Dodge, Jeep, and even Mitsubishi started using this engine.
There are three versions of the Chrysler PowerTech engine. The first is the 4.7L V8, and then there's the 4.7L "HO" or high-output version. And finally a smaller 3.7 V6 version of the PowerTech engine, which is basically the same engine but with two cylinders removed.
There was also a 2008 revision for the 4.7L V8 "HO" engine with a different camshaft profile, a new combustion system design, and other upgrades that made the engine more powerful. The engine stayed in production up until 2013, staying in production for 15 years and 3 million units were built.
Chrysler has since replaced it with modern versions of their 3rd-generation Hemi engine. Before continuing, we'd like to mention we may refer to this engine as either the PowerTech or the Dodge engine throughout the article.
4.7 Dodge Engine Specs
As mentioned, there have been two versions of the Dodge 4.7 engine, with an update for 2008 and onwards. Here are the specs of the engine:
Dodge/Chrysler 4.7-Liter Magnum/PowerTech V8
Performance
Layout
4-stroke, V8 (eight-cylinder)
Aspiration
Naturally-Aspirated
Fuel
Gasoline
Fuel System
Sequential Multiport Fuel Injection
Production Years
1999 to 2013
Engine Displacement
4.7-liter (4,701cc or 287.0 cubic inches)
Horsepower
235hp (peak power at 4,800RPM) or 265hp (peak power at 4,800RPM, High-Output variants)
Torque
294.8lb-ft (peak torque at 3,200RPM) or 329.9lb-ft (peak torque at 3,200RPM, High-Output variants)
Firing Order
1-8-4-3-6-5-7-2
Cylinder Block
Block Alloy
Cast Iron
Compression Ratio
9.0:1 (9.7:1 for High-Output variants or 9.8:1 for 2008 and later model years)
Cylinder Bore
3.66 inches
Piston Stroke
3.41 inches
Cylinder Diameter
3.6590 to 3.6650 inches (inner)
Crankshaft Main Journal Diameter
2.4995 to 2.5005 inches
Cylinder Head
Head Alloy
Aluminum
Valve Configuration
Single Overhead Camshaft (SOHC)
Valves
16 Valves (2 per cylinder)
Intake Valve Timing
243.5°
Exhaust Valve Timing
253.7°
Maintenance
Oil Type
5W-30 (or 5W-20 for 2008 and later model years)
Recommended Oil API
Daimler-Chrysler or Mopar
Oil Capacity
5.9 quarts US (or 4.9 quarts Imperial) with oil filter
Oil Change Interval
6,000 miles or 6 months
Oil Pressure
7 psi at idle (or 35 psi to 105 psi while running)
Spark Plug Gap
0.043 inches
Spark Plug Torque
19.9ft-lb
First-Generation
The PowerTech engine has a displacement of 4.7L (4,698cc) or 286 cubic inches with a bore and stroke of 3.66 in x 3.405 in (93mmx 86.5mm). The engine uses a cast-iron block and aluminum heads with two valves per cylinder. This version of the engine has a compression ratio of 9.0:1, while future versions have a higher compression.
The Dodge 4.7L engine initially produced 235 horsepower at 4,600rpm with maximum revolutions of 6,000rpm. Meanwhile, the torque tops out at 295lb-ft or 400Nm at 4,000rpm.
 

View this post on Instagram

 
All this power is transferred through either a four-speed or a five-speed automatic transmission and there's also a five-speed manual option as well in some cars. The engine isn't particularly powerful by modern standards, but it was plenty enough back in the early 2000s.
Fuel consumption of the PowerTech engine varies from car to car, as the car's size and weight can affect it. However, you can expect the PowerTech engine to do around 14 to 17 mpg. Here's a list of the cars that use this engine:
1999–2009 Jeep Grand Cherokee
2006–2009 Jeep Commander
2000–2009 Dodge Durango
2002–2007 Dodge Ram 1500
2006–2007 Mitsubishi Raider
2007–2009 Chrysler Aspen
Second-Generation
Chrysler updated their PowerTech engine in 2002 and dubbed it as "HO", which stands for High-Output. As the name implies, this update means the 4.7 V8 was more powerful. The engine compression ratio is higher at 9.7:1 and power went up by 30 horsepower so the engine now churns out 265 horsepower.
And the torque figures are higher as well at around 330lb-ft (447Nm). If you have the HO or the first generation engine, then you will need an SAE 5W-30 oil for the engine. Cars that use this engine include:
 

View this post on Instagram

 
2002–2004 Jeep Grand Cherokee
2007–2008 Jeep Grand Cherokee
2007–2008 Dodge Dakota & Dodge Ram 1500
Third Generation
In 2008 Chrysler made their final update to the 4.7L V8. Chrysler internally refers to this engine as the Corsair and there are significant improvements on the engine. This includes dual spark plugs per cylinder, a new combustion system design, a higher compression ratio at 9.8:0, and an improved camshaft and intake manifold. However, apart from that, it was still the same 4.7L V8 with a single overhead camshaft or SOHC. This time the engine needs SAE 5W-20 oil to lubricate it.
All these upgrades resulted in more power with the Corsair engine producing as high as 310 horsepower and 334lb-ft (453Nm) of torque. Even with 310 horsepower it still isn't particularly powerful by modern standards, especially when you consider how big the displacement is. But this last update does make the engine more up-to-date and higher power output is always welcome.
The Corsair engine was used in the same Dodge vehicles that used the second generation engine, while Jeep opted for a Hemi 5.7L V8 instead from 2008 onwards. Chrysler then finally stopped production of the engine in 2013 and Dodge has used their third-generation Hemi engines since.
 

View this post on Instagram

 
Dodge 4.7 Firing Order
Another thing about the 4.7 Dodge V8 engine is that most of you are quite curious to figure out its firing order. Note, the actual firing order may vary from one vehicle to another. In other words, even though a Jeep, a Chrysler, and a Dodge might have a similar 4.7 Dodge engine, their respective firing orders might be slightly different.
On the bright side, most of these 4.7 Dodge engines (as with some other automakers) have the firing order stamped somewhere near the engine. For example, in some RAM 1500 models, the exact firing order (as well as cylinder positioning) is stamped on the intake manifold, just under the air cleaner.
In a majority (although not necessarily all) of the Dodge 4.7 V8 engines made, their firing orders are similar. These being (in ascending order from left to right), cylinders 1, 8, 4, 3, 6, 5, 7, and lastly, 2. These might differ from other models, so be sure to check and ascertain the firing order first.
Dodge 4.7 Engine Problems
Every engine has its own list of common problems, the PowerTech engine included. If you're planning to buy a car with this engine then these are the common problems you should be aware of:
1. Cooling System And Overheating Problems
To be clear, pretty much any engine will develop problems with its cooling system over its lifetime, so this isn't a problem specific to the Dodge 4.7 engine, but it can develop over time. The engine's cooling system consists of the water pump, the radiator, cooling fan, thermostat, hoses, and several other components. Any of these components can fail over time.
Depending on which parts fail first, you will notice different symptoms. If the coolant hoses develop a crack, then you will see a coolant leak which will reduce the coolant level in your cooling system. If the coolant pump or thermostat goes bad, then you will notice the temperature rising and your car overheating. In any case, if you see any of these symptoms best to stop to prevent further engine damage.
We found this great video from D&E in the Garage about his first-hand experience with the Dodge 4.7L engine that you can watch to give you a better idea about how to maintain the cooling system on the engine:
Cooling System Replacement
If the cooling system fails then you will need to replace the parts. The cost will vary depending on which part of the system has failed. For example, if the radiator needs to be changed then the cost can be anywhere between $500 – $700 including labor. Meanwhile, a thermostat replacement cost is usually cheaper at around $300 including labor.
PowerTech spare parts shouldn't be difficult to come by, and you can look for secondhand or refurbished parts to save you some money. If you're willing, some cooling system replacement jobs can be done on your own as well if you want to save money on labor costs.
Most cooling systems can last up to about 10 years before needing to be replaced or requiring more maintenance. Be sure to maintain the cooling system properly to make sure it's in good condition and prevent sudden failures. As a rule of thumb, you should check the radiator's condition every two years or so. You can also flush the system to make sure it's clean every 100,000 miles or so.
2. Head Gasket Problems
The Dodge 4.7 engine has been known to have head gasket problems. While it usually occurs with age and mileage, other problems may cause the head gasket to blow prematurely. Overheating in the engine can cause excessive damage to the head gasket, leading to a blown head gasket eventually.
The head gasket itself is a seal that connects the engine block to the cylinder heads. They can be made out of different materials, including steel, composite, and granite. In the case of the Dodge 4.7 engine, it's made out of stainless steel which is actually quite strong. The head gasket acts as a seal to prevent oil and coolant from leaking into the engine's cylinder, which is something you really don't want.
Once the head gasket is broken or "blown" as we often hear, then the engine will develop problems. This includes thick white smoke from the exhaust, coolant loss, and overheating. A blown head gasket will also cause compression loss in the engine, which will reduce performance and fuel economy. If you have a blown head gasket we recommend you fix the problem immediately to prevent further damage to the engine.
Head Gasket Replacement Cost
Head gaskets are actually pretty cheap at around $300 for the part itself. However, the labor can be very expensive and can bring the total cost up to around $1,500. The reason is that replacing the head gasket will require your mechanic to disassemble most of the engine and then put the engine back together, which usually takes anywhere between 6 – 10 hours to do.
We don't recommend doing this yourself since it's a long and tedious process, and you can cause further damage to the engine if you don't know what you're doing. You really have no other option but to face the expensive bill if you're looking to replace the head gasket.
 

View this post on Instagram

 
That being said, there's an alternative if the head gasket leak is still minor. You can temporarily seal your head gasket with a head gasket sealer such as the Bar's Leaks HG-1. However, this repair is temporary. If you spot the symptoms early and the damage is still minor, then you can use these seals. But if the damage is severe then you using a head gasket sealer won't help at all.
To apply this, add the seal liquid into your coolant tank. Then, let it circulate through the system by idling the car for 15 minutes.
3. Valve Seat Failure
An engine valve is responsible for letting air and fuel go in and out of the engine's cylinder. The valve seat's job is to help seal the valves when they're closed shut. If these valve seats fail then the valves will not fully seal, resulting in loss of engine compression. This will then lead to performance and fuel economy issues, and cause more serious damage if left unfixed.
The Dodge 4.7 engine has been reported to experience this issue, and it's often attributed to overheating problems. All the more reason to pay attention to the cooling system. It's also reported that this issue mostly affects earlier versions of the engine. Thankfully, this isn't a common problem per se, but it can happen if you neglect the engine's cooling system issue.
Valve Seat Replacement
Since the valve seats in the PowerTech engine are machined in the cylinder head, you will need either a head rebuilt or a new cylinder head to fix the problem. And of course, this isn't cheap and can cost up to $1,000. Since it's expensive, it would be wise to take proper care to avoid this expensive repair job.
4. Valve Cover Gasket Leaks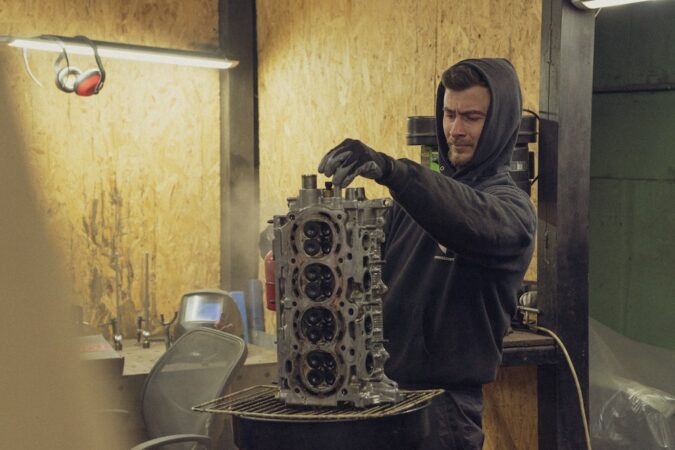 The valve cover is known to be a common issue with the Dodge 4.7 engine. This is especially true if the car has high mileage and is getting old. The rubber valve cover gaskets can harden and crack over time, and will then cause oil leaks. It's usually minor and doesn't require immediate attention.
But, it can worsen over time and cause more damage. Symptoms you will see include visible oil leaks, burning oil smell, and smoke once the problem gets worse. Pay attention to the engine bay and see if there is any oil leaking around the valve covers. If there's oil, then there's a leak.
Valve Cover Gasket Replacement
Valve cover gaskets for the Dodge 4.7 engine are quite cheap, usually around $120 – $200 for a set (there are two of them, one on each side of the V8). However, the valve cover gasket replacement is labor-intensive and the labor can cost you another $400 – $600. If you're confident in your DIY skills, then you may be able to do this on your own with the correct tools and guide. However, we don't recommend doing this on your own if you're not entirely sure about your mechanical skills.
If you're confident and you want to do it yourself, watching this video may help give you an idea of how to do it:
Is The Dodge 4.7 A Good Engine
Every engine has its pros and cons, and in terms of reliability, we don't see any major horror stories about the PowerTech V8. While it can develop issues with the cooling system and valve covers, these problems can appear in any engine with high mileage. The key is to take proper care of the engine, making sure to service and repair the engine as necessary to avoid sudden major problems.
That being said, there are two cons with the engine we'd like to note, first is the fuel economy. As mentioned, cars with the PowerTech 4.7 V8 have an average MPG of around 14 – 17mpg, which isn't great. Modern trucks and cars with Dodge's 5.7 Hemi V8 can do anywhere between 14 – 21mpg, and that has a larger displacement and more power.
Secondly, the 4.7 V8 is hardly the most powerful engine you'll encounter, and by modern standards, they're not very good. Especially the first-generation version where they only make 245 horsepower. For comparison, the early 2000s Dodge Ram 1500 with a 5.7L Hemi V8 has 345 horsepower.
Meanwhile, the 2009 revision of the engine makes anywhere between 360 to 390 horsepower depending on which car it's in. And while the older Hemi V8 has worse fuel consumption, the 2009 revision of the engine has similar fuel consumption to the PowerTech 4.7L V8.
Enthusiasts also often compare the PowerTech V8 to the Mopar 360 or also known as the Chrysler 5.9L V8. However, as far as we can tell the PowerTech is the better option. The Mopar engine has the same power output but with worse fuel consumption thanks to the bigger displacement.
Dodge 4.7 Performance Upgrades
Okay, so let's say you've decided to go with the PowerTech 4.7L V8 engine instead of a Hemi or a Mopar 360. But you're not satisfied with the power output and you want to increase it, how can you do that? Well, there are some options that you can choose from.
Dodge 4.7 Upgrades #1: Engine Cold Air Intake
A cold air intake is probably the simplest upgrade you can do to any car to improve performance. This type of intake usually sits further away from the engine, so it can take in colder air to feed into the engine. Why is cold air better? Well, cold air is denser than warm air and you can feed more air into the engine, increasing pressure and giving the engine more power.
There have been debates online on whether or not the cold air intake can increase engine power output, so try researching on Dodge forums and see if owners report a significant increase after installing a cold air intake. These intakes usually work best when you've done other mods to the engine as well. Generally, you can expect a cold air intake to give you an extra 8 to 20 horsepower.
They can be quite pricey though, a K&N filter for a 2002 Dodge Ram 1500 for example is around $500. So, be sure to do your research to make sure your purchase isn't for nothing. You can learn more about air intake in the video below by Donut media. They used a Mazda Miata as an example, but it's a good video to learn how air intake modification works:
Dodge 4.7 Upgrades #2: Performance Control Module
A Performance Control Module or PCM lets you alter the fuel-to-air mixture that goes into the engine. A richer mixture (more fuel) can increase your engine's horsepower, but you can also alter it to have a leaner mixture (less fuel) to increase fuel economy.
The Jet PCM seems to be the most popular among Dodge and Jeep owners, and they cost around $250 to purchase. There's also a PCM made by Hypertech and they seem to have a good reputation as well. We recommend asking around on owner forums to make an informed decision before buying a PCM.
Dodge 4.7 Upgrades #3: Performance Exhaust
Once you've increased the performance of your PowerTech engine, the next step we recommend is upgrading your exhaust system. A performance exhaust can let more exhaust gases flow, reducing backpressure on the engine. While there is no exact figure, a performance exhaust usually adds up to 10% of power to the engine. Not to mention they sound really nice as well. Just make sure they're not too loud so your neighbor won't complain.
You can check out Magnaflow (they also make catalytic converter) or Borla, they both make exhaust systems for the Dodge 4.7L V8 engine. Prices usually start at about $690.
Dodge 4.7 Upgrades #4: Other Modifications
There are tons of other modifications that you can do to the Dodge 4.7L V8. Better spark plugs can last longer while giving you slightly better performance and they're quite cheap. If you're looking to spend more money, then forged internals and a supercharger can give you that extra power that you crave so much. A supercharger kit can increase your car's horsepower significantly.
However, if you're planning an extensive list of mods, we recommend checking and talking to other Dodge 4.7L V8 owners. This way you can make sure that the mods are a good idea and won't cause any reliability issues.
Chrysler 4.7L V8 PowerTech: Facts, Problems, and Reliability
The Chrysler 4.7L V8 PowerTech is an eight-cylinder gasoline engine that first appeared in the 1999 Jeep Grand Cherokee and later in Dodge vehicles.
The 4.7L V8 was developed as a replacement for the 4.0L inline-six engine designed by AMC and 316 V8s of Chrysler's LA family.
The engine block is made of cast iron with a 4.09 inch bore spacing and a 9.09 inch deck height.
The 4.7L V8 engine features a nodular cast-iron crankshaft, powder-forged metal fracture-split connecting rods, and cast aluminum pistons.
The engine has cast aluminum alloy cylinder heads with two valves per cylinder and one top-mounted, chain-driven hollow camshaft.
The 4.7L V8 engine has an electronic fuel injection system and a modern coil-on-plug ignition system.
Chrysler introduced a "High-Output" version of the 4.7L PowerTech engine in 2002, which has an additional 30 horsepower and 35 lb-ft of torque over the basic engine.
The 4.7L PowerTech engine underwent significant changes in 2008, including new cylinder heads with two spark plugs per cylinder, a more aggressive camshaft profile, and an improved intake manifold.
The 4.7L V8 engine can easily last up to 200,000 miles (300,000 km) with only routine maintenance, but it requires the use of thin oils and regular oil changes.
The 4.7L V8 PowerTech engine received mixed reviews from owners, with some praising its durability and reliability and others preferring the simplicity and reliability of the previous Magnum V8 engine.
Dodge 4.7 Engine: In Conclusion…
The Dodge 4.7L V8 engine, also known as the Chrysler PowerTech V8, is a decent engine. It has respectable power (especially the 2008 version) and somewhat decent fuel consumption for a large engine. They're not the most reliable engines, but it's far from the worst and there aren't any horror stories like Subaru's infamous head gasket problems in the early 2000s.
Another upside to the PowerTech engine is that it's actually a flex-fuel engine, so it can run on E85 ethanol. That being said, while ethanol is sometimes cheaper than gasoline, they usually make the engine thirstier. But at least you can use E85 if you're low on fuel and you can't find gas, for whatever reason.
Anyway, if you're planning to buy a car with the Dodge 4.7L V8, we recommend looking at Dodge's 5.7L Hemi V8 as well. Cars like the Jeep Grand Cherokee, the Dodge Durango, and the Dodge Ram 1500 had a 5.7L V8 version and it does seem more intriguing.
As mentioned, early versions of the Hemi V8 are thirstier but they have more power. And if you're looking at 2009 cars and above, which have the 5.7L "Eagle" engine, they make even more power and have about the same fuel consumption as the Dodge 4.7L V8. It might be worth considering these bigger Hemi V8s.
Frequently Asked Questions
If you're still curious to learn more about the Dodge 4.7 engine, our FAQs here might help…
Are Dodges Good Cars
Although Dodge has long been overshadowed by larger American marques like Ford or Chevy, they make some pretty impressive cars. Look no further than muscle cars like the Charger or Challenger, in addition to their focus on performance and speed. No doubt, Dodge is one of the finest enthusiasts' brands on the market today. Their offerings provide an abundance of horsepower and sheer joy behind the wheel. However, being awesomely fun to drive does make Dodge's more performance-oriented models rather expensive to maintain, as well as eking out rather poor fuel economy across the board. On top of that, Dodge has a fairly mediocre reputation for reliability. While they were the first American brand to break into the top 10 most reliable automakers in 2019, they've since slipped to 19th place.
Are Dodge Trucks Reliable
Compared to most other trucks, the RAM series of trucks (they're no longer a part of Dodge, remember) are decently reliable. As of a recent 2022 survey, RepairPal ranked the staple RAM 1500 3.5 out of 5.0. This makes it the 4th most reliable full-size truck out of 17 others in this survey. Still, it's not invincible, as problems can sometimes appear. When they do, these issues tended to be more severe, but they're less likely to appear when compared to some other trucks. Therefore, you won't come across too many major issues or have a need to constantly repair them. On top of that, RepairPal also noted that RAM trucks are just about average when it comes to yearly running and servicing costs, so it's not too expensive to own over time.
How Many Miles Will A Dodge 4.7 Engine Last
The Dodge 4.7 engine is technically a heavy-duty motor, as it's commonly fitted into trucks and SUVs. As such, it's no wonder why the Dodge 4.7 engine is long-lasting and durable. There have been many owners who've kept their 4.7 motors running for over 300,000 miles, without any major or notable issues to speak of. This is despite a lot of heavy towing or hauling stuff with it. On average, and with diligent maintenance throughout its earlier lifespan, a 4.7 could easily go beyond 300,000 miles before any serious rebuilding work is necessary to restore it. From what we've learned, it's also a good idea to swap out the engine oil for a synthetic (or semi-synthetic blend), high-mileage solution, which does help keep it working more smoothly.
How Much Horsepower Does A 4.7 V8 Have
There have been many iterations of the Dodge 4.7 engine. Depending on what vehicle it's fitted to, a 4.7 should be able to output between 235hp to 310hp from the factory. Most of the variations in horsepower are due to the differing intake and exhaust designs between the numerous Dodge, Jeep, Chrysler, and even Mitsubishi vehicles that used the 4.7 engine. As for torque, it could handle between 295 to 334lb-ft of torque, once again varying from one vehicle to another. This is rather impressive given that the 4.7 is a fairly compact V8 mill. Naturally, these potent performance figures do mean that the 4.7's fuel economy is far from good. In some cases, it'll manage between 14mpg to 17mpg, which isn't really all that decent.
How Many Spark Plugs Does A 4.7 Dodge Engine Have
The number of spark plugs found in a Dodge 4.7 engine will vary depending on which specification generation of motor it belongs to. First-generation 4.7 motors had 8 spark plugs, while the second- and third-generation engines had 16 spark plugs. The changes and updates in the newer 4.7 motors (2nd-gen and later) in 2008 had many improvements. Horsepower, torque, fuel economy, as well as general refinement and noises, were all enhanced for the better. This also meant that the 2nd-gen and later 4.7s had – just like the 5.7 HEMI engine at the time – two spark plugs per cylinder (for a total of 16 since it's a V8). This is paired with a pretty high compression ratio and better port flow, alongside a new and fascinating combustion system design.
Approved Tools
These tools have been tried and tested by our team, they are ideal for fixing your car at home.
AI Car Expert Thinking 

.

.

.