Lost your car keys? Congratulations! You are now stranded till you flip over every last piece of furniture, rummage through every desk drawer, and shuffle through all your belongings till you find the jingling bundle to your mechanical chariot. Or, perhaps you're frantically searching does AutoZone make keys.
When you're 100% sure you won't find them, it's time to get new ones made. But where and how do you get new car keys made?
Check out this piece for helpful information on what to do when you lock yourself out of the car.
Replacing car keys isn't always as simple as going to the local hardware store and getting a new key cut. Modern electronic car key fobs offer a world of convenient options. But with convenience comes a hefty price tag.
There are several places you can get a new key made depending on the type you need to replace:
Automotive store
Automotive locksmith
Automotive dealership
Hardware store
OEM parts dealer
Online aftermarket seller
Standard ignition keys of vehicles made before 1981 could be replaced at a hardware store, locksmith, or an automotive outlet. On the other hand, complex key fobs will require a visit to an automotive dealership, OEM parts dealer, or automotive locksmith.
We've collected all the relevant information you would need to get yourself a brand new pair of keys. We will also answer important questions regarding the various types of keys, insurance, the dealer's role, does AutoZone make keys, and much more.
Keys For Cars
An electronic key fob is also known as a transmitter or remote. These are an integral part of most modern cars. Expect to spend anywhere between $50 to over $600 to replace a key fob remote depending on the complication of the design and the automaker. All key fobs are programmable.
A few dealerships perform this free of cost while others charge for an hour or half of labor.
Fortunately, you can navigate around this fee. Some of these electronic fobs are programmable with the help of a certain combination of key turns (ignition) and button presses (remote).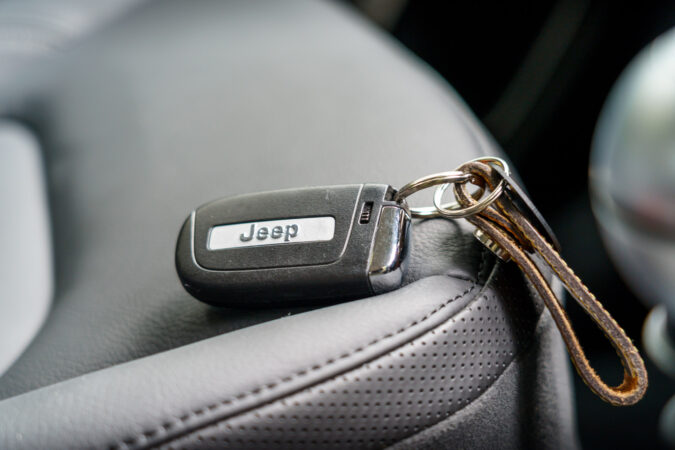 You can find this information in the owner's manual. If not, there is also information online.
Lastly, you could buy aftermarket key fob remotes from a locksmith or on the internet. As expected of aftermarket products, quality will vary. But they are much more budget-friendly.
1. Transponder Keys
From the early 2000s, manufacturers started equipping the plastic head of a car key with a transponder chip. Upon ignition, the chip would send a signal to the receiver. If an incorrect key is in the ignition – in car terms that would be "if the immobilizer" gets the wrong or no signal – the vehicle wouldn't start.
The primary difference between a transponder key and a basic car key is that the prior has to be programmed in order to start the car. All dealerships contain the necessary machines for key programming. Generally, auto locksmiths own these machines too.
In some vehicles, you can find the transponder fob and the key as an all-in-one unit. Not only does this add to the overall price of key replacements, but it also limits the places where you can get the replacement done.
If you're looking for a low-cost substitute to access your car without problems, just get a basic car key. It doesn't need to have a transmitter. This will perform all activities but start the car's engine. So, this could be your saving grace if you tend to lock yourself out of your car.
Also, consider making a third key as a spare. If you own two keys already, a few vehicle brands will let you program another key by yourself. Here's a smart way to do it: Pay a locksmith to cut a new key for you and you can follow the programming procedure afterward.
The procedure can be typically found in the owner's manual. No instructions in the manual? Try searching it up online. Make sure to include the make, model, and year of the car in your search terms.

2. Flip Keys Or Switchblade Keys
Much like the name suggests, switchblade keys retract into the key fob once you're done using them. Just press the designated button to release them again. These can feature a basic or a laser cut. One great thing about flip keys is that various of their components can be bought separately.
If you have a damaged or malfunctioning key, you can get a shank by itself for $60 to $80. However, if you somehow lost your keys for good (it helps to learn how to find an AirTag), you will have to get both the shank and the fob that acts as a shell. This can cost anywhere between $200 to $300 with all programming factors into consideration.
3. Laser-Cut Keys
The easiest way to differentiate between a basic car key and a laser-cut one is to observe the thickness of the shank. In laser-cut keys, the shank is much thicker and doesn't have as many carved-out grooves.
Thanks to the signature winding cut, laser-cut keys are often called sidewinder keys. As you can probably tell, the machines used to cut these keys are pricier than their standard counterparts. Don't expect to find one at every other hardware store or locksmith.
Additionally, laser-cut keys have an in-built transponder chip that needs to be programmed by the dealership. Alternatively, it can be done by a locksmith – preference to someone holding a membership of the Associated Locksmiths of America, also, ALOA.
All-in-one laser-cut keys are all the rage right now. But, as mentioned before, these are expensive and have to be replaced at the dealership. Labor included, you will have to pay between $150 to $250.
4. Keyless Entry Remote
Also referred to as a "smart key," a keyless entry remote isn't exactly a car key in the conventional sense. This key fob has to be inserted into the dash. For newer cars, it stays in the purse or pocket. With the simple press of a button, a driver can enter their car.
The main form of security for keyless entry remotes is the use of rolling security codes. The system keeps thieves and hackers out by randomizing the right code through the use of a "code grabber."
The car's computer receives and verifies the code given by the smart key before starting the engine. That being said, it would be wrong to claim this technology is completely theft-proof.
Almost every car brand offers a smart key with their technology packages now. From a Nissan to a Ford, keyless entry remotes are everywhere.
Keep in mind that these keyless entry remotes reduce your options. You have to buy the replacement remote at a factory parts reseller or dealer. The cost of replacing a smart key will be around $220 to more than $500 for a few luxury models of cars.
Auto Key Replacement
Before we jump straight into "Does AutoZone make car keys?", let's talk about how a key is to be made.
Once you've recognized the kind of key you need, a key blank has to be purchased. You can also get a replacement remote as an additive or alternative. Remotes and key blanks only work for specific makes and models of cars, so make sure that the product you're getting is compatible with your vehicle.
If you're ordering the key online, or in many cases, you will have to provide the VIN of your car. This can be located on the driver's end of the dashboard. If you can't find it on the car, chances are, it's on the top left-hand corner of the pages in your car insurance policy.
Manu automotive or hardware stores stock key blanks, and a few can replicate an existing key. Not all stores can make all kinds of keys, though. A few specialize in only basic metal keys.
You can either purchase the key blank from the locksmith you got to cut and program the key or, you can buy it somewhere else and bring it in. The latter is a cheaper option. Replacement keys for the car will be provided at the car dealerships but this is definitely the most expensive option. More on that here.
Remote Keys For Cars
A remote key fob isn't the same as the car's ignition key. The fob relies on a transmitter to communicate at the press of a button. Generally, you use these devices to unlock/lock your car's doors, enable a feature, or open the trunk.
In case the remote key is lost or malfunctioning, follow these steps to program the fob. You can also check out this video for a detailed guide.
1. Reprogramming A Malfunctioning Remote Key Fob
Start by replacing the battery. A remote key fob battery is available in most automotive stores, hardware stores, and on the online marketplace, Amazon. Have a look at the owner's manual to understand the kind of battery needed as well as the instructions on how to remove and/or replace the battery.
The owner's manual should tell you all about reprogramming the car's remote key fob. If not, look for instructions online. Usually, a few button presses on your fob combined with turns on the ignition key will do the job. For all the not-so-DIY-friendly folks, we have good news! Most locksmiths and dealerships will reprogram a remote key fob at a reasonable price for labor.
2. Replacing And Programming A Lost Remote Key Fob
You can buy a new remote key fob from an aftermarket seller or at the dealership. Look into local automotive stores, hardware stores, locksmiths, and Amazon too to find what you're looking for.
The replacement cost for a remote key fob will range between $35 to $200 based on the automaker and the fob's complexity. Make sure the fob is compatible with your car before you finalize the purchase.
Use a series of button presses on the fob mixed with turns on the ignition key to program the new remote key fob. Look into the owner's manual to locate specific instructions for the task. If you bought the fob at a dealership, they would usually program it for free. A locksmith could program it for a minimal cost so that's another option for you.
Dealership Key Replacement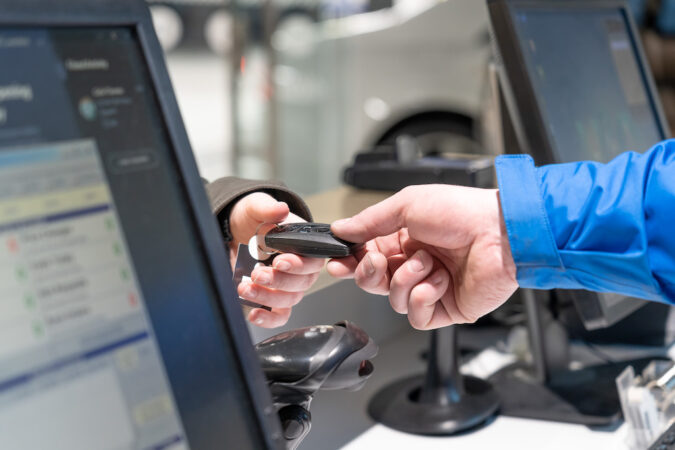 Does your car dealership have any responsibility in the key department? Given how easily people tend to lose these valuable items, you'd think car dealerships would try to make it easy for them. How will your insurance company help with the situation? Find out here.
Do Car Dealers Have to Give You 2 Keys
When purchasing a new car at any dealership, they will give you two keys. But, if you're buying a second-hand car at the dealership, it's not mandatory on the dealer's part to provide you with multiple keys.
Used cars don't always come with spare keys. Here's why:
The former owner didn't hand over two keys.
The spare key is lost.
During the repossession of the car, only one key was bought.
Make sure to inquire with your dealer about the possibility of a spare key before signing the deal. It's possible that you will have to negotiate a little for them to throw in the extra key. Your purchase agreement needs to be clear on this – that your dealership is including two keys.
Will Insurance Cover A Key Replacement
The majority of auto insurance policies don't provide coverage for a lost key. If you're lucky, you will score a policy that offers key replacement as an add-on. Have a word with your insurance provider about this so there's transparency between the two parties.
A roadside assistance policy would cover the cost of an emergency service if you ever got stranded on the road. But, the chances that the coverage will be enough for the cost of replacing a key is very low. Check the policy for more information.
Nevertheless, stolen car keys are a different case. They may be covered under comprehensive insurance policies. Contact your insurance company the moment your keys are stolen to know whether you should file a claim for the cost of key replacement.
Make A Car Key Without The Original
Yes, you can. Even if you don't own the original key anymore, you can get a new one made. In instances when a car key is stolen or lost, a skilled automotive locksmith can make a new key and reprogram it. You can also have it done at the dealership but as you can probably tell by now, it would be costlier.
The two things you need to know are the VIN or Vehicle Identification Number, and the model/make/year of the vehicle. The dealership or locksmith will need you to give proof of ownership, usually the title or registration of the car. Inform your dealership or locksmith if you think the key was stolen.
Reprogramming will ensure the car doesn't answer to the old key anymore.
If you're having some serious hours of misfortune when the car key doesn't work when you're locked outside (or if you need to figure out how to get keys out of locked car and how to get into a locked car, as well as how to unlock car with keys inside), this could help.
Does AutoZone Make Keys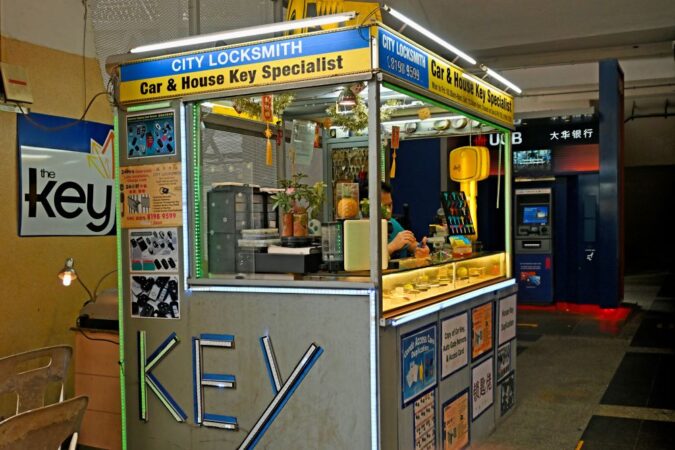 "City Locksmith" by chooyutshing is licensed under CC BY 2.0
.
Out of the many places that make car keys, AutoZone is a prominent name. Their pieces are well-suited for a wide range of car models. A few models are Honda, Mercedes, BMW, Volvo, Chrysler, Toyota, and Kia. A blank could cost you between $3 to $6, exclusive of sales tax.
Check out where you can buy car key batteries.
Does AutoZone Make Keys #1: About Transponder Keys
In addition to the basic blanks, AutoZone also produces and sells remote key fobs plus transponders. The price ranges from $15 to $90. You can utilize an On-Board programming system to program any of the various key fobs up for sale at your nearest AutoZone. With that said, the availability of these programs is determined by the particular automaker.
In addition, you might still have to drop by your locksmith or dealership from time to time to program your new car key fob.
Does AutoZone make car keys, you ask? Yes, but there's something better they offer. They offer a convenient and affordable way for customers to purchase top-notch security transponder keys.
About 50% of the cars on the roads operate using transponder keys equipped with a computer chip. The computer chip comes with a security code. Only a good transponder key containing the right security code can get the engines to run. This ensures the overall safety of the car and keeps pesky thieves away.
AutoZone understands that transponder keys are susceptible to damage, not to mention how easily some users lose them.
The chain realizes that bringing your replacement needs to a dealership is costly and time-consuming. To reduce the hassle, AutoZone has removed the need for an appointment beforehand to get a transponder key. They also offer a large range of keys for vehicles from GM, Toyota, Ford, Chrysler, and many more.
AutoZone has great accuracy when it comes to replication. The keys are cut using digital methods and state-of-the-art tools and technology. If you're not satisfied with the cut or quality of the key, AutoZone will do it all over again but in no way will they let you exit with a subpar experience.
Does AutoZone Make Keys #2: AutoZone's Recommendation
We understand how annoying it can be when the key fob just stops working out of thin air. So how can you diagnose the error and fix it in a pinch? Contrary to popular belief, a car key fob does require regular maintenance.
You shouldn't overlook this little device because it holds the key (literally) to your vehicle. You won't be able to get into the car, let alone drive it.
The first thing to do when you are working with a broken fob is to isolate the problem. Next, contemplate whether it's best to repair the existing one or have a replacement made.
Does AutoZone Make Keys #3: Program Key Fobs Or Car Remotes
That's both a yes and a no. Similar to other major box auto parts retailers, AutoZone has a huge stock of key fobs and car remotes to sell. They come with self-programming instructions. A few stores will help you with it but the stock is always limited.
Few vehicles feature the OBP. Most of these remotes have to be programmed by an experienced locksmith or at the dealership with the correct equipment to integrate the information into the computer's memory. The other factors to consider are money and time.
Usually, a dealership costs twice as much as a locksmith. The latter don't charge hidden fees either. The dealership owns a large showroom facility that has to be maintained whereas the locksmith operates from a little shop. So, there are savings on both ends. However, if the locksmith doesn't have enough experience, they could do an incomplete job. Eventually, that could mess up the key fob's system.
At the end of the day, everything boils down to which seems more convenient to you – what adds more value to your daily transportation.
Does AutoZone Make Keys #4: AutoZone's Non-Transponder Key Solutions
AutoZone doesn't just stop at offering transponder keys and key fobs. For those vehicles that operate without the computer-chip-equipped transponder system, traditional non-transponder keys are available too. Especially useful for older models of cars, these keys are basic but robust and can be cut and duplicated with precision at AutoZone.
Remember, while modern vehicles often utilize more advanced keys with embedded chips, not every vehicle needs such intricate technology. For those times when simplicity and affordability are desired, AutoZone provides a straightforward solution.
Does AutoZone Make Keys #5: Choosing the Right Key Blank
When heading to AutoZone for a duplicate or replacement, it's pivotal to understand the distinction between key blanks. Not every key blank is universal. Depending on the make and model of your vehicle, a specific key blank will be required.
AutoZone's extensive collection ensures that you can find the right blank. However, always double-check the compatibility, either by referring to your vehicle's manual or by seeking guidance from AutoZone's knowledgeable staff. This ensures that the process runs smoothly and you're not left with a key that doesn't fit.
Does AutoZone Make Keys #6: Battery Replacements for Key Fobs
Even if your key fob isn't faulty, sometimes all it needs is a battery replacement. Over time, the battery within the key fob drains and requires a change. Thankfully, AutoZone stocks these specialized batteries and even guides customers on how to replace them.
Before considering a full replacement, pop into your nearest AutoZone and check if a simple battery switch is the solution. This small step can save both time and money.
Does AutoZone Make Keys #7: Understanding the Limitations
While AutoZone offers an array of services related to keys and key fobs, it's essential to acknowledge their limitations. Not every AutoZone branch has the capability or equipment to handle high-end or very unique key types, especially for luxury or imported cars.
Furthermore, in cases where the internal programming is particularly intricate, you might still need the expertise of a professional locksmith or a dealership. AutoZone provides a broad solution, but it's not all-encompassing. So, be sure to call ahead and check the services offered at your local branch.
Does AutoZone Make Keys #8: Key Accessories and Maintenance
Keeping your car keys in optimal condition extends beyond duplication and programming. AutoZone recognizes this need and offers an assortment of key accessories, including protective covers, keychains, and lubricants for locks.
Routine maintenance can save you from unexpected issues. With regular checks, cleaning, and timely replacements of batteries or worn-out key fobs, you ensure longevity. Leveraging AutoZone's offerings can make this routine care seamless.
Does AutoZone Make Keys #9: Cost-Effective Alternatives to Dealerships
Lastly, it's clear that turning to AutoZone can be a more affordable route compared to dealerships. However, affordability doesn't compromise quality. With cutting-edge tools and equipment, along with experienced staff, AutoZone stands as a viable alternative for many key-related needs. Yet, always weigh your options. Consider the type of key, the complexity involved, and the urgency to decide whether AutoZone or a specialized professional is the way to go.
In summary, AutoZone does provide a wide array of key services for the automotive industry, bridging the gap between expensive dealerships and the need for fast, efficient solutions. Whether you're duplicating, replacing, or maintaining, they've got you covered.
AutoZone and Car Key Facts
AutoZone sells blank automotive keys for various car models including Kia, Honda, Toyota, Mercedes, Chrysler, BMW, Mercedes, and Volvo, for $3 to $6.
AutoZone also offers transponder keys and remote key fobs that range in price from $15 to $90, which can be programmed using an On-Board Programming system, depending on the automaker's availability.
Over half of the vehicles on the road use transponder keys containing a computer chip and a security code, and only a quality transponder key with the correct security code can start a vehicle with the corresponding code.
AutoZone duplicates the keys to precise accuracy using state-of-the-art equipment and technology and promises a fast and affordable experience.
AutoZone recommends regular maintenance for key fobs, and the most common culprit behind the failure of an electric key fob is the battery inside, which can be fixed with a new battery.
If the issue goes beyond the battery, it is essential to isolate the issue and decide whether to repair the existing key fob or get a replacement.
If the issue is not with the key fob but with the car battery, locks, or doors, it is essential to consider those problems.
Before replacing a key fob, one can take the key fob apart and check if any of the buttons are sticking, cracked, or broken, and ensure they fit perfectly into their appropriate place.
If one cannot fix the key fob, one can enlist the help of a key fob professional for a fast and stress-free experience.
Does Autozone Make Keys: In Conclusion…
That is all on "Does AutoZone make car keys". We hope we provided the information you were looking for. Remember that you don't have to sacrifice an arm and a leg to replace your car keys or the remote. AutoZone is a great option for fixing the issue quickly and professionally. But there are alternatives you can look into if this doesn't fit your budget or preferences.
Does AutoZone Make Keys: Frequently Asked Questions (FAQs)
If you're still curious to learn more about does AutoZone make keys, our FAQs here might help…
Where Can I Get A Car Key Made
If you've lost your car keys or want duplicates made, you have several options. The easiest, cheapest, and most convenient option is to call an automotive locksmith. Some of them are mobile too, so they could drive over to your location with all the equipment they need. They work pretty fast, and could even help you unlock your old car if you've gotten yourself locked out. Moreover, specialty automotive locksmiths are able to program even more complex key fobs and can work with a variety of different keys. A regular locksmith is even cheaper, but their equipment and skills might be limited to more old-fashioned metal keys or more basic key fobs. Dealerships are also able to offer replacement keys, especially if you drive a fancier car with a locked-down security system, albeit it's rather expensive.
How To Start My Car Without Chip Key
Unfortunately, you can't feasibly start a car without a chip key. Bypassing transponder-type keys are tough, and can only be done by a dealership who can read and decipher your car's radio-frequency identification. From there, the dealers are able to program and offer you a replacement key. If you somehow managed to get your hands on the actual transponder chip, there is a technique that you can try. Start by removing the plastic housing and remove the transponder chip. Then, tape the transponder chip right next to the ignition lock. With the key now being disassembled, try starting your car. Keep trying and periodically change the positioning of the taped transponder chip if it fails to start the car.
How Much Does A Locksmith Charge To Program A Key Fob
Key fobs are shockingly expensive, with dealerships who'd happily charge hundreds of dollars for a replacement. Thankfully, there are cheaper alternatives to reprogramming or replacing the key fob, and that's through an automotive locksmith. They have the necessary expertise and equipment to create a brand new key for you, and they don't charge as much as dealers do. For instance, programming your key fobs would cost between $50 to $250 with most automotive locksmiths. However, this cost does vary a lot depending on the make and model of your vehicle, as well as the type of key fob you're using. If your car's security and anti-theft systems are hard to break into and re-program, that same locksmith may charge you more to compensate for the added time and labor.
How Much For A New Car Key
Despite how simple it might be, car keys are very expensive to replace or duplicate. If you have a classic car that uses simple metal keys, you could have a new one made at little to no cost. However, modern cars aren't like that. Due to their complex security and anti-theft systems, modern car keys are so much more than just a metal keys. There are transponder chips, radio communications, keyless functionalities, and more. It's not just the cost of the keys either, as programming them to pair with your car requires specialty equipment. Therefore, replacing a modern car key is nowhere near cheap. For simpler transponder-style keys, you could be looking at $50 to replace them. Meanwhile, a highly advanced set of keys might even cost you as much as $600 if you replace it properly at a dealership.
Can A Locksmith Make A Car Key
Yes, most locksmiths can make car keys. Although, be sure to inquire beforehand to know if those specific locksmiths have the right tools and skills to do so. If so, they can even replace car keys without needing the original. And, they can make replacement car keys for much less than going to a dealership. Before undertaking a replacement, they might require some information from you to make the process a bit easier. This might include the make and model of your car, as well as the model year. Locksmiths might also ask for your vehicle's registration, certificate of title, and VIN. This is to ensure that they know specifically what vehicle they're programming a key for. At the same time, it's also for them to prove that you are the legal owner of that vehicle.