DRIVEN: MERCEDES BENZ CLA 220 AMG SPORT
Sleek coupe lines, 4 doors, and enough gadgetry to fill a branch of Currys. The CLA 220 AMG has it all, but is it any good?
WHAT'S THE MERC CLA 220 AMG ALL ABOUT?
Take one Mercedes A class, add a boot, drop the roofline, and give it some styling cues from its big brother the CLS. What do you get? A CLA, Mercs' stylish alternative to your everyday hatchback. In this 220 CDI AMG Sport guise, the CLA is fitted with a 2 litre turbo diesel; good for 170hp and 350Nm of torque. Mated to a 7 speed DCT auto box it can crack 62mph in 8.2 seconds and ramp up to 143mph should you be legally allowed. At this point its also worth noting that the test car was fitted with a bewildering array of options pushing the price to an eye watering £40,915, big money for a small car.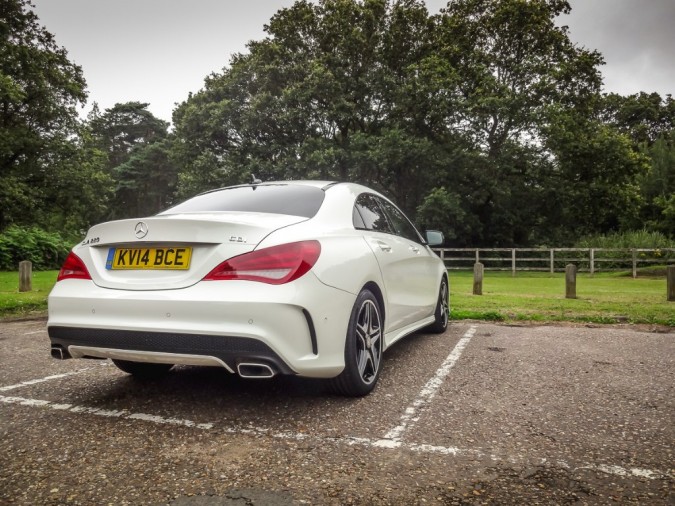 Styling; arguably this car's main selling point, which is a difficult thing to argue since beauty is in the eye of the beholder and all. But let me try, I was never a great fan of the CLA when it appeared, it struck me as a car that had been over styled with lots of creases and curves at odds with that chunky front end. It was like a bigger CLS had been squished and that for me hadn't really worked. However, having spent time in its company the CLA grew on me, you sit low and combined with that roofline you really do think you're in a coupe. From side on, the CLA's silhouette is actually rather pleasant and of course any Mercedes looks better with some AMG skirts and bumpers fitted. There are some neat little touches too, like the evil little red ring in the headlamps that match the stitching on the inside, and that rear bumper with incorporated exhausts is gorgeous. I'm still not totally convinced but I definitely like it more than I did.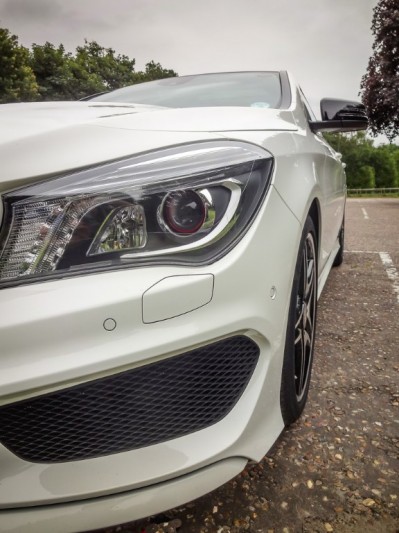 HOW DOES IT DRIVE?
This really depends on your mood, for cruising or posing, which let's face it is what this car was built for, it is great. The auto box slips between ratios with silent ease achieving a combined 67.3mpg. Although on my largely town drive I barely got it above 30mpg. One thing does slightly hinder the posing though, a firm ride thanks to this AMG's lowered suspension, the car's been dropped 20mm at the front and 15mm at the rear.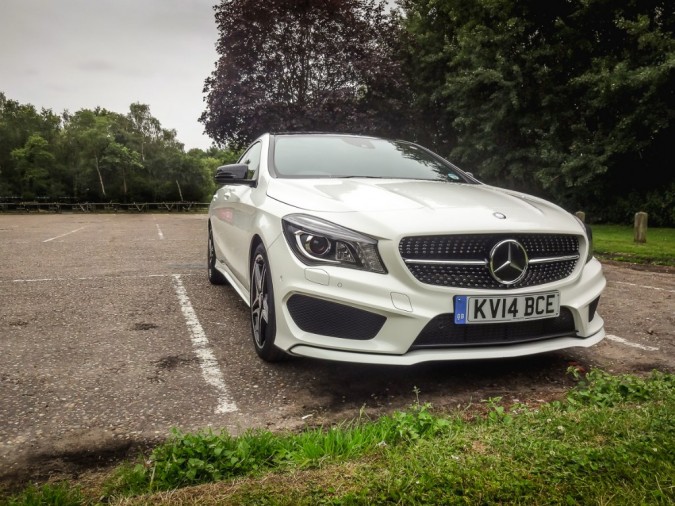 This does translate to a better driving experience when you start to push it though, the lack of body roll is noticeable, but there is not a great deal of feel from the speed sensitive steering, even though it does weight up the faster you go. The DCT gearbox is slow witted in auto mode, making committing to right turns at junctions mildly terrifying when you stamp on the accelerator and there's a second before the car wakes up and moves. The box is better in manual mode, especially on a B road when the steering wheel mounted paddles mean you can keep both hands on the wheel at all times. In general though the 220's engine isn't really suited for B road blasts, manually holding it in gear makes the engine sound decidedly diesel, all loud and rattly. Also with peak horsepower come and gone by 4000rpm there's no real need to red line the CLA 220 AMG. In conclusion, stick to cruising and you'll be just fine.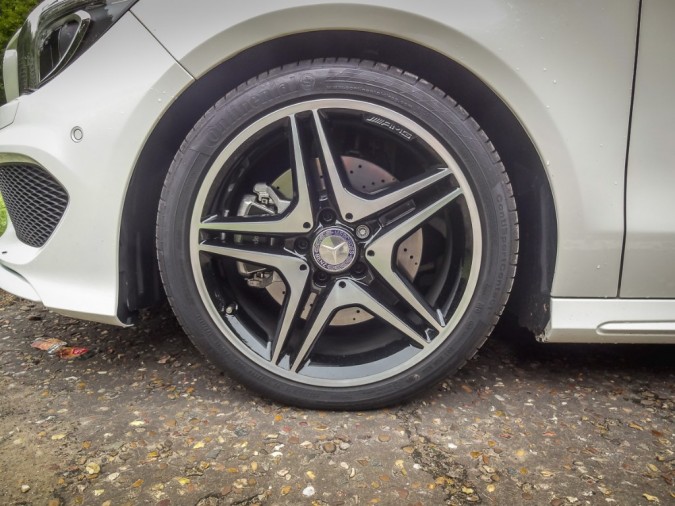 WHAT'S IT LIKE INSIDE?
To be fair cruising also means there is more time to enjoy the CLA's wonderfully finished interior, and fiddle with this car's huge array of optional extras (when stationary of course). The interior space itself is beautifully laid out and free from clutter, all smooth surfaces and soft leather with red stitching. Wonderful AMG seats, fully electric and heated, naturally, come as part of the AMG exclusive package fitted to this car. One thing to note though, the red stitching on the dash does reflect rather annoyingly on the windscreen.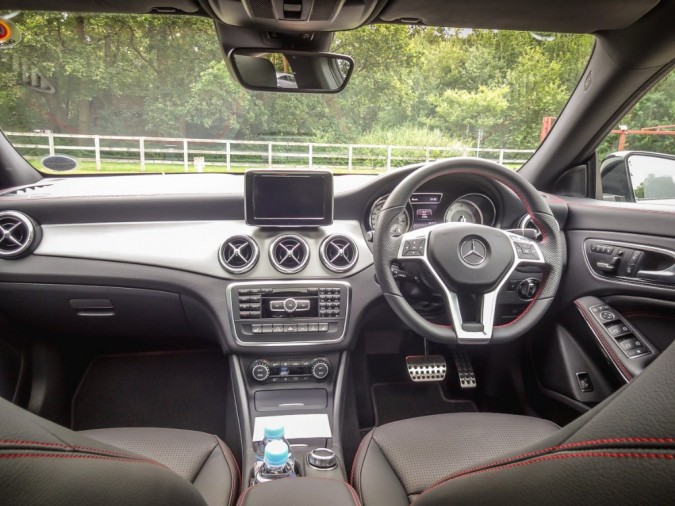 A central 7 inch tablet style display is the main interface for this cars optional Command online system (yes you can search the net from the CLA) and there's another display in between the dials. This display allows you to set and see the Distronic Plus cruise contol. A frankly spooky option that allows the the CLA to radar lock onto the car in front, meaning you can remove your feet from the pedals. If the car in front slows, you slow, and if it speeds up you do to. It's an amazing bit of kit that first appeared on the S-Class a few years ago and has now worked its way down the model range. You might think that a self driving CLA is a little dangerous but the list of safety equipment in the CLA 220 AMG is quite frankly too long to list. Just rest assured, unless you are being an utter tool, the CLA is a very hard car to crash. In the back, that sloping roof does take away some headroom, and boot space is also limited as a result.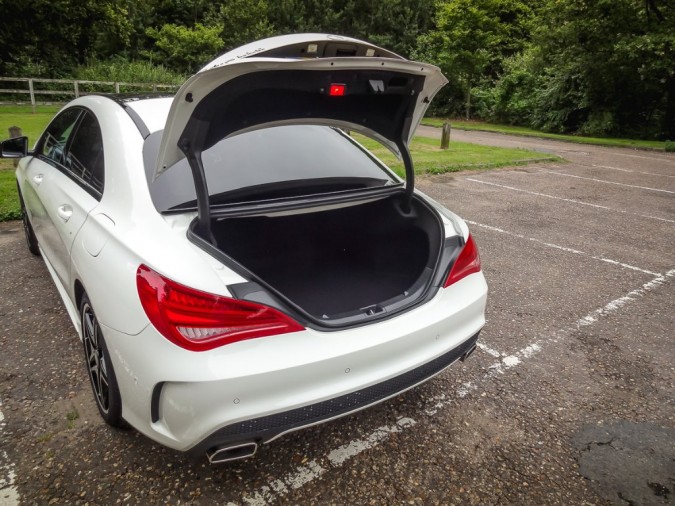 THE EXPERIENCE
I enjoyed driving the CLA more than I thought I would. Its styling does polarize opinion but after an hour in its company it grew on me. A big part of my change of heart was down to the CLA's wonderful interior and the feeling that if you bought one you were making a slightly bolder, more left field choice, not just plumping for a hatchback.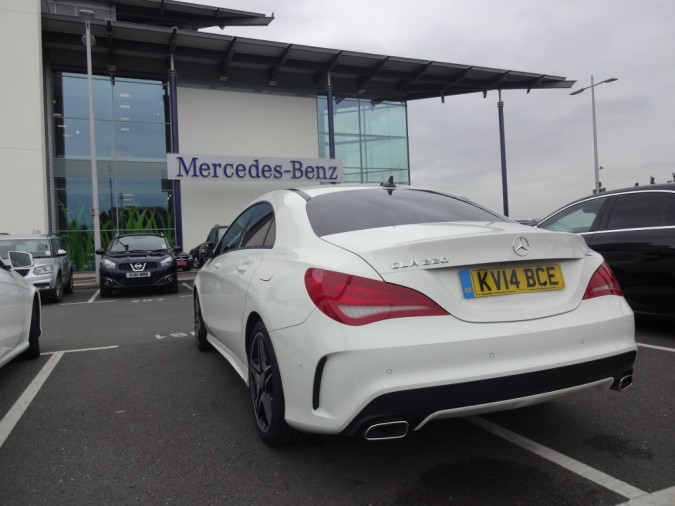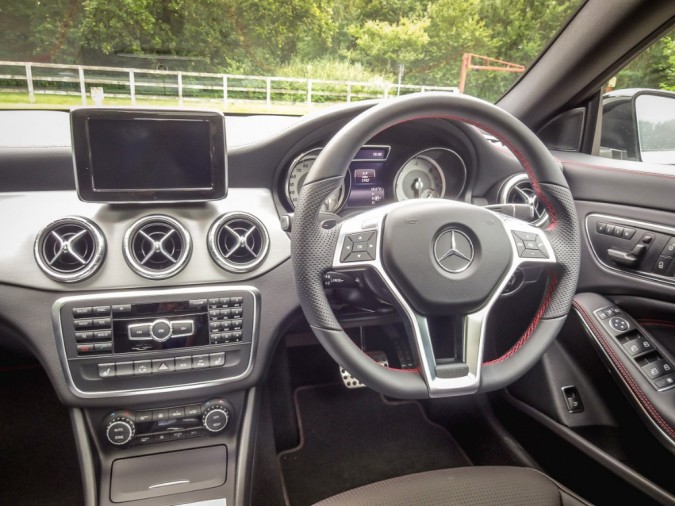 VERDICT
Spec'd as this car was there is no doubt it is best for cruising. B road blasts just don't suit the CLA even with AMG suspension, splitters, and seats. Practicality isn't its strong suit either with that coupe like shape, and personally I struggled to see why you'd buy this over an A class which shares the same underpinnings and crucially that wonderful interior. But my biggest bug bear is justifying why you'd spend £40,000 on one, there is a lot of choice out there for a lot less.
If you liked this article you might also like our wallpaper of Mercedes Benz, take a look.

SPECIFICATION
Mercedes Benz CLA220 CDI AMG SPORT
Price: £31,975
Engine: 2.1 Litre turbo charged inline 4 diesel
Power: 170hp
Torque: 350Nm
Transmission: 7G DCT speed automatic
0-62mph: 8.2 Seconds
Top Speed: 143mph
Weight: 2,005kg
Economy combined: 67.3mpg
CO2: 111g/km