The Audi A4 is a well-regarded and popular model in Audi's lineup, known for its blend of performance, luxury, and cutting-edge technology. The 2017 Audi A4 is no exception. This model year stands out due to its modern features, impressive power, and timeless design. Whether you're considering purchasing one or just an avid car enthusiast, we've got all the details you need to know about the 2017 Audi A4. Let's get started!
Specs, Data & Horsepower
The beating heart of the 2017 Audi A4 is its robust 2.0-liter turbocharged four-cylinder engine, producing an impressive 252 horsepower and 273 lb-ft of torque. This power is smoothly delivered to the wheels through a seven-speed dual-clutch automatic transmission, ensuring optimal performance and efficiency at all times.
Audi also announced an even more powerful model in the pipeline – the Audi S4. This upcoming variant boasts a new turbocharged 3.0-liter V-6 engine, estimated to generate around 354 horsepower and 369 lb-ft of torque. It's worth noting that for the North American market, an eight-speed automatic transmission is the sole gearbox choice for the S4.
Design Lives Up To Date
In terms of design, the 2017 Audi A4 continues to impress. It maintains the classic and sophisticated look Audi is known for, while also incorporating modern design elements that ensure it doesn't look out of place among newer models. It has a sleek and aerodynamic silhouette, accompanied by the distinctive Singleframe grille and striking LED headlights. More than often Audi enthusiasts like to upgrade their grill by replacing it with a RS style honeycomb grille, which really gives it some aggressive looks.
Inside, the A4 offers a high-quality interior with a focus on comfort and luxury. The cabin is adorned with premium materials, including leather seats and a variety of trim options. The layout is clean and functional, ensuring all controls are easily accessible and straightforward to use.
The 2017 Audi A4 is Loaded with Tech
When it comes to technology, the 2017 Audi A4 truly shines. The Audi virtual cockpit, a fully digital 12.3-inch instrument display, allows the driver to customize information such as navigation, audio, and phone, as well as access Google Earth. The A4 also comes with the MMI touch with handwriting-recognition technology, which allows the driver to "write" their entry rather than selecting letters or numbers, making for an intuitive input experience.
Furthermore, the 2017 A4 includes advanced safety features, such as traffic jam assist, Audi pre sense city, and exit warning system, among others. These systems help to protect the vehicle and its occupants, making the A4 not just luxurious and powerful, but also safe.
Still Comes With A Manual Gearbox
For those who prefer the control and engagement of a manual transmission, the 2017 Audi A4 has you covered. Audi reintroduced the manual transmission for the A4 in this model year, with a six-speed manual gearbox available for the quattro® all-wheel-drive models. This is a significant advantage for driving purists who enjoy the tactile feel of shifting gears themselves.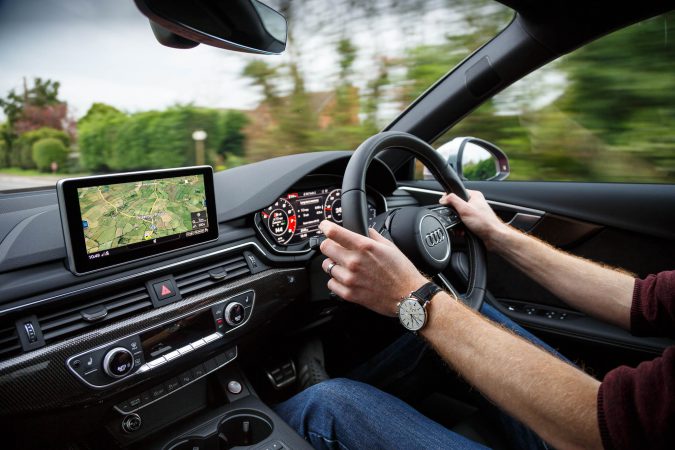 Easy To Mod & Fun To Drive
When it comes to customization, the 2017 Audi A4 is truly a car enthusiast's dream. Its design and architecture are highly accommodating of aftermarket modifications, making it easy to enhance both its appearance and performance according to your personal taste and requirements.
Whether you're interested in adding a honeycomb grille for a more aggressive look, installing a splitter for enhanced aerodynamics, or even upgrading to an RS front bumper for that extra sporty appeal, the possibilities are endless.
If it's performance upgrades you're after, the 2017 Audi A4 doesn't disappoint either. You can boost its power and responsiveness with modifications like downpipes and charge pipes, taking the driving experience to an entirely new level.
Canadian Auto Performance, a reputable provider of aftermarket parts for Audi models, is an excellent source for these enhancements. Their extensive collection includes a variety of parts specifically designed for the 2017-2019 B9 Audi A4/S4. Visit their website to explore the vast selection and find the perfect parts to modify your 2017 Audi A4.
Ultimately, the 2017 Audi A4 isn't just a car; it's a canvas. It's easy to mod, fun to drive, and with the right modifications, it can be transformed into a vehicle that's uniquely yours. And with trusted suppliers like Canadian Auto Performance, you can be confident in the quality and fit of your chosen aftermarket parts. Get ready to unlock your Audi A4's full potential and stand out from the crowd!
Packed with Advanced Safety Features and Driving Aids
The 2017 Audi A4 is a testament to the fact that safety needn't be compromised for luxury and performance. It generously borrows many of the advanced safety features and driver-assistance technologies from the high-end Q7 model, but offers them at a much more affordable price point.
The safety suite includes adaptive cruise control, which automatically adjusts the vehicle's speed to maintain a safe distance from the car ahead. The lane-keeping assist system helps prevent unintentional drifting out of the lane by gently guiding the vehicle back if it starts to veer off course. Additionally, the A4 has a feature that prevents you from turning in front of oncoming traffic, further enhancing its safety profile.
Combine these features, and the 2017 Audi A4 offers a semi-autonomous driving experience, particularly on highways. This capability is demonstrated in the European-spec Avant wagon model but is also available in the North American sedan version of the A4.
It Packs Powerful Engines Under The Hood
Under the hood, the 2017 Audi A4 is more than capable. As mentioned before, the A4's 2.0L TFSI® engine offers up to 252 horsepower, providing a strong and responsive driving experience. With this power, the A4 excels in various driving conditions, from cruising on highways to navigating winding roads. The availability of Audi's quattro® all-wheel-drive system further enhances its performance, delivering excellent traction and stability.
To summarize, the 2017 Audi A4 offers a blend of luxury, technology, and performance that few vehicles in its class can match. Its timeless design, coupled with its impressive specs and advanced tech features, make it an excellent choice for anyone in the market for a premium sedan. Whether you appreciate a manual transmission, require a high-tech interior, or simply want a powerful and responsive engine, the 2017 Audi A4 has something to offer for everyone.