Only 100 of the Jeep Renegade Desert Hawk will be available in the UK, making it the most limited edition yet. This new version follows in the wake of the Night Eagle and Dawn of Justice ranges, the latter launched in conjunction with 2016's Batman vs. Superman film. The reputation of the car fared considerably better than the film. Those 100 Hawks are likely to soar out of the showrooms as the Renegade has proved itself to be a popular range. The UK alone had over 11,000 sold last year.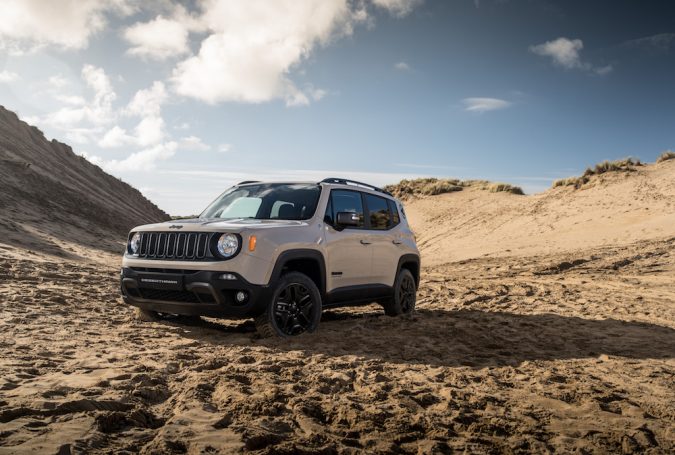 The Renegade Desert Hawk Flies Over Sand Dunes
To emphasise the off-road capabilities of the Renegade Desert Hawk, Alex Bird, a board-rider, was towed across some of North Devon's sand dunes as part of the car's launch. The UK is not a country renown for either its deserts or even its beaches. This certainly made it a unique way of promoting the vehicle. Much more used to riding on water, Alex had to ditch his sea legs. Despite this, he still managed to perform various stunts and jumps. The Desert Hawk is described as rugged and capable off-road and the rider confirmed this.
The car performed incredibly well on such deep sand; if it wasn't so good off-road there is no way I could have got up to 40 mph and nailed the jumps and stunts. – Alex Bird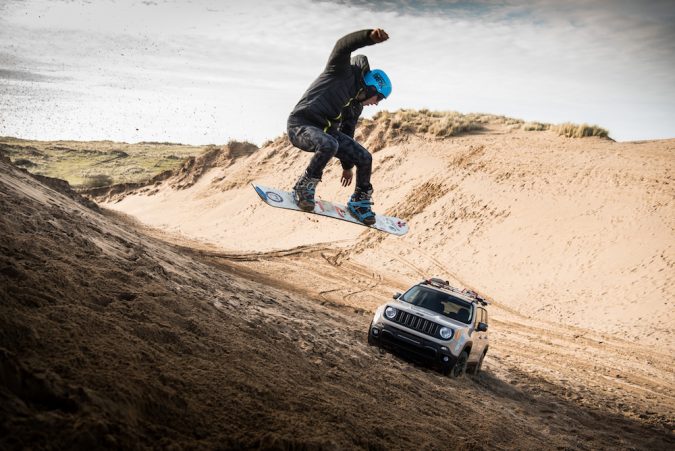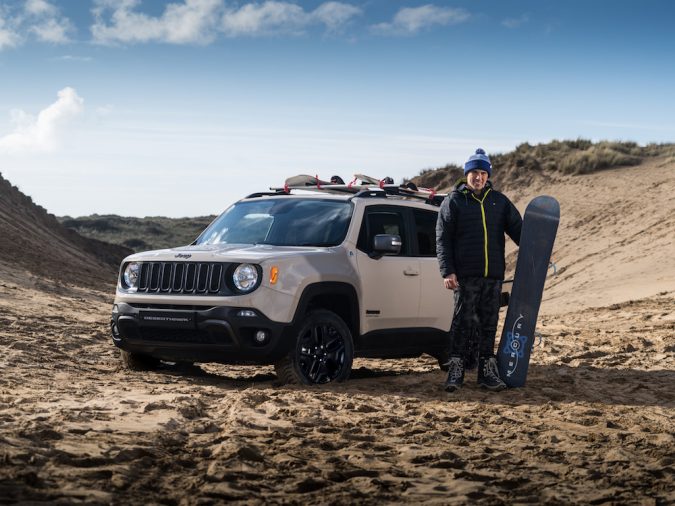 If this has inspired you or you have ever had the inclination to be towed around 90-foot sand banks in the UK, then the Renegade Desert Hawk is a good option. Alternatively, it flies around other off-road surfaces equally well and the driving seat is far more comfortable.
If you are interested in buying a Jeep take a look at our Jeep reliability guide before making that big decision.
Exclusive Features
Said seats are an exclusive feature of the Desert Hawk. They come in black leather and fabric, with the base featuring a neat Moab desert map logo. The Desert Hawk has a number of exclusive features including its Mojave Sand colour option. There are also bonnet and rear panel decals.
This version of the Renegade is the only one whose Selec-Terrain system contains a Rock mode. This is alongside the standard Auto, Snow, Mud, and Sand modes. The Active Drive Low system comes as standard. It enables the Desert Hawk to gain excellent traction at low speeds, for example, when manoeuvring a boat out of the water. It is also of benefit to technical driving situations and enhances traction across a variety of road surfaces.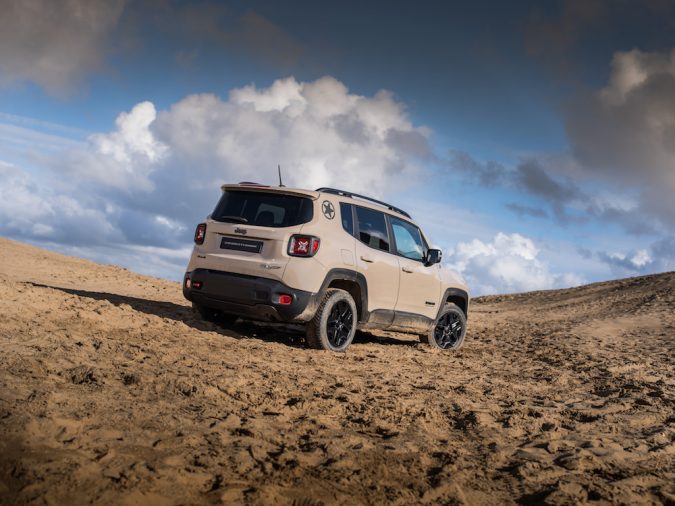 Powering all this as standard is a 170 hp 2.0 litre Multijet diesel engine. A nine-speed automatic transmission is paired to it. Helping things along a little more is the Renegade Desert Hawk's 8.7 inch ground clearance, skid plates, 8.1 inch wheel articulation, Hill-descent Control and 19 inch water fording.
The Renegade range does have competition but not much with such a large engine. The Selec-Terrain system also puts the Desert Hawk at an advantage. Depending on your preferences for styling, you could well struggle to find something in this class of vehicle. Seemingly, you can take this car anywhere and do anything you want with it on any surface.