We've all got a dream car, mine is a gorgeous classic Ford Capri MK II. For others, it's a classic Porsche 911, an Audi R8 V10, or an Aston Martin Vantage. It might even be that your dream car is something much simpler, something with a bigger boot or extra seats for the kids, or maybe even a childhood favourite that you may have owned back in the day. But for most of us mere mortals, the likelihood of ever owning one of these beauties is little more than a fantasy. Well, be it a kit car or a classic, a 4×4 or a  Mini Cooper, whatever gets your engine roaring could be yours with BOTB.
This is a online competition where the winner is judged on real-life skill, and the prize is the car of your choice. Quite simply, a petrohead's dream.
Choose Your Dream car
You'll be pleased to know it couldn't be easier to be in with a chance of winning your heart's desire. The first step is to choose your dream car, or if you're anything like us, cars! Now, if you had to choose from over 180 models, ranging from hot hatches to supercars, what would you pick? Are you in the mood for a Bentley Continental, or a Porsche Cayenne? It's a toughie! So maybe you'll want to set aside 5 minutes or so to drool over the fantastic range of cars available to be won. You'd be mad not to take a look.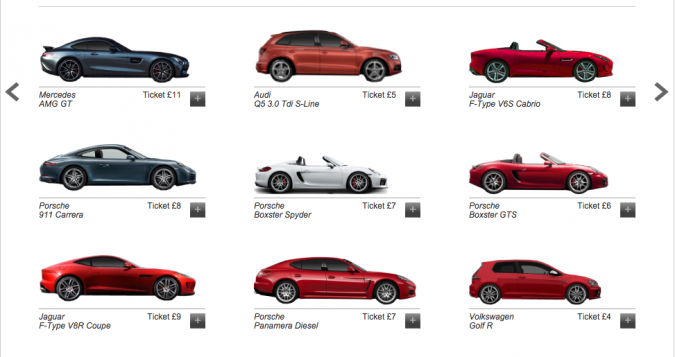 Once you've chosen your dream ride, get as many tickets as you like, they start from as little as £3 a ticket! The more you buy, the cheaper it will be as you can save 40% when you buy ten tickets, or 20% when you buy five. Then all you have to do is play a short game of "spot the ball", where you are simply shown an image of some footballers in mid-air and you select where you think the centre of the ball should be. The nearest wins, it's as simple as that! You can even win prizes for being close to the ball, including the cost of your ticket back, among other cash prizes.
The entries are judged by an expert panel, including a qualified referee and footballer Sol Campbell. It's a rigorous process that ensures a fair winner every time. So you can be sure that every winner has done so fairly and through skill.
With cars being won on a weekly basis, there really is no excuse not to give it a whirl, especially as all new players get free £5 credit just for joining.
Winner's Videos
Check out some of the past lucky winners in the videos below.
The Mclaren 540C plus £10K, what a lucky chap! I wouldn't mind getting a call like that at work. Due to the availability of the 540C BOTB got hold of a McLaren MP4 12C just to go and surprise the winner as soon as possible; as seen below.
We're a little bit jealous of William, BOTB CEO, getting to surprise these lucky people! He's a modern day Noel Edmonds!
What a gorgeous car and a fantastic reaction to it from a lovely bloke. He was even worried about spoiling the car with dirty clothes!
So it really does happen, every single week! These videos just go to show that you could be next! It's worth having a look at BOTB's YouTube channel to see more winner's videos, plus recordings of the judging process.
We urge you to watch this video of Mr Satwinder Johar, who was lucky enough to win twice at BOTB! For Satwinder, it had to be the Porsche Cayenne Turbo and a Mercedes AMG GT. He is the first in BOTB's fifteen year history to win more than once at the game. We are more than a little jealous of you Satwinder.
It's absolutely free to set up an account (and dead easy to hook up to your Facebook account) and you'll get a chance to play a game every week, bringing you a step closer to getting behind the wheel of your favourite car.
Maybe one day there'll even be a Ford Capri on there for me to win!