Many performance car fans feel a sense of pride in driving a powerful American car. There are many fastest cars in the US, American-built automobiles available on the market today, ranging from contemporary muscle cars to incredibly powerful pickup trucks and even supercars.
However, what constitutes a "made in America" car has changed. Many foreign automakers have moved their automobile production here. For instance, Honda has produced automobiles in Ohio for more than 30 years.
As a result, some of the models on the list of fastest American automobiles below don't have the logos of the Big Three. Limited-edition hypercars aren't included in this list. The Hennessey Venom F5 and SSC Tuatara may be well-known to die-hard enthusiasts, but they will only be produced in extremely small quantities.
Additionally, cars like the Tesla Cyber Truck and Ford Mustang Mach-E that are currently in the concept or pre-production stages are not included…
Fastest Production Car In The World
Some refer to the current state of the American auto industry as the second coming of the automobile industry's golden age. With modern technologies and designs, the raw power of muscle cars that once shook American roadways throughout the 1960s and 1970s is revived.
Today's crop of manufactured American automobiles rivals or even outperforms the supercars built by expert mechanics in Europe. What are the quickest automobiles ever produced in America? The phrase "fastest cars" in reference to vehicle speed can be interpreted in a number of different ways.
First off, the phrase "fastest cars" could refer to a car's rate of acceleration. When a vehicle accelerates, it moves from a resting speed of 0 miles per hour (MPH) to a target speed, often 60 MPH. Second, a car's theoretical highest speed could be referred to when the term "fastest cars" is used.
The highest speed a vehicle could go in any situation is referred to as its potential top speed.
Fastest Car In The US
Fastest Car In The US #1: Hennessey Venom F5
With the Venom F5, Hennessey Performance Engineering previously held the top spot on this ranking. The F5, the Venom GT's replacement, has a theoretical and stated top speed of 301 mph, far faster than the next-fastest vehicle. Shame Bugatti had to get involved in the top-speed battles once more.
The Venom F5's chassis is made of carbon fiber and powered by a 7.4-liter, 1,600-horsepower twin-turbo V8 engine. Hennessey has not yet provided evidence to support its claims, but the F5 is said to have a 0-to-249 mph sprint time of fewer than 30 seconds. A moderate sports vehicle can reach 100 mph in around that amount of time.
Fastest Car In The US #2: Dodge SRT Viper
It is no surprise that the Mopar team dominates the horsepower list, with the Viper serving as one of the main contributors. The long-running halo vehicle from Dodge has an 8.4 liter, 640 horsepower V10 engine that can accelerate from 0 to 60 in just three seconds. This engine even went into a truck, creating the 'Viper' truck.
The Viper doesn't exactly sound like a good deal with a starting price of $97,000, but with that big V10 and a top speed of 206 mph, you're getting Ferrari performance for Mercedes S-Class costs.
Fastest Car In The US #3: Bugatti Chiron Super Sport 300+
Bugatti overcame the Hennessey Venom F5, which had won, in August 2019. In addition, the Chiron Super Sport 300+ made track history by becoming the first vehicle to surpass 300 mph.
Andy Wallace, a racing driver, set the ultimate record at 304.773 mph on Volkswagen's Ehra-Lessien test track in Germany. If 300+ mph feels out of reach, you're not alone. Going 450 feet in a second is astonishing. Only 30 of these quad-turbo, 8-liter, 16-cylinder engines will be built, each costing a whopping $3.9M.
Fastest Car In The US #4: SSC Tuatara
The SSC Tuatara is another fastest production cars in the world. The Tuatara, a replacement for the Ultimate Aero, made its premiere as a concept car at the 2011 Pebble Beach Concourse d'Elegance. It was designed with one goal in mind: to unseat the Bugatti Veyron as the fastest car in the world.
Keep in mind that the Chiron didn't exist at this time (2011). The supercar took more than a decade to create, and the production model didn't go on sale until 2018. Tom Nelson of Nelson Racing Engines created the V-8 engine. The 5.9-liter twin-turbo V-8 produces a massive 1,750 horsepower on 91-Octane fuel and has a flat-plane crank.
The 2,749-pound, rear-wheel-drive Tuatara with an all-carbon structure can reach some serious speeds with that much power. The Tuatara reached an average speed of 316 mph on a speed run that SSC tried back in October.
However, it was unable to confirm the validity of this run. Jerod Shelby himself publicly declared that they would attempt it again, and a few months later, SSC did just that. This time, the Tuatara recorded an average speed of 282.9 mph at the Florida Kennedy Space Center, making it the fastest production car in the world ever.
This plainly upset the American automaker, who intended to exceed the 300 mph limit. While that didn't occur, SSC came very close to it by reaching 295 mph this time and breaking its own record to become the fastest production car in the world.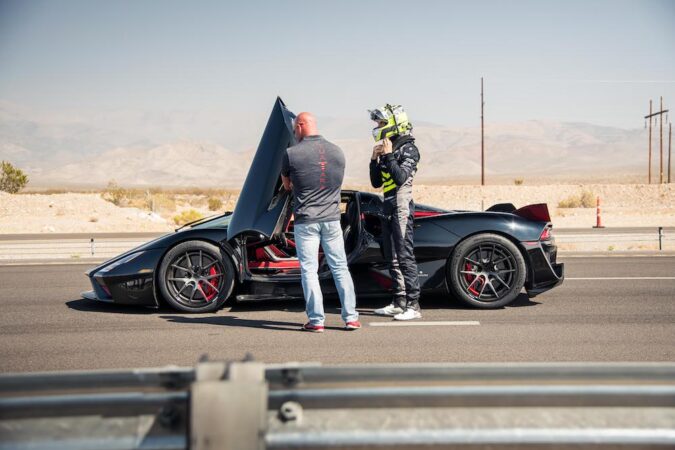 Fastest Car In The US #5: Hennessey Venom GT
Hennessey lost the record when Koenigsegg established a new top-speed record. The sudden appearance of the Hennessey Venom GT overthrew the legendary Bugatti Veyron.
Hennessey unveiled a Lotus-based Frankenstein supercar with a 7.0-liter twin-turbo V8 and 1,244 horsepower in 2014. This was the Texas-based tuner's first standalone construction; up to that point, it had only modified performance cars.
The Kennedy Space Center gave Hennessey permission to record a peak speed of 270.4 mph. The run has drawn much criticism even though the Guinness Book of World Records gave it the go-ahead.
One is that most top-speed records are calculated from an average of two runs made in opposing directions. The Venom GT is a low-production, hand-built car as well. Its legitimacy as a vehicle in series production has been contested.
Fastest Car In The US #6: SSC Ultimate Aero TT
We need to go back a few years to 2007 when the world's seventh-fastest automobile debuted. The Ultimate Aero TT from Shelby Supercars (SSC) broke a new world record on September 24, 2007, when it reached 257 mph. In the state of Washington, the business conducted the run on a closed section of highway.
The supercar with a wedge-like design appeared out of nowhere and defeated the powerful Bugatti and Koenigsegg. This is made possible by a 6.3-liter V8 twin-turbo engine with 1,183 horsepower.
When you learn that the Ultimate Aero TT has no electronic driver aids to help keep the car oriented in a straight line, the top-speed run becomes even more amazing.
Fastest Car In The US #7: McLaren Speedtail
Because it has never achieved a top-speed run comparable to those of the other supercars on this list and because it is not street-legal in the United States, the McLaren Speedtail has an asterisk next to its top-speed run.
The method used by McLaren to evaluate the Speedtail's highest speed is still puzzling, considering the company claims that its test model, the XP2, surpassed 250 mph more than 30 times.
The runs, which were carried out on the Florida runway of the Kennedy Space Center as part of McLaren's testing procedures. With the Speedtail, McLaren didn't want to break any records for peak speed, in contrast to most of the vehicles on this list.
However, the car's mega-powerful powertrain and aerodynamic form make it a vehicle designed for speed. It has a twin-turbo 4.0-liter V8 engine and an electric motor, together producing 1,035 horsepower.
Fastest Car In The US #8: SCG 003S
A limited-run supercar known as the SCG 003, also known as P33, was first introduced by the boutique carmaker back in 2013. The road-going racer's production model, created by Paolo Garella, made its debut at the 2015 Geneva Motor Show.
The Competizione Stradale and the Stradale were the three variations that the company decided to make. The company had previously created and competed in vehicle races at venues such as Le Mans and the Nürburgring.
The Stradale was the most forgiving and effective road-going model in terms of the three variations. With a 2866-pound, 4.4-liter twin-turbo S63 V-8 engine from BMW, the SCG 003 can reach some impressive top speeds.
How soon? Well, above 230 mph, to be precise. The Competizione Stradale is unquestionably the most severe vehicle in the group. Although this automobile has street-legal license plates, it is really a track weapon.
The vehicle has a simplified cockpit and a larger rear wing. The SCG 003s is manually constructed in the sleepy hamlet of Hollow, New York.
Fastest Car In The US #9: Ford GT
The Ford GT is one of automobile history's most recognizable model names. The original Ford GT40 (now unobtainable in price), of course, gained worldwide recognition for challenging Ferrari at Le Mans in the middle to late 1960s. Nearly 60 years later, the GT name is still in use.
Unlike the first-generation GT, which debuted in the middle of the 2000s and has a V-8, the current model has a V-6 for the first time. A 3.5-liter twin-turbocharged V-6 with 647 horsepower, not just any V-6. With all of that power directed to the rear wheels, the highest speed is rated at 216 mph.
Ford Performance and Chip Ganassi Racing brought the GT LM GTE-Pro back to Le Mans in 2016 and were able to celebrate the 50th anniversary of Ford's first victory in the 24-hour endurance event with an emotional victory. Returning to the road-going vehicle, construction started in 2016, and a total of 1,350 units have been planned.
Fastest Car In The US #10: Dodge Demon
Now that we're discussing the quickest American automobiles, we can't talk about muscle cars, can we? In reality, thoroughbred American muscle cars were among the fastest car in the world before the advent of all these mid-engined American exotics.
The Dodge Dart used the name "Demon" back in the early 1970s, giving rise to the term itself. The SRT Demon of today is practically a drag racer on wheels. The modern Dodge Challenger with the highest level of performance is this one. A 6.2-liter HEMI supercharged engine under the hood produces 840 horsepower.
The Demon can go from 0 to 60 mph in 2.1 seconds with a top speed of 211 mph with the appropriate settings. Dodge sells a product referred known as the Demon Crate out of the box. It has everything you'd need to crush the competition at your neighborhood drag strip.
It is not surprising that this car comes with barely street-legal drag slicks made expressly for the Demon because it is about 1/4-mile times. Having said that, the Demon can't actually compete in NHRA Drag races because a roll cage is required for any vehicle with a sub-10 second 1/4 mile time.
Fastest Car In The US #11: Saleen S7
The McLaren F1's American rival was the Saleen S7. The California-based company is well-known for customizing Ford Mustangs, but in the early 2000s, it decided to create its own mid-engined supercar to compete with the fast exotics from Europe and Japan.
The S7 was practically a racetrack for the road due to its aggressive looks and mid-engine design. It was created by Ray Mallock Limited, Phil Frank, and Steve Saleen. The S7 weighed only 2,865 pounds and had an all-carbon fiber body. The vehicle has a 7.0-liter Ford V-8 engine that had been modified to produce 550 horsepower.
Additionally, Saleen turned up the heat in 2005 with a twin-turbo variant that produced 750 horsepower. The S7's maximum speed is rated as 218 mph. Only 100 of the supercar's limited production units are still in existence. This includes automobiles built primarily for racing.
Fastest 0-60 Car
Owning a powerful American automobile exhibit a sense of pride in many performance enthusiasts. Many quick, American-built automobiles are available on the market today, ranging from contemporary muscle cars to incredibly powerful pickup trucks and supercars.
Fastest Cars In The US, Fastest 0-60mph #1: 2008 Ariel Atom 500 (V8)
0-60 mph time: 2.3 sec
The Ariel Atom 500 has a 500-kilogram (or around 1,100lbs) package with a tiny V8 engine with more than 500 bhp. One of the highest power-to-weight ratios for a production automobile ever will be offered by the Atom 500.
With almost 1000 bhp per tonne, the Atom 500 will be the pinnacle of performance and will only be produced in small quantities.
Fastest Cars In The US, Fastest 0-60mph #2: 2013 Porsche 918 Spyder
0-60 mph time: 2.3 sec
The Porsche 918 Spyder accelerates like it's on a slingshot when you switch to "Race Hybrid" mode for maximum performance. The electric motors primarily serve as boosters for the 918s combustion engine when it is operating at a high load.
Continual acceleration runs, in my estimation, would require the electric power assist to propel the car to the quarter mile in under ten seconds.
Fastest Cars In The US, Fastest 0-60mph #3: 2012 Bugatti Veyron 16.4 Grand Sport Vitesse
0-60 mph time: 2.4 sec
The Bugatti Veyron 16.4 Grand Sport Vitesse has expanded the boundaries of open-top driving with a power boost of up to 1,200 HP. With its dynamic driving abilities, the Vitesse, which resembles the Bugatti Veyron Super Sport and now holds the 431 km/h world speed record.
Of course, if you need to ask how much is a Bugatti, you – like pretty much all of us – likely can't afford to ever experience this. Therefore, the Bugatti La Voiture Noire top speed is something left only to professional racing drivers or their billionaire owners.
Fastest Cars In The US, Fastest 0-60mph #4: Koenigsegg Gemera
0-60 mph time: 1.9 seconds
The Koenigsegg Gemera is the fastest production car in the world, reaching 60 miles per hour in 1.9 seconds. It weighs 4,079 pounds and is the first mega-GT in the world. It is Koenigsegg's first four-seater.
The hybrid vehicle features a 2.0 L TFG twin-turbocharged I3 with three electric motors and produces 600 horsepower and 442 pound-feet of torque. It offers 1700 horsepower and 2581 pound-feet of torque when coupled with an electric system.
Fastest Cars In The US, Fastest 0-60mph #5: Tesla Model S Plaid
0-60 mph time: 1.98 seconds
The Tesla Model S Plaid features the company's first tri-motor drivetrain and is among the fastest vehicles from 0 to 60 mph. It has a combined torque of 1,050 pound-feet, 1,050 horsepower, and a weight of 4,816 pounds.
It is a totally electric vehicle with the fastest acceleration and the greatest range of all the electric vehicles now on the market. That should help to alleviate some of your concerns on are Tesla charging stations free, how much does a Tesla battery weigh, how long does it take to charge a Tesla, or how long does a Tesla battery last.
Fastest Cars In The US, Fastest 0-60mph #6: 2015 Ferrari LaFerrari
0-60 mph time: 2.43 sec
The 2015 Ferrari LaFerrari is the eighth fastest car that has ever tested, narrowly beating out its German counterpart. Like the Porsche, the redundantly called Ferrari had an electric drivetrain.
It had a seven-speed twin-clutch automatic transmission and a 6.2-liter V-12 engine positioned in the middle with an electric motor wedged between them. The massive 950 hp rear-drive Ferrari hybrid could accelerate to 60 mph from a complete stop in under 2.43 seconds.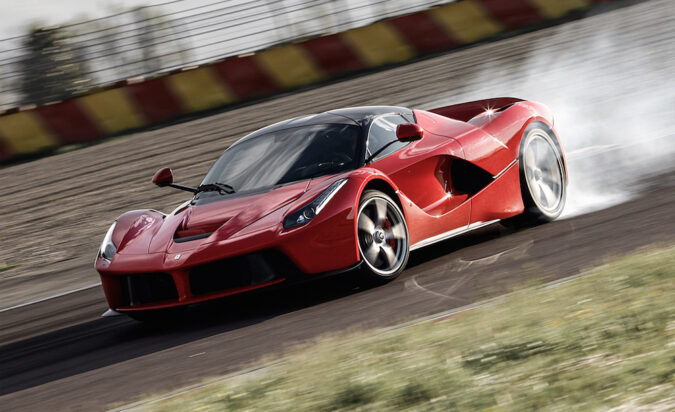 Fastest Cars In The US, Fastest 0-60mph #7: Lamborghini Huracán Performante
0-60 mph time: 2.3 seconds
The 5.2-liter V10 gasoline engine in the Lamborghini Huracán Performante is paired with a 7-speed automatic transmission. It weighs only 3,047 pounds and produces 630 horsepower and 443 pound-feet of torque, enabling it to reach 60 mph in just 2.3 seconds.
Admittedly, this is the sort of car that only the 1% can own. But, that doesn't mean that you too can't experience it. If you search up how much to lease a Lamborghini, or how much does it cost to rent a Lambo, you'll find that it's not too far out of reach for mere mortals.
Fastest Cars In The US, Fastest 0-60mph #8: 2014 Mansory Vivere
0-60 mph time: 2.48 sec
Although it seems strange to credit Mansory in this instance, the regulations allow it because they are a manufacturer. Mansory essentially customized a Bugatti Veyron 16.4.
A stunning front apron, shorter bonnet, and redesigned wings were all part of the Vivere's extensive frontal makeover. The quad-turbocharged W16 engine was thankfully not modified, so power is the same as the "regular" Veyron at 1000+ horsepower.
Fastest Cars In The US, Fastest 0-60mph #9: 2007 Weber Sportscar
0-60 mph time: 2.5 sec
With their most latest mock-up, Weber Sportcars from Tobel, Switzerland, are dreaming big, as seen at the 2007 Top Marques Monaco exhibition. They envision a supercar made of carbon fiber that travels at 250 mph and is mostly aerodynamic in design.
They created a full-size model of the potential final shape after nine months of computer-aided design. An active rear wing that adjusts its angle during acceleration and braking is also present. The car's 7.0-liter supercharged V8 engine generates 950 horsepower and sends it to the rear wheels.
Fastest Cars In The US, Fastest 0-60mph #10: Nissan GT-R Nismo
0-60 mph time: 2.48 seconds
One of the most adored supercars among vehicle aficionados is the Nissan GT-R NISMO, which has a twin-turbocharged V6 engine. Already, it's one of the fastest V6 cars in the world. It weighs 3,800 pounds, with a power output of 600 horsepower and a torque output of 481 pound-feet. It can accelerate from 0 to 60 mph in 4.8 seconds.
Thankfully, you don't have to worry about is a Nissan Skyline R34 legal in the US this time around. Or, need to look around the market for an older Skyline GTR R33. Yet, you might have to look up how much is a GTR R35, since they're quite pricey, especially this NISMO variant.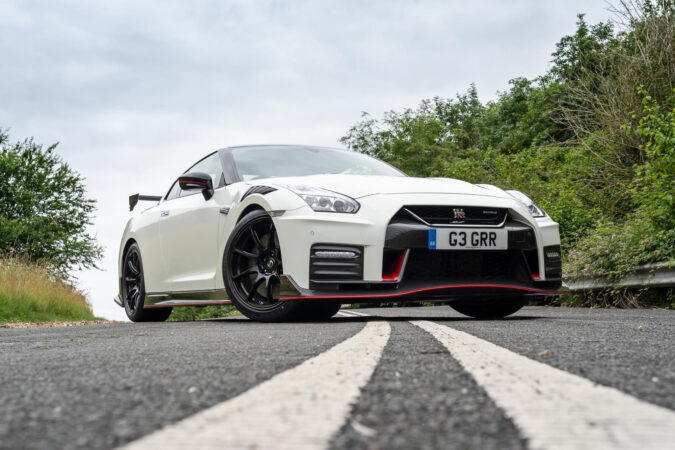 FAQs On The Fastest Cars In The US
What Is The Fastest Car In The World
The Koenigsegg Jesko Absolut, with a planned top speed of nearly 310 mph, is currently the fastest production car in the world.
How Fast Do F1 Cars Go
F1 vehicles have 0 to 60 mph acceleration times of just 2.6 seconds and top out at 360 kph, or 223.6 mph.
What Is The Fastest Production Car
The Huracan may not be as insane as many of its predecessors, but that doesn't make it any less thrilling in some people's eyes. Although several Huracan models have been throughout the years, all of which are powered by a 5.2-liter V10, the current Huracan Evo coupe now holds the record for fastest acceleration with a timing of 2.9 seconds.
How Fast Can A Lamborghini Go
Truly an exotic car, the Lamborghini Aventador LP 750-4 Superveloce, is a lighter, more potent version of the original. The 6.5L V12 engine's remarkable aerodynamic design provides 690 horsepower. The top speed of this exotic car is 218 mph.
What Is The Fastest Street Legal Car
It turns out that Bugatti does not want to be surpassed in terms of speed, so after realizing that the Veyron had outlived its usefulness with its modest 267 mph, they chose to concentrate on the Chiron Super Sport. Similar to the Veyron, they only made 30 of these cars and equipped them with a W16 quad-turbocharged engine capable of mind-blowing 1 578 mph.
What Is The Fastest 0-60 Car
The Koenigsegg Gemera is the fastest production automobile in the world, reaching 60 miles per hour in 1.9 seconds. It weighs 4,079 pounds and is the first Mega-GT in the world. It is Koenigsegg's first four-seater.
How Fast Can A Bugatti Go
The Hennessey Venom F5, which had won, was defeated by the Bugatti in August 2019. In addition, the Chiron Super Sport 300+ made track history by becoming the first vehicle to surpass 300 mph. The final speed was 304.773 mph, set on Volkswagen's Ehra-Lessien test track in Germany by racing driver Andy Wallace.
What Is The Fastest Porsche
The quickest and most potent Porsche 911 to date is the 2021 Porsche 911 Turbo S. It handles even better and is just as quick as a supercar.
What Makes A Car Faster
Power, power train, weight, and aerodynamics are four interrelated aspects that affect how fast an automobile travels. Your car's torque and horsepower are directly related. These two characteristics mostly determine your car's speed. You move more quickly the higher the torque and horsepower. Because of this, auto advertisements frequently extol the horsepower and torque that each vehicle is capable of.
How Much Horsepower Does A F1 Car Have
The SCA specialist estimates that a Formula 1 car's V6 turbocharged engine can generate about 1050 horsepower with its power unit. A machine with this power, paired with the design and other features of a Formula 1 car, can go at speeds of up to 400 km/h.
Which Car Has The Most HP
John Hennessey, who developed supercars using components from a Lotus, designed the Hennessey Venom F5 hypercar. This car was intended to reach top speeds of 301 mph and had 1600+ horsepower.
How Fast Can A Ferrari Go
Despite not being the fastest, Ferrari is quick. The top speed of the quickest Ferrari is 211 mph. Although not astounding, it moves quickly enough.
Fastest Cars In The US: Final Verdict
There are numerous methods for determining a car's speed. Since we can actually drive at 60 mph on most highways, being able to accelerate swiftly from zero to 60 mph is arguably the most realistic performance criterion.
However, top speed, the best overall ranking criteria, is the most irrational, no holds barred, balls-to-the-wall metric a supercar can have. Massive amounts of engineering brilliance are required to create pieces of metal and carbon fiber that can drive themselves this swiftly and safely down a strip of pavement without disintegrating.
Ah, but what if you want to experience some of this speed for yourself? Well, good news, as we've curated a bountiful list of the fastest cars on the market for those who aren't millionaires. That includes our rankings of the fastest cars under 100k, the fastest cars under 50k, and the fastest cars under 30k.
Or, if you want more practicality, SUVs and crossovers have gotten pretty speedy recently, too. Hence, you'll find an abundance of options in our list of the fastest SUV under 20k and the fastest SUV under 50k.
Meanwhile, for you DIY-ers or those who have a very strict budget, we also have a list of RWD cars under 5k, especially if you want to build a cheap drift car (and learn how to drift a car). On the other hand, anyone looking to get the cheapest project cars on the market can find a plethora of the best project cars under 5k, too.