When purchasing an automobile, a lot of aspects need to be taken into account; handling, fuel efficiency, safety features, and trunk space. It is an endless list – more of which we'll touch on while discussing the fastest cars under 100k.
However, there are occasions when you simply have to ignore practicalities and concentrate on one crucial stat: speed. Many people believe that the auto industry is shifting away from high-performance automobiles and toward more sensible models.
We simply have one question for anyone making this argument. Have you recently looked at the new fastest cars under 100K? The industry of producing fast automobiles is still very much alive and well. They are, in fact, getting more affordable.
A surprising number of high-performance vehicles are available for less than $100,000, although you'll never find a Lamborghini or a Ferrari for less than six figures. You've arrived at the right location if you're seeking something that moves quickly or even best used sports cars.
The fastest automobiles you can purchase for less than $100,000 are listed below. So get your wallet out and fasten your seatbelt.
Fastest Cars Under 100k
Following are the list of best sports car under 100k.
Fastest Cars Under 100K #1: BMW M4
Price: $ 72,995
The BMW M4 is among the top coupes and convertibles available today. The M4 can compete with any car in its class, whether it has the 473 horsepower regular model or the 503 horsepower Competition model.
The M4's four passengers enjoy an exciting driving experience due to the M subbrand's significant use of technology. However, there are more fuel-efficient options. This premium sports vehicle under $100,000 is fun to drive around town owing to its smooth adjustable suspension and large trunk.
For the Mercedes-Benz C 63 Coupe, notable rivals include an Audi twin-turbo six-cylinder engine and a Mercedes-Benz V8. For those whose budgets can't stretch into the high 5-digit or 6-digit mark, the non-M BMW 430i is yet another great sleeper sports coupe.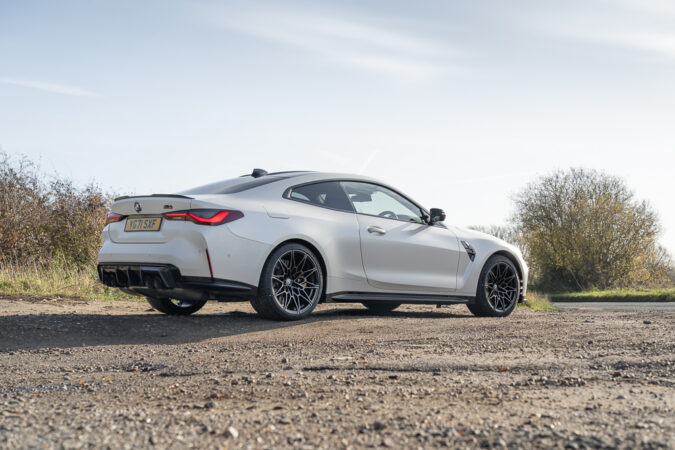 Fastest Cars Under 100K #2: Audi S5
Price: $ 56,395
The Audi S5 radiates elegance everywhere it goes. Similar to the Audi A5, it comes in three different body styles: a fast coupe, an open-air drop-top, and a somewhat more modest hatchback with coupe lines. Additionally, the S5 outperforms the ordinary A5 in terms of physical performance.
With the addition of a V6 engine and around 90 more horsepower. The S5 accelerates from 0 to 60 miles per hour in about one second less time. The S5 has a number of performance-oriented options, including a sport differential, adjustable suspension and steering, and other accessible equipment that are not offered on the A5.
The S5's interior is just as beautiful as its looks, so the show doesn't end when you hit the road. The opulent interior with diamond-stitched leather is an option, and heated front seats with massaging capabilities are standard. With great care and attention to detail, everything is put together.
In the same competitive class as the Audi S5, the Lexus RC 350, Mercedes-AMG C43, and BMW M440i are also rivals. Even though it lacks some opulent features, the Ford Mustang is still a formidable rival in terms of performance.
The Audi S5 is still a quick, high-class sports car that is attractive to look at and fun to drive daily, albeit the BMW just had a redesign and now has the advantage in terms of fuel efficiency. If your budget doesn't stretch that far, maybe you can compare an Audi A4 vs A5, instead.
Fastest Cars Under 100K #3: Nissan 370Z Nismo
Price: $46,685
Nissan's 370Z, which debuted in 2009, has undergone relatively little alteration in its eleven years of production. Only recently has it been replaced with the new 400Z. That need not be a bad thing. The 370Z has offered an exceptional driving experience at an affordable price since day one.
For less than $30,000, the standard model offers over 300 horsepower. But if you want to truly blow your hair back, the Nismo is where it's at. The naturally aspirated VQ 3.7 liter V-6 in the Nismo increases to 350 horsepower and accelerates from 0 to 60 mph in 5.2 seconds. The 370Z is still one of the best performance values available.
Even though it falls short of the competition in terms of safety features and "newness." We do have a guide on what a modded Nissan 300ZX – the 370'z granddad – could become. While they're not at all similar mechanically, it's worth reading if you need some inspiration for a 370z project car.
Fastest Cars Under 100K #4: Toyota Supra
Price: $50,945
Toyota finally brought back the storied Supra last year after ten years of hints and false starts. This new vehicle more than lives up to the Supra name due to its exceptional performance and sophisticated styling. The fact that you get so much car for the money is arguably the nicest feature.
The Toyota Supra's basic price of just over $50,000 makes it difficult to pass up, given that it can accelerate from 0 to 60 mph in 3.8 seconds and complete a quarter mile in 12.3. Even better still, for those who were disappointed with the Supra's unveiling as an auto-only, you can now get one with a manual!
But, how much horsepower does a Supra have? Well, I guess you have to read our guide to find out. On top of that, we've also previously discussed how much is a Supra, if you're looking to get one from the iconic, older A80 generation, instead.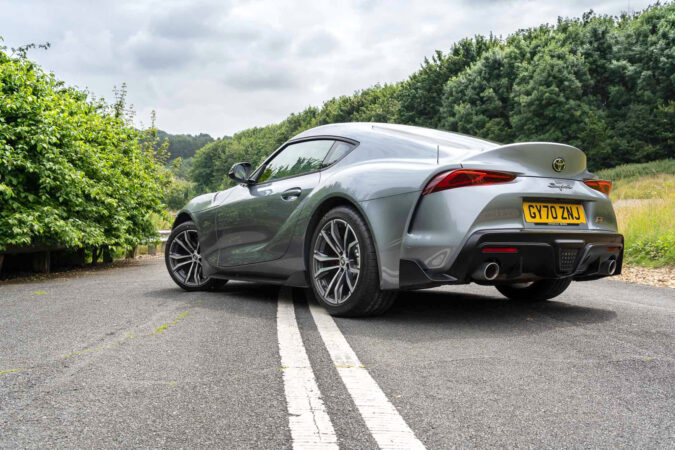 Fastest Cars Under 100K #5: Mercedes Benz E-Class
Price: $ 56,000
The E-Class is one of the versatile vehicles made by the prestigious Mercedes-Benz brand. Each model in the E-Class lineup sets a high standard for performance excellence that is used to compare it to other vehicles in its category.
Competitors find it challenging to match how well the E-Class balances cutting-edge technology and the more traditional aspects of automotive luxury. Additionally, it may be ordered as a sedan, coupe, or wagon, providing it with a level of adaptability unmatched by other cars in its class.
The E-Class is available in a variety of body designs, although they all have several common features. Traditional luxury, state-of-the-art technology, sturdy construction, and superior safety are some of these qualities.
The sedan's rear-wheel drive arrangement gives it better handling than front-wheel drive automobiles. While the standard E-Class models are plenty of fun to drive, the performance-oriented AMG versions of the E-Class elevate the driving experience to a greater extent.
The E-Class sedan falls roughly in the middle of the size range of its competitors. Despite being 1.5 inches shorter than the BMW 5 Series, it is the same length as the Audi A6. The Cadillac CT5, which is an inch and a half shorter than the E-Class, is the only local luxury car that can compete with it.
Just 4 inches separate the stunning E-Class coupe from the car's sedan counterpart.
Fastest Cars Under 100K #6: Infiniti Q60
Price: $ 42,775
Up to four passengers can ride in the elegant, athletic, and opulent Infiniti Q60 coupe, but there isn't much legroom in the back seats. This car offers a thrilling ride because it blends the agility and handling of a sports car with the sophistication and comfort of a luxury sedan.
Rear-wheel drive is the standard setting, and there are two potent engines to choose from. Every model offers all-wheel-drive technology as an option. Even the more expensive Red Sport 400 model boasts a refined ride and an elegant, lavish, well-equipped cabin.
The infotainment system has a dual-screen setup that occasionally may be challenging to operate, but it does provide all of the necessary functions. This year, it will also be outfitted with standard wireless Apple CarPlay. Safety features are not standard in the base model but are offered as upgrades or appear as standard in higher trim levels.
The Audi A5, one of our competitors, has a cabin that is identical to ours in terms of luxury but is propelled by a powertrain that isn't nearly as potent. The Mercedes-Benz C-higher Class's trim levels are equipped as standard with more luxury and better performance.
Each of the several body types, including a convertible that the BMW 4 Series is offered in, is equipped with strong motors and lavish interiors. This should appeal to those wondering whether are Infinitis good cars. Plus, their dependability should further calm down concerns over are Infinitis reliable.
Or, if you want to look for inspiration on how to best maximize the performance of your Infiniti, we have guides on those, too. Thus far, we've looked at how a modified Infiniti Q50 and a modified Infiniti G35 can be instantly improved with some simple mods.
Fastest Cars Under 100K #7: Dodge Challenger SRT Hellcat
Price: $69,000
The Hellcat is not subtle in any way. The Hellcat, a supercharged 6.2-liter V-8 engine with 717 horsepower, is the most potent variation of Dodge's Challenger muscle automobile. With a 0-60 mph time of 3.6 seconds and a quarter-mile time of just under 11 seconds. This vehicle is indeed terrifying when traveling straight.
Hellcat prices range from $63,000 for the base model to $80,000 for the Redeye Widebody. Despite producing an astonishing 797 horses, the Redeye is not worth the money.
The Redeye is not any faster than the normal Hellcat, as Car and Driver point out in their assessment. Choose the $69,000 Widebody model as an alternative because it has better handling and a cooler appearance. If you need four seats to carry more passengers, you might want to consider looking at the Charger, instead.
With that in mind, our guides on the Dodge Charger vs Challenger, as well as the Hellcat Charger vs the Hellcat Challenger might help. And for long-term ownership, you likely needn't have to worry too much over are Dodge Challengers reliable.
Fastest Cars Under 100K #8: BMW 8 Series
Price: $ 88,495
Alongside the more traditional 7 Series sedan, the BMW 8 Series is the model that holds the top position in BMW's lineup. It is a more sporty expression of top-tier luxury and performance.
The 8 Series is one of the best sports cars under $100,000 and is available as a two-door coupe, a convertible, or a low-roofed four-door sedan. In addition to its exotic appearance, it also offers exceptional driving abilities.
From the entry-level 840i all the way up to the Alpina B8, which is the kind of car that can make every trip seem like an adventure, the BMW 8 Series is a series of vehicles. The powerful engines guarantee acceleration that will send your heart racing while the unflappable suspension helps to smooth out any and all types of road imperfections.
The BMW 8 Series boasts a plush interior that is superior to that of other luxury cars. This completes the overall package. From the sleek form to the tactile quality of the materials, the 8 Series exudes high-end luxury in every way.
The only glaring flaw about the 8 Series is its size, namely the fact that people cannot comfortably fit in the back seats of the coupe and convertible models. Even the four-door Gran Coupe model's rear seat is too small for those over six feet tall.
Similar stories apply to competitors like the Mercedes-Benz SL and Audi S7, all of which sacrifice comfort for style. The only car in its class that stresses passenger comfort is the BMW 7 Series.
Fastest Cars Under 100K #9: Chevrolet Camaro
Price: $ 26,395
The most recent version of a car that was first presented in the heady days of the 1960s is the Chevrolet Camaro, which is available in both a two-door coupe and a two-door convertible body type. In addition to Flower Power's enormous popularity at the time, young people's fast cars like the Camaro also dominated the market.
The Ford Mustang started the trend, but the Chevrolet Camaro quickly followed and threatened the Mustang's hegemony in the market. Although the American auto industry has altered significantly over the past 50 years, the Camaro's core concept has remained constant.
The automobile is still a rear-wheel-drive, high-style two-door with athletic performance. It can also be ordered in a variety of unique forms. Such as a convertible or a coupe, as well as a number of different engine choices.
The Camaro's standard power plant continues to be a big-displacement V8. The efficiency with regard to space was never one of the Camaro's strong points, and it still isn't. The vehicle is a typical "2+2," which means that it features seats in the front for the driver and a passenger and additional seats in the back for two additional passengers in case of an emergency.
The Camaro still offers a lot of driving fun, even in its least effective version. Additionally, as the flagship model, it provides performance that is unmatched by all but a small number of other cars.
And hey, even the old Catfish Camaro is also pretty quick. Or, if you need to make your V6-powered Camaro even quicker, you could also consider a twin turbo kit for your Camaro V6 engine.
Fastest Cars Under 100K #10: Ford Mustang
Price: $ 28,900
The Ford Mustang was created using a successful formula more than 60 years ago and has continued to serve the automobile well ever since. It has always been a front-engine, rear-wheel-drive, two-door sports car with sporty bucket seats and a small backseat.
The Mustang's extended hood and short rear deck give it an air of sheer power and athleticism even in its most basic configuration. Recent discontinuations of Ford's vehicle lineup have left the corporation with only the Mustang and the specialist Ford GT, along with a selection of SUVs and pickup trucks.
Ford intends to revamp the model lineup by introducing five new limited-edition variations to the Mustang for the 2022 model year rather than making significant changes to the car.
Another unique car that might rightfully command a wide variety of costs is the Ford Mustang. A Shelby GT500 starts at more than $70,000, while a Mustang EcoBoost Fastback's base price is just over $28,000. Options might potentially increase the cost to about $100,000.
There are just two direct competitors for the Ford Mustang in the modern era when crossovers dominate the automobile industry. The Ford Mustang and the Chevrolet Camaro are most comparable, and different models of both vehicles compete in NASCAR.
While significantly larger than the Ford Mustang, the Dodge Challenger emanates a personality akin to the Mustang. The Challenger is about ten inches shorter than the Mustang, which is the same length as the Camaro.
The biggest of the two cars is the Camaro. Unlike the Mustang and Camaro, which also exist in convertible versions, the Challenger is the only model that is available in a coupe body style. The Mustang is also fairly long-lasting and dependable if you're at all wondering about how many miles do Mustangs last.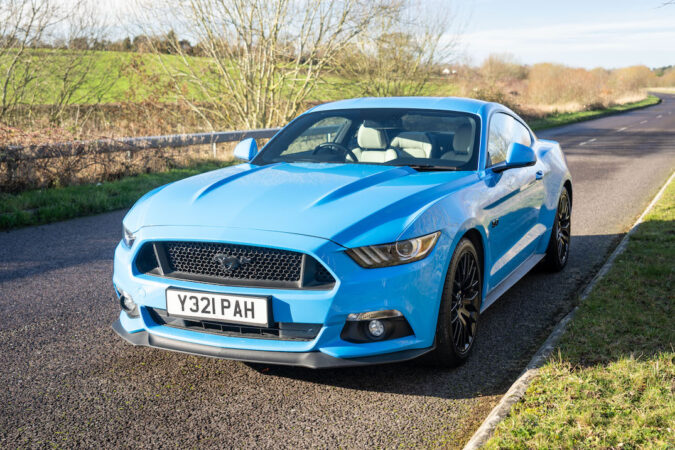 Fastest Street Legal Car
Bugatti Chiron Super Sport is the fastest stock automobile, reaching 304.7 mph. Bugatti takes the top rank for the fastest quarter-mile car. A modified 8.0-liter, quad-turbocharged Chiron Super Sport with 1,600 horsepower was driven around the Ehra-Lessien track by driver Andy Wallace in 2019.
The body was given a new rear aero kit, a new exhaust system, and a lengthening of 10 inches. However, the Michelin Pilot Sport Cup 2 tires which were x-rayed before installation to guarantee perfect structural integrity, were the true champions.
Most Reliable Sports Cars
The MX-5 Miata adheres to its core principles and offers incredible driving experiences and drop-top fun at one of the most competitive pricing points. An MX-5 Miata has a spirited 2.0-liter inline-four engine that produces 181 horsepower and 151 lb-ft of torque when mated to a thrilling six-speed manual transmission.
The MX-5 Miata earned the top spot in J.D. Power's 2022 Dependability Study for Compact Sporty Cars. Contrarily, Consumer Reports gave the MX-5 Miata a perfect expected dependability score of 5 out of 5, placing it in sixth place overall for reliability across all classes.
The Mazda brand advanced in the Consumer Reports vehicle reliability rankings to take second place overall, although narrowly missing out on J.D. Power's top 10 dependability rankings.
Even the old 1990 Mazda MX-5 Miata still remains a decent buy today – just be wary of the rust, though. And if you want to extract even more power from it, perhaps an engine swap for your Miata might be on the cards. Maybe, something along the lines of a Hellcat-swapped MX-5 Miata.
Best Cheap Sports Cars
The price for a Mazda MX-5 Miata is $26,830. The Mazda MX-5 Miata stands out among other cheap fast cars. Given that it's the most affordable roadster available. This should be one of your top picks if you appreciate the sense of the wind in your hair.
The lightweight design and rear-wheel drive architecture of the Miata make it possible to have a great deal of fun without an extreme engine. The Mazda's primary shortcoming seems to be its storage, despite its exceptional performance, comfort, interior, safety features, and fuel economy.
Fastest Car In The World 0-60
Rimac Nevera has the quickest quarter-mile time. With a 0-60 MPH time of 1.85 seconds, the Rimac Nevera is the world's quickest 0-60 accelerating vehicle. The Nevara also owns two further world records. One for the world's quickest electric automobile and the other for the fastest quarter-mile time of 8.52 seconds.
The Rimac Nevera, so named after a swift, powerful storm in the Mediterranean, offers unequaled performance, real-time intelligence, and technological wizardry that enable it to strike with extraordinary speed and severity.
In addition to three generations of powertrain technology, the 100% hand-built Nevera required five years of research, development, and testing. A staggering 1,914hp and 1,741lb-ft of torque are produced by the four motors that separately drive each wheel of the Rimac Nevera, which is entirely electric.
Best Daily Driver Sports Car
The Chevrolet Camaro has some shortcomings as a daily driver sports vehicle. Its short trunk, narrow back seat, and poor outside vision make it less practical than some of its rivals. However, the Camaro, which is available as a two-door coupe or convertible, has some underappreciated charm.
The Camaro has premium credentials, unlike many inexpensive sports vehicles. A Cadillac sports sedan platform, one of the best in the business, is below the classic muscle car's exterior. So even the entry-level Camaro has admirable elegance and polish.
Unlike previous Camaros, this isn't a basic car that accelerates quickly and feels cheap. Even if you opt for its 335-horsepower V6 or 275-horsepower four-cylinder engine. There are also 455-horsepower and 650-horsepower V8 options it is enjoyable to drive. The Camaro's low starting price of $25,000 and low V8 arrival price of $34,000 are its best features.
Best Luxury Sports Car
The Roma is a newer, more inexpensive Ferrari that has a vintage-like vibe to it. Although it shares a base with the Portofino and is a front-engined, V8-powered, two-plus-two-seat coupe, it is far more appealing in terms of appearance and handling than its convertible cousin.
It is arguably most conceptually similar to Maranello's well-liked 550 Maranello of the late 1990s, albeit not technically identical: a small, alluringly affordable, daily-use sports GT with the performance, excitement factor and handling vivacity of a legitimate Ferrari, but with a cabin and character you could truly put miles on.
While Roma's 3.9-liter turbo V8 gives it over 600 horsepower and a top speed just shy of 200 mph, this is the modern Prancing Horse in relatively laid-back form. So what really strikes you is the cabin's surprisingly comfortable and opulent-feeling interior, which is easy to berth, well-equipped with the latest technological amenities, and enticing to spend time in.
FAQs On The Fastest Cars Under 100K
What Is The Fastest Street Legal Car
Because it brings the thunder, the Bugatti Chiron Super Sport, also known as Thor, clocks a top speed of 304.7 mph and will be by far the fastest street-legal vehicle in the world.
What Are The Cheapest Sports Cars
The Miata has long been the go-to, reasonably priced sports vehicle for those who enjoy driving. Regardless of pricing, the lack of weight and innate chassis balance gives one of the greatest driving experiences on the market. You can't really ask for much more with a base price of $28,665.
How Much Is The Fastest Car In The World
The Devel Sixteen, which costs $1.6 million and has a 0-60 mph pace of 1.8 seconds, is the world's fastest car, according to reports.
What Is The Fastest American Car
The renowned Venom GT's replacement is the Hennessey Venom F5. Hennessey has made it known that he wants to join the 300 mph club. A top speed of 311 mph is claimed by the Texas-based tuner. A 6.6-liter twin-turbo V-8 with a custom iron block and 1,817 horsepower powers the mid-engined supercar.
Is A BMW A Sports Car
If a car is utilized for sporting activities, it is considered a true sports car. Given that it has won more races than any other sports vehicle before, the BMW M3 is regarded as one of the most successful sports cars of all time. 750is are classy vehicles. BMW produces both sports cars and luxury vehicles.
What Car Has The Fastest Acceleration
The Koenigsegg Gemera is the fastest production automobile in the world, reaching 60 miles per hour in 1.9 seconds. It weighs 4,079 pounds and is the first Mega-GT in the world. It is Koenigsegg's first four-seater.
What Is The Fastest Stock Car In The World
The Bolide from Bugatti blends its fanciful X-themed design language with the brand's unheard-of W-16 engine plant to produce an estimated top speed of more than 311 mph. It was inspired by the Molsheim manufacturer's Vision Le Mans idea. The Bolide from Bugatti blends its fanciful X-themed design language with the brand's unheard-of W-16 engine plant to produce an estimated top speed of more over 311 mph. It was inspired by the Molsheim manufacturer's Vision Le Mans idea.
What Is The Fastest 4 Door Car
The Aston Martin Rapide AMR is undoubtedly the quickest four-door car available, despite not being a mass-produced model. The Rapid AMR was produced in a strictly 210-unit run by the British automaker, and despite being road-legal, it was obviously substantially track-inspired. The 6.0-liter naturally-aspirated V12 engine powering the Rapide AMR has a body made of carbon fiber.
What Is The Cheapest Sport Car
An iconic vehicle is the Ford Mustang. The base model, the Mustang EcoBoost, has a vivacious 2.3-liter four-cylinder engine and is priced under $30,000, or approximately $10,000 less than the V8 GT model.
How Many 2 Door Cars In The World
With an estimated 1.4 billion vehicles on the road, automobile saturation is at about 18%. However, the global market for 2 door cars is difficult to anticipate.
Fastest Cars Under 100K: Final Verdict
Many options are available when you're in the market for a new sports car and have $100,000 burning a hole in your pocket. But the options are a little bit more limited if your new driver prioritizes speed over all else. We analyzed a lot of new or newer cars, with vehicle performance aiding in narrowing down our options.
Since a few decades ago, the meaning of quick in the automotive industry has significantly changed. Today, it must have a top speed of above 150 mph, a zero to sixty time of fewer than four seconds, and an acceleration time over a quarter mile of no more than 12 seconds.
With a budget of $100,000, all of these numbers and much better are feasible. Otherwise, do check out our guides on the fastest SUV under 20k and fastest SUV under 50k, should you instead prefer a high-riding SUV instead of a coupe or a sedan. But what if your bank account can't support 6-figures?
Well, worry not, as we've also listed some of the fastest cars under 50k and the fastest cars under 30k. For those of you who instead prefer a cheap DIY project, we've also looked at the best project cars under 5k, as well as some of the best RWD cars under 5k for those wanting to build a cheap drift car (and learn how to drift a car).