In this article, we will have a look at the list of fastest cars under 50k that will deliver a thrilling driving experience. We have listed them in different categories in descending order of 0-60 timings. Let's dig in and find out which of these engaging machines suits you the best.
Fastest Cars Under $50k 2022
The following are the fastest 0 60 cars under 50k. The list consists of sports coupes, hot hatches as well as muscle cars.
2022 BMW 2 Series M240i xDrive Coupe ($48,550) – Fastest New Sports Car Under 50k
The fastest new car you could buy for less than $50k and is not just a fast car in a straight line. Powered by a turbocharged 3.0L Inline-6 engine, the 2022 BMW 2 Series M240i xDrive Coupe puts out a strong 382hp and 369 lb-ft of maximum power and torque.
These figures represent an increase of 47 horses and a single pound-foot over the M240i from the previous year. The basic transmission is a ZF 8-speed automatic with a torque converter. The new car's gearbox has shorter ratios for the first three gears.
However, it offers quicker shifts suggestive of a dual-clutch unit and comes with launch-control capability. All of this enables it to attain a speed of 60mph in just 3.6 seconds.
2022 Volkswagen Golf R ($44,090) – Fastest Hatchback Car Under 50k
The Golf R is back for 2022 after a sabbatical from the 2019 model year. Following the advent of the eighth-generation Golf GTI, it has been resurrected. VW intends to discontinue sales of the normal Golf hatchback and station wagon in the United State. Now, the GTI and R will be the only models available in the United States.
The Golf R is powered by a turbocharged 2.0-liter inline-four that produces 315 horsepower and 310 pound-feet of torque. These figures are an increase from the 288 horsepower and 280 pound-feet in the previous generation R.
A six-speed manual or a seven-speed dual-clutch automatic transmission is available to go with the engine. For superior handling, the standard 4Motion all-wheel-drive system includes a rear differential that actively distributes torque between the left and right rear wheels.
The Golf R can blast off to 60mph in just 3.9 seconds making it one of the fastest cars you could get for less than $50k.
2022 Chevrolet Camaro 2SS 2dr Coupe ($42,500) – Fastest Chevy Cars Under 50k
With 455 horsepower and 455 lb-ft of torque, the Camaro SS features Chevy's famous small-block V-8. The optional dual-mode exhaust is a great addition to this car. It enhances the car's remarkable low-end torque, linear power delivery, and chest-compressing acceleration. The enthusiast's spirit is maintained by the standard six-speed manual transmission while a 10-speed automatic is optional.
The Camaro SS is not just a drag car. Its incredible chassis gives an unrivaled car-to-driver connection compared to other pony cars. Its sturdy construction ensures precise handling and a premium feel. It has a well-balanced ride that is firm enough to be agile on curved roads yet soft enough to be docile on rough terrain.
The 2022 Camaro SS takes 3.9 seconds to charge to 60mph and that makes it one of the fastest new cars under $50k.
2022 Ford Mustang GT Premium ($42,295) – Fastest Pony Car Under 50k
The Mustang GT is powered by a 450-horsepower V-8 engine with an active exhaust system that produces a deafening roar. This powerful engine is mated to a six-speed manual or a 10-speed automatic transmission, making the Mustang even faster than before.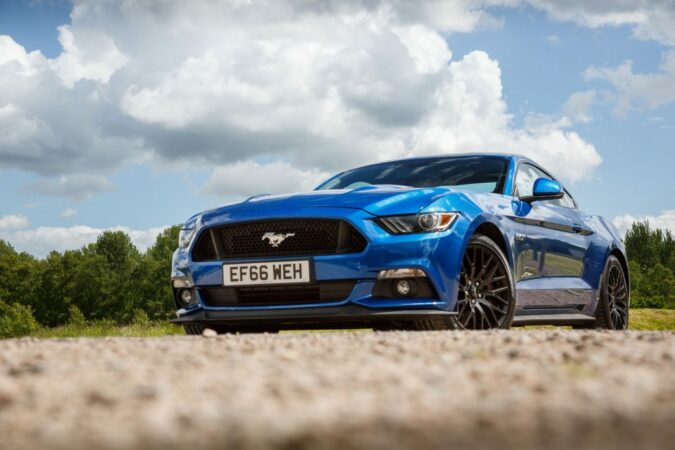 Depending on which drive mode you select, the steering effort differs. Regardless of the mode, the driver receives plenty of feedback. The Mustang handles corners admirably even without high-performance summer tires.
Thanks to well-controlled body roll and superb overall stability. The 10-speed automatic transmission also performs admirably. It selects the best gearing while remaining unobtrusive. All of this enabled the Mustang GT to reach 60mph in just 4.0 seconds.
2022 Dodge Challenger R/T Scat Pack ($44,155) – Fastest Muscle Car Under 50k
The R/T Scat Pack variant, with its 485-hp 6.4-liter V-8, is superfast. We'd choose the $1,595 eight-speed automatic transmission over the basic manual transmission since it's far more responsive than the soft-feeling manual.
The latest Challenger is bulkier and less sporty than the Chevy Camaro or Ford Mustang. It does, however, have a smoother ride and more pleasant passenger accommodations. The inside materials are subpar, and the manual transmission is unsatisfactory. However, the 2022 Challenger is still a cool and fast coupe that reminds its driver of a bygone age on a regular basis.
Driving the Challenger is always a blast. Power is readily available in any gear at practically any speed with the 6.4-liter V8. The time from zero to 60 mph in the R/T Scat Pack Widebody equipped with the 8-speed automatic is just 4.2 seconds. It's swift enough, but a few tenths slower than other modern muscle vehicles.
Fastest Used Cars Under 50k
Porsche Cayman & Boxster (2013-2016) – Fastest Mid-Engine Sports Car Under 50k
You don't need a GTS or even a GT4 model to appreciate what makes the Porsche Cayman and Boxster such great drivers' cars. In fact, you don't even need a budget of more than $50,000.
While the current 718 models will be a little out of that league, the equally appealing 981-gen cars will be available, allowing you to choose from a wide range of vehicles. Base versions are your best chance for staying under budget. However, there are plenty of Cayman S and Boxster S examples with the opportunity to negotiate on their asking costs.
So, if you can stretch your budget to that $50,000 threshold, you'll also be able to acquire better performance. If all other factors are equal, we strongly suggest opting for a manual transmission model because we know they won't be made like this for much longer.
Chevrolet Corvette Stingray (2014-2016) – Fastest Sports Car Under 50k
The C7 Corvette is the last generation of those cars to be built with a front-mounted engine. Of course, this was before the latest C8-gen Corvettes rewrote the design language guidebook. They shifted the chapter from traditional American sensationalism to new-age European fanaticism. This amounts to a great chance to get into a classic-yet-modern Corvette for less than $50,000.
This will most likely limit you to non-Z06 model levels. But you won't be without a 6.2L naturally aspirated V8 engine that produces at least 455 horsepower and 460 pound-feet of torque. The Stingray comes with a 7-speed manual transmission or a more performance-oriented 8-speed dual-clutch transmission. There are usually reserved for considerably more expensive cars.
BMW Z4 (2019-2020) – Fastest Convertible Car Under 50k
The BMW Z4 is a fantastic car with its own advantages. It in fact kind of an underappreciated hero. After a four-year absence, the entirely reworked BMW Z4 returned to the lineup in 2019. The new BMW Z4 was even better than ever in 2021, and its excellent performance came at an amazing price.
The 2.0L inline-4-powered car is less expensive than its main competitor, the Porsche Boxster, at its basic price, but it nevertheless delivers the same pure roadster thrills. You can acquire one for under $50,000 brand new.
This means you can get one for even less if you buy a used-but-almost-new example. This would be our pick of the bunch if you're searching for a capable roadster. After all, you're receiving a car that's still covered by the manufacturer's warranty.
Honda Civic Type R (2017-2021)
Those who know me are aware of how much I adore this vehicle. The Honda Civic Type R is the ideal illustration of how performance and cost can be synonymous. It is an excellent manual sportscar that can do both roles of being a daily driver and a track monster.
The Type R is still powered by Honda's most advanced K series engine to date. The turbocharged K20C1 inline-4 engine produces 306 horsepower at 6,500 rpm and 295 pound-feet of torque at 2,500 pm.
You might be able to find one brand new for under $50,000 now (hard luck finding one). But given the present market conditions, don't anticipate great condition second-hand ones to sell for much less than their initial MSRP.
Alfa Romeo 4C (2013-2020) – Fastest European Exotic Under 50k
Alfa Romeo has built the 4C to give an unmatched performance at a price that many people will be able to afford. If track performance capability is more important to you than elegance, the Alfa Romeo 4C would be an excellent weekend warrior.
It's one of the most distinctive cars on this list. The fact that you can purchase one for under $50,000 makes it much more appealing. To get into this pricing bracket, you'll probably have to look for early-year base models, as newer, "Launch Edition," and other special versions are likely to cost more.
Audi TT (2014+) – Fastest Quattro Cars Under 50k
Looking for a well-optioned (and thoroughly maintained) secondhand example of an Audi TT is worthwhile. The Audi TT, whether new or secondhand, is still one of the most affordable luxury sports cars on the market, and it deserves to be noticed.
After all, its 228 hp 2.0L TFSI engine is class-leading, and Audi's craftsmanship and interior build quality are second to none. The Audi TT features a crisp, quick-handling nature and driving dynamics comparable to considerably more expensive vehicles.
We have little choice but to recommend the RS trim because it amps up all of the above, albeit locating a used example in this price range will be difficult.
Fastest Sports Cars Under 50k
2023 Nissan Z Coupe – Fastest JDM Car Under 50k
The upcoming Nissan Z, like its more powerful sibling, the Nissan GT-R, is powered by a twin-turbocharged V-6 engine. Instead of the GT-fire-breathing R's 565-hp 3.8-liter, the Z gets a 400-hp 3.0-liter mill from the Infiniti Q60 Red Sport 400, which is mated to either a six-speed manual or a nine-speed automatic transmission.
While all-wheel drive is offered in the Infiniti, the Nissan Z is only available with rear-wheel drive. The turbo six provides the Z plenty of power, and we expect it to hit 60 mph in as little as 4.2 seconds.
2022 Toyota GR Supra 2.0 ($43,540) – Fastest Sport Cars Under 50k
Despite the fact that the Supra coupe and the Bavarian brother Z4 share identical powertrains, the Supra coupe has its own identity. Supras in the past were known for their straight-line speed rather than their nimble handling. But this current version excels at both. It can achieve a speed of 60mph in 4.7 seconds. This is just a second slower than the 3.0 model which is priced above $50k.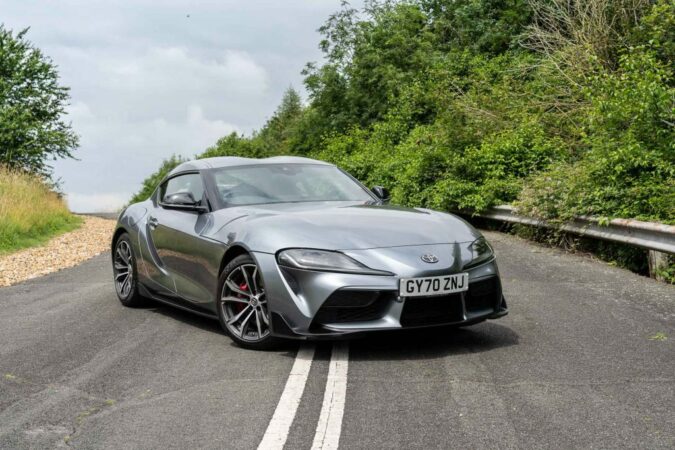 The steering wheel transmits a lot of information from the front tires to your hands during turns. Also, the new tuning makes it respond more intuitively. The redesigned suspension improves grip retention while remaining energetic. This results in improved handling and a less immediate tendency to oversteer.
The Supra's brakes and sticky tires can bring it to a stop from 60 mph in just 105 feet. However, it would definitely benefit from updated brake pads for harder use, like for track driving. The Supra isn't just a weekend car. It's something you can drive every day with no effort.
2022 BMW 4 Series 430i 2.0 ($46,795) – Fastest Grand Touring Car Under 50k
The 4-series sedan has a sportier driving experience than the 3-series sedan. Thanks to a retuned suspension, more aggressive steering calibration, a wider rear track, and a lower center of gravity.
The 430i's engine, a turbocharged 2.0-liter inline-four with 255 horsepower, is the show-stopper. In a market filled with turbocharged four-cylinders, BMW distinguishes out with enormous horsepower and a lot of personality.
The engine produces power fast and low in the rev range, like all good turbo fours, for that authoritative shove at traffic lights. Above 5000rpm, when many similar engines start to run out of gas, the BMW 2.0-liter sets itself apart from the competition. The 430i's redline of 6500 rpm is pushed hard and fast.
And, owing to the standard eight-speed automatic's flawlessly timed and executed shifts, the sweet spot of the powerband is just a toe tap away when you want it. When pushed to their limits, the engine and transmission are capable of a 5.2-second sprint to 60 mph. Unfortunately, a manual transmission isn't an option.
2022 Toyota GR86 Coupe/Subaru BRZ Coupe ($28,900)
The 2022 GR86 and the Subaru BRZ have been developed in conjunction with each other. Both of these models are powered by a horizontally opposed four-cylinder engine with a standard six-speed manual transmission.
The new 2022 models are driven by a 2.4-liter horizontally opposed four-cylinder engine. This mill produces 228 horsepower, up from the 2.0-liter engine in the previous model. As a result, for the money paid, you get a fantastic driving experience.
The manual version of these cars can reach 60 mph in 5.4 seconds, while the automatic takes slightly longer at 6.1 seconds. The suspension is forgiving enough to work as a daily driver, despite the car's handling prowess.
2022 Mazda MX-5 Miata/Miata RF ($28,665) – Fastest Budget Sports Car Under 50k
The 2022 Mazda MX-5 Miata is the only affordable sports vehicle with a convertible top, and it delivers driving pleasures at an accessible price. The manual-folding soft-top is standard on most models, but a more expensive RF model with a power-folding Targa hardtop is available. But the Miata's cabin is cramped yet well-equipped regardless of the roof.
The Miata's engine revs enthusiastically and has enough power to give thrilling acceleration. The direct, easy-to-shift manual transmission encourages you to explore the engine's high-revving characteristics. With fast shifts and dynamic programming, even the optional automatic impresses.
The soft-top model reached 60 mph in just 5.7 seconds, while the somewhat heavier hardtop RF model took 5.8 seconds. When driving over a series of bumps, Miatas ride strongly and can become bouncy. Although no Miata rides poorly, the mid-level Club's stiffer shocks and springs provide the stiffest ride of the series.
Fastest AWD Cars Under 50k
2022 BMW 2 Series M240i xDrive Coupe ($48,550) – Fastest AWD Car Under 50k
The new M240i's turbocharged 3.0-liter inline-six now produces 382 horsepower and 369 pound-feet of torque. It comes mated to an 8-speed automatic transmission powering all four wheels via their proprietary xDrive all-wheel-drivetrain. This configuration enables the M240i xDrive to attain a speed of 60mph in just 3.6 seconds.
2022 BMW 2 Series M235i xDrive Gran Coupe ($46,495)
The four-door 2 Series Gran Coupe is less agile and responsive than the conventional 2 Series coupe. It is, nonetheless, relatively nimble when compared to comparable entry-level luxury cars. Body roll is controlled by the strong suspension, and the light, accurate steering makes nailing an apex or negotiating through a tight parking lot a breeze.
From a standstill, the gas pedal can be hesitant to respond, but once you're moving, acceleration is quick and responsive. The eight-speed automatic transmission is well-tuned and smoother than some competitors' dual-clutch automatics. This along with the xDrive all-wheel-drivetrain enables the M235i xDrive Gran Coupe to accelerate to 60mph in 4.2 seconds.
2022 Audi S3 ($46,485) – Fastest Luxury Car Under 50k
The Audi S3 is powered by a 306-hp 2.0-liter four-cylinder engine, a seven-speed automatic transmission, and Audi's Quattro all-wheel-drive system. On the road, the S3 feels light and nimble, thanks to quick steering and a sport-tuned suspension.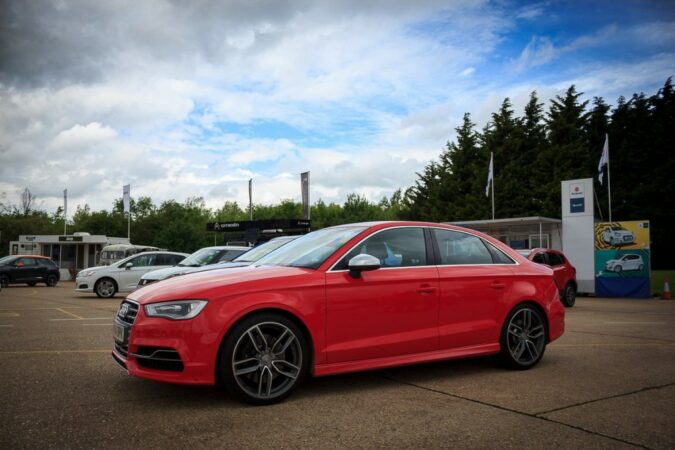 The standard all-wheel drive ensures that power hits the pavement at all times, while the strong brakes instill confidence. This enables it to race to 60mph in just 4.3 seconds.
2022 Mercedes-Benz CLA-Class AMG CLA 35 ($48,950)
The Mercedes-AMG CLA35 is the first Mercedes-AMG variant of the second-generation CLA. It is bigger in almost every way than the preceding model. The car's turbocharged 2.0-liter inline-four produces 302 horsepower and 295 pound-feet of torque.
The engine is mated to a seven-speed dual-clutch automatic transmission that sends torque to a front-biased all-wheel-drive system. This configuration takes the car to 60mph in 4.6 seconds.
2022 Kia Stinger GT1 AWD – Fastest Sedan Under 50k
Since the model's introduction, the Stinger has been powered by the same 3.3-liter twin-turbocharged V6 that has powered GT1 and GT2 variants. The V6 remains a fantastic powerplant. It boasts excellent responsiveness and thrust for days to go along with the rich sound piped through its valved exhaust system.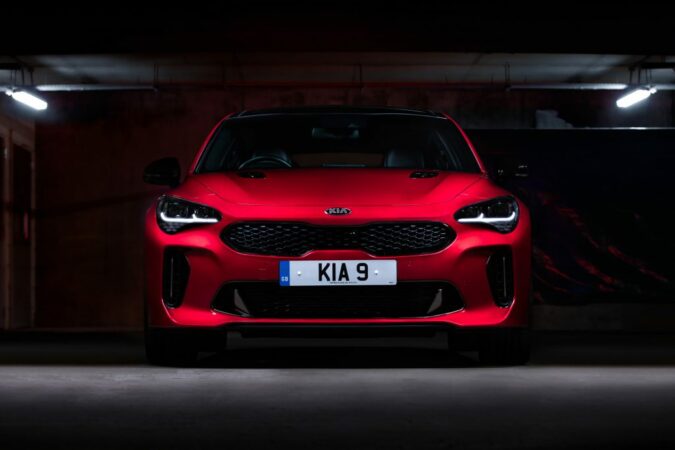 An 8-speed automatic transmission comes standard, and it's about as good as a torque-converter transmission can go. It delivers quick, smooth shifts and comes accompanied by reasonably sensitive paddle shifters. The Stinger GT AWD flies to 60mph in under 4.6 seconds.
2022 BMW X2 M35i ($47,445) – Fastest Crossover-Type Car Under 50k
This one is the only crossover SUV on this list. In order to create the X2 M35i, BMW had to sacrifice practicality, yet performance was not compromised. The engine is powerful and smooth, achieving a 4.6-second 0-60 mph time. It's mated to a quick-shifting transmission with intelligent gear selection.
With well-weighted steering that communicates what the front tires are up to, the X2 handles are as energetic as some of the best hot hatchbacks. The only source of annoyance, especially in slow-moving traffic, is the unusually grabby brakes.
Fastest Electric Cars Under 50k
2022 Hyundai Ioniq 5 SE Long Range AWD ($48,395) – Fastest Cars Under 50k
The Ioniq 5 is a simple electric vehicle to get used to and makes a wonderful daily driver. The Ioniq 5 has outstanding grip and smooth and fast acceleration with the dual electric-motor system.
The AWD Ioniq 5 flies from 0 to 60 mph in just 4.5 seconds. This actually beats the more expensive Tesla Model Y Long Range (0-60 in 4.8 seconds). It also outperforms the similar Ford Mustang Mach-E variant.
2022 Volkswagen ID.4 Pro AWD ($46,205) – Fastest Cars Under 50k
The ID.4's acceleration is sharpened while opting for the more powerful all-wheel-drive variant. Its 5.4-second sprint to 60 mph clearly indicates this. The VW ID.4 isn't as sharp as some other EVs, but we like how smooth and sophisticated the ride is, and how quiet the cabin is.
2022 Tesla Model 3 Standard Range Plus ($48,440) – Fastest Electric Car Under 50k
Excellent off-the-line performance, intelligent and responsive steering, and coordinated and snappy handling, make the Model 3 feel athletic and engaging. The entry-level Standard Range Plus trim retains the straight-line propulsion we enjoyed in the early Long Range vehicles.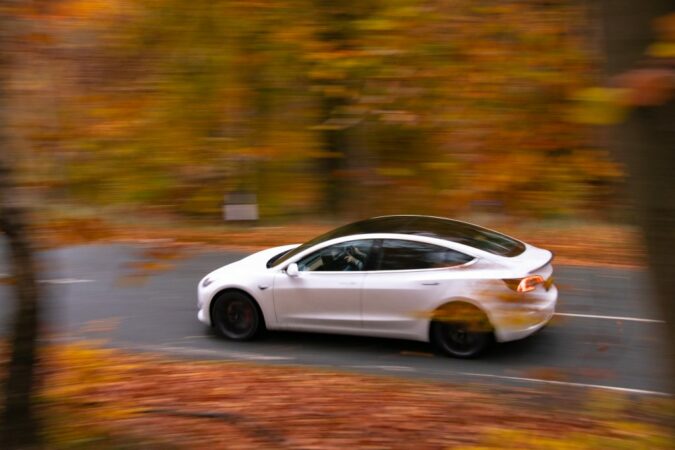 The Standard Range Plus races from 0 to 60 mph in 5.8 seconds, significantly faster than many competitors. Although the standard 18-inch all-season tires aren't the most grippy, they provide enough traction for most of the spirited driving you'll be undertaking on the road. The heavy-handed stability control, on the other hand, limits true high-performance driving.
2022 Ford Mustang Mach-E Premium Standard Range RWD ($49,875) – Fastest Cars Under 50k
Although the Mach-E is a wagon-like SUV, it has all of the speed and agility you'd expect from a Mustang. Even while it's an SUV, the handling qualities have been tweaked to make it feel more like a rear-wheel-drive sports sedan. It's amusing and engaging at times.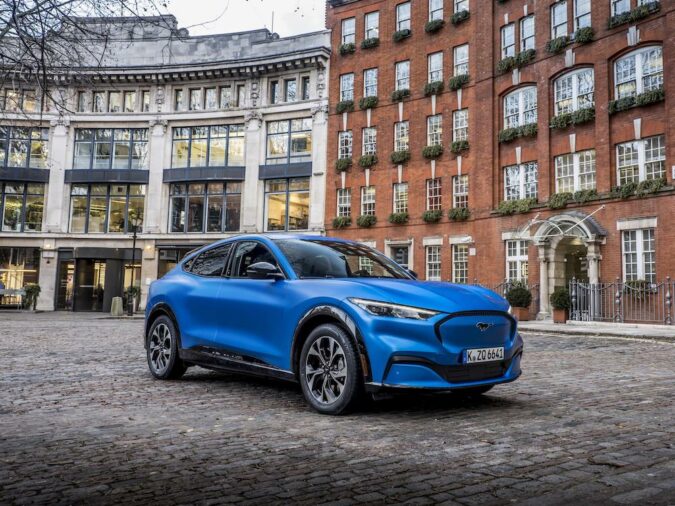 Transitions will cause a lot of bodily movement, but they will be composed and stable. The 2022 Ford Mustang Mach-E Premium Standard Range RWD which is available for a cost less than $50k can gain a speed of 60mph in 5.8 seconds.
2022 Mini Cooper Electric ($30,750) – Fastest Entry-Level Electric Car Under 50k
The Mini Cooper SE is also a really attractive vehicle. The Mini borrows the BMW i3s' motor, which produces 181 horsepower and 199 pound-feet of torque through the front wheels.
The Cooper Electric retains Mini's distinctive go-kart handling. It can accelerate to 60 mph in 6.1 seconds, which puts it ahead of comparable tiny EVs.
Fast Cars Under $50,000 – Facts:
Performance cars under $50,000 are becoming faster than ever before, with some cars clocking under 4 seconds in the 0-60 mph acceleration time.
Auto manufacturers' acceleration estimates are used in the list, and third-party testing has found some of these cars to be even faster.
The Mercedes-AMG CLA 35 has 302 horsepower, 295 pound-feet of torque, and a quick-shifting DCT, reaching 60 mph in 4.8 seconds, and costs $47,900.
The Volkswagen Golf R is a practical all-wheel drive compact with 315 horsepower and can reach 60 mph in 4.7 seconds. It costs $44,290.
The BMW M235i xDrive Gran Coupe is a 302 hp luxury car that can reach 60 mph in 4.6 seconds and costs $46,400.
The Nissan Z, with a turbocharged six-cylinder engine, can reach 60 mph in 4.5 seconds and costs $39,990.
The Audi S3 has a 2.0-liter turbocharged four-cylinder engine that produces 306 hp and can reach 60 mph in 4.5 seconds, costing $45,945.
The Dodge Challenger R/T Scat Pack, with a 6.4-liter Hemi V8 engine, can reach 60 mph in 4.5 seconds and costs $46,940.
The Ford Mustang GT, with a 5.0-liter V8 engine, can reach 60 mph in 4.5 seconds and costs $38,045.
The Dodge Charger Scat Pack is a four-door car with a 6.4-liter Hemi V8 engine that can reach 60 mph in 4.3 seconds and costs $49,140.
The BMW M240i xDrive Coupe is a two-door car with a 3.0-liter turbo-six engine that produces 382 hp, reaches 60 mph in 4.1 seconds, and costs $49,900.
The Chevrolet Camaro SS is the fastest car on this list, reaching 60 mph in 4.0 seconds with a 6.2-liter V8 engine that produces 455 hp and costs $39,090.
The Toyota GR Corolla is a recently introduced car with a 1.5-liter three-cylinder turbocharged engine that produces 300 hp and can reach 60 mph in 4.9 seconds.
The GR Corolla has three trim levels, and the highest performance model called the Morizo Edition can reach 60 mph in 4.9 seconds.
Fastest Cars Under 50k: Conclusion
This article discussed the fastest cars under $50k and we looked at some magnificent machines available at this price point. First, we looked into the latest 2022 cars that you could buy brand new for less than $50k.
Followed by this, we checked out used sports cars that you could manage to get for less than $50k. Then we had a look at fast cars with an all-wheel-drivetrain followed by the latest and fastest electric cars.
Now I believe you got an idea about what car you can and what you should get for yourself by shedding out less than $50k.
FAQs On The Fastest Cars Under 50k
Here are some popular FAQs:
What's The Fastest Car In The World
The SSC Tuatara officially became the world's fastest production car after reaching a top speed of 295.0 mph (474.8 km/h). On May 14th, 2022, it achieved this feat at Space Florida's Launch and Landing Facility. Racelogic set the record using dual VBOX GNSS systems onboard the Tuatara, as well as a Life Racing GPS unit for supplementary data collection.
What's The Fastest Street Legal Car
The SSC Tuatara officially became the world's fastest production car after reaching a top speed of 295.0 mph (474.8 km/h). Bugatti has created a one-of-a-kind Chiron that recently broke the 300 mph mark. However, the new record holder is a prototype based on the Chiron Sport, which means it isn't road-legal.
What Are The Types Of Sports Cars
Sports cars are differentiated into various segments based on body styles and performance. The most basic classification of sportscars would be into standard sportscars, high-performance sports cars, supercars, and hypercars.
What's The Fastest Electric Car
The Tesla Model S Plaid has a top speed of 200 mph. It can accelerate from 0 to 60 mph in under 1.99 seconds. The car generates 1,020 horsepower thanks to its three motors. It's an incredible feat of engineering from the company that popularised electric vehicles.