Ferrari has unveiled an all-new commemorative edition – that also happens to be the most powerful V12 GT car on sale today.
Called the F12tdf, this new limited-run special pays homage to the Tour de France automotive endurance race that Ferrari won 13 times.
Ferrari F12TDF – Bigger yet lighter than a 488 GTB
As befitting of a race that required outright speed and mechanical longevity, the F12tdf strikes a balance between being an out-and-out track car and a usable GT. For instance, the cabin is still as spacious as it is in the regular F12, though compromises have been made – door cards, for instance, are made out of a single piece of carbon fibre, whereas the glovebox has been ditched altogether in order to save weight.
Once you factor in the lighter alloy wheel designs and greater use of composite materials in the bodywork, the F12tdf tips the scales at 1,415kg – approximately 110kg less than the standard F12. To put that curb weight in comparison, the recently-released Ferrari 488 GTB (Ferrari's 'baby' mid-engined supercar, no less) is 60kg heavier than the F12tdf.
More power, more downforce, more speed (around Fiorano, at least)
The powertrain itself has also been revised for the F12tdf. Whilst the shorter gear ratios most likely mean the regular F12 will be the faster road car (Ferrari only states the F12tdf will reach speeds "in excess of 210mph"), the 770bhp power output – a 50bhp jump from the standard F12 – should ensure it will zip through the seven-speed dual-clutch transmission. It's also worth mentioning the gearshifts themselves are claimed to be faster in the F12tdf, too.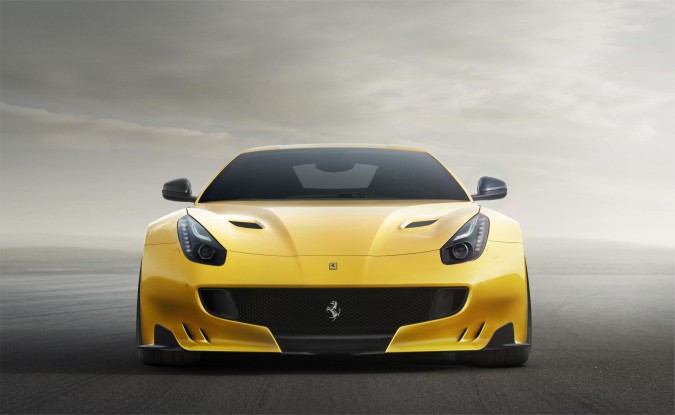 In conjunction with the improved aerodynamics, the Ferrari F12tdf appears to be one of the fastest-accelerating Ferraris this side of the LaFerrari hypercar. 0-62mph, for instance, takes just 2.9 seconds (presumably with the aid of a launch control system), whereas the sprint to 124mph takes less than eight seconds.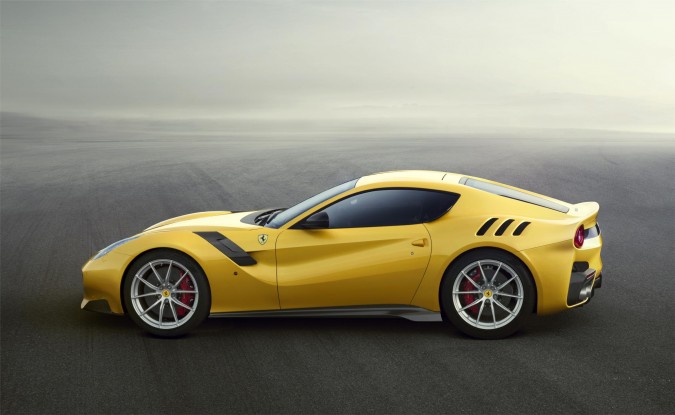 Ferrari also claims the F12tdf can lap the firm's Fiorano test track in 1 minute and 21 seconds, which is two seconds faster than the standard F12 and just over a second slower than the LaFerrari's official time around the track. It's understood a good chunk of that time comes through features that increase the car's agility and lateral grip: along with wider front tyres and increased levels of downforce, the F12tdf also features rear-wheel steering – a first for a road-going Ferrari.
Expect to pay big money
If you're seriously eyeing up the Ferrari F12tdf, it's best to get your order in ASAP, as the production run is limited to just 799 units. Official prices have yet to be disclosed by Ferrari, though – as its spiritual successor, the 599 GTO, cost over £300,000 brand new – we wouldn't be surprised if the F12tdf would set you back far more than that.