Ford intended to incorporate reliability into every aspect of the 2011 Edge's design. But it can't be said that they fully succeeded in their mission. Issues have continued to arise throughout time. Technical service bulletins and recalls were their only choices because the majority only surfaced years after the vehicles were first sold. Let's look at the most critical Ford Edge 2011 problems and recalls.
Before it could be regarded as a high-quality car, the Ford Edge had to experience some growing pains and work out the flaws, similar to most new models. In general, the initial model years of the Edge may have been rushed into production before they were ready.
There are many older versions that are fourteen to fifteen years or more old that are still in use today. So, if you're interested in purchasing a used Ford Edge, we'll also help you decide which Ford Edge model years are the most dependable to buy and which Ford Edge model years to avoid.
Ford Edge
 

View this post on Instagram

 
The midsize crossover market was still rather modest when the Ford Edge was launched in 2007. There were far fewer vehicles available than there are now. However, the Ford Edge has been well-liked, with almost all of its model years selling more than 100,000 vehicles annually in the US.
Fortunately, the majority of those million+ automobile buyers received reliable vehicles but not all. The Edge was Ford's first mid-size CUV (Crossover Utility Vehicle) to be marketed in North America, having debuted for the 2007 model year.
The Edge is currently in its second generation. The name Edge was taken from a Ford Ranger trim package, and the model sits between the Ford Escape and the Ford Explorer in the company's lineup of vehicles.
Ford Edge Generations
Since its debut, the Edge has been regarded as a top competitor in the family car market. It helped to boost Ford sales during the severe economic downturn that so severely hit the auto industry. A burgeoning market of five-seat, nearly luxurious automobiles was actually inspired by the Ford Edge.
Ford started manufacturing the Edge in 2006 as a 2007 model-year vehicle. Since then, it has produced two generations of the crossover, each of which received a major update midway through its existence. Let's look at the two generations of the Ford Edge in detail.
While you're here, you might also be curious about the Edge's closest competitors. In that case, we've previously made comparisons between the Ford Edge vs the Toyota RAV4, as well as the Ford Edge vs the Nissan Rogue.
First Generation (2007-2014)
The Ford CD3 platform, which also underpinned the Lincoln MKX, served as the foundation for the first generation of the Edge. In this generation, there were three engine options. Between 2007 and 2009, a Duratec 3.5-liter V6 with 265 horsepower was available.
From 2010 to 2014, a revised 285-horsepower variant was offered. A six-speed automatic transmission was the default gearbox. For 2011, Ford offered the Edge a minor update. The front's exterior was redesigned, including the wheels and bumper.
Additionally, the interior materials were updated and touch took the place of many hard switches and buttons. Beginning in 2011, two more engines were available: an EcoBoost inline-four with 240 horsepower and a Duratec 3.7-liter V6 with 305 horsepower for the Sport version.
Second Generation (2015+)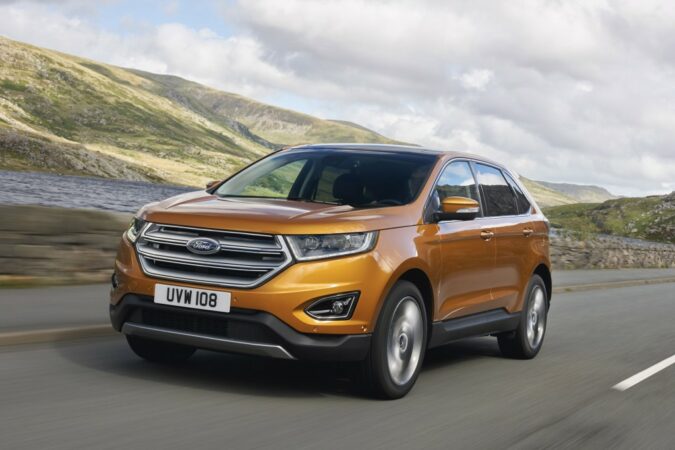 The Ford CD4 platform served as the foundation for the second generation of the Edge. The wheelbase grew from 111 to 112.2 inches. The exterior was redesigned, and the grille's broad horizontal slats made it look more like the Taurus and Explorer. The new headlamps had a long, curved shape.
The interior was roomier, and a rearview camera was also added. The base EcoBoost 2.0-liter turbocharged four-cylinder engine produced 245 horsepower. It could be paired with AWD and had a 3,500-pound towing capacity. A 3.5-liter V6 with 280 horsepower and 250 pound-feet of torque served as the mid-level engine option.
The 2.7-liter twin-turbo EcoBoost V6 engine (do check out our guide on the Ford 2.7 EcoBoost problems to learn more about it) was used in Edge Sport versions. It had the greatest output with 315 horsepower. A six-speed automatic transmission was standard with all models and engine options.
For the 2019 model year, Ford updated the Edge. A honeycomb grille that resembled the Explorer's design, took the place of the wide-slat grille. The Edge now had revised headlights and taillights contributing to a sleeker, more premium appearance.
The top trim was now the newly introduced Edge ST. It offered a 335-horsepower, 2.7-litre EcoBoost V6 engine with twin turbochargers.
Ford Edge Reliability
The Ford Edge, which was first introduced for the 2007 model year, immediately established itself within the portfolio of the Blue Oval. The crossover SUV made its debut with a brand-new 3.5L Ford "Cyclone" V6 engine and a six-speed automatic transmission.
This powerplant, which was present until the 2019 redesign of the vehicle, is widely considered a dependable combo. Reliability reviews for the Ford Edge were mostly positive. On RepairPal, it received a rating of 3.5 out of 5.0, placing it 11th out of 26 vehicles in the same category.
The Edge is renowned for offering exceptional performance and accurate handling in addition to being useful and having outstanding fuel efficiency. In addition, it has good durability and longevity.
With the SUV's well-established powertrains, you should travel more than 150,000 miles before encountering any severe problems. While 200,000 is a little less likely, it is still a popular milestone. If you want your Edge to last as long as possible, you should avoid a few Edge model years because they have been more problematic.
Ford Edge Problems
The majority of high-mileage automobiles are often retired due to powertrain issues. These are not only more expensive, but they also risk making the car undrivable.
Based on owner complaints to the National Highway Traffic Safety Administration, Car Complaints finds that Ford Edge models from 2007 and 2008 are quite unreliable. They have transmission issues that increase the likelihood that the vehicle, or its components, will fail after roughly 100,000 miles.
These years also saw an increase in engine stalls, which usually occur before 60,000 miles. The average cost of repairs, which can include everything from replacing an engine to installing a new computer chip, is a hefty $2,330.
Serious powertrain complaints decreased for the 2009 and 2010 Edge models. However, they increased once again between 2011 and 2013. The major problems are caused by a malfunctioning transmission power take-off unit, which also resulted in stalling. Repairs for these problems typically cost around $2,300.
The most frequent engine issue for models between 2011 and 2016 is a damaged throttle body, but the repair expense is only $390, making it more reasonable. There have been a few issues specific to the more recent 2.0L and 2.7L EcoBoost engines, But for the most part, they are still covered by warranty.
But, what does a throttle body do? Well, our guide there might help you learn more. Or, if you want to understand what the symptoms of a dirty throttle body or the symptoms of a bad throttle body (as well as how to clean a throttle body) are, our resources may be valuable, too.
Ford Edge Years To Avoid
Thanks in large part to its dependable basic powerplant, Ford's midsize Edge SUV has a respectable lifespan. However, vehicles from 2007 and 2008 as well as 2011–2013 should be avoided since they are more likely to require expensive engine or transmission repairs.
Ford Edge 2011 Problems: Ford Edge Years To Avoid – 2007 Ford Edge
2007 was a problematic year for the Ford Edge's transmission. First, PTU failure was a serious issue, and expensive components needed replacement in order to fix it. Aside from that, acceleration frequently caused the transmission to shake and jerk. Also reported by owners were multiple braking issues, faulty wheels, and engine issues.
The most frequent problems were stiff pedals, rotor malfunction, and power brake booster failure. The bearings and hubs were the main causes of the loud noise coming from the rear wheels on a number of 2007 Ford Edges.
As a result, it was necessary to fix or replace the hub or the bearings. The 2007 Ford Edge should be avoided as it was rife with issues. Otherwise, do check out our write-up on the symptoms of a bad brake booster, as well as the replacement of a bad brake booster.
Ford Edge 2011 Problems: Ford Edge Years To Avoid – 2008 Ford Edge
In the following year too, the concerns and issues of the 2007 model persisted. With a number of owners experiencing engine and transmission failure as well as even more minor problems than in year one, the 2008 model year is also to be avoided. More than a thousand complaints have been reported by NHTSA on the 2008 Ford Edge.
Although most complaints were reported against airbags, once more, the transmission was a major concern. Numerous transmission issues existed, including abrupt transmission failure, severe noise, and acceleration loss. These issues began to arise somewhere between 50,000 and 60,000 miles.
Owners frequently experienced other issues, such as broken internal water pumps, heating system issues, and brake issues. Additionally, the engine would regularly stall while driving. The engine, starting wire, or battery all required routine repairs.
Ford Edge 2011 Problems: Ford Edge Years To Avoid – 2012 Ford Edge
The brakes on the 2012 Ford Edges were unreliable and hence imposed a safety hazard. For the brake to work at all, you might need to apply significant pressure to the pedal. Your brake pedal may even bottom out occasionally without halting or slowing the vehicle. Replacing the brake booster was the only fix for this issue.
Ford Edge 2011 Problems: Ford Edge Years To Avoid – 2013 Ford Edge
The 2013 model is one of the worst models of the Ford Edge. Most of the problems from 2012 were still there. The battery needed to be replaced every 50,000 miles. You won't be able to start your automobile again once the battery runs out of power. Additionally, the engine is prone to constant breakdowns while being driven.
The 2013 Ford Edge also had a number of other faults, including throttle control failure, rapid acceleration, a shift to park warning light, unresponsive brakes, brake booster failure, a windscreen wiper that wouldn't switch off, and many others.
The NHTSA has more than 2000 reported complaints about the 2013 Ford Edge. The electrical system is linked to the most common ones.
Ford Edge 2011 Problems: Ford Edge Years To Avoid – 2015 Ford Edge
The engine seems to be the most often voiced criticism of the 2015 Ford Edge. Drivers complain that the check engine light is on, and when the code is read, it says that one or more cylinders in the engine are misfiring. According to reports, the faults frequently begin to surface after the first 50,000 miles.
Some owners have had to replace the whole engine when a crack is formed in the case even after analyzing the issue and repairing worn-out parts that contributed to the misfire. Additionally, there have been reports of the flex plate cracking while moving quickly.
After six months to a year, some owners had the plate replaced claiming that it failed once more. The flex plate has never been recalled. It can cost a lot to repair. One recorded instance included an owner who shelled out more than $7,000 to repair all of the things that the failed plate had broken.
Ford Edge 2011 Problems: Ford Edge Years To Avoid – 2016 Ford Edge
The motor for the steering gear was defective in the 2016 Ford Edge. According to reports, the bolts would rust, which would cause the motor to come loose while moving. Even at low speeds, an abrupt loss of power steering could render the SUV uncontrollable. If you want to learn more about how dangerous this can be, check out our guides on power steering.
We've looked into power steering fluid, and a power steering fluid leak, as well as whether can you use power steering fluid as brake fluid. Not to mention, we've gone through the symptoms of a bad power steering pump, and a power steering pump replacement.
For the model years 2013 to 2016, a recall was issued in August 2019 to repair the defective bolts. If you intend to buy one of these models used, have the recall history of a used Edge checked to make sure the repair was finished.
2011 Ford Edge
The 2011 Ford Edge has undergone significant revisions. Changes in this model include increased power, additional features, redesigned exterior design, less wind and road noise, and improved interior quality. Still, 2011 was not a good year.
Check engine light issues, worn-out brakes, and radio issues are common complaints from owners. Ratings for reliability are likewise disappointing. The 2011 Edge, on the other hand, was good on safety, earning a Top Safety Pick award from IIHS and receiving 4 out of 5 stars in government crash tests.
With up to 21 MPG combined, fuel efficiency was also acceptable. However, it was plagued with serious issues with significant components such as the powertrain itself which we will explain further.
2011 Ford Edge Engine
Along with the 2.0L inline four-cylinder EcoBoost engine, the 3.7L V6 engine debuted in 2011. Compared to the 3.5L, the 3.7L V6 proved to be more reliable and presented fewer maintenance issues.
The 245 horsepower produced by the 2.0L was acceptable but uninspiring. All trim levels came standard with FWD while all-wheel drive (AWD) was optional for all except the SE. The 3.5-liter V6 engine found in the Ford Edge SE, SEL, and Limited produces 285 horsepower and 253 lb-ft of torque.
A six-speed automatic transmission is attached to it. The 3.7-liter V6 engine in the Edge Sport produces 305 horsepower and 280 lb-ft of torque. The Sport came standard with a six-speed automatic, but it also had manual shift control.
2011 Ford Edge Problems
For the facelifted 2011 model, Ford made some important alterations, and these adjustments produced issues. Avoid the 2011 model because it is an unreliable car. Even though the price is reasonable, it could not be worthwhile. The Edge has some really major difficulties, such as electrical problems, check engine lights, and brake failures.
Many users have complained that the door-ajar light continued to illuminate even when the door is closed. No matter what you do, the crossover continuously generated warning noises to let you know the door is open. The 2011 Ford Edges also have leaky fuel tanks. The valves may develop issues, leading to gas tank leaks.
The cost to repair this issue could exceed $1,000. Around 80,000 miles, electrical problems with the door ajar sensor are very common. When the sensor fails, the light and chimes will continue to operate continuously. The part replacement costs roughly $400.
Around 57,000 miles, check engine lights are another fairly typical problem. Usually, the light comes on, and the power goes out. Throttle body failure is the most frequent issue, and replacing one will set you back over $470.
Many cars experience brake failures at 77,000 miles. The brake booster is a well-known weak point, and when it malfunctions, stopping becomes exceedingly challenging and dangerous. The cost of replacing the booster is around $1,000 which is evidently expensive.
The 2011 Edge can display some odd faults with its transmission. The transmission occasionally might start slipping out of gear, get stuck in "Neutral," or switch to fifth gear when you accelerate from a stop instead of first. Additionally, the backup camera might start up abruptly while in "Drive" as a result of the transmission problems.
2011 Ford Edge Recalls
There are three recalls, including two significant ones for the body control module, which, in the event of a short, could result in a fire. The third recall was due to incorrectly configured electronic module settings that results in a faulty liftgate lock.
This one was a minor issue that affected just 74 units of the 2011 Edge and 2011 Lincoln MKX combined.
Best Year For Ford Edge
2009 Ford Edge
Improvements made to the 2009 model had an impact, as complaints decreased between the second and third years of manufacturing by roughly 90%. The 2009 Edge's brakes were the subject of the most reports of issues. Despite the fact that brakes are crucial to a safe working vehicle, there were only minimal complaints.
They stated that the pedal was difficult to press. This was more of a matter of taste than a braking problem that prevented the car from stopping or caused a safety concern. Therefore, even though you should watch out for this during a test drive, you shouldn't avoid the 2009 Edge because of this.
2014 Ford Edge
The 2014 Edge model year is not one to avoid. There were a few complaints that a broken sensor continued to believe the door was open. However, the number of reports of this issue decreased from triple digits to single digits in 2014.
The heater and radio not functioning were the other most frequent problems, along with the rear windscreen breaking for no apparent reason.
2018 Ford Edge
First of all, there haven't been as many significant worries about the 2018 Ford Edge as there have been about the past Edge models. Owners of the 2018 Edge enjoy its athletic demeanor, appealing style, and minimal maintenance needs.
This car has a ton of helpful features, such as adaptive cruise control and a panoramic sunroof that was an added bonus inside. Additionally, it possessed all-wheel drive and capable towing.
2019+ Ford Edge Models
The latest Ford Edge models have frequently been praised for their comfortable ride and excellent handling. Additional effectiveness is provided by the all-wheel drive option. Its elegant interiors, and sophisticated driver-assist technology, which is available in model years 2019 and later, are frequently praised by owners.
These models also have enough space for a family of five, along with their luggage and sporting equipment. Less than 100 2019-2020 Ford vehicles are subject to a minor recall. But it is still important to be aware of it so you have all the details you require if you're thinking about buying a 2019 or 2020 Edge as your next car.
The start/stop accumulator endcap on the transmission in vehicles covered by this recall may have missing or loose nuts. This could cause a fluid leak and impair transmission performance. Ford is managing this issue by providing free start/stop accumulator replacements for all recalled cars.
Look for a 2018 or 2019 Ford Edge if you want a newer driving and interior experience without experiencing sticker shock at the showroom.
Ford Edge 2011 Problems: In Conclusion…
The Edge has a solid reputation for reliability, safety, and a decent balance of cargo and passenger space. The Edge still has problems, despite them. We have included the most typical vehicle issues as well as the best and worst years.
We made an effort to categorize all of the Ford Escape issues by model year specifically the Ford Edge 2011 problems. Always avoid the years we just mentioned which are mainly the vehicles of the first generation.
These have many problems. If you wish to purchase one, preferably pick one from the second generation's more recent models. Hopefully, this guide will help you choose the best Ford Edge model and stay away from the notorious ones.
And if you're thinking of getting an Edge from the other model years, we've compiled a detailed write-up on the common Ford Edge problems. That includes the 2013 Ford Edge problems, as well as the 2015 Ford Edge problems.
FAQs About The Ford Edge 2011 Problems
Is A Ford Edge A Good Car
The Edge is a powerful and capable crossover. The 2.0-liter turbo four-cylinder and eight-speed automatic are standard on most variants. Smooth and quiet acceleration is promised from this combo. All-wheel drive and a turbocharged V6 are features of the sportier ST model. Overall the present-gen Edge is a good, reliable SUV.
Is A Ford Edge 4 Wheel Drive
No, the Ford Edge has options for both FWD and AWD but not 4WD. Front-wheel drive is standard on the entry-level SE, mid-range SEL, and top-of-the-line Titanium versions, with all-wheel drive available as an option for an extra cost. The Ford Edge ST, however, comes standard with AWD.
How Much Is Ford Edge
The base SE variant of the 2022 Ford Edge is priced at $34,905. It is followed by the SEL trim which is priced at $37,345. The higher-end ST-Line and Titanium trims both start at $41,095. Starting at $43,760 is the high-performance ST model. For every 2022 Ford Edge, a $1,245 destination fee is charged on top of the MSRP.
Where Is Ford Edge Made
There are now two assembly plants producing the Ford Edge. However, neither of them are headquartered in the United States. The Ford Edge is currently made at the Chongqing Assembly Plant in Chongqing, China, and the Oakville Assembly Plant in Ontario, Canada.
Is Ford Edge Or Escape Bigger
Although less popular than the Explorer, The Edge and The Escape are starting to play competitively. What SUV is best for you depends heavily on small details. The Ford Edge is gorgeous and well-kept. Additionally, it is a tiny bit bigger than the Ford Escape.
Is Ford Discontinuing The Edge
Ford declared that the Edge would be discontinued after the 2023 model year as part of its ongoing transition to an all-electric portfolio. There will not be a new generation and the 2023 model is a carryover. The trim lineup also has not changed. The SE, SEL, ST-Line, Titanium, and ST will still be available from The Edge.
How Many Miles Can A Ford Edge Last
Ford's midsize crossover Edge should provide owners with a minimum of 150,000 miles thanks to a dependable base powertrain. 200,000 miles is a benchmark that is achievable by the Edge. However, Ford Edge models from 2007 and 2008 and 2011 to 2013 are less likely to attain this number due to powertrain issues that require expensive repairs.
How Many Gallons Does A Ford Edge Hold
The 18.5-gallon gasoline tank of the Edge makes for a lengthy ride every time the tank is refilled. Sporty driving in an SUV is uncommon, but the 2022 Edge manages it comfortably. The Edge is great for drivers who wish to stay on the road for long periods. Most models of the Edge have a maximum range of more than 420 miles.